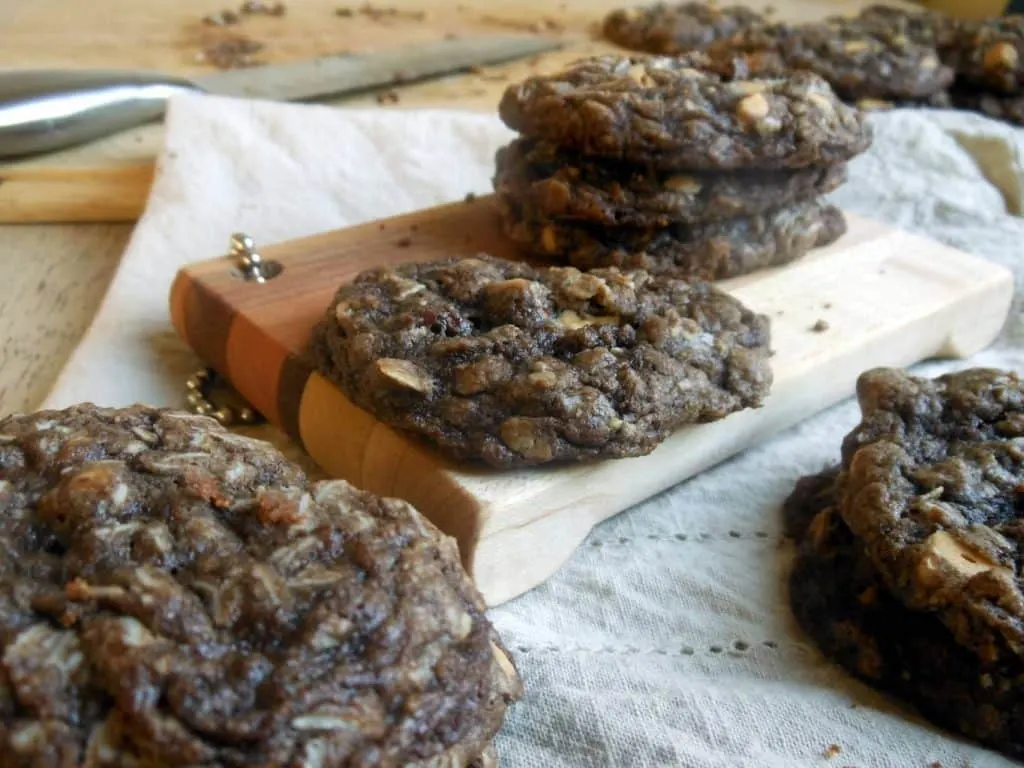 These cookies might just change your life.
I mean… if you are some kind of freaky master of self-control then they probably won't be life altering. Just delicious.
But if you and I are anything alike… you need these cookies.
Lots of cookies come out of this house. I mean LOTS. Because for every recipe I post here, those concoctions usually happen a couple of times before the stars align and I get it all right. Sometimes I bake and then it gets cloudy and everything has a bluish haze. Sometimes I have the most brilliant plans and then the crust falls apart. Sometimes I save food for next-day photo shoots and then Evan eats the food when I'm not looking.
Actually that happens more than just sometimes.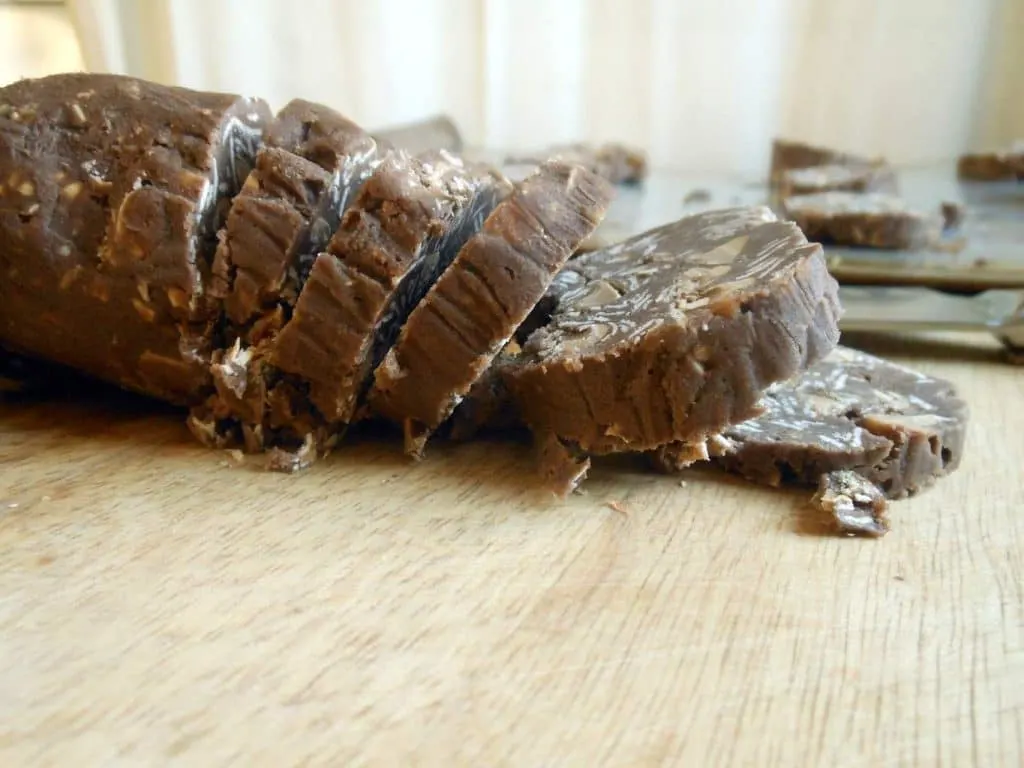 So anyway. I am not really a model of self-control when it comes to things like cookies. And most cookie recipes produce between 2 and 4 dozen cookies.
If you leave me alone in the house with 2-4 dozen cookies I will figure out exactly how long I have to do Blogilates, or how many times I have to walk the dog in order to eat more cookies.
My thighs can only handle just so much Blogilates.
Slice-n-bake cookies change the whole game! They make lots of cookies! But I can decide to only bake just a few at a time. They make the perfect afterschool snack. I can keep them in the freezer and slice a few off before the boys get home from school. They make a super awesome warm and melty evening treat with a hot mug of coffee. And then I'm not tempted to eat 4 dozen cookies. But they are still always freshly baked!
Miracle cookies. That's what I should have called them.
Slice-n-Bake Chocolate Peanut Butter Chip Oatmeal Cookies
Ingredients
1 cup butter, softened
1 cup granulated sugar
½ cup light brown sugar, packed
2 eggs
1 teaspoon vanilla
1½ tablespoons milk *see note*
¼ cup dark or semi-sweet chocolate chips *see note*
1 cup all-purpose flour
½ cup whole wheat flour
¼ cup unsweetened dark cocoa powder *see note*
½ teaspoon baking soda
½ teaspoon kosher salt
2 cups old fashioned oats
2 cups peanut butter chips
Instructions
Beat together the butter and sugars until smooth.
Add the eggs and beat until just combined. Then add the vanilla.
Heat the milk in a small saucepan over medium high heat until it just starts to simmer. Remove it from the heat immediately and then stir in the chocolate chips. Keep stirring until smooth. Scrape the melted chocolate into the batter and beat for about 30 seconds.
Sift in the flours, cocoa powder, baking soda, and salt (OR whisk the dry ingredients together in a separate bowl and then add them all at once).
Beat until combined.
Add the oats and peanut butter chips and beat until they are evenly incorporated.
Tear off a sheet of parchment paper, wax paper, or plastic wrap (parchment paper is the easiest to work with but I've tried the others-- they will do just fine. Aluminum foil is a No No!). An 18-24 inch sheet will do. Divide the cookie dough in half and portion one half out onto the waiting parchment. Fold one side of the paper over the dough and sort of roll and squeeze until you have a log shape. Use your hands to flatten the ends before you twist the paper around to seal them off. You're aiming for your dough log to be about 1½-2 inches in diameter. Also-- when you fold the paper over and roll the dough be careful that the paper doesn't get rolled INTO the dough (please learn from my mistakes and know that it is super annoying to get the paper out of the frozen cookie dough).
Repeat this process with the second half of the dough and place both logs in the freezer.
Freeze for at least 2 hours.
When you're ready to bake your cookies, pre-heat the oven to 350. Untwist one side of one log of the dough and , using a sharp knife, cut ½ inch slices off and place them 1½-2 inches apart on an ungreased cookie sheet.
Bake for 9 minutes. The centers will still look soft but should not look liquid (like cake batter).
Let them cool for several minutes before removing to a wire rack to cool completely.
Notes
You can use ½ cup unsweetened dark cocoa powder in place of the ¼ cup unsweetened dark cocoa powder + 1½ tablespoons milk + ¼ cup chocolate chips. Just add all of the cocoa powder with the dry ingredients and skip over step #4.
This recipe was adapted from
Bon Apetit
's
Slice-and-Bake Oatmeal-Raisin Cookies
.
I was inspired to play around with these cookies when I saw Averie's version; Slice-and-Bake Oatmeal Raisin Chocolate Chip Cookies posted at Averie Cooks.
Tracey at Shutterbean also slightly adapted this recipe with her Slice-and-Bake Oatmeal Raisin Cookies.
So many cookies. So little time. Take a minute to peek at all the different versions!
Life-altering cookies. I promise I'm not exaggerating.