The Best Grilled BBQ Chicken on a delicious grilled pizza crust with fresh tomatoes, red onions, pineapple, peppers, and cilantro. This Grilled BBQ Chicken Pizza is one of my most favorite summer meals!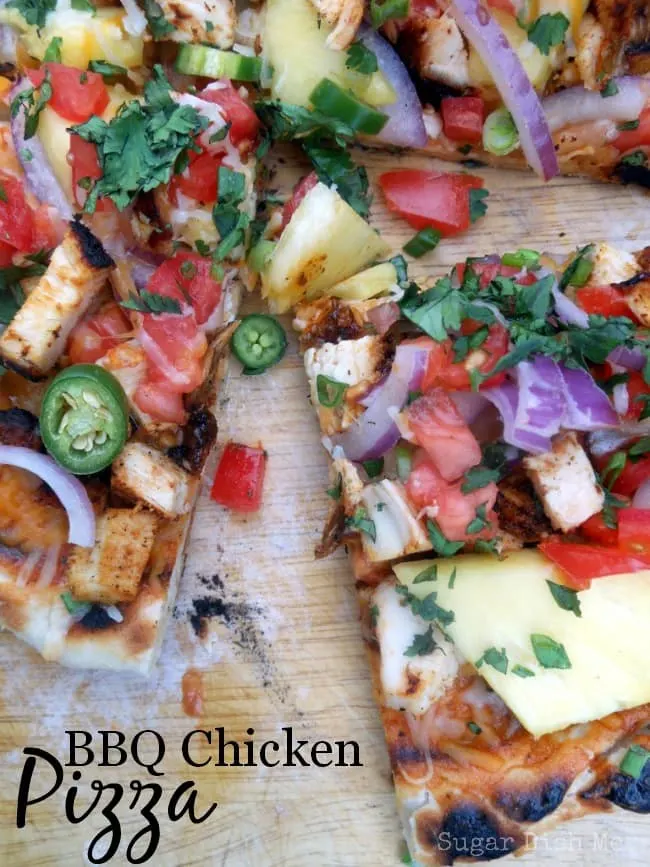 Evan has been doing this thing lately where he looks up songs he likes on YouTube– you know how some people will post the karaoke version of music with the lyrics in print? Anyway, he looks up songs that he likes and then sits in front of the computer, very focused, and sings. Loudly.
It is serious business.
He does NOT like his sing-a-longs to be interrupted. So if Andrew asks him a question, he will raise his index finger like, "Hang on a minute there, Guy," and then he will continue singing. Andrew is not that patient about these kinds of things (something he comes by very honestly) and so he will usually attempt to get Evan to pause or interrupt.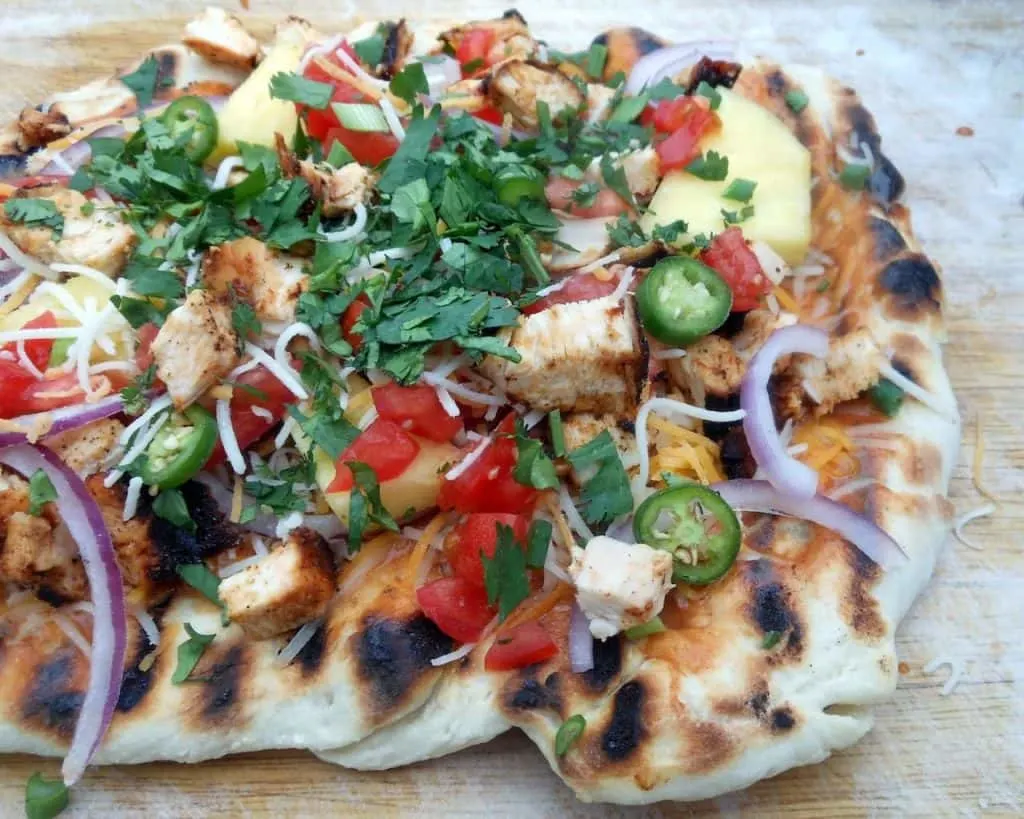 And that is a terrible idea.
Because then Evan will shriek, "ANDREW!!!!! I'm DOING SOMETHING!!!!" It is a sing-a-long war.
The other day Andrew decided to try singing with Evan. Bad move, dude.
Andrew is bigger so his voice is bigger. Also he's in chorus (—interlude— he had a chorus concert last night that was straight up AMAZING. I was so so so impressed with those kids; I had no idea!!) so he knows how to make his voice carry. All of this seriously messed up Evan's program. I thought he was going to fall apart.
So I shoved this pizza in his face. All better.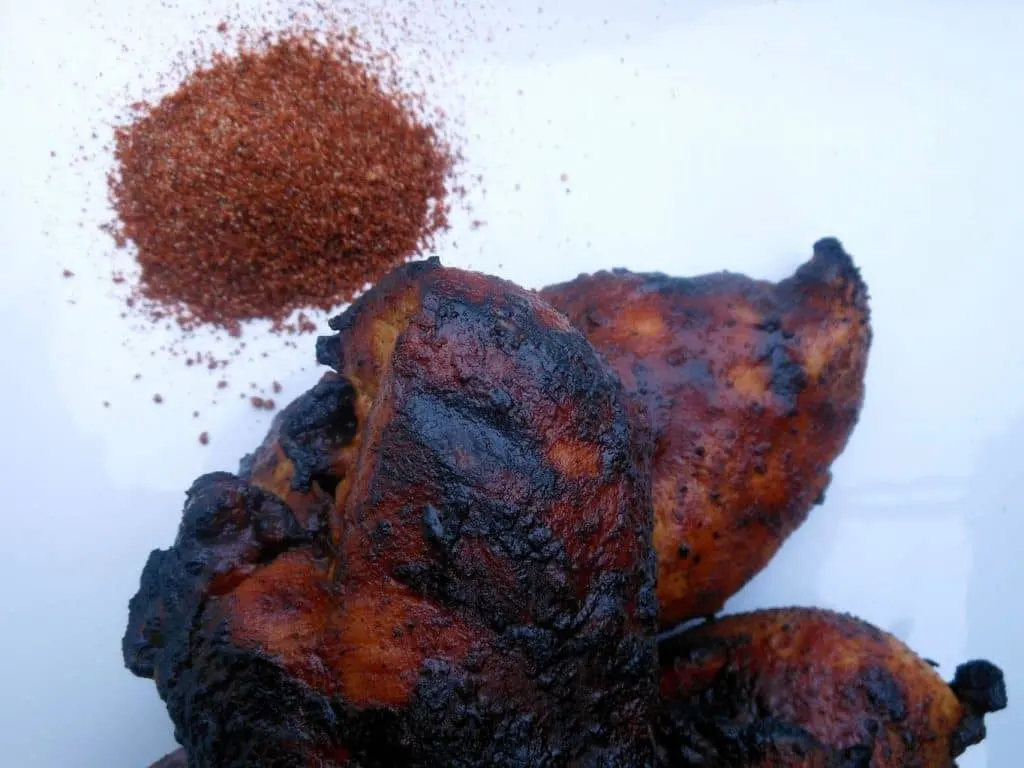 Today you get two recipes for the price of one!!
Nevermind. These recipes are all free anyway. BUT! I'm sharing two. You have to start with my favorite BBQ chicken in the universe. And if you're gonna make this chicken and then make the pizza (P.S. This is the BEST PIZZA I HAVE EVER MADE IN MY WHOLE LIFE) then go ahead and make all 4 breasts of chicken because I have another recipe using it coming up tomorrow.
And if you don't feel like making the pizza then just make the chicken and invite people over. They will think you are some kind of BBQ pro.

Best Grilled BBQ Chicken
Ingredients
1 tablespoon brown sugar
1 tablespoon paprika
2 teaspoons chili powder
½ teaspoon cumin
½ teaspoon onion powder
½ teaspoon garlic powder
¼ teaspoon cayenne pepper
4 boneless skinless chicken breasts
1 cup of your favorite BBQ sauce
Instructions
In a small bowl, combine the brown sugar, paprika, chili powder, cumin, onion powder, garlic powder, and cayenne pepper.
Rub the seasoning all over the chicken (start with only half and add more rub as needed- that way you can save the rest and it won't be contaminated by raw chicken) breasts, place them in a dish, cover, and refrigerate until you're ready to cook.
To cook the chicken, heat an outdoor grill to about 450. Make sure the surface is scrubbed clean. You can oil the cooking grates if you want but I've found if you start with a HOT HOT surface it #1) won't stick and #2) will seal in the juices so you have tender juicy grilled chicken.
When the grill is hot, lift the lid and place the chicken on the grates. Close the lid and cook for about 2-3 minutes.
Flip the chicken, close the lid, and cook on the second side for 2-3 more minutes.
Reduce the grill heat (if you're cooking with gas; if you're using charcoal just move the breasts away from the most direct heat) Flip the chicken again (if you turn it you can create that professional-looking criss-cross pattern on the outside). Cook for 5-7 minutes. After about 3 minutes, brush on the BBQ sauce and close the lid again.
Flip, and cook for approximately 5 more minutes, brushing on the BBQ sauce after about 2 minutes. COOK TIMES ARE NOT EXACT. Always make sure that your chicken has an internal temperature of 165. If you do not have a meat thermometer then cut the chicken open at the thickest spot and make sure the juices run clear. My chicken breasts are usually on the thicker side so cook times are a little longer.
When the chicken is done, remove it to a plate and let it rest for a few minutes before slicing.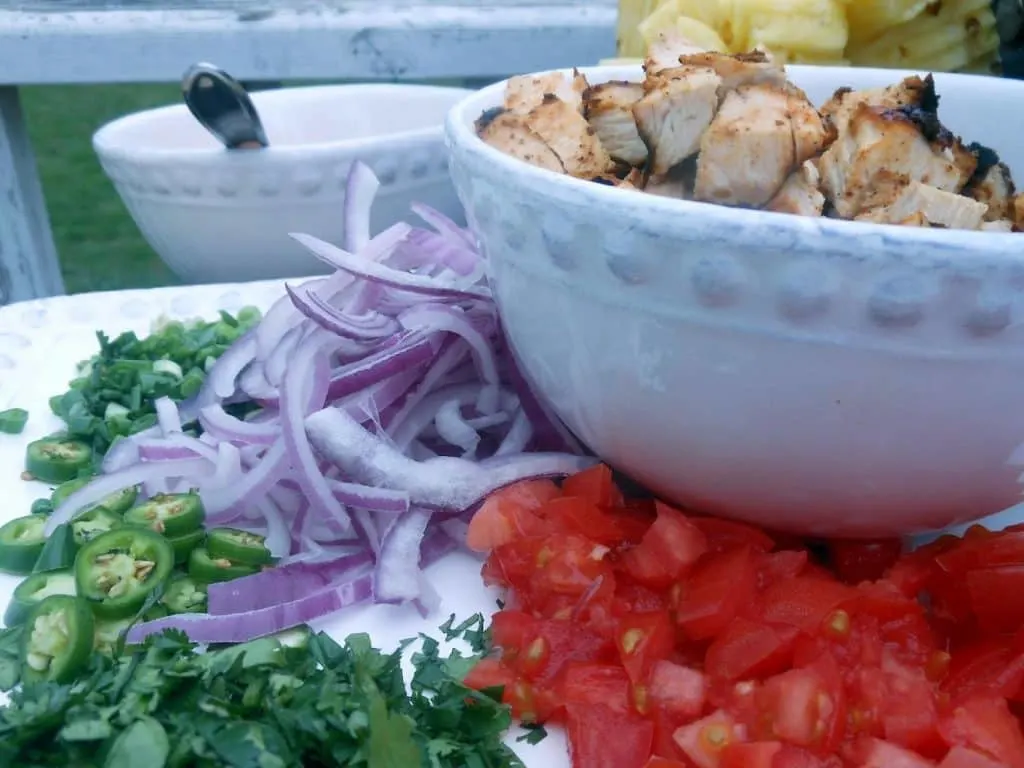 I was afraid to grill pizza. I saw these fancy pants pizza grill pans on sale at Target and I almost bought one. But I managed to walk away (what?!? I know. That never happens at Target). Anyway, I'm glad I did because I decided to get brave and just put the pizza RIGHT ON THE GRILL. At first I had nightmares about how on earth I was going to get a bunch of gunky pizza dough off the grill.
But look! It worked! No sticking or anything.
Also this pizza dough is a small miracle all by itself. I always make my own pizza dough and my typical recipe takes 2 hours to rise. That does not work most days.
You can try my favorite 10 Minute Pizza Dough recipe, but know that the results will be less fluffy pillowy pizza dough and more thin and crispy.
You can also try this Copycat Mellow Mushroom Pizza Dough – it's my actual all-time favorite. You just need a little time to work it out.
The pizza dough shown here, and also included in the recipe below is ready in 5 minutes. I'm not even kidding. I found it at The Kitchn; you can see the original Homemade Thin Crust Pizza Recipe here.
Believe me when I tell you that this is SO easy. It is also the freshest most awesome pizza I have ever eaten. Just pull together all your toppings, make the dough, heat the grill, toss the dough, and throw it on the grill. Then flip it, top it, grill it again, and EAT. I realize the printed instructions are a little long winded…
Sorry. I was trying to help.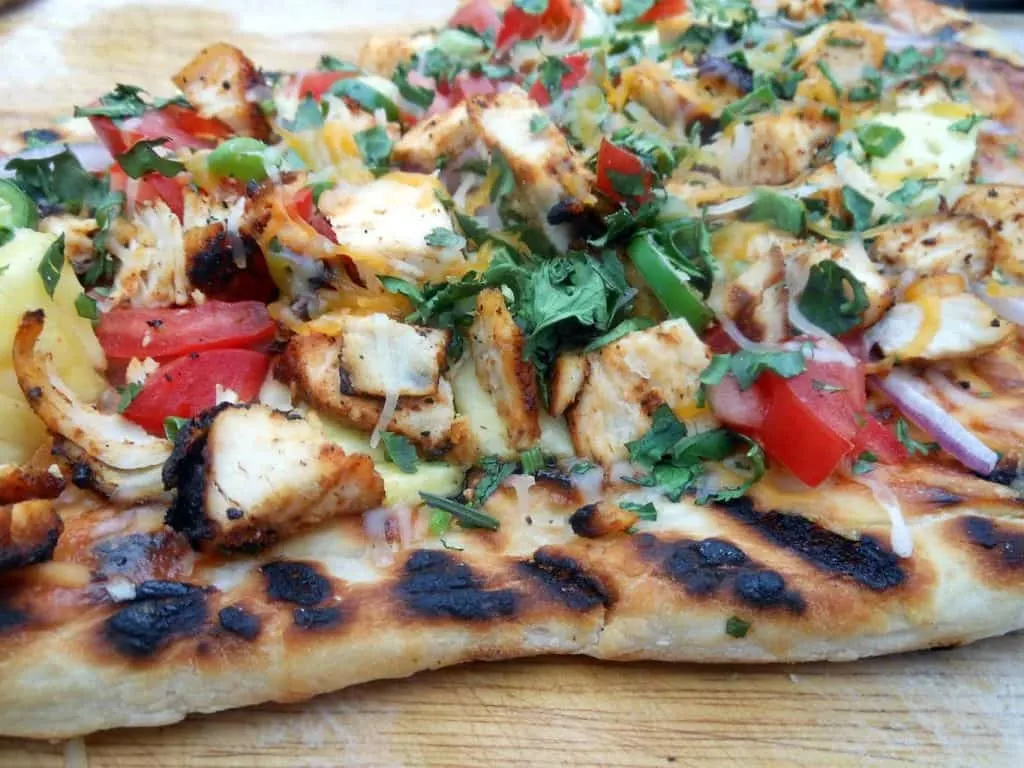 Please make this pizza!! It's the best excuse ever to loiter around outside with a glass of wine.

Grilled BBQ Chicken Pizza
Ingredients
¾ cup lukewarm water
1 teaspoon active dry yeast
2 cups all purpose flour
1½ teaspoons kosher salt
1½ tablespoons olive oil
½ cup BBQ sauce
2 tablespoons ranch dressing
1 cup cheddar/jack blended cheese, shredded
2 of the Best Grilled BBQ Chicken Breasts, cut into 1" cubes
1 cup red onion, very thinly sliced
2 Roma tomatoes, diced
½ cup fresh pineapple, thinly sliced
1 Serrano pepper, sliced (optional)
¼ cup chopped fresh cilantro
2 tablespoons green onions, chopped
Instructions
Pour the warm water into a large bowl. Stir in the active dry yeast and let it sit for a minute until it has dissolved. Add the flour and kosher salt. Stir until a shaggy dough forms. Scatter a little extra flour on the counter, turn out the dough (including the little loose scraps) and gently knead for 5 minutes. The dough will be slightly tacky-- toss more flour on the counter while kneading as needed.Throw the dough back in the bowl (don't worry about cleaning it), dump the olive oil over the dough, and cover the bowl with a towel.
Heat the grill. I mean HEAT it. I let mine get up to 500 degrees before cooking.
While the grill heats, whisk together the BBQ sauce and ranch dressing.
Gather up your ingredients-- the sauce you just mixed and ALL the toppings. Head outside.
Sort of slosh the dough around in the olive oil and then divide it in half. Stretch one half into a circular shape. Shape really isn't important-- one of my pizzas was like a triangle. Thickness IS important! You should end up with about a 10" pizza-- if you let the middle get too thin it will burn.
Toss the dough onto the hot grill. Close the lid. Cook for 2-3 minutes.
Remove the dough to your work surface UNCOOKED SIDE DOWN.
On the cooked side spread out half the BBQ sauce mixture. Top with ½ cup of the cheese, half the chicken, half the red onions, half the Roma tomatoes, half the fresh pineapple, and half the Serrano peppers.
Put the pizza back on the grill and cook for another 3 or 4 minutes.
Remove to a cutting board and let it rest for a minute before cutting.
Repeat the process with the second pizza.
Notes
Before you start, having a workspace set up outside will be helpful. Once you start grilling the pizza everything will go very quickly so starting out with some organization will be very beneficial! I like to have a cutting board outside with me to remove the pizza to for topping and then cutting.
Love grilled things? You should also try…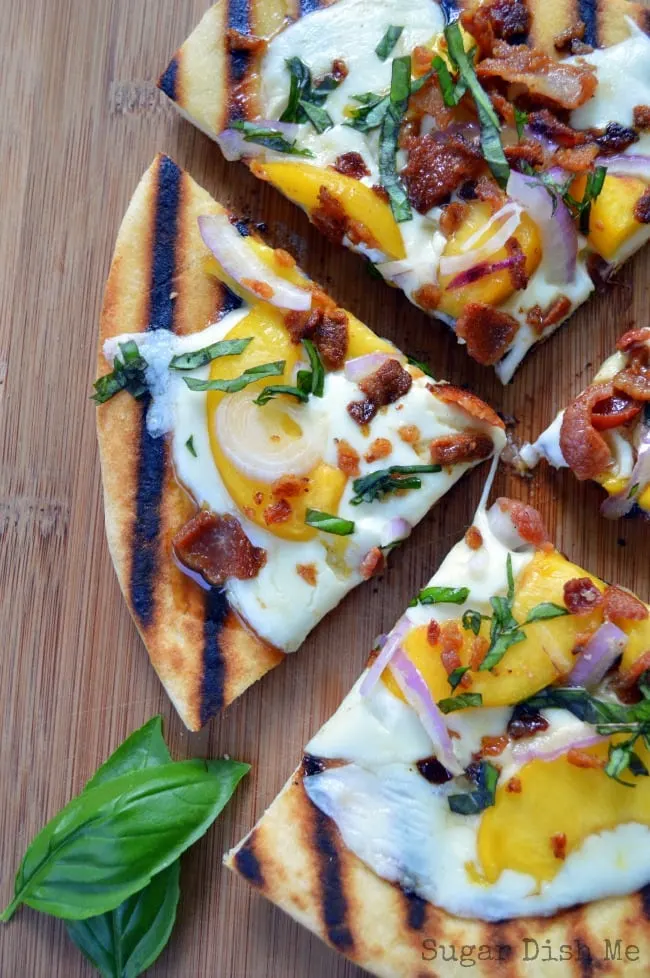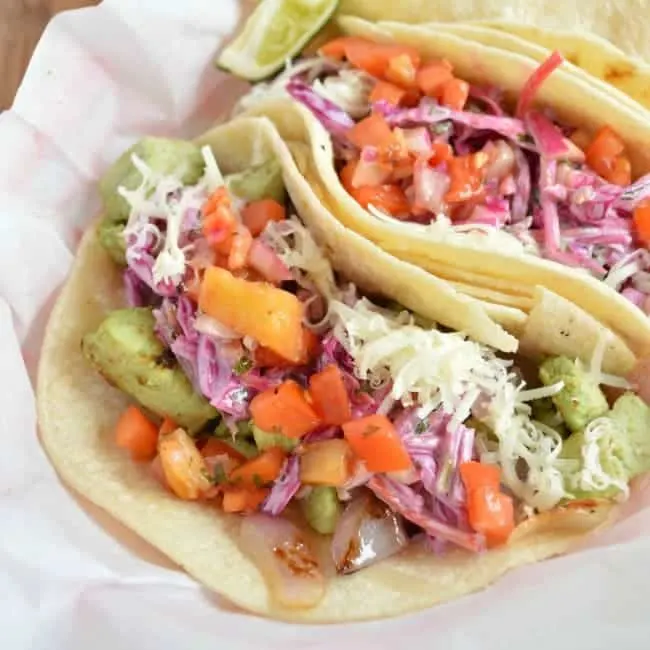 Grilled Chicken Tacos with Grilled Pineapple Salsa