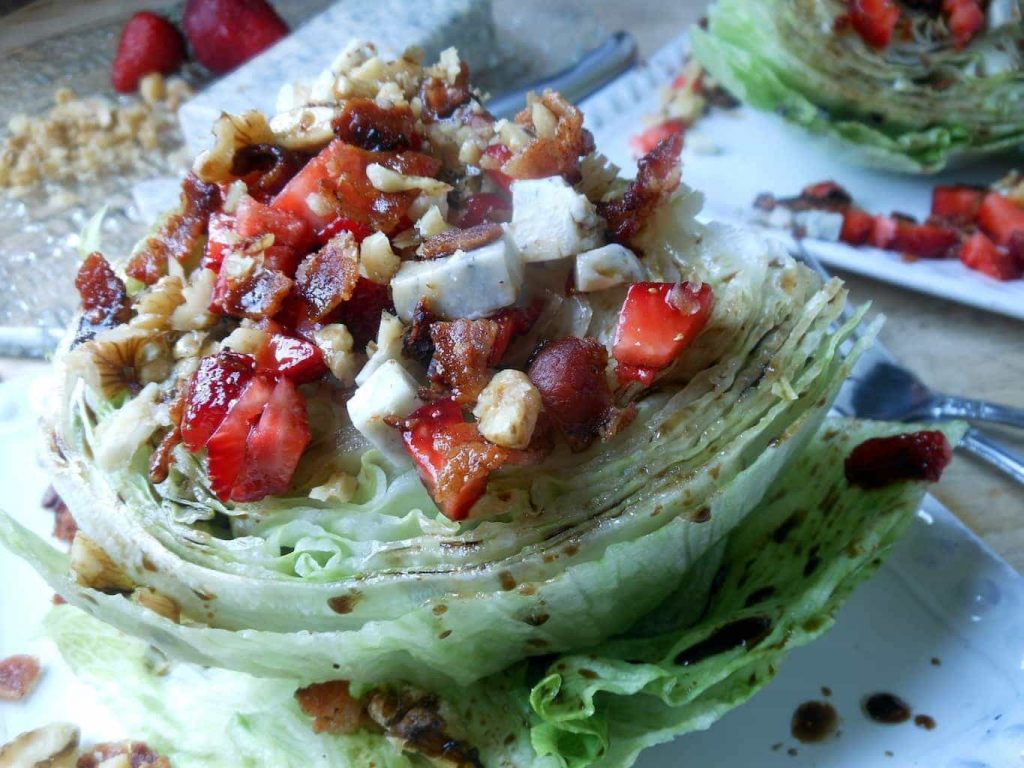 Well, I'm here. But I lost a whole entire day.
Let's talk about what happens to a food blog when the internet dies.
Actually… let's talk about what happens to ME when the internet dies.
I'll just let you know ahead of time: I'm pathetic.
I didn't realize it until yesterday, but my entire household is wi-fi driven. So while I was working yesterday, my modem quit. This happens a lot. It is supremely annoying if I don't have my current work saved, but I was in a pretty good place when it flaked out so I patiently went to re-boot it.
But nothing happened.
So I tried again.
Annnd… nothing happened.
Anyone that knows me (or has been reading Sugar Dish Me for any length of time) knows that I am the opposite of patient.
I rebooted the modem AGAIN while dialing my service providers technical support department.
And then the worst thing in the world happened (dramatic much? Maybe.).
A ROBOT ANSWERED THE PHONE.
I have a zero-tolerance-machine-talking policy. They fall into the self-checkout grocery store category. "I'm sorry. I did not understand you. " "Please put the item back in the bag."
These phrases make my blood boil.
I can scan items or speak clearly and slowly with the best of them, but the machines have it out for me. They hate me. They never understand me. They act like I'm trying to steal lip gloss when ACTUALLY it's been in the bag, Robot Lady. So there.
Anyway, Robot Lady answered my phone call and asked me a series of ridiculous questions such as "What is your account number?" and "What did you have for breakfast last Thursday?" You know. Basically she asked me a bunch of things that NO ONE knows the answers to. And she did not understand me when I tried to tell her that I have already re-booted my modem 34 times and can I please just talk to a human and stop all this trouble-shooting foolishness.
It. Was. Awful. Then I realized that I couldn't even turn on the music and work it out because… Pandora is on the internet.
I finally managed to get it fixed.
And I'm giving you this Strawberry Balsamic Wedge Salad a day late.
Blame the robots.

Strawberry Balsamic Wedge Salad
A crisp head of iceberg lettuce quartered and then covered in fresh strawberries, chunks of blue cheese, crumbled bacon, chopped pecans, and a sweet honey balsamic vinaigrette.
Ingredients
1 head of iceberg lettuce
1 cup fresh strawberries, washed, hulled, and chopped into ½" pieces
4 slices of lean bacon, cooked and crumbled
4 ounces crumbly blue cheese (feta is delicious here, too)
½ cup chopped pecans
1 tablespoon honey
2 tablespoons olive oil
4 tablespoons balsamic vinegar
¼ teaspoon salt
Instructions
Bonk the head of lettuce on the cutting board, core-side down to loosen the core. Flip it over and remove it. Place the head of lettuce under cold running water for about 3 minutes, letting the water flow in through where you removed the core and out between the leaves. Turn the head over, run water over the outer leaves, and then leave it to drain the excess water for a few minutes.
Turn the lettuce back over (removed core-side up) and cut it into quarters. Place each quarter on a plate.
Cover each lettuce wedge with strawberries, bacon, blue cheese (or feta), and pecans.
In a small bowl whisk together the honey and olive oil. Add the balsamic vinegar and whisk until it's combined. Stir in the pinch of salt.
Drizzle the dressing over each wedge and serve.
You Might Also Like…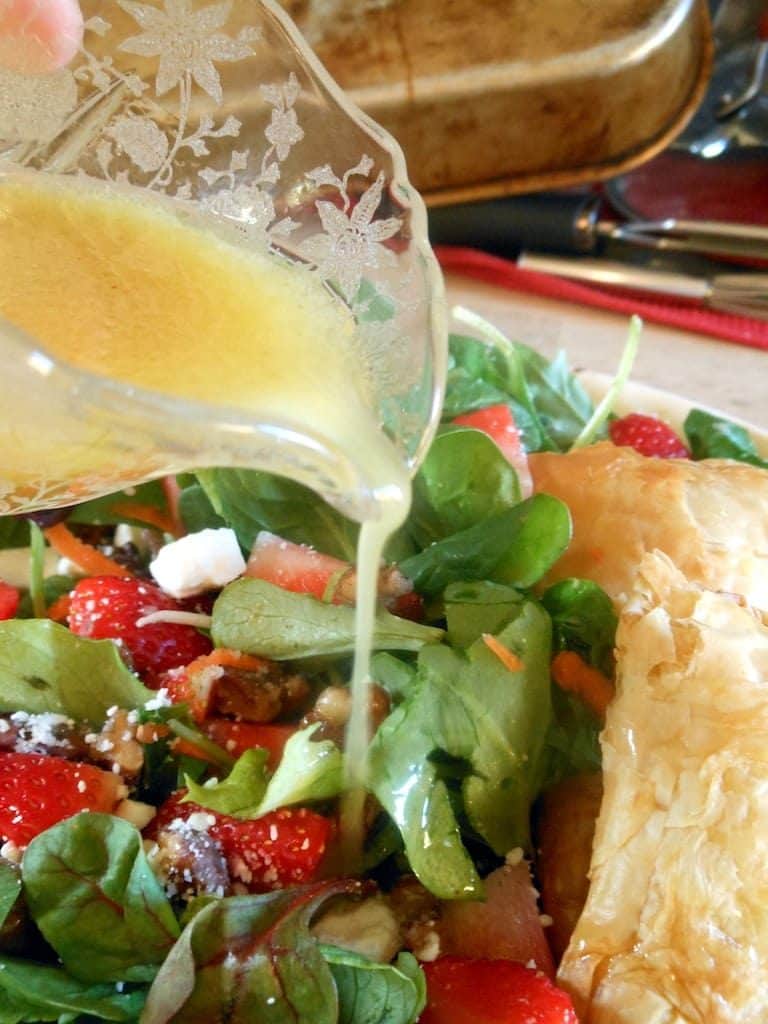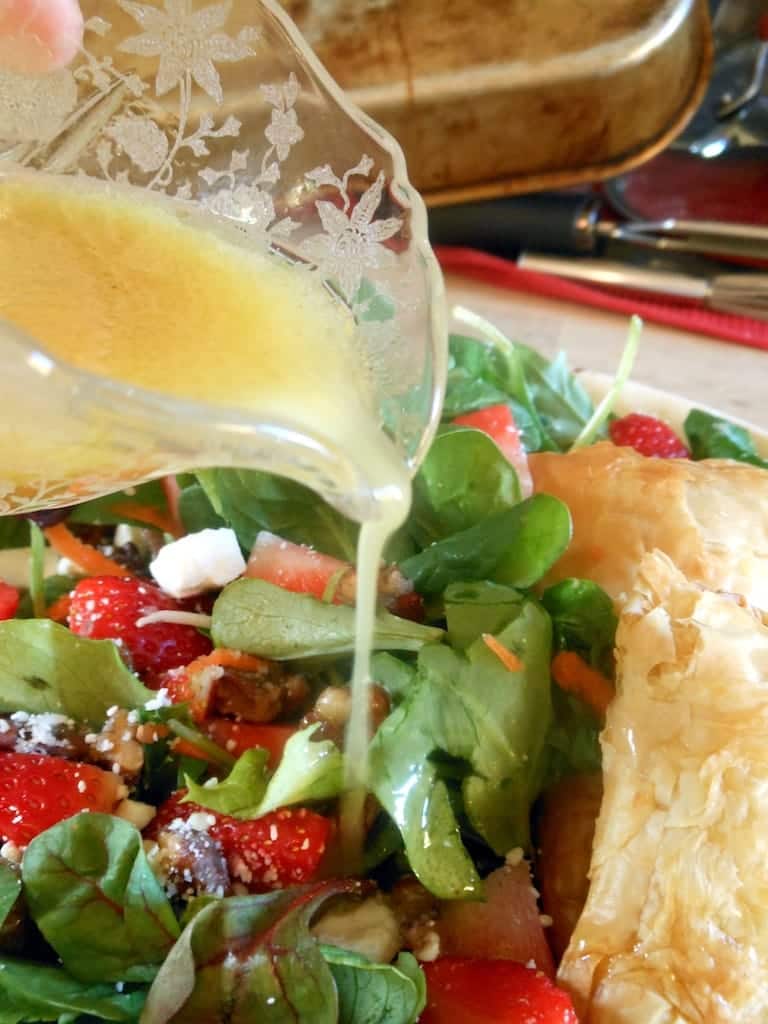 Honey Mustard Vinaigrette Salad