Strawberry Rhubarb Hand Pies are little pockets of strawberry rhubarb filling in and all butter pie crust. Sweet, tart, adorable, and delicious!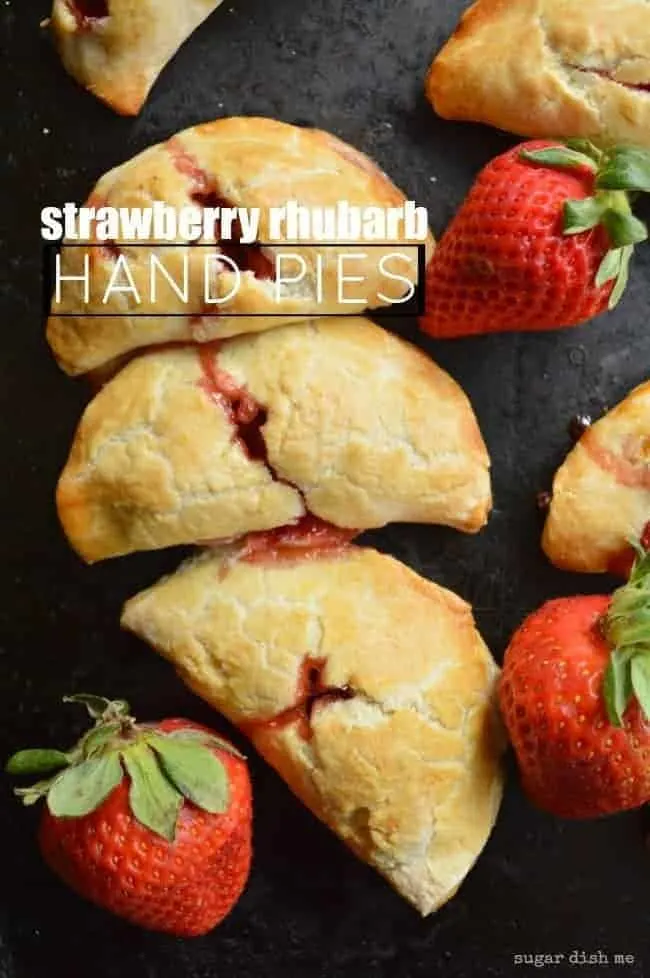 These pies are like little pockets of summer.
Are you ready for summer?? I think I am, but it has only recently occurred to me that school is out after next week and I'm going to be trapped in this house for 8 weeks with two growing hungry boys. I need a plan.
When we were little my mom worked at night so we packed up every morning and spent all day at the pool. Bags full of towels, sunscreen, juice boxes, peanut butter sandwiches, and pretzels. I have no idea how my mom juggled 4 kids (my littlest brother wasn't around yet) and all the supplies that we required every single day– sometimes it's all I can do to get my guys in the car to go to the grocery store.
But the pool was her summer plan. And in hindsight, lathering up 4 kids so they could jump around in the water all day and get exhausted was probably easier than being stuck in the house.
Stuck in the house with bored kids is THE WORST.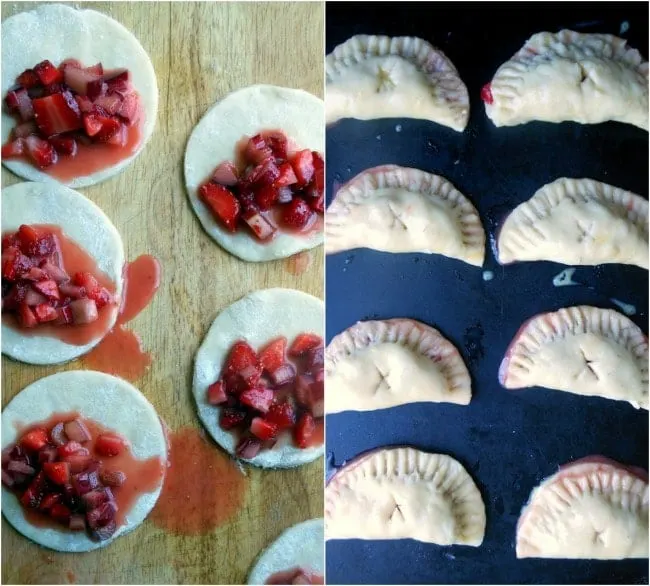 First of all, they are bottomless pits. Every time you turn around they are rambling through the fridge or eating cereal at 3 in the afternoon.
CEREAL IS FOR BREAKFAST!!!!
We have a family timer set on the Xbox because loafy video game playing boys are not my favorite thing. So on long hot days when the time runs out and they forget how to be industrious and build things out of cardboard or dig in the dirt and start saying, "I'm Bo-ooored," and then I tell them that only boring people get bored so use your brains— before all that plus the kitchen rummaging starts— I'm gonna make some more of these pies.
Hand pies are a hunger-boredom cure all.
Also… I may check in to summer camps.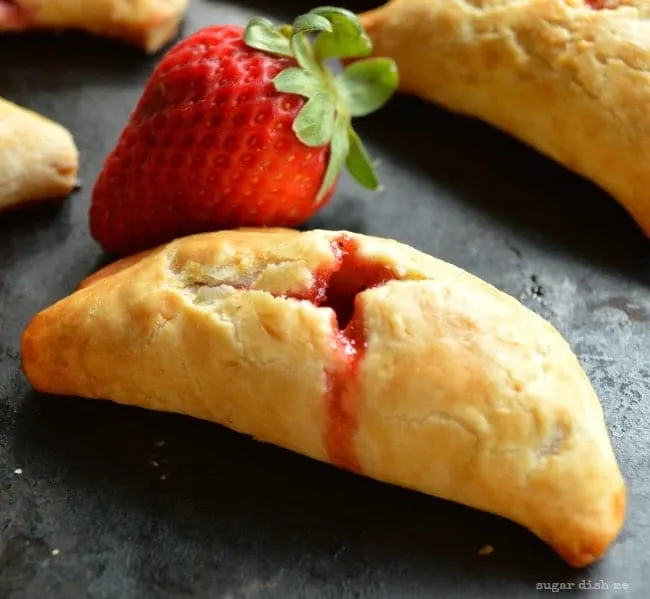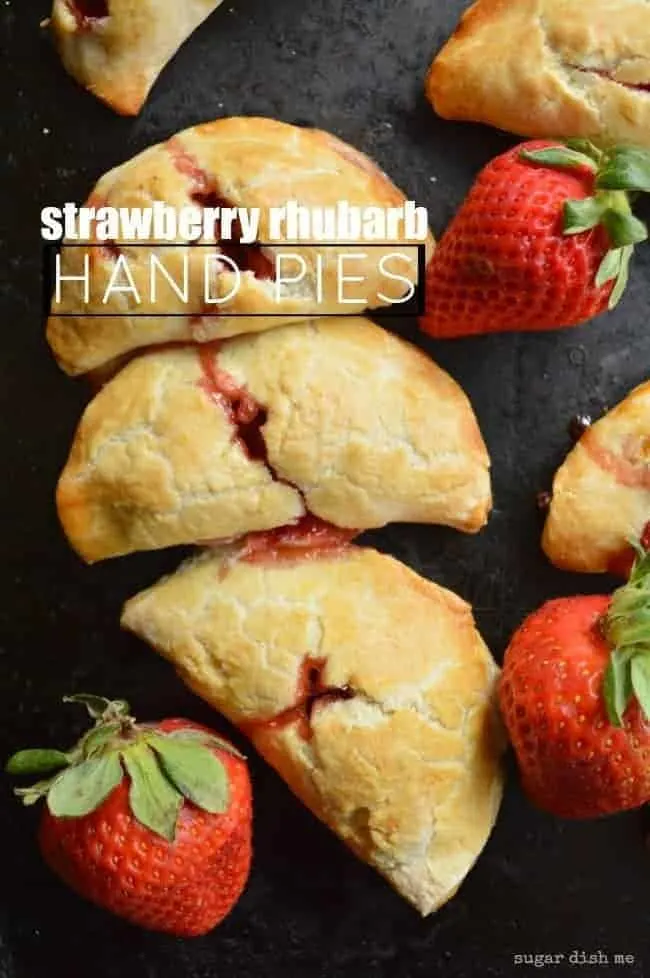 Yield:

18-20 hand pies
Strawberry Rhubarb Hand Pies
Tart rhubarb and sweet strawberries baked into little circles of sweet all butter pie crust. Make the pie dough ahead of time to save time-- assembly and baking is a breeze! These are adorably delicious. Prep and bake time are only about an hour but be sure to allow yourself the 2 hours the dough needs to chill!
Ingredients
For the Pie Crust:
2 cups all purpose flour
1/4 cup granulated sugar
pinch of salt
1 cup cold butter
1/2 cup ice cold water
Pie Filling:
1 cup diced rhubarb
1 1/2 cups hulled and chopped fresh strawberries
2 tablespoons cornstarch
1/4 cup light brown sugar
1/4 cup granulated sugar
pinch of salt
1 lightly beaten egg for brushing
Instructions
To prepare the pie crust, whisk together the flour, sugar, and salt. Using a small box grater, grate the cold butter into the flour mixture (you could cut in the butter using a pastry cutter or two forks, but the box grater is by far my favorite and the fastest method!).
Using your fingers, work the butter into the flour until coarse crumbs form.
Pour in the water and work it into the dough with a fork or wooden spoon. Use your fingers to knead it slightly and press in any loose crumby dry mixture until everything is moist and combined.
Divide the dough in two pieces, shape into discs, wrap in plastic, and refrigerate for at least 2 hours.
While the dough chills combine the rhubarb, strawberries, cornstarch, brown sugar, granulated sugar, and salt. Set aside.
Pre-heat the oven to 350 and line a baking sheet with parchment paper (or butter generously).
Roll out the pie dough to 1/8-1/4 inch thick on a floured surface. Use a biscuit cutter to cut out the pies-- I like to go with a circle that's about 3 inches across.
Spoon the strawberry rhubarb filling onto each circle. YOU ONLY NEED A TINY BIT!!! About 2 heaping teaspoons of filling.
Fold the dough over the filling to create a half-moon shape. Press the edges with a fork and place each little pie on the prepared baking sheet an inch or two apart.
Pierce the top of each pie with a sharp knife so it can "breathe" while it bakes. I just make a tiny "X".
Brush the top of each pie with the lightly beaten egg.
Bake for 25-30 minutes. The tops will be a pretty golden brown. You can turn the tray halfway through baking if your oven bakes unevenly.
Let them cool slightly before serving.
Notes
Shortcut! You can use refrigerated pie crust
Nutrition Information:
Amount Per Serving:
Calories:

0
Cholesterol:

0mg
Sodium:

0mg
Carbohydrates:

0g
Fiber:

0g
Sugar:

0g
Protein:

0g
If you have gluten-free needs, Michelle at My Gluten-Free Kitchen made a version of this recipe!
Find Gluten Free Strawberry Rhubarb Hand Pies HERE
.