Thick slices of oatmeal bread are spread with apple butter, sprinkled with sharp cheddar, buttered, and then grilled to warm toasty perfection. Apple Butter Grilled Cheese is sweet and savory — perfect for breakfast, lunch, or dinner!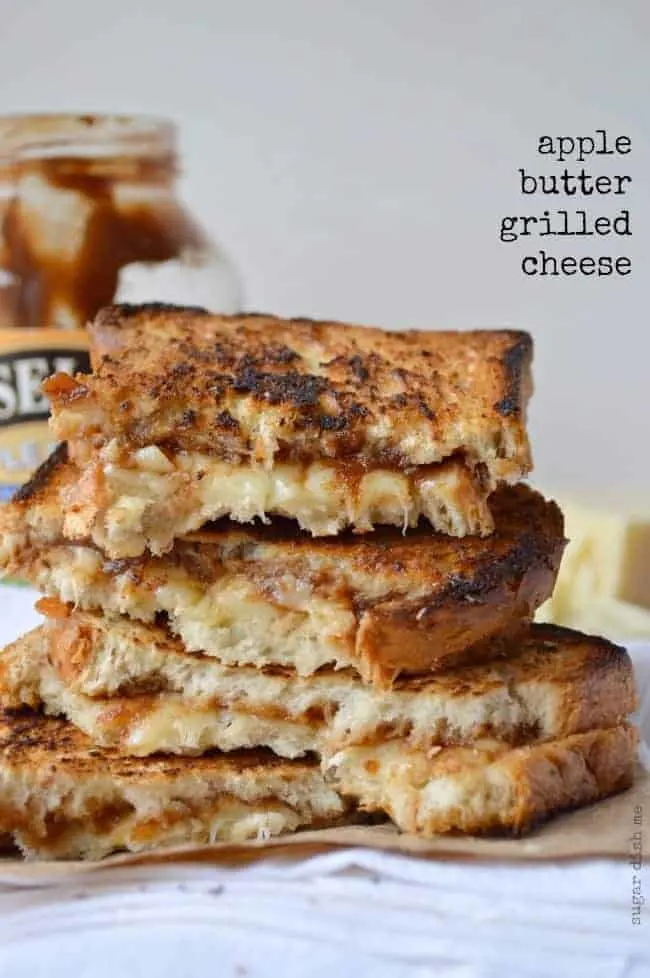 What?!!
I know! Why did I never think of this before now?
Recently Musselman's contacted me to share some awesome summer recipes and a steady supply of their Apple Butter. I don't know why I had apple butter assigned to fall for food seasons in my head (you have those, right?); maybe it was because of the apples?
Anyway, I couldn't have been more wrong! I have had a ton of fun making summery things out of this sweet appley spread, starting with this Apple Butter Grilled Cheese.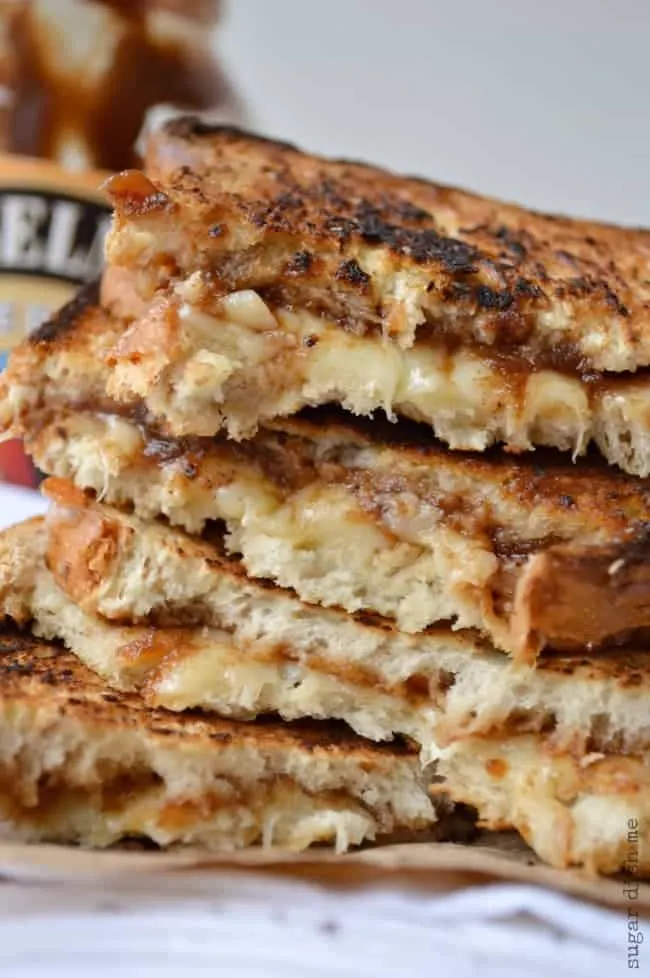 With summer vacation looming I still have hungry little boys on the brain. Lunch fast becomes our main meal come summertime and they do love grilled cheese.
Spreading some apple butter on the bread before grilling it was like putting frosting on a cake. It is SO GOOD!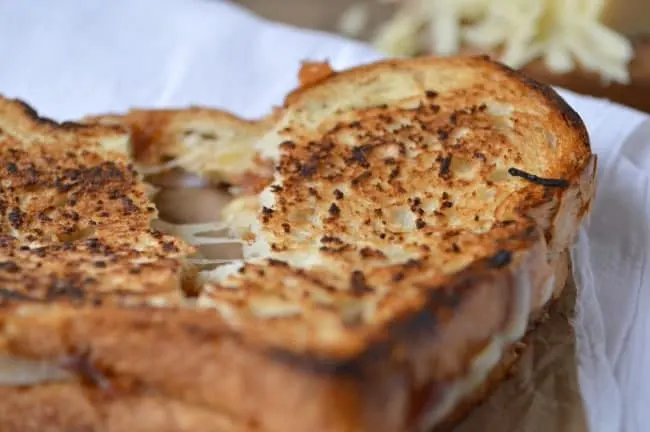 Thick slices of buttery bread, melty sharp white cheddar cheese, and sweet apple butter. Simple. Perfect.
I also might have eaten these for breakfast. And they kind of might even taste appropriate for dessert. Apple Butter Love.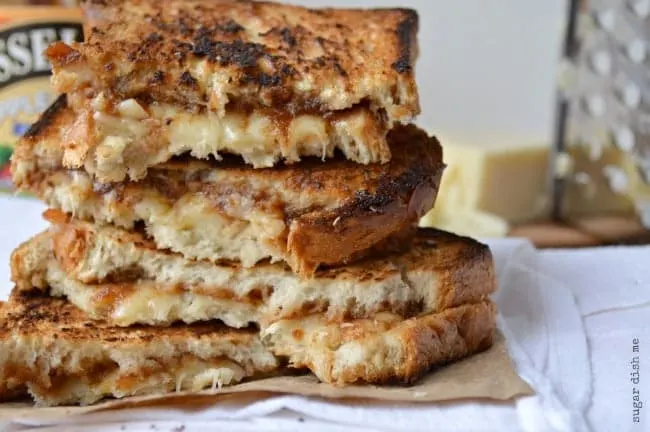 This post was sponsored by Musselman's Apple Butter. I was compensated with free product, but all opinions here are my own.
If you love apple butter recipes I have so many more!! You'll love this Apple Butter Spice Cake, these awesome little Apple Butter Cheese Crackers, Apple Butter Pulled Pork, and the crowning glory… Pulled Pork Pizza.
You also will probably want to make this easy Applesauce Snack Cake with Cinnamon Cream Cheese Frosting, and!!!
Blueberry Bread Pudding with Whiskey Butter Sauce — all good treats from the Knorr foods family.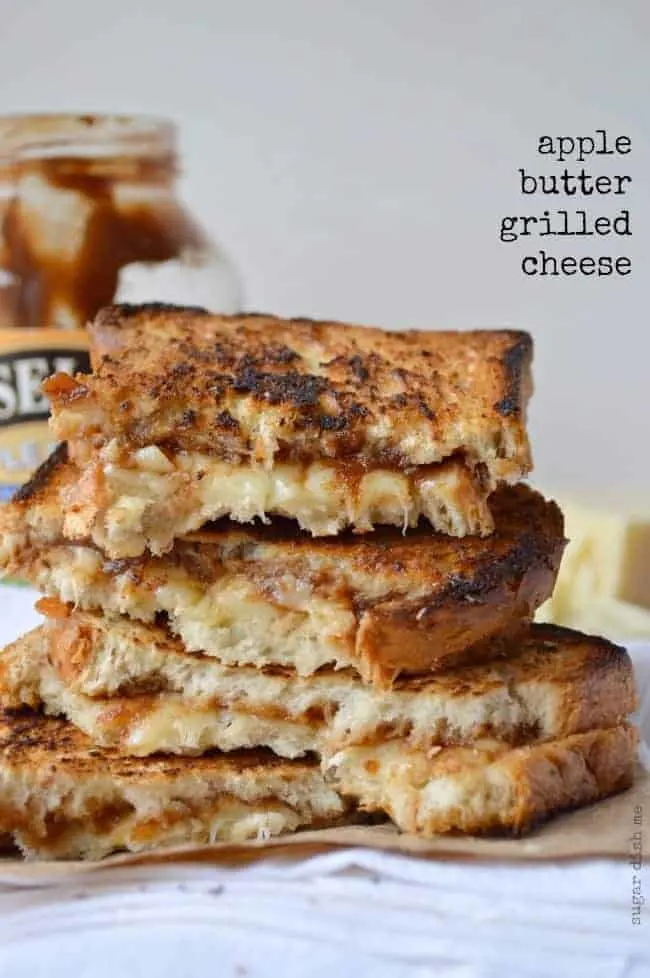 Yield:

many!
Apple Butter Grilled Cheese
Sweet and savory, perfect for any meal, thia Apple Butter Grilled
Ingredients
thick slices of hearty bread
Musselman's Apple Butter
sliced sharp white cheddar cheese
butter
Instructions
Heat a skillet over medium high heat (or use an electric griddle).
Spread one side of each slice of bread with the apple butter.
Butter the hot skillet (I just turn the stick of butter over and rub the skillet with it).
Lay the slices of bread apple butter side up in the buttered skilet.
Place slices of cheese on top of the apple butter on each piece. Let the bread get toasty and the cheese start to melt a little and then make sandwiches by matching the halves up (cheese to cheese).
Press gently to melt the sides together. Flip if desired. Serve warm.
Nutrition Information:
Amount Per Serving:
Calories:

0
Cholesterol:

0mg
Sodium:

0mg
Carbohydrates:

0g
Fiber:

0g
Sugar:

0g
Protein:

0g