A secret ingredient gives these Trail Mix Cookies, loaded with pretzels, M & M's, cashews, coconut, oats, and chocolate chips, the perfect cookie texture of soft with a little bite.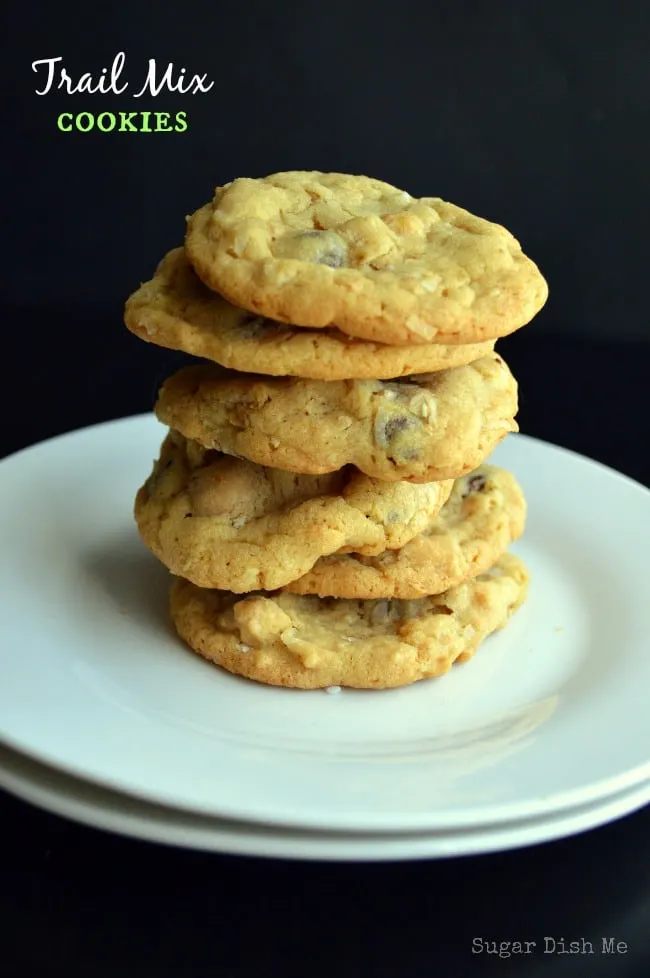 Sometimes I think that homemade cookies might just be my very favorite dessert.
I know that with all the ice cream, and pies, and brownies happening in the world, not to mention cake, that seems like an extreme exclamation, but hear me out ya'll <<<—- Side Note: I have lived in the south most of my life, like since I was 2, and still can't deliver the word 'ya'll' without feeling like a fraud.
Anyway.
Cookies are such a blank canvas! And they are portable. No dishes required.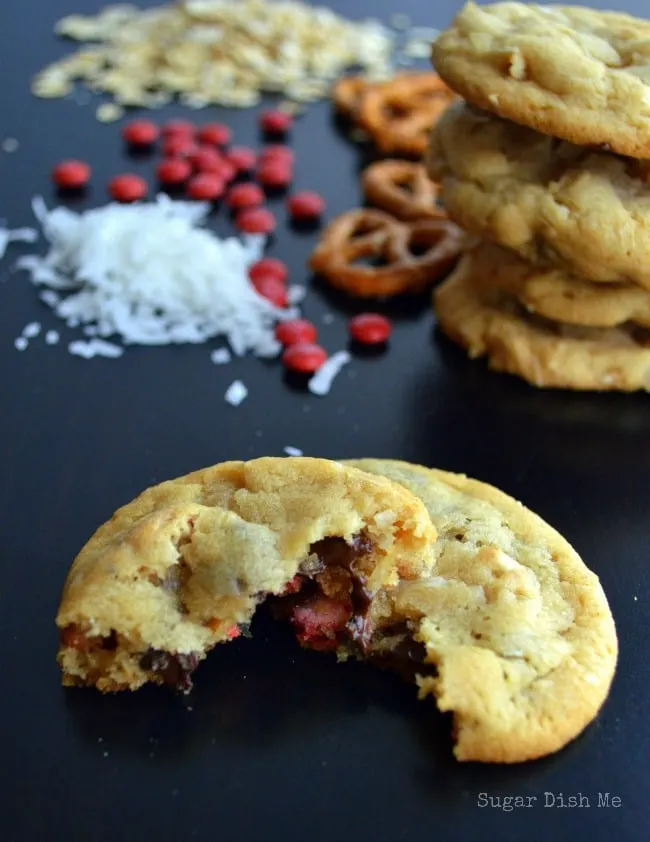 The dough is delicious. I am not above eating raw cookie dough. Living on the edge, you guys.
You can put cookies IN the cakes and ice creams and brownies and pies, and pretty much all the other dessert things.
You can put stuff ON them. Ice cream, whipped cream, frosting…
Cookies win at everything.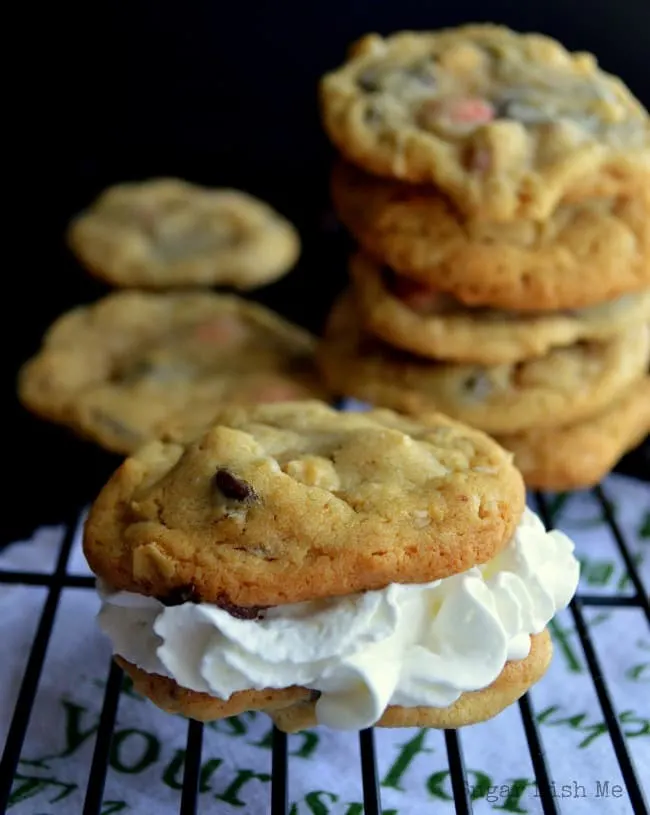 THESE COOKIES are loaded with basically everything I had in the cabinet. There are chocolate chips and bittersweet chocolate baking bits. Oats, pretzels, cashews, coconut, and M&M's!
The major thing happening with these cookies though, is the thing that gives them my favorite cookie texture. They fall right in that sweet spot between soft and chewy with that perfect tiny bit of crisp cookie bite.
The secret is: Cake Flour.
Cake flour is finer than all purpose flour. It has less protein. It is normally on reserve in my cabinet for making perfect white cakes and things, but it is also really great for offering up totally amazing cookies. If you do not have cake flour on hand, you can definitely make your own and it is really easy. I promise I do not say that in that crazy Little House on the Prairie way that so many DIY-ers do when referencing things like making your own hand-crafted vacuum cleaner. My favorite post on How to Make Cake Flour is by Joy the Baker <<<— Click There.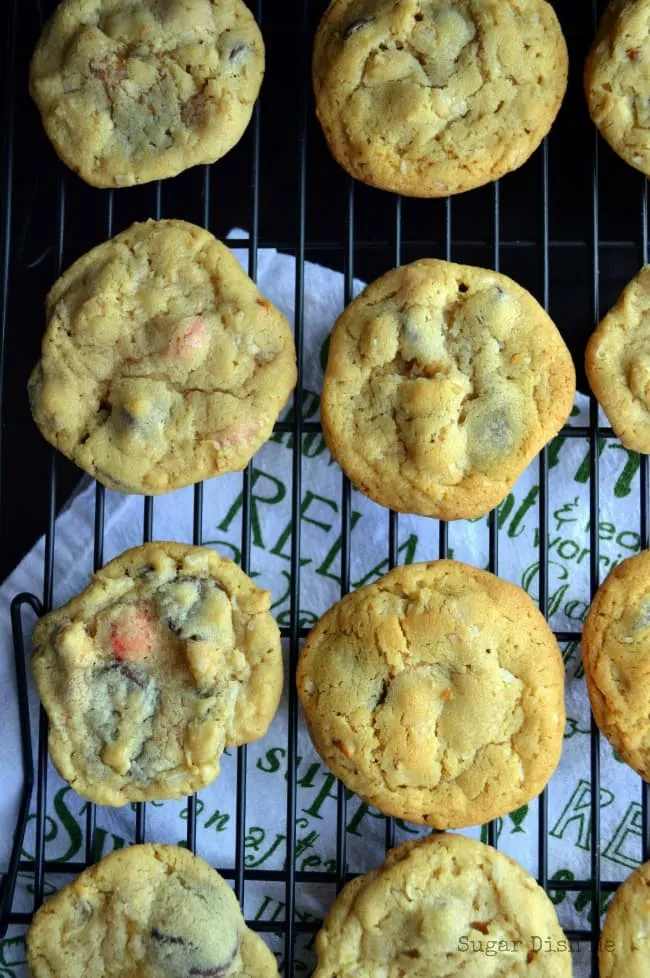 To top off my cookie-love, they are at the top of my favorite list of goodies to put in the mail. Which is perfect because I made these for The Leftovers Club! This month I was partnered with Mary Kay from Homemade Cravings, and as I sat here typing I got a notification that she is sending me these Samoa Caramel Popcorn Balls. Whaaat?!!! I am dying for the mail to come now. Full-on stalker mode.
Once a month a bunch of food bloggers get together and mail each other treats. If you have a food blog you can get in on the action by clicking HERE.
Trail Mix Cookies
Perfectly soft and chewy cookies with a tiny bit of crisp cookie bite thanks to cake flour in the batter! These cookies are loaded with pretzels, oats, chocolate chips, bittersweet chocolate baking bits, cashews, coconut, and M & M's!
Ingredients
¾ cup unsalted butter, softened
¾ cup packed light brown sugar
½ cup granulated sugar
1 egg
1 tablespoon vanilla
2 cups + 2 tablespoons cake flour **see note**
1 teaspoon baking soda
1 teaspoon pink sea salt
¼ cup semi-sweet chocolate chips
¼ cup bittersweet chocolate baking bits **see note**
½ cup broken pretzel pieces
¼ cup cashews, coarsely chopped
¼ cup shredded sweetened coconut
¼ cup toasted oats *see note*
¼ cup M & M's
Instructions
Preheat the oven to 350.
In a large bowl cream together the butter and sugars until smooth. Add the egg and vanilla and beat until combined.
Add the cake flour, baking soda, and sea salt all at once. Mix until combined -- batter will be thick. DO NOT over-mix. You may need to scrape down the sides and the bottom of the bowl to make sure all the flour is incorporated.
Stir in the chocolate chips, baking bits, pretzel pieces, cashews, coconut, oats, and M & M's by hand.
Drop by the rounded tablespoonful onto an un-greased cookie sheet and bake for 10-12 minutes.
Let the cookies cool slightly before removing to a wire rack to cool completely.
TIP: While the cookies cool slightly on the cookie sheet, sprinkle them with just a little more sea salt for extra flavor and that sweet/salty goodness.
Notes
If you do not have cake flour on hand you can make your own by sifting all purpose flour and cornstarch. Check the post for a link to instructions
I used both baking bits AND chocolate chips. You can use all of one or the other as well. Using both will give you some smaller bites of chocolate with a few big melty spots.
To toast the oats you can scatter them across an un-greased baking sheet and let them toast in the heating oven for 5-7 minutes.