Simple creamy pesto tossed with cooked chicken and cashews is spread on thick sourdough and then toasted with provolone cheese and mushrooms for a crunchy, melty, warm, and delicious sandwich.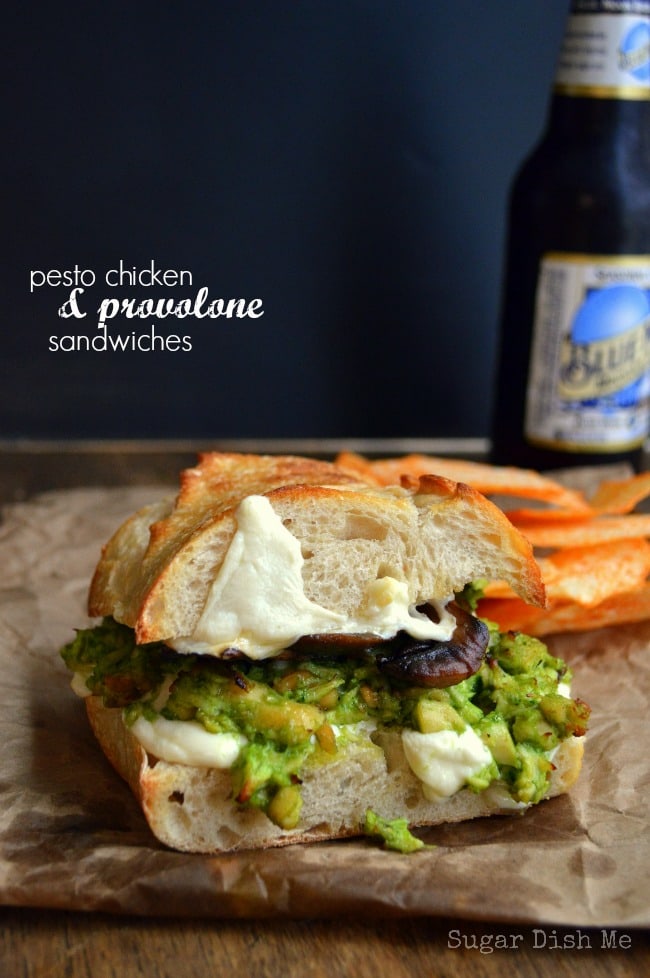 Sandwiches have become a serious staple around here.
Our house is packed chest-high with moving boxes right now and I have whittled my kitchen down to the very bare minimum.
That's not to say I don't have everything I need to make all kinds of complicated orders – I do.
I just don't feel like it.
I've made it a goal to fill up a box a day. I started in places that no one would ever know were cleaned out except me – like useless cabinet over the refrigerator. Does anyone know whyyyyyy there is a cabinet over any refrigerator ever? What a pointless waste of trapped-behind-my-pancake-griddle space.
Anyway, I have started enlisting my family in the box-filling.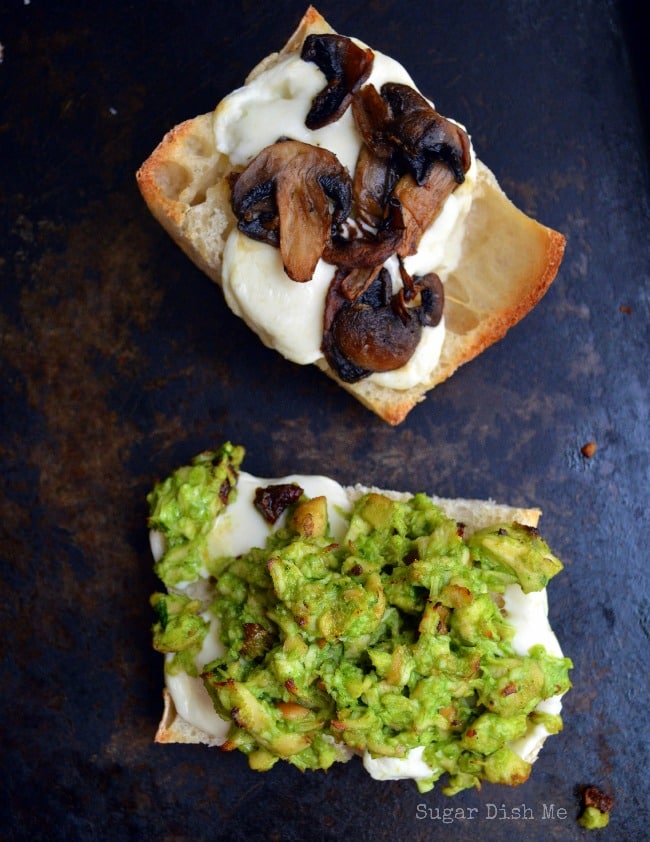 Chad in particular is super-pro at having multiple stashes of totally useless stuff EVERYWHERE.
I tackled our closets last week and made the mistake of thinking that under our bed would be like a quick, no big deal kinda thing, only to find that under the bed is one of Chad's secret pack rat stashes. There are 564347687689754 discs in a box with only Chad-knows-what on them – music, movies, computer software, games, photo back ups – I mean there's really no telling. You would think they exist because there is something important on them, but they are either not labeled at all OR they say things like 'G atc34' in faded blue sharpie. If you can crack THAT code please email me. Seriously.
I also found a stash of catalogs for Volkswagen and Mustang parts which is fine – my handy other half has a couple of project cars that he works on in the summer – but these catalogs are from like 1993. And he won't let me throw them away.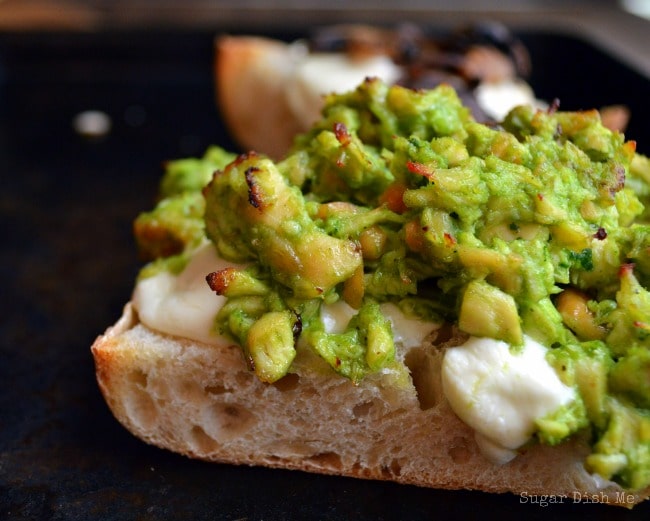 So anyway, we have been eating a lot of sandwiches because I have been trying to negotiate with a borderline hoarder lately.
These Pesto Chicken and Provolone Sandwiches were among my favorites. Last year I made Kale Pesto that became one of my favorite staples to keep in the fridge. It's great on pizza, great on pasta, and really great on these sandwiches. Obviously traditional basil pesto would also be delicious, but this neverending winter is not really helping my herb garden along just yet so I opted for the kale.
For a great easy shortcut you can definitely use store-bought prepared Basil Pesto, and also some leftover chicken.
I added a little Greek yogurt to the pesto and chicken, giving it a thicker, more creamy texture that I love. And I added chopped cashews for crunch. Note: the cashews are awesome. Don't skip them. Melted provolone and sauteed mushrooms give a totally restaurant-quality taste to some really fast and simple sandwiches.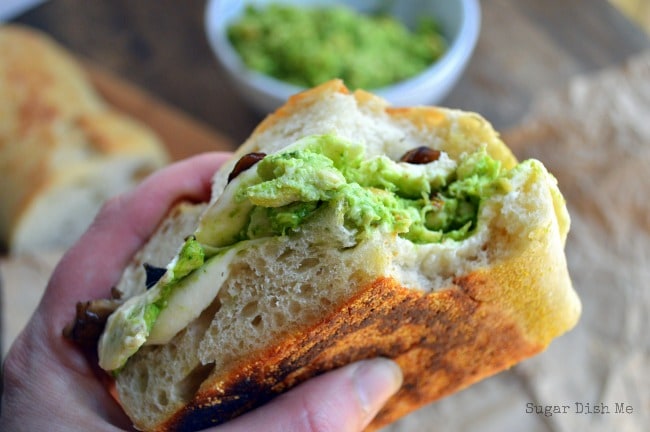 Which leaves more time for packing.

Pesto Chicken and Provolone Sandwiches
Cooked chicken tossed in a creamy pesto, spread on sourdough, and melted in the oven with provolone cheese and sauteed mushrooms.
Ingredients
3 cups cooked chicken
¼ cup pesto (I used this easy recipe for Kale Pesto, but store-bought/prepared Basil Pesto is delicious, too!)
¼ cup plain Greek yogurt
⅓ cup cashews, coarsely chopped
2 teaspoons olive oil
1 cup fresh mushrooms, sliced
salt to taste
1 sourdough loaf, cut into sandwich slices
8-12 slices provolone cheese
Instructions
Preheat the oven to 400°F. Set out a baking sheet - you can line with parchment if you'd like. Lay the bread slices across the baking sheet.
In a large bowl stir together the chicken, pesto, Greek yogurt, and cashews until well combined.
Heat the olive oil over medium high heat in a small skillet. Add the mushrooms, sprinkle with the salt, and cook, stirring occasionally until they are golden, about 4 minutes.
While the mushrooms cook, lay a slice of provolone on both halves of each sandwich. Spoon a heap of the pesto chicken on top of the cheese on the bottom half of each sandwich. When the mushrooms are done, spoon a few onto the top half of each sandwich.
Place the baking sheet in the oven, leaving the sandwiches open-faced to melt the cheese and toast the bread on both sides. Bake for 4-5 minutes, until the cheese is melted and the exposed edges of the bread are golden.
Put the sandwich halves together and serve.