York Peppermint Brownies!!!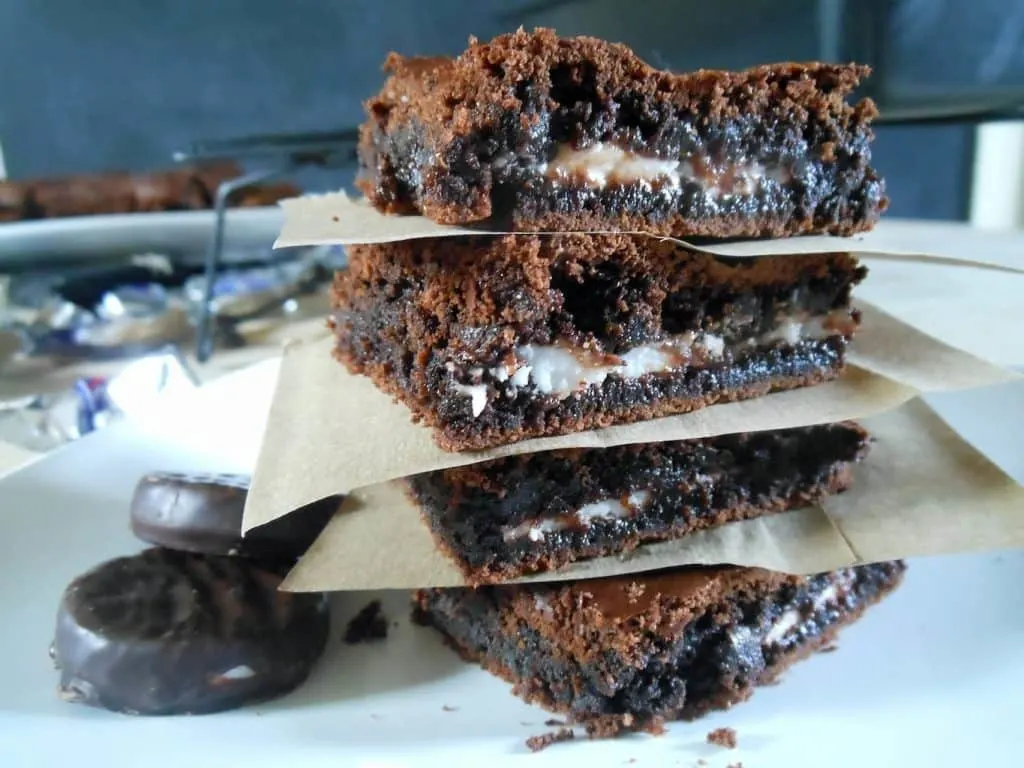 This recipe has gotten more views than any recipe I have ever posted since I've been writing this blog… ever. The problem is that it was one of the very FIRST recipes I ever posted, so the photos were GARBAGE. Not that I'm any kind of professional food photographer now or anything… ummmm no. Most of what I've picked up in the photo department has been from the Tasty Food Photography e-book written by Lindsay from A Pinch of Yum. Teaching is SO her calling.
Anyway, besides the photos looking like I set a toddler loose with a cheap camera phone, I've had several comments and even more emails asking for photos of the finished product as well as a little help.
So I'ma try to help a little bit.
Several readers have contacted me about the peppermint patties rising up and making an ugly (but delicious) mess out of these brownies. I made a few batches and couldn't figure out the problem… until I bumped the temperature up a little bit. 350 instead of 325 made a few peppermint patties bust through the top of the brownies. All ovens cook differently- mine runs super hot – so if you've had problems with a York Peppermint Brownie mess, check your oven temp.
I've had a few inquiries about the brand of peppermint patty– I always use York, but I don't think it matters. I've had a a couple of readers use After Eights with total success. And here's the great thing about brownies: you can pretty much put whatever you want in them.
Reese's cups? Yes. Pretzels? Definitely. Thin mint Girl Scout Cookies? Ohhhh my gosh yes. Also if someone can procure some Thin Mints, Samoas, and Tagalongs for me I will… I don't really know yet, but I'll do something super thankful and great.
If you want the exact specifics of the brownies shown in these photos, here it is: I used a 9 X 9 pan (my original recipe calls for an 8 X 8, but I exploded mine in the oven one day… now 9 X 9 works just fine for me.) and THIS brownie recipe. It's my favorite basic brownie recipe using chocolate chips instead of cocoa powder. The results are dense and fudgey with that thin crinkly wisp of chocolate that bakes up across the top. I love them. I spread half the brownie batter across the bottom of the pan and then evenly spaced 16 snack size York Peppermint Patties over the batter. Then I spread the other half over the top of the peppermint patties.
In a 9 X 9 pan I had to streeeeetch it, but it worked. I baked 'em for 30 minutes at 325.
And I let them cool completely before cutting (if you are not concerned with appearances please feel free to eat them warm from the pan with a fork… I might or might not be guilty of this).
I hope this helps!! Thanks for all the comments, emails, and feedback- I was really glad to have an excuse to make 3 batches of these again. Tasty research and all that.
For the original York Peppermint Brownie post click HERE.