Buffalo Turkey Sliders are one of the best little appetizers I ever did make! Juicy little turkey burgers loaded with your favorite wing sauce spice, topped with melty cheese, crisp lettuce, and your choice of blue cheese or ranch dressing!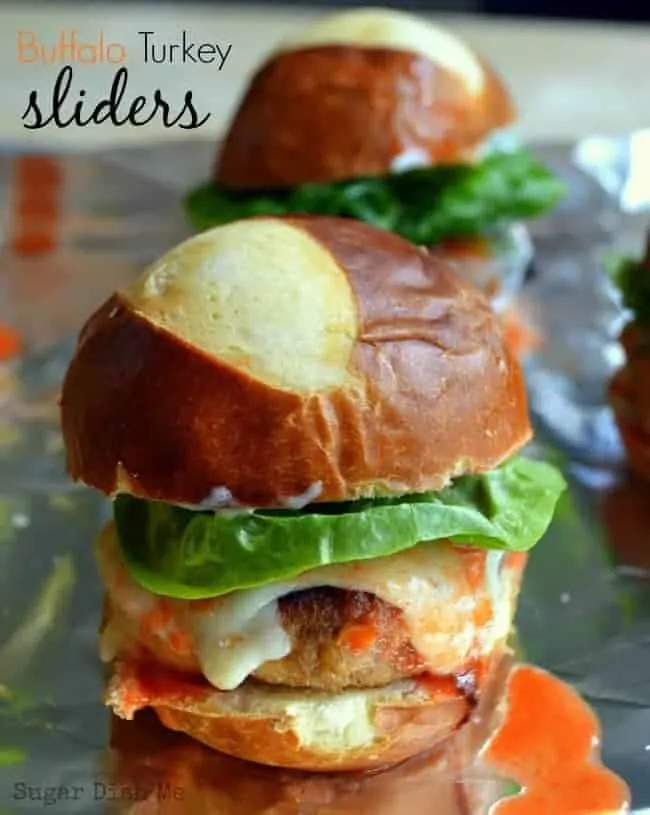 Do I make too many things that are buffalo sauced?
Don't answer that.
But if you like buffalo things you should definitely also try Buffalo Chicken Lettuce Wraps.
And Buffalo Chicken Salad Sandwiches.
These sandwiches are my last contribution to football food… except that I will only be watching commercials because football makes no sense to me.
But I like snacks. And I like funny. Oh! And I like Beyonce.
Remember when Prince did the halftime show a few years ago? That was so great.
Remember when special episodes of Friends came on after the game even though it wasn't Thursday?
Remember when the whole world was mad at Janet Jackson and Justin Timberlake?
Funny how I remember all of these things but I can't tell you who played in any of those games. Sorry football people. I'm sure right now you hate me.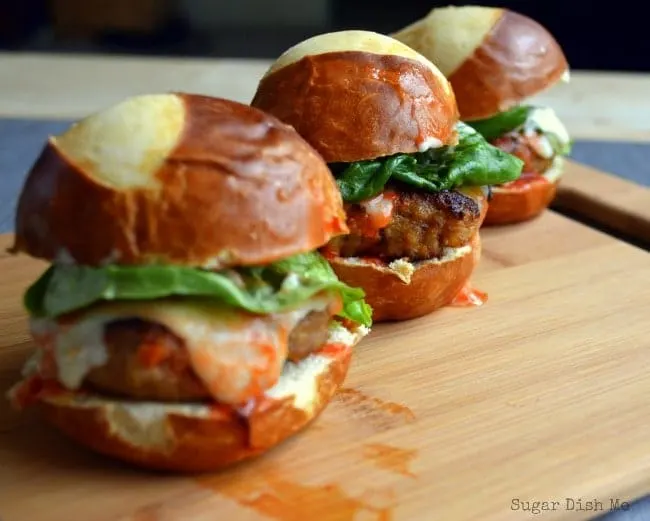 But I will redeem myself with these sliders.
Does anyone know where the term sliders originated? I'm sure I could Google that mess but I currently have about 600 various tabs open on my screen and I don't think my computer can handle much more. Should I be calling these sandwiches sliders if I don't technically know what I'm talking about?
I have soooooo many questions today.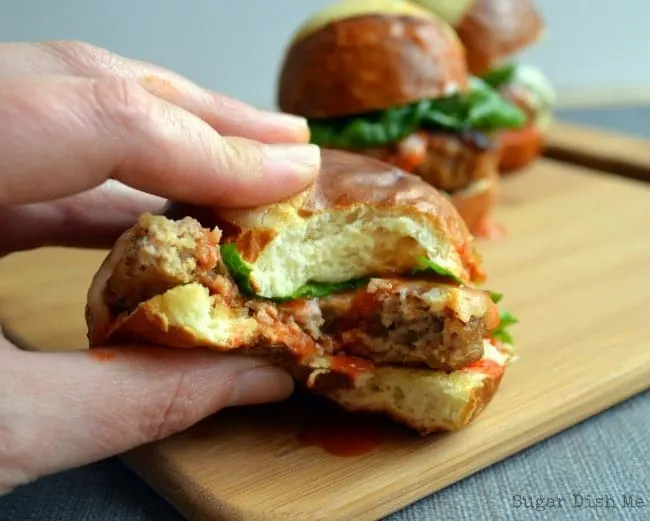 Add to this list of questions– what will you be watching this Sunday? Better yet, what will you be eating? Is it rude to just just show up for snacks and half-time?
In addition to these sliders all loaded with wing sauce and spinach and Havarti cheese, I made you a quick list of appetizery things: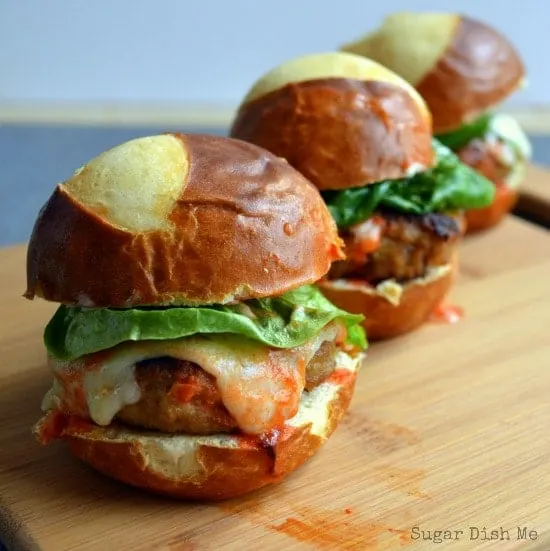 Yeahhhhh snack foods! (And fun excuses to make 'em)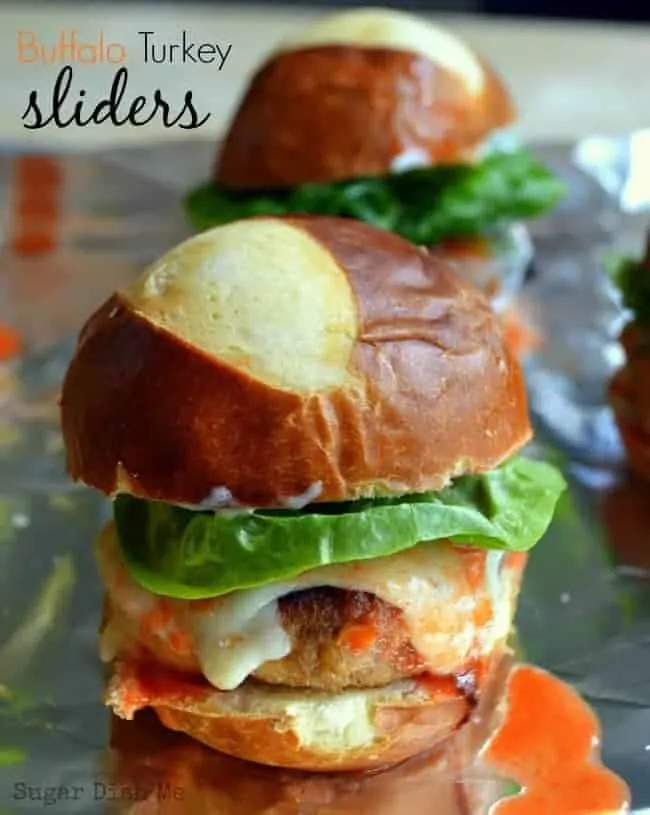 Yield:

16
Buffalo Turkey Sliders
Delicious little turkey burgers loaded with buffalo flavor, topped with creamy cheese, a little lettuce for crunch, and spread with blue cheese or ranch. These are perfect for tailgating or game day parties!
Ingredients
Burger Patties
1.5 - 2 pounds ground turkey
1 egg
1/2 cup bread crumbs or oatmeal (I like a little of both)
1/2 cup onion, finely chopped
1/4 cup of your favorite buffalo sauce (I used Frank's Red Hot Wing Sauce), plus more for dressing the burgers
1/2 teaspoon garlic powder
1/2 teaspoon black pepper
1-2 tablespoons oil
Sliders
16 slider buns (dinner rolls work exceptionally well, too)
4-6 ounces of Havarti cheese, shredded
3 cups fresh baby spinach or tender lettuce
creamy blue cheese or ranch dressing
Instructions
In a large bowl mix together the turkey, egg, bread crumbs, onion, buffalo sauce, garlic powder, and black pepper. Form the mixture into 16 small patties.
Heat the oil in a skillet and pre-heat the oven to 375. Spray a baking pan with non-stick cooking spray.
Brown the burgers a few at a time in the skillet and then transfer them to the baking sheet.
Bake the burgers for 15-20 minutes, turning once, until they are cooked through.
Assemble the sliders by placing one cooked patty on each bun, topping the hot burgers with some of the shredded Havarti cheese, placing a few leaves of lettuce or spinach on top of that, and then drizzling each with more buffalo sauce. Spread the top bun with the blue cheese dressing or save it on the side for dipping
Notes
Ground turkey can be soft -- if you feel like the mixture is too wet when forming the patties feel free to add a few more bread crumbs or oats to pull it together.
Recommended Products
As an Amazon Associate and member of other affiliate programs, I earn from qualifying purchases.
Nutrition Information:
Amount Per Serving:
Calories:

0
Cholesterol:

0mg
Sodium:

0mg
Carbohydrates:

0g
Fiber:

0g
Sugar:

0g
Protein:

0g