So here's the ironic thing about these cookies.
3 days ago I got wise and finally downloaded a calorie counting/ fitness tracking app on my phone. Know what's weird? I love it. I've always been a label-reader and have made a mental note of the calories I'm taking in… unless it's easier on my conscience to ignore them. But I have never actively tracked them or held myself accountable for what I'm eating.
Last spring I caught myself in some Mother's Day photos that my sister took and untagged myself immediately. Ohhhh my gosh it was the rudest awakening. So me, Chad, and my sister embarked on the Insanity journey. Holy hell that workout is appropriately named. My sister and I finished the 2 month program (Chad's job is very physically demanding and late spring/summer here is HOT; he quit, but he gets a free pass), I dropped 21 pounds, and I never really rearranged my eating. I kept it off for the rest of the year, but never lost an ounce more.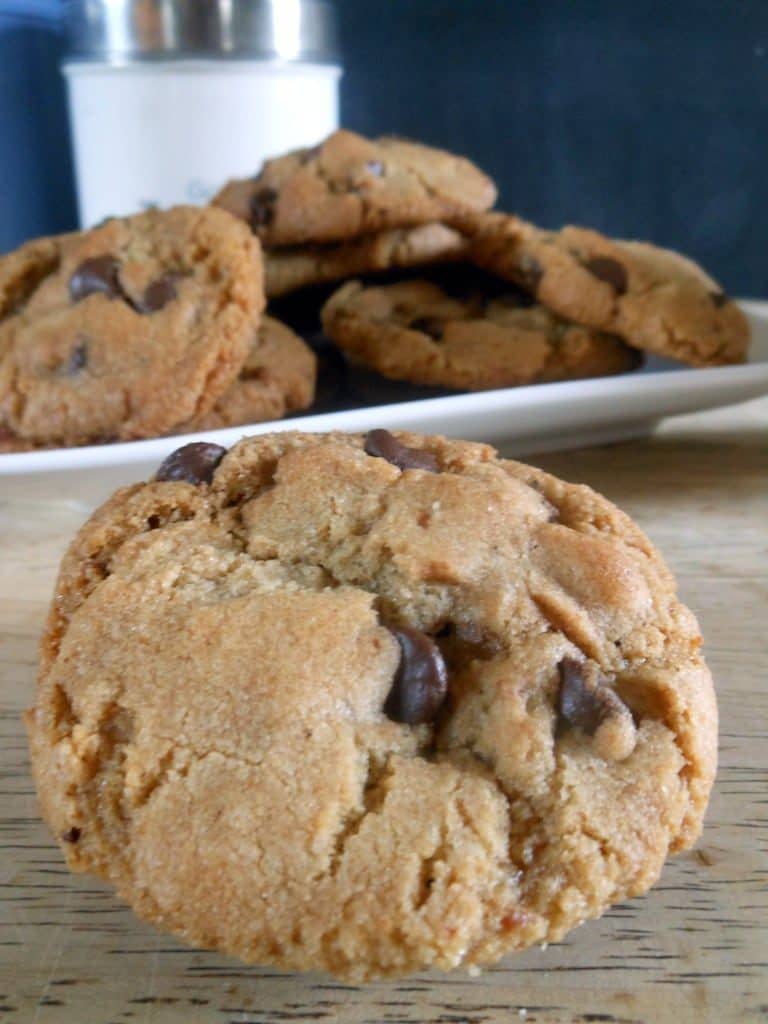 Just before Thanksgiving I managed to catch a cold that settled in my chest and then wouldn't quit. I felt better – no more cold – but I was struggling to breathe All. The. Time. I couldn't work out. So in the last 2 months I've had to go 3 rounds with a prescription that makes me feel like total garbage AND makes me hungry every second of the day. And so I watched the scale start creeping back up. My face felt round, my hard-earned arm muscles had gone soft, and I pretty much felt like ick.
I finally had a doctor listen and for the first time since October I can run and jump and breathe again. So I decided to get honest with myself and get real about getting my weight and my health in check.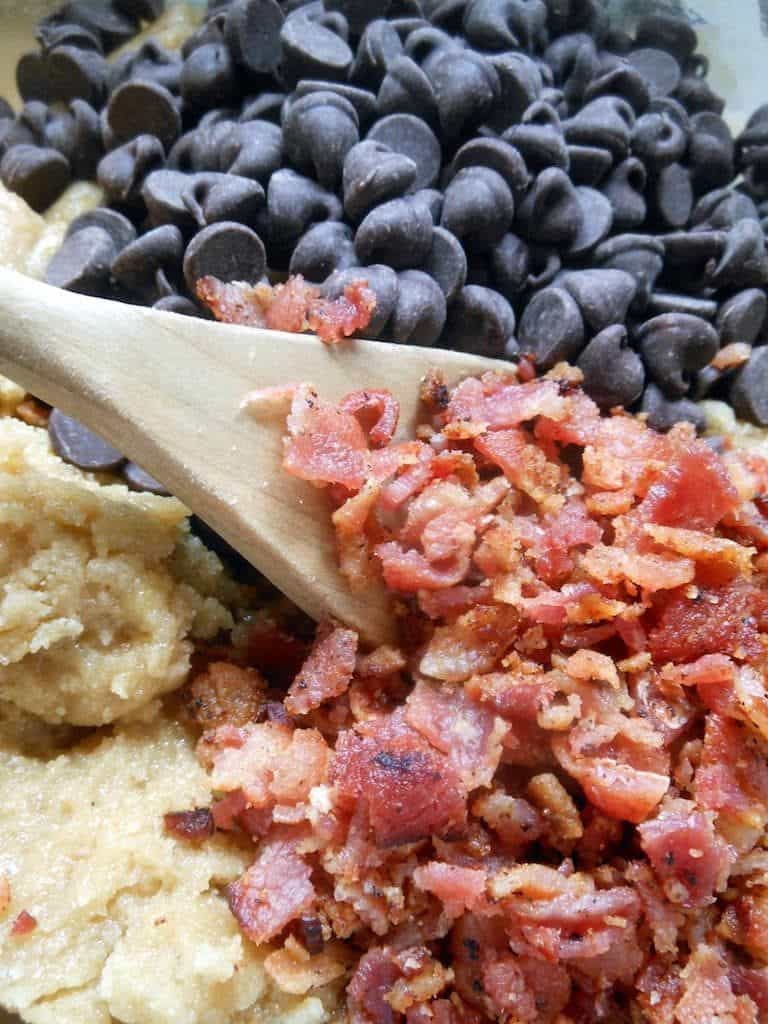 You can see now why it's sort of funny that I've photographed loads of cookies loaded with brown butter, chocolate chips, and bacon.
Anyway. I made it through my first day with a 30 minute workout and no sweets. Here's the deal, though. I know me. And if I cut myself off from the goodies completely then it's only a matter of time before I fall off the wagon and eat half a pan of brownies.
So I bought some low-cal frozen yogurt (I think I might love frozen yogurt more than ice cream. Please don't think less of me.) and I made these cookies.
I have carefully calculated my calories, and after an excessive and ridiculous kickboxing session that lasted an hour I had a cup of coffee and 2 of these cookies. And I am still waaaaaaaaaaaay way under my caloric intake for the day. Thank you crazy cardio. Cookies make you worth it.
These cookies made me so happy! And the scale is steadily moving. I'm totally motivated.
So enough about me for a minute… let's talk about bacon in the cookies. I promised you bacon in the chocolate chip cookies HERE. It's salty and sweet and interesting and totally delicious. The brown butter happened because my microwave has quit working and I have to melt butter on the stove. So I figured, while the butter is in the pan, I might as well brown it and make things really interesting.
I am so in love with these cookies.

Bacon and Brown Butter Chocolate Chip Cookies
Ingredients
6 slices of lean bacon
2 cups all purpose flour
½ teaspoon baking soda
½ teaspoon salt 2 teaspoons cornstarch (optional)-- see note
¾ cup unsalted butter
2 tablespoons bacon grease
1 cup packed light brown sugar
½ cup granulated sugar
1 egg, plus 1 egg yolk
1 tablespoon vanilla
2 cups semi-sweet chocolate chips
Instructions
Preheat the oven to 325.
Place the butter in a small saucepan. Melt it over medium high heat. Reduce the heat to medium and let the butter simmer. It will crackle and spit a little as you cook the water out of it. Watch it closely-- it will start to brown and smell deliciously nutty. There will be little browned bits floating in it. Remove it from the heat and stick it in the freezer to chill.
Cook the bacon and then set it aside on paper towels to drain. Reserve 2 tablespoons of the bacon grease.
While the bacon is cooking,
Crumble and chop the drained bacon into itsy bitsy pieces.
In a medium bowl whisk together the flour, baking soda, salt and cornstarch.
In a large bowl stir together the brown butter, reserved bacon grease, and sugars until smooth. Add the egg and yolk (this is why the butter needs to cool as much as possible-- scrambled cookie eggs are gross.). Then stir in the vanilla.
Mix in the flour until everything is combined evenly. Stir in the bacon bits and chocolate chips.
Set the cookie dough aside for 5-10 minutes; this makes it easier to work with.
Form the dough into 1½ inch balls and place them 2 inches apart on the cookie sheet.
Bake for 8-10 minutes. Let the cookies cool for 5 minutes before removing to a wire rack to cool completely.
Notes
** You can leave the cornstarch out, but I've found it makes for super soft chewy cookies!** These are best enjoyed the same day so the bacon doesn't taste "old". It makes quite a bit-- 3½ dozen-- so I'll be gifting lots of cookies.
adapted from THIS big fat chewy chocolate chip cookie recipe

Funny the things that motivate me.