Bourbon Spiked Hot Chocolate is rich and creamy, made from scratch, and spiked with bourbon to make all your winter days warmer.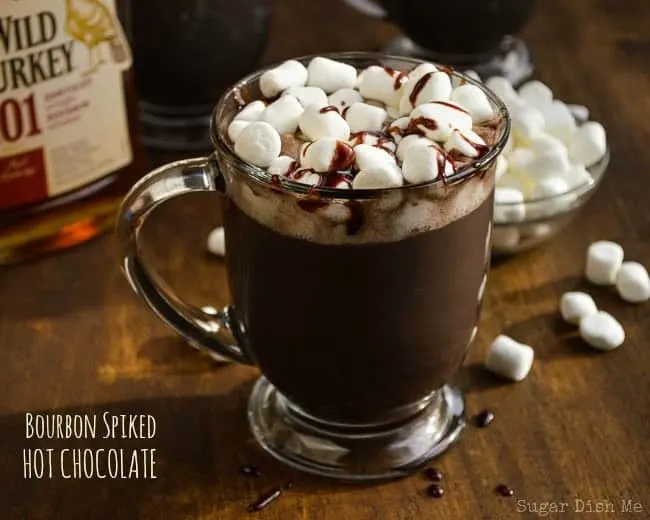 Some of you might want to shake your fist at me after I tell you this.
I really really really love snow. L.O.V.E.
But because I live in the south western part of North Carolina, I don't see it much. It's been a full 2 years since we've had as much as flurries.
What's worse than never seeing even the teensiest bit of winter weather are the newscasters that champion the 70 degree temperatures in January. You guys. Global warming is not a reason to get excited. Neither are mosquitoes. Just sayin'.
So today marks the very first day that they've called for any kind of winter weather this season. I passed by the grocery store earlier. Of course it was completely packed.
Side Note: Does anyone understand the compulsion that most of the population suffers from in which a thunderstorm or a forecast for snow means that we need to straight up clean out the grocery store? I have never been able to grasp it and I really need some insight.
Do you really have so little food in your house that you couldn't get by for the ONE day it takes things to melt without buying ALL the milk and bread? I need to understand this. I feel like I'm missing something.
I didn't need groceries so I kept on driving.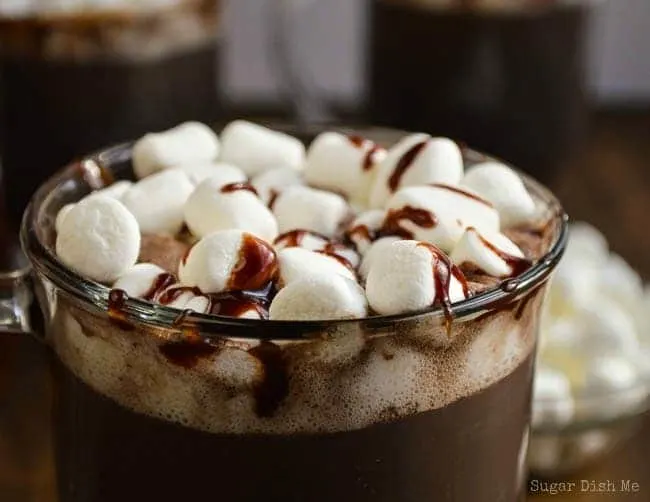 To the liquor store.
In the event of any actual weather this is what I want to be doing.
Book. Bourbon. Chocolate. And marshmallows.
But because we are where we are, all we are actually getting is torrential freaking downpour. Mississippi is getting more snow than me. How is this even fair?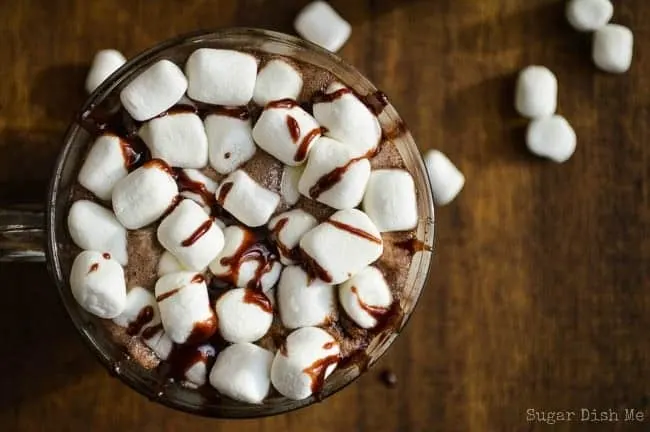 As it would happen though, it was a really great thing that I went out and bought bourbon. Because while I was harassing my kids about homework, recovering from another ridiculous round of cardio, and preparing to wash a bunch of veggies to go with dinner, I logged onto Facebook.
And learned that my littlest brother – he's 17 – was in a completely horrible car accident (his car hydroplaned, went off the road, ran through a grove of trees, and rolled; it's toast) … and he walked away with just a few scratches.
So I had a meltdown while standing in my kitchen.
Wear your seat belts. That is no joke.
We currently haven't seen a stitch of snow and I for one am SO GLAD I have spiked marshmallowy hot chocolate in place of a bunch of useless bread and milk.
Yield:

4
Bourbon Spiked Hot Chocolate
Bourbon Spiked Hot Chocolate is rich and creamy made from scratch hot chocolate that will warm you up even more because it's also spiked with bourbon!
Ingredients
1/3 cup unsweetened cocoa powder
1/2 cup granulated sugar
a dash of salt
1/3 cup boiling water
3 1/2 cups reduced fat milk
1 teaspoon vanilla
2 tablespoons half and half (optional)
8 tablespoons bourbon
1 cup mini marshmallows
Instructions
In a medium saucepan stir together the cocoa powder, sugar, and salt.
Stir in the boiling water until the sugar has dissolved and the cocoa isn't lumpy. Turn the burner to medium heat.
Stir in the milk. Let the milk heat up, stirring occasionally. Watch it carefully so it doesn't scorch!! Remember you aren't cooking the milk. Just warming it.
When the hot chocolate has reached your desired drinking temperature, remove it from the heat and stir in the vanilla, half and half, and bourbon.
Divide the hot chocolate between 4 mugs, top each with marshmallows, and serve immediately.
Notes
If you leave out the bourbon this makes EXCELLENT regular homemade hot chocolate. The half & half makes it extra creamy.
Recommended Products
As an Amazon Associate and member of other affiliate programs, I earn from qualifying purchases.
Nutrition Information:
Yield:
4
Serving Size:
1
Amount Per Serving:
Calories:

333
Total Fat:

6g
Saturated Fat:

3g
Trans Fat:

0g
Unsaturated Fat:

2g
Cholesterol:

20mg
Sodium:

155mg
Carbohydrates:

50g
Fiber:

1g
Sugar:

43g
Protein:

9g
adapted from
THIS
hot chocolate recipe at Allrecipes.com