Breakfast will forever be my favorite meal.
And bagels will forever be one of my favorite foods.
We have not one single bagel bakery in Nowheresville, North Carolina. Dunkin' Donuts is about 25 miles away (and their coffee tastes like sugary milk. Sorry DD. Can't handle it.) and our grocery store doesn't make bagels in their bakery. One of the vendors at our farmer's market sells bagels. But it's January.
I'm weird about bagel flavors, too. I'm a savory girl. Cinnamon raisin toast? Yes. Cinnamon raisin bagel? NO.
Give me Everything. Or Poppy Seed. Garlic. Jalapeno Cheddar.
A whole wheat, smothered in garden vegetable cream cheese kind of bagel. Yuuuuuuuum.
There was nowhere to go to satisfy my bagel cravings.
So I made my own! And it was really pretty easy.
That's not to say I didn't ef plenty of bagel recipes up before I got this one right though. I made some jalapeno cheddar bagels in the middle of the summer because summer in North Carolina is a great time to boil things and pre-heat your oven for half the day. It was too hot in here, I let them rise too much, and then the phone rang. That boiled dough was a hot mess quite literally. My first few tries with the whole wheat bagels happened pretty unsuccessfully, too. All the recipes I tried called for too much flour, not enough salt, not enough action from the yeast. I was beginning to think that making bagels was gonna end up like the first batch of THESE biscuits. Remember those? Yeah.
But I tried again and wooooooo! Bagels. All chewy and warm and basically amazing.
I didn't tell you about all my bagel flub ups to discourage you. Noooooo! It's the opposite, really. Cause see, I worked out all the kinks. I made it really easy. Easy! I pinky promise.
Oh and hey— one more thing.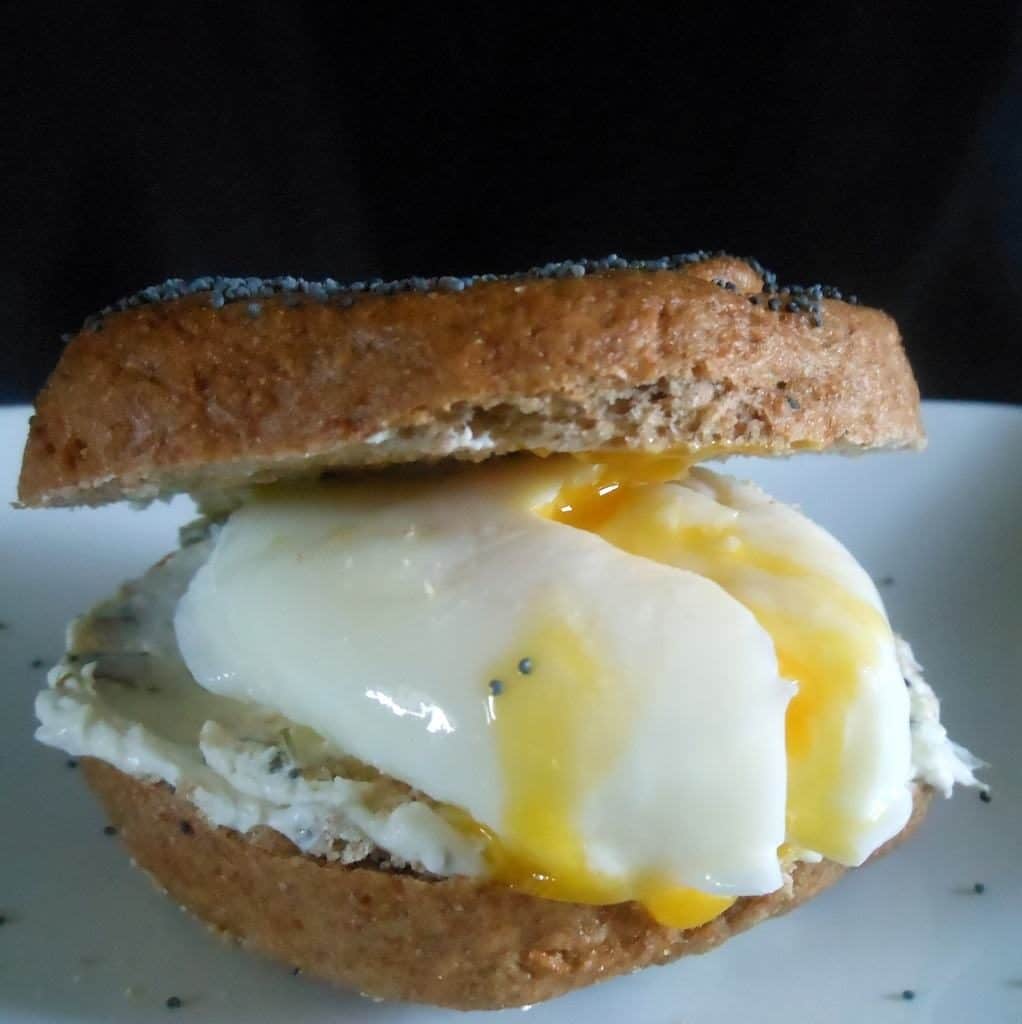 These are less than 200 calories. So don't harbor any guilt over cream cheese or a poached egg.

Whole Wheat Poppy Seed Bagels
Ingredients
1 cup lukewarm water
1 tablespoon granulated sugar
1½ teaspoons salt
1½ teaspoons active dry yeast
2½ cups whole wheat flour
½ cup cornmeal
3 tablespoons poppy seeds
Instructions
In a large bowl mix the warm water, sugar, and salt. Stir until the sugar and salt have dissolved.
Add the yeast and let it sit for 10 minutes.
Stir in the flour ½ cup at a time.
Divide the dough into 6 equal pieces. Roll each piece into a snake shape. Lightly pinch the ends together to make a circle.
Lay the bagels out on an ungreased baking sheet. Cover and let rise for 45 minutes.
Bring a large pot of water to a boil. Drop 2 bagels at a time into the boiling water. Cook them for 2-3 minutes and remove from the water with a slotted spoon.
Scatter a little bit of cornmeal across an ungreased baking sheet and place the rest in a shallow dish, Dip the bottom of each cooked bagel in the cornmeal and then place on the prepared baking sheet.
Shake the poppy seeds over the moist bagels and then let them sit for 45 minutes.
Pre-heat the oven to 475.
Bake the bagels for 10 minutes or until they are golden brown.