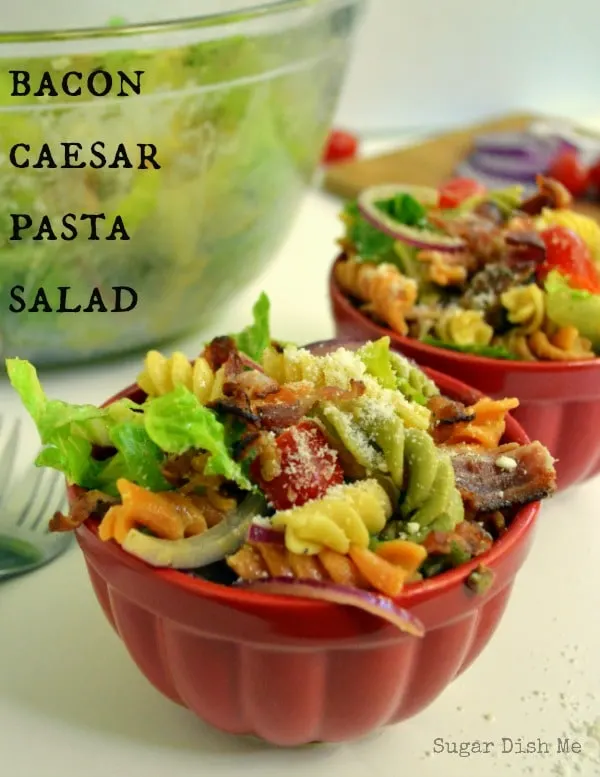 Need a quick dinner or a side to take to a cookout or BBQ? This Bacon Caesar Pasta Salad is IT.
You can even make parts of it the day before in just a few minutes. Handy, right? Plus bacon Annnnnnnd you'll love it.
I wrote this recipe for my friend Julie at Julie's Eats and Treats.
I feel like I should apologize for sending you all over the internet these last few weeks, but I have good reasons! I swear it! FIRST – food bloggers have a huge secret society on the interweb, and we all know each other and meet for drinks on the weekend.
Just kidding. [mostly]
Really what's up is that I love love love sharing places for you to find new eats and good reads. Bonus that those places usually belong to friends. Also! You help your friends. So when they are super busy, or working out of town, or having a baby, or vacationing, you do a little extra and hold their place. At least I do.
In my case that means guest posting and contributing and sharing.
Here's the fun thing about posting at Julie's Eats and treats though — it'll be a regular thing. So every 6 weeks or so you'll get a double dose of her AND me. Awesome, right? Right.
Soooooo all of this is to say CLICK HERE FOR THE BACON CAESAR PASTA SALAD RECIPE.