Sweet Tea Sangria is a simple and refreshing summer cocktail made with freshly-brewed iced tea, sweet white wine, and fruit. Perfect for hot afternoons and backyard BBQ's.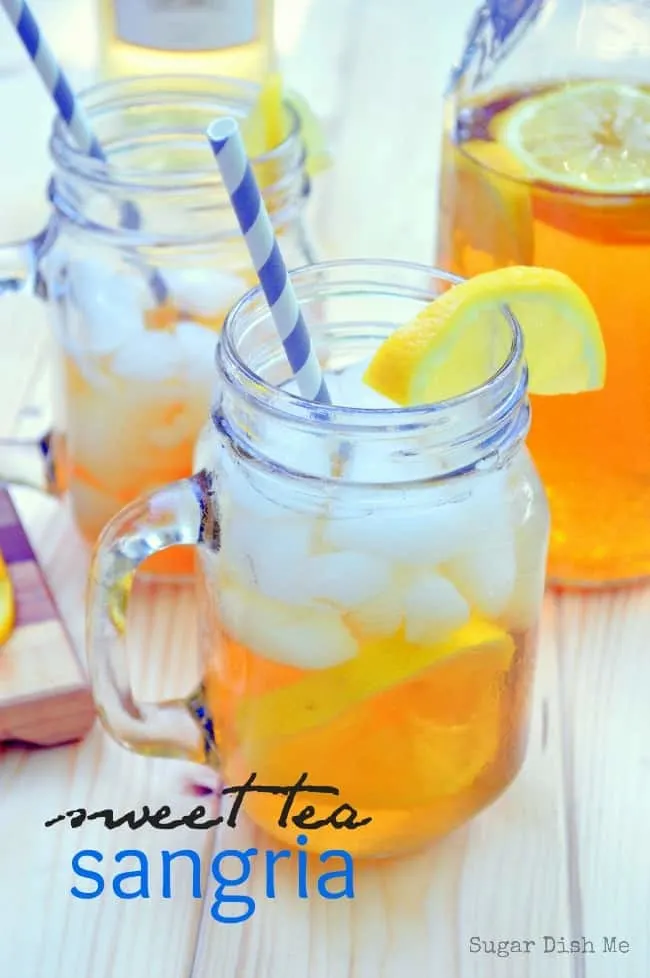 Sooooo… this drink goes down pretty easy. Maybe too easy.
But I think that's fine because over the last week I have had lots of reasons to celebrate!
CELEBRATE!!!
Those of you that have been reading here for awhile, you know that we have been looking for a house and then moving for what seemed like an eternity. I mean, really. We started actively home shopping in late 2012 and then launched into high gear in early 2013. We FINALLY found something in February this year, and made an offer on February 21st. After a little haggling and an offer accepted, we felt like we should probably celebrate, but we were afraid. Always waiting for the other shoe to drop and that kind of thing.
Then began the waiting. Ohhhhhhh the waiting.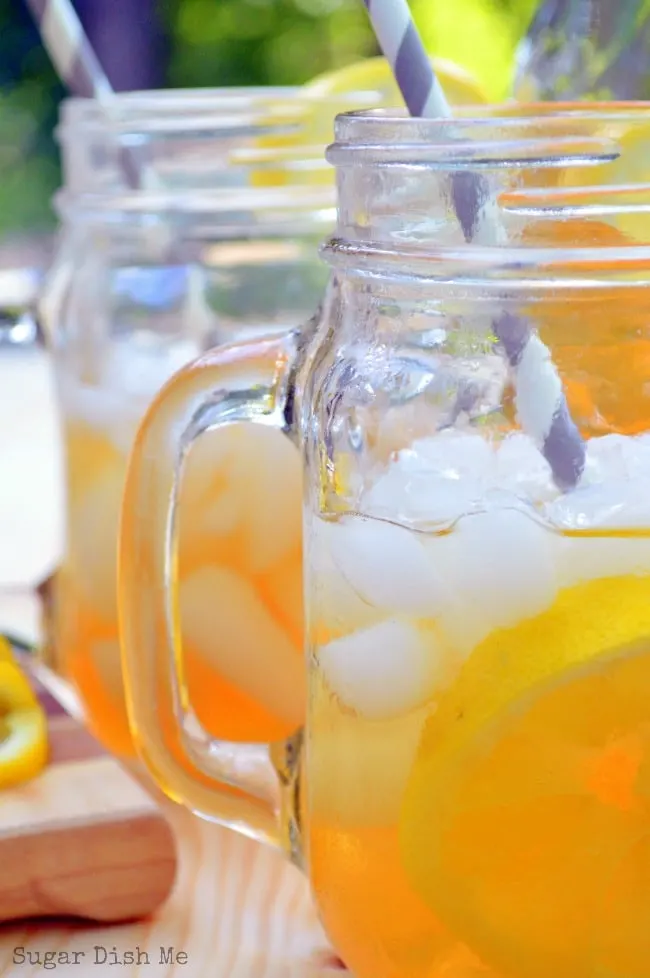 I am basically the world's most impatient person when it comes to stuff like driving and inconsideration and line jumping. But when it comes to waiting for a response or exciting news or something, I can pretty much just busy myself and put it out of my head (this is the good part of procrastinating). My other half though – he is a whole different story.
This is a guy that tries to give me Christmas presents as soon as he buys them, weeks before the actual holiday, and will text me 10 times before lunch to see if UPS has brought whatever weird car part he's ordered. He took 2 months of waiting and made them totally unbearable. Everyday it was, "Well I wonder if we are gonna hear something?," or, "Have you heard anything?," or, "Dang, I wish we would hear something!"
PLUS I have had all of the everything I could get my hands on neatly stuffed into boxes since the last week in February. That was fun.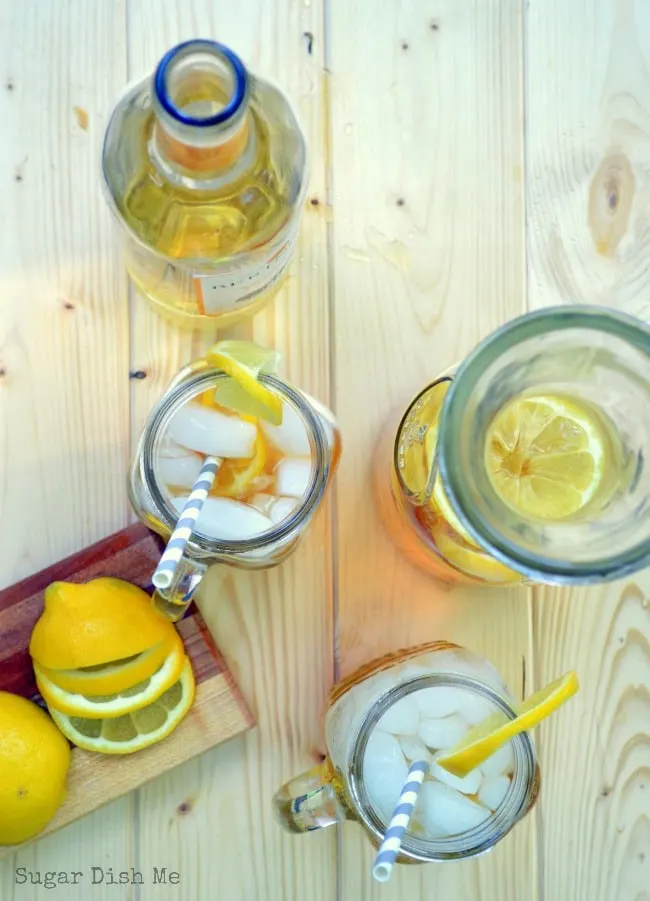 But last weekend – May the 8th – we signed the papers to purchase our very first home. Yay!!!!
Then we moved a 26 foot truck and 22 car loads of stuff for 3 days. Then I slept.
AND THEN I made these drinks.
These awesome sweet sangria drinks made with freshly brewed sweet iced tea, white wine, and fruit! I used moscato which is a pretty sweet, honey-colored white wine, and to me sometimes even tastes like honey. Poured over ice with a squeeze of lemon juice, some sliced lemons, and a splash of the tea, this is so perfect for hot days and cookouts and summer BBQ-ing. I love it.
I just used simple lemons for this batch – everyone's favorite garnish to sweet iced tea. But you can get creative with the fruit here. It's also great with blueberries, strawberries, and raspberries. You can add fresh mint for a dash of clean and fancy. You can add a straw and drink 3 without blinking.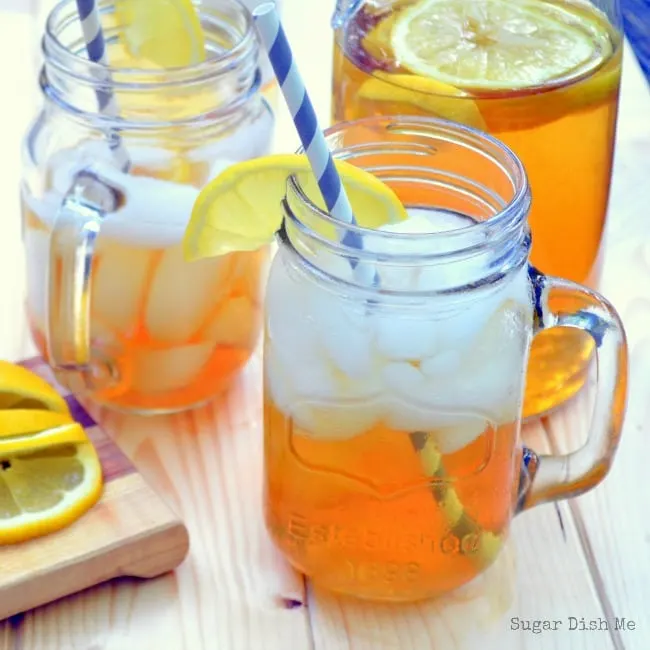 Have a drink with me!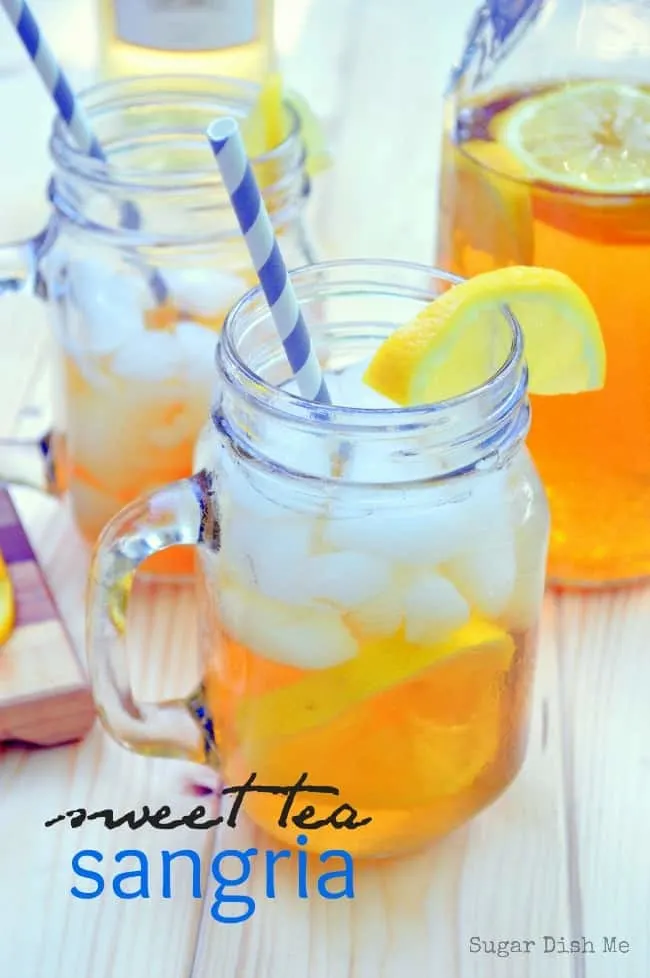 Yield:

about 6
Sweet Tea Sangria
The perfect summer drink! Made with freshly brewed sweet iced tea, white wine, and fruit. Poured over ice this is an awesome cookout, hot day, BBQ refreshing treat. The tea can be brewed ahead of time - make sure to leave yourself 30 minutes for it to steep.
Ingredients
2 cups water
1 family sized tea bag (or 2-4 individual orange pekoe tea bags)
1/2 -3/4 cup sugar (according to taste -- see note)
enough water to yield about half a gallon of brewed tea
1 (750 ml) bottle of moscato, chilled
ice
2 lemons, sliced
berries, mint, and other fruit, as desired
Instructions
Place the 2 cups of water and the tea bag in a small saucepan and bring it to a simmer. DO NOT let it boil - it makes the tea taste bitter. Remove from the heat and set aside to let it steep for about 30 minutes.
Add the sugar to a pitcher that will hold at least 1/2 gallon. Pour the still-warm tea over the sugar and stir until the sugar dissolves. Then add cold water to the saucepan with the tea bag. Pour that into the pitcher and squeeze out the tea bag. Repeat until you have 1/2 gallon of tea. You can refrigerate the tea at this point until you are ready to serve.
To mix the drinks, fill the glasses with ice. Squeeze the lemons over the ice, being careful to keep out seeds. Toss a few lemon slices into each glass (and any other fruits or mint you are using). Fill each glass 1/2 - 2/3 of the way with the wine and then pour the sweet tea over the top.
You can pour the remaining wine into a pitcher or carafe with more lemon slices and fruit and then top with more sweet tea for refills. I like about a 2:1 wine to tea ratio.
Notes
Amount of Sugar -- I'm in the south. We like our tea SWEET!!! For sweet southern iced tea I listed the recommended amount in the ingredients, but feel free to adjust that accordingly. You could even leave the sugar out completely.
Steps 1 & 2 can be done up to 24 hours ahead of time.
Nutrition Information:
Amount Per Serving:
Calories:

0
Cholesterol:

0mg
Sodium:

0mg
Carbohydrates:

0g
Fiber:

0g
Sugar:

0g
Protein:

0g