Crunchy little bites of puff pastry stuffed with BBQ pork and topped with an easy, totally addictive apple bacon slaw. This appetizer is perfect for game days or holiday parties and comes together super fast. You can even use leftovers to make it happen!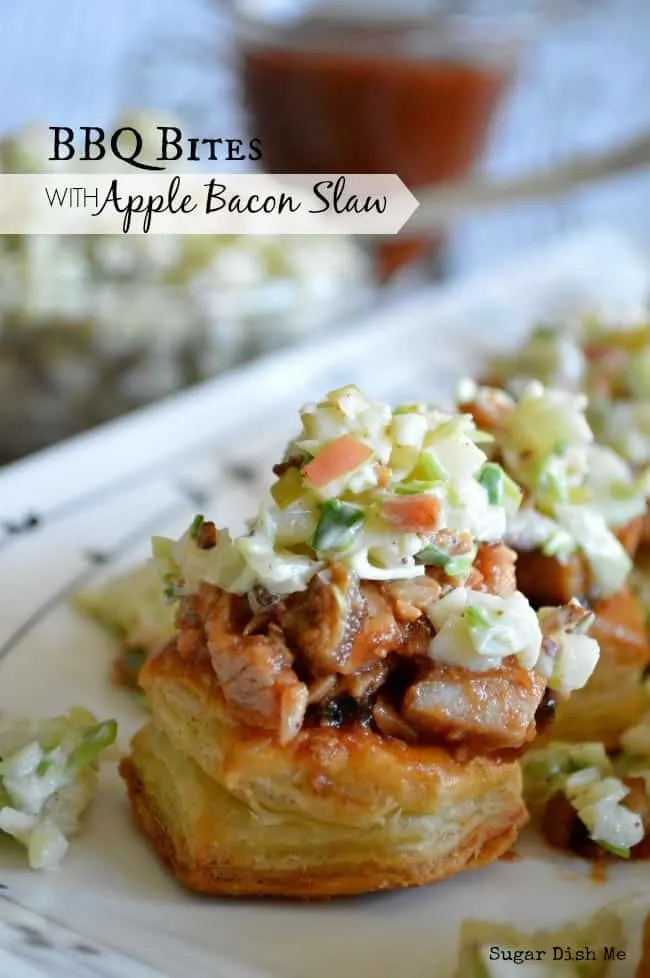 Okay first of all, I wanna clear something up: I don't even like slaw. Seriously.
I think I mentioned that several several times when I made these Carolina Style Hot Dogs.
But adding apples and bacon to stuff improves it drastically and when I put this slaw on these BBQ Bites I seriously could not put them down.
One of the most fun things about occupying internet space is that you get to meet all sorts of really neat people. Most of the friends I talk to regularly are far far away, but sometimes the stars align and I end up in the same place as someone I've been dying to meet in real life.
Last week that happened when I stumbled on an Instagram post from my friend Hayley saying she was in Charlotte, NC – the closest city to me!
You know Hayley, right? Extra creative and talented author of the Domestic Rebel? Sender of Oreos and Goldfish crackers. Maker of the best Frankentreats.
So we arranged to meet for dinner at this place called The Cowfish Sushi Burger Bar because sushi + burgers. Duh.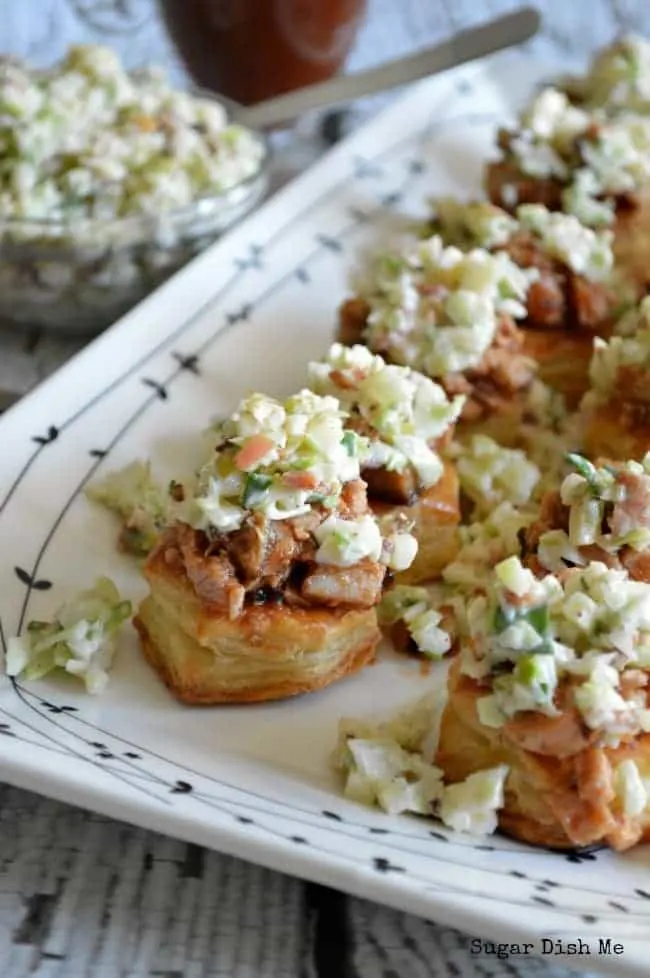 My phone died right as I was trying to navigate the exact address of the restaurant so me and the boys drove in circles for approximately 22 minutes as the sun went down and all the lights distracted me. Fun!!
After I finally got my car in park and found Hayley at a table she secured early it was super fun (for real fun, not the smartass kind I experienced while driving). My kids ordered and ate $1748 worth of sushi. I plied my dead phone woes with wine. We talked and talked and then!!!
We ordered this thing called he Deliverance Roll that was like pulled pork wrapped in soy paper and fried and topped with their homemade bacon slaw. It was deliciously insane and I had to have it again.
Except to return to Cowfish would require funding more of my boys' crazy sushi habit soooo – these awesome little appetizers were born.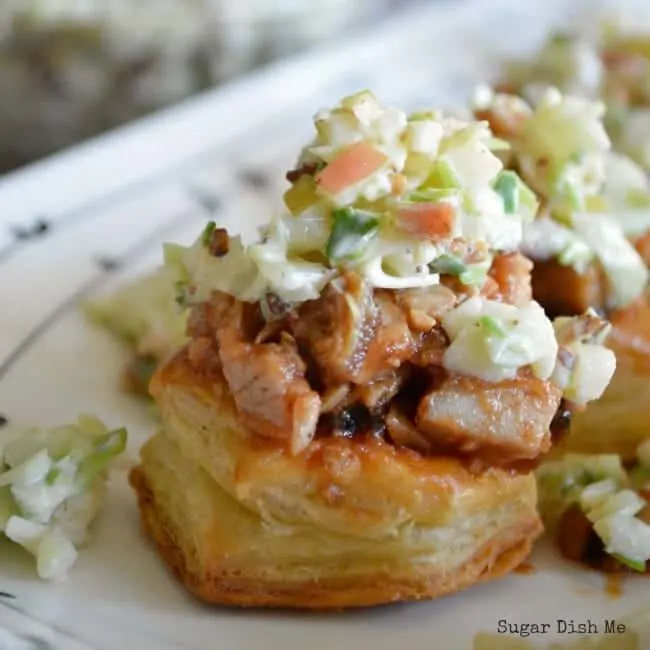 The first time I tested this slaw recipe we totally put it on hot dogs. It got rave reviews from native Carolinians that like slaw. Also I ate more than my fair share and actually really really like it.
The BBQ Bite portion comes together really easily with a package of puff pastry shells and some leftover BBQ Pork. I'd recommend going the cook once, eat twice route by making these BBQ Pork Tacos and then using the leftovers to serve appetizers up really fast. You could also chop up leftover pork sirloin or roast, OR you could cook up a tenderloin really fast if you don't plan ahead.
If you are feeling really adventurous you could add a pile of these Crispy Onion Straws because they are amazing.
The perfect appetizer for holiday parties or game days!!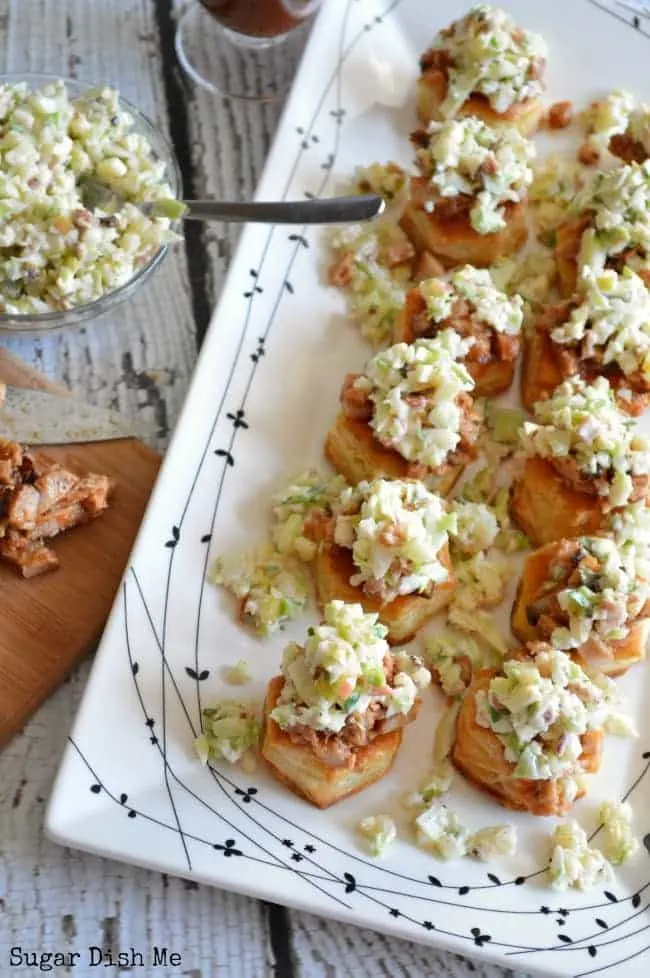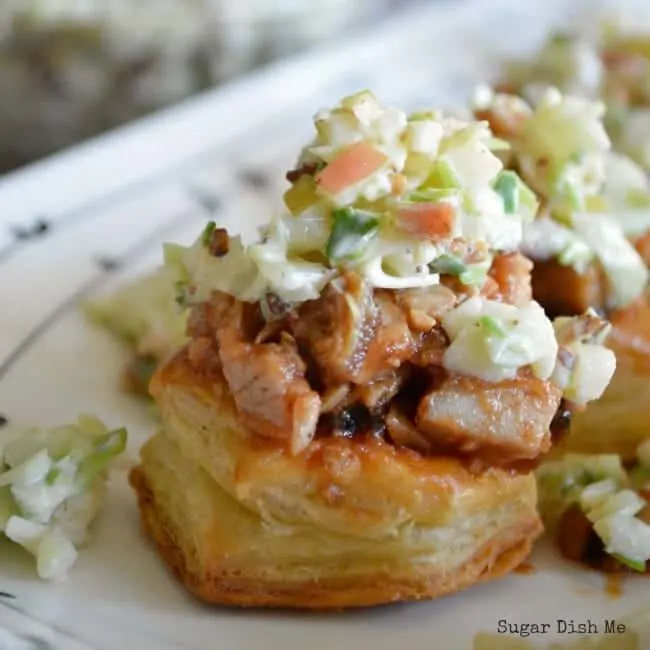 Yield:

24 Bites
BBQ Bites with Apple Bacon Slaw
BBQ Bites with Apple Bacon Slaw are the most fun little cookout appetizer. Crisp little puff pastry shells stuffed with BBQ pork and topped with THE MOST delicious Apple Bacon Slaw -- super simple pick-me-up snacks that are perfect for tailgating and parties.
Ingredients
For the Apple Bacon Slaw:
2 cups finely chopped cabbage
1 cup finely chopped tart apples
2 tablespoons finely chopped onions
4 slices bacon, cooked, drained on paper towels, and crumbled (2 tablespoons bacon grease reserved)
1 tablespoon granulated sugar
1/2 cup mayonnaise
2 tablespoons cider vinegar
1 teaspoon dijon mustard
For the BBQ Bites:
1 package puff pastry shells ( I used the small shells - 24 to a package)
Instructions
To make the slaw toss together the cabbage, apples, onions, and bacon. Sprinkle with the sugar and toss to coat.
In a small bowl stir together the mayonnaise, cider vinegar, and dijon mustard until smooth. Whisk in the reserved bacon grease. Pour the dressing over the cabbage mixture and stir to combine. Cover and refrigerate until you're ready to use.
Cook the puff pastry shells according to package directions (typically 400°F for about 10 minutes, using an egg wash to make the pastry golden).
Spoon BBQ Pork into each shell and then top with the Apple Bacon Slaw.
Notes
These BBQ Bites are PERFECT for using up leftovers! I love using the pork from these Slow Cooker BBQ Pork Tacos, but you can also chop up leftover roast pork and toss it with your favorite BBQ sauce. I like to make sure to warm up any leftovers before using them.
Recommended Products
As an Amazon Associate and member of other affiliate programs, I earn from qualifying purchases.
Nutrition Information:
Yield:
24
Serving Size:
1
Amount Per Serving:
Calories:

88
Total Fat:

5g
Saturated Fat:

1g
Trans Fat:

0g
Unsaturated Fat:

4g
Cholesterol:

9mg
Sodium:

175mg
Carbohydrates:

7g
Fiber:

1g
Sugar:

4g
Protein:

3g