Crisp homemade cheese crackers made with Musselman's Apple Butter and sharp cheddar, dusted with cinnamon sugar. These Apple Butter Cheese Crackers make great snacks for parties or lunchboxes, and bag up perfectly for gifted treats!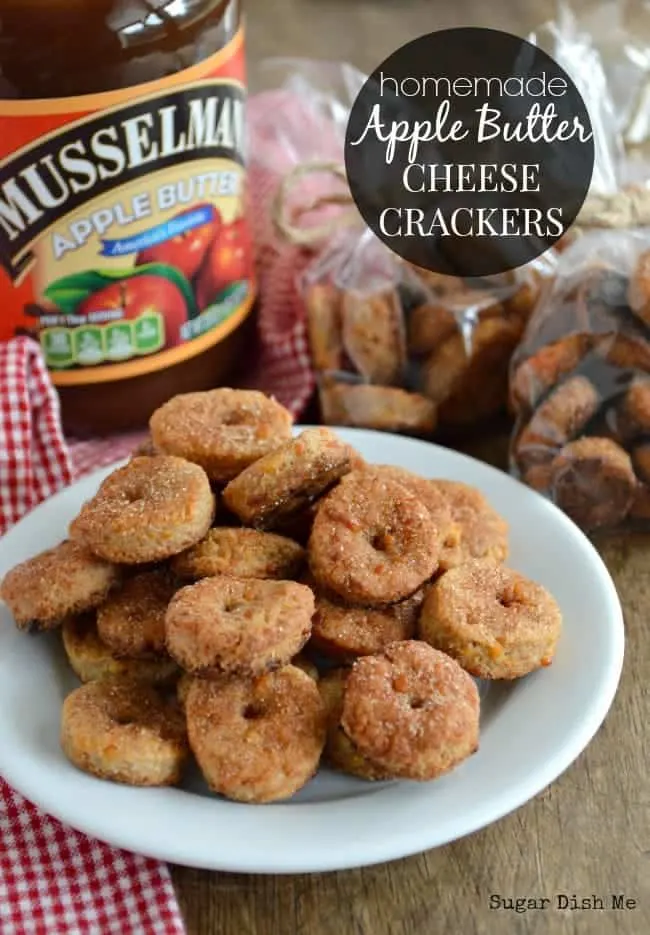 This content is sponsored by Musselman's Apple Butter, but all opinions, photography, and original recipes are my own.
I made you a snack! Oh cheese crackers, I do love you.
It's been a weekend of snacks over here because we threw the most fun costume party ever. Snacks are part of the party fun.
I wish I could say I made a zillion awesome party treats to serve — I had lofty kitchen ambitions that ended up being just me binge-cleaning/decorating/painting our house before everyone got here.
Oops.
So anyway, we had an awesome time with lots of awesome snack foods, and pizza. Of course pizza.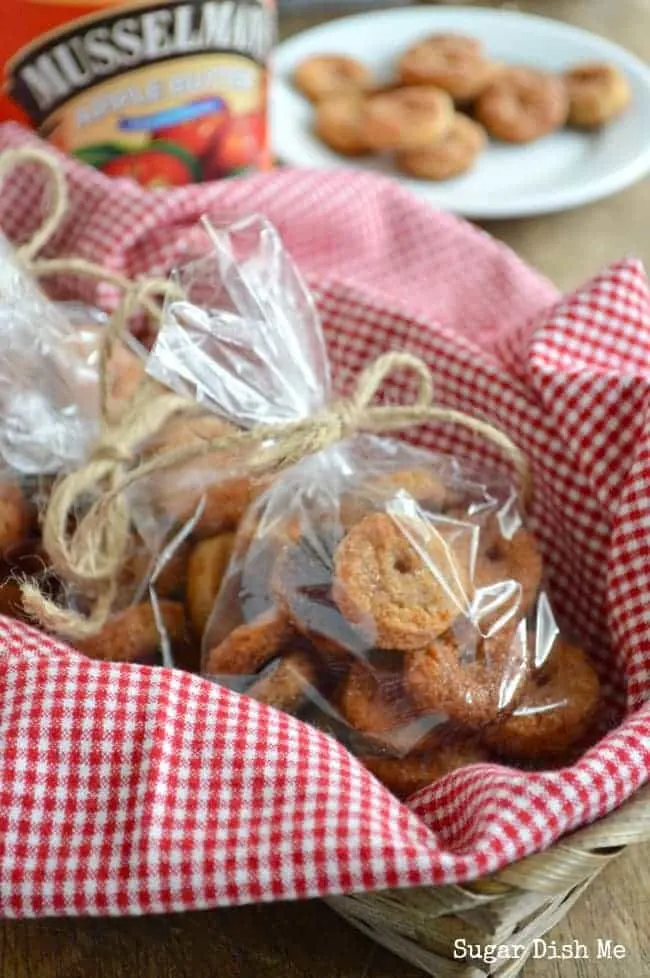 Back to snacks though, I gotta say that Cheez-Its top my list. My family can knock down a box of Cheez-Its in .4365478589 seconds.
One of my favorite recipes I have ever shared here on Sugar Dish Me are these Cheez-Its From Scratch. They disappear even faster than the storebought version. And they are SO worth it.
I wondered what would happen if I replaced the hot sauce in my spicy version with apple butter? And I have good news: Apple Butter Cheese Crackers are totally amazing.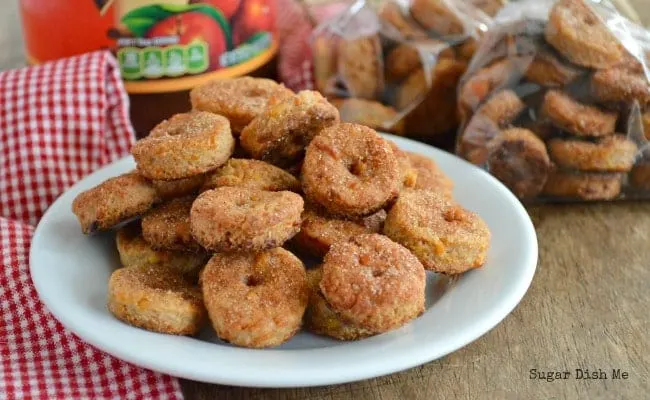 It's like the whole cheddar cheese + apple pie concept with the rich spiced flavors of apple butter in one crisp homemade cracker bite.
It's true that things really are better with apple butter.
Homemade Apple Butter Cheese Crackers make for perfect snacking, party pick-ups, and my favorite — delicious homemade gifts!! People love little bags of cheese crackers. Trust me on this.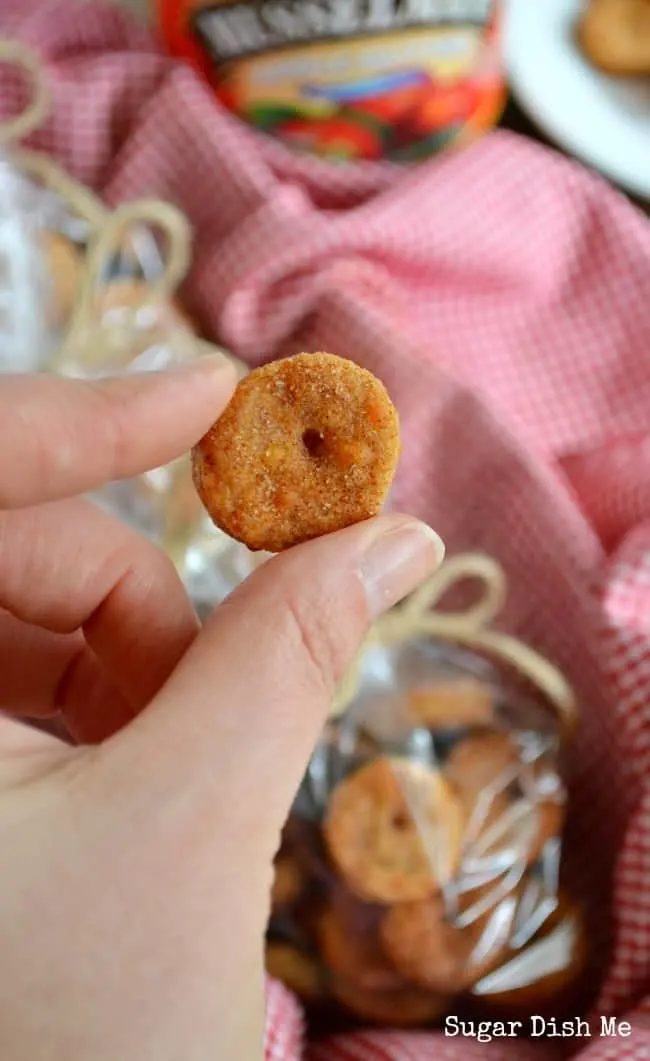 Homemade Apple Butter Cheese Crackers
Crisp and cheesy homemade crackers with the fall flavor of apple butter and a little sprinkle of cinnamon sugar. Perfect for party snacking, lunchbox treats, or pretty homemade gifts!
Ingredients
8 ounces sharp cheddar cheese (yellow or white, or a combination)
1 cup all purpose flour
4 tablespoons unsalted butter
½ teaspoon cinnamon
½ teaspoon salt
¼ teaspoon nutmeg
2 tablespoons Musselman's Apple Butter
2 tablespoons water
1 tablespoon granulated sugar
½ teaspoon cinnamon
Instructions
Preheat the oven to 375°F. Line a baking sheet with parchment paper (you can also lightly mist the baking sheet with cooking spray, but if you do not have parchment paper you may have better luck using and ungreased well-seasoned baking sheet).
Place the cheese, flour, butter, cinnamon, salt, nutmeg, and Musselman's Apple Butter in a food processor and pulse until coarse crumbs have formed. Add the water in a little at a time, pulsing briefly in between each addition, just until the dough comes together. (See Note)
Lightly flour a clean work surface and turn the dough out. Divide it in half and roll the dough out to about ⅛" thick (like a pie crust!).
Use a pizza cutter or a sharp knife to cut the dough into squares, or use a small biscuit cutter for circles (as shown). Use a toothpick or skewer to poke a hole in the center of each cracker (this prevents puffy uneven baking).
Repeat the process with the second half of the dough. Line your crackers up on your prepared baking sheet; they won't expand like cookies so there's no need to leave gaps in between.
Combine the 1 tablespoon granulated sugar and ½ teaspoon cinnamon. Sprinkle the cinnamon sugar over the unbaked crackers (you'll probably have a little left over).
Bake for 10-12 minutes; they'll be just a tad bit golden on top.
Let the crackers cool completely before bagging for gifts or placing in an airtight container.
Best served within 3 days of making.
Notes
If you DO NOT have a food processor, whisk together the dry ingredients and then use a cheese grater to shred the cheese and the butter into the dry mixture. Incorporate the apple butter and water with your fingers and just keep mixing/kneading until you have a smooth dough. It will definitely take longer this way but the crackers will work just as well.
Visit
www.MUSSELMANS.com
for more delicious recipe ideas and to download a free Apple Butter Recipe eBook! You can also check out the Fall Inspiration Pinterest Board, and use/search #BetterWithAppleButter for favorite recipes from around the web.
Follow Musselman's Apple Butter's board Fall Inspiration on Pinterest.