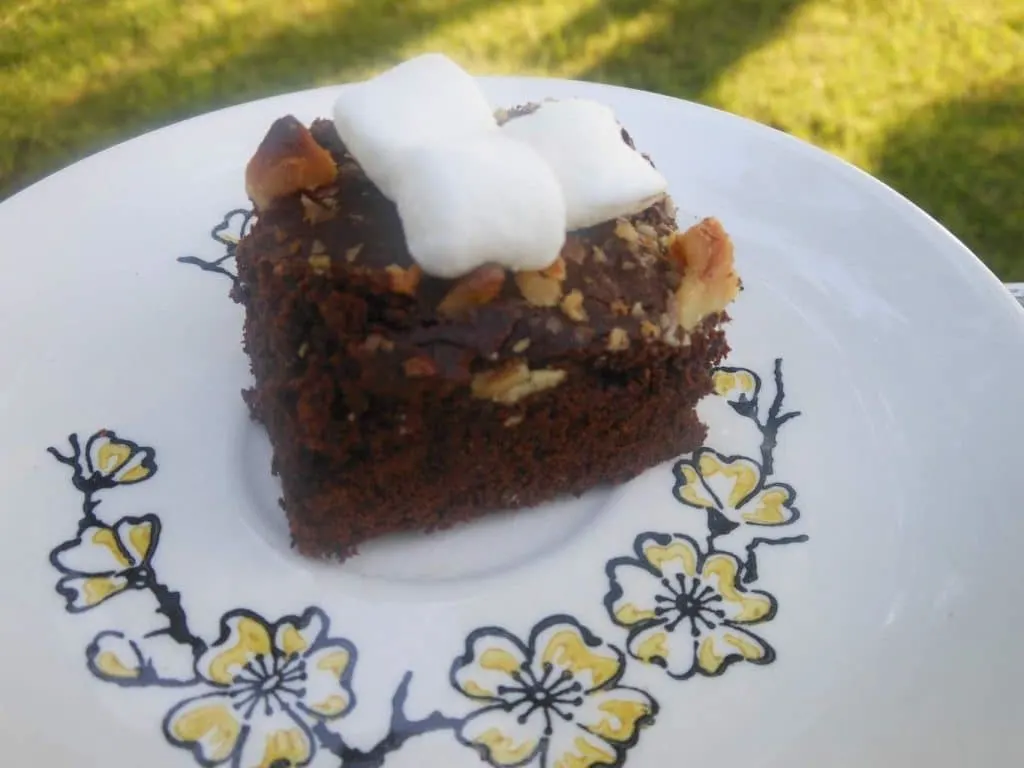 Chocolate solves a lot of problems.
It solves little boys forgetting their homework problems. It puts a layer of caramelly candy bar and fresh whipped creamed over wounded pride when you realize you've been wearing two different shoes all day. It even pairs nicely with pumpkin to soothe my nerves after a seriously unpleasant encounter with the bank.
Yes, chocolate reliably cures whatever might be ailing you. And if you need a little extra oomph, add sprinkles. Or chopped nuts. Or marshmallows. Or ALLA THAT.
But what do you do when you're having a real emergency? Like a supremely terrible, horrible, no-good, very bad day? I'll tell you…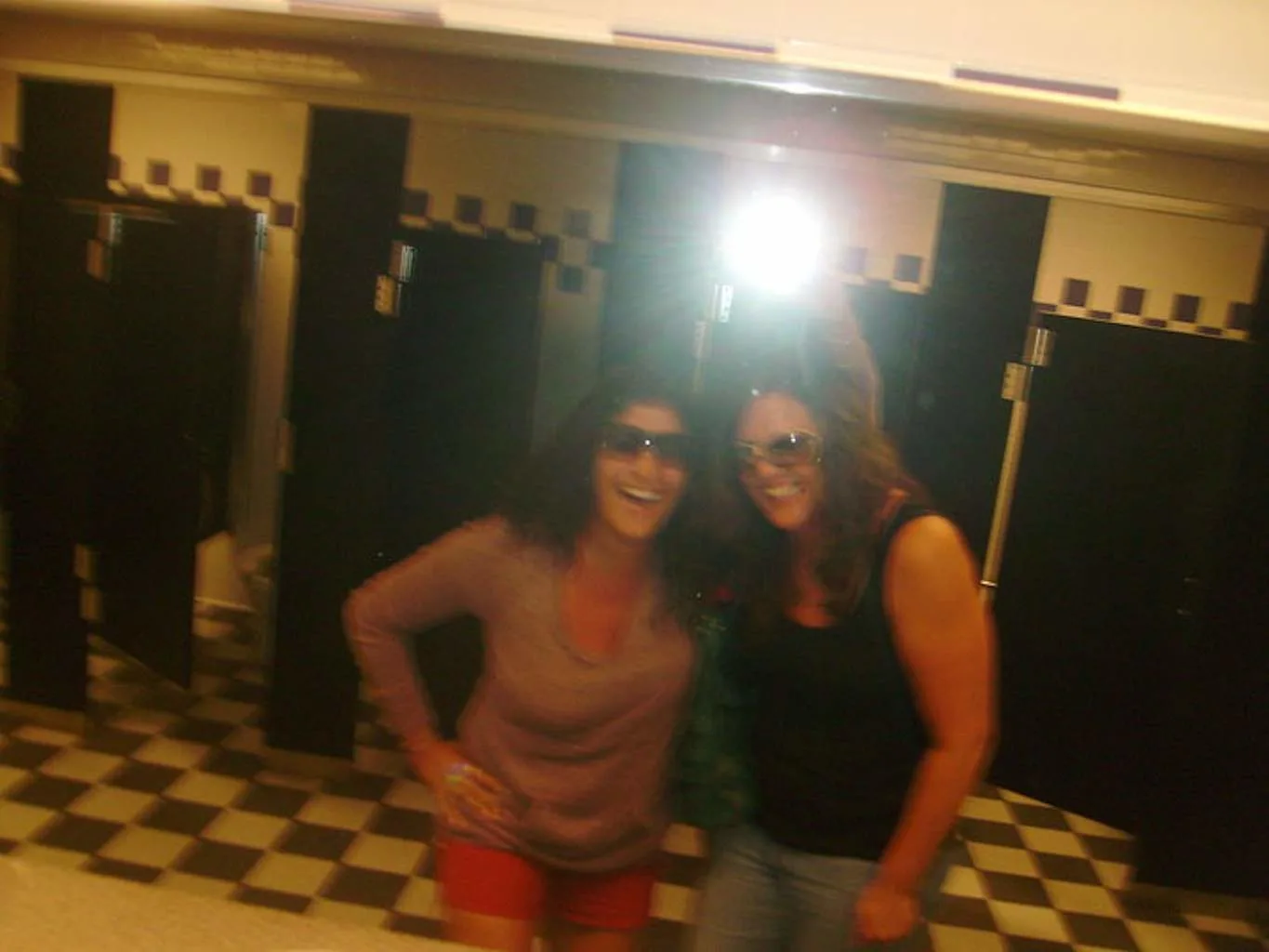 You find your best friend, laugh hysterically for no reason, take really stupid pictures in really strange places, and THEN have chocolate.
This is Tara. She's my best girl. In case of whatever this is who I always call. We have worked together, raised our children together, prepared countless meals, shared a billion laughs and our fair share of tears. We have played hooky, shopped, danced, gone on impromptu road trips, nursed a few hangovers, taken over Jack-in-the-Box, and spent more hours on the telephone than either of us could ever tabulate.
Tara is the friend that waits in the parking lot with hot chocolate because she knows you are in a stressful meeting. She's the friend that shows up at 1:30 in the morning because your dog died. She is the friend you count out change with to buy 2 tacos for 99 cents because you're hungry and broke.
Tara is a deep believer in my chocolate-fixes-all philosophy.
Chocolate cake with chocolate frosting and a tall glass of cold milk is the standard prescription.
So when I found out that my best girl was having a real bummer of a day – a day so blech that she decided to drive the hour and then some to my house right in the middle of it just to gain a little perspective – I knew I needed a plan.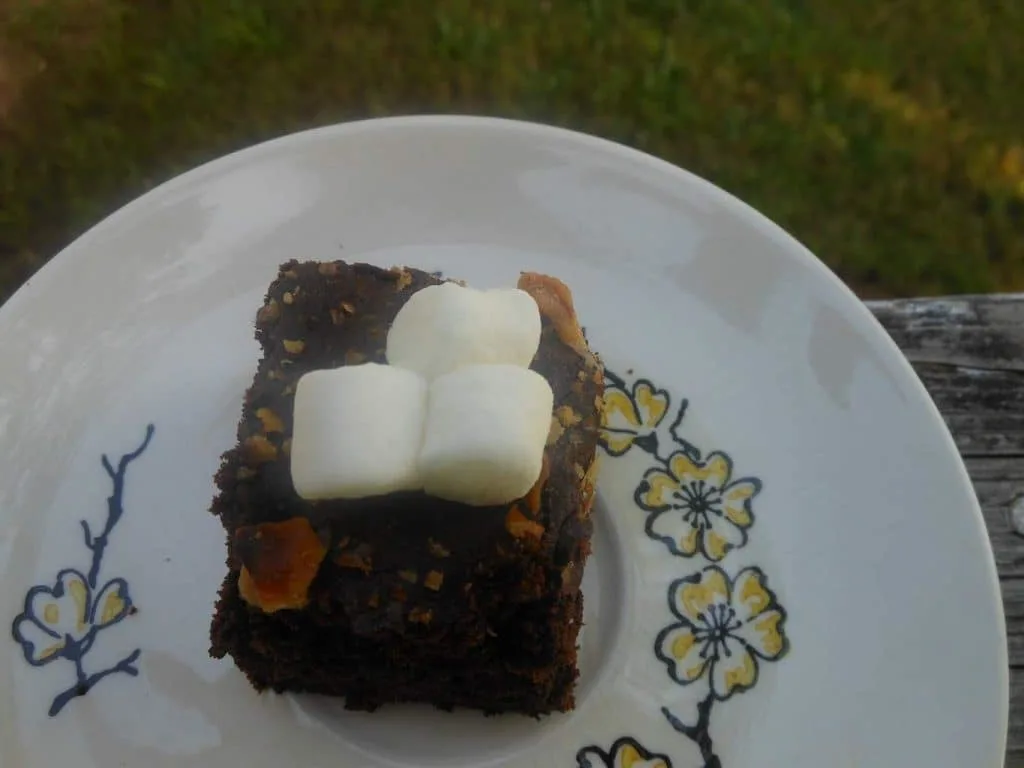 Rocky Road Brownies are a fail-safe plan.
I'd like to think her day got a little better… and we didn't even have to worry about these brownies going straight to the hips.

Rocky Road Brownies
Ingredients
nonstick cooking spray
⅔ cup unsweetened cocoa powder
⅓ cup all purpose flour
½ teaspoon baking powder
⅛ teaspoon salt
⅓ cup canola oil
⅓ cup granulated sugar
⅓ cup packed brown sugar
4 egg whites, lightly beaten
2 teaspoons vanilla extract
½ cup chopped walnuts
½ cup mini marshmallows
½ cup mini chocolate chips
Instructions
Preheat the oven to 350 and spray an 8 X 8 baking dish with non-stick cooking spray OR line the pan with parchment paper or foil.
In a medium bowl whisk together the cocoa powder, flour, baking powder, and salt.
In a large bowl whisk together the oil, sugar, brown sugar, egg whites, and vanilla. Stir the dry mixture into the wet mixture until everything is evenly combined.
Spread the batter into the prepared pan and sprinkle with the walnuts.
Bake for 25 minutes (I actually found this to be a little too long; I like chewy brownies. Check them at 18-20 minutes).
Take the brownies out of the oven and scatter the marshmallows and chocolate chips over the top. Return them to the oven for about 3 minutes.
Let them cool, cut, and serve!
Notes
I doubled this recipe to fill a 9 X 13 pan. Instead of using 8 egg whites (because that's sort of ridiculous), we substituted 4 eggs in the doubled recipe; it worked out just fine. If you follow the recipe shown above and cut the pan of brownies into 25 small squares, each one is only 97 calories!!! (using whole eggs instead of the whites would adjust that a bit)**