A Zaxby's copycat Buffalo Blue Zalad but BETTER. This Big Bad Buffalo Chicken Salad is loaded with crisp greens, crumbly blue cheese, grilled chicken doused in buffalo wing sauce, and these crispy onion tangles that totally blow my mind.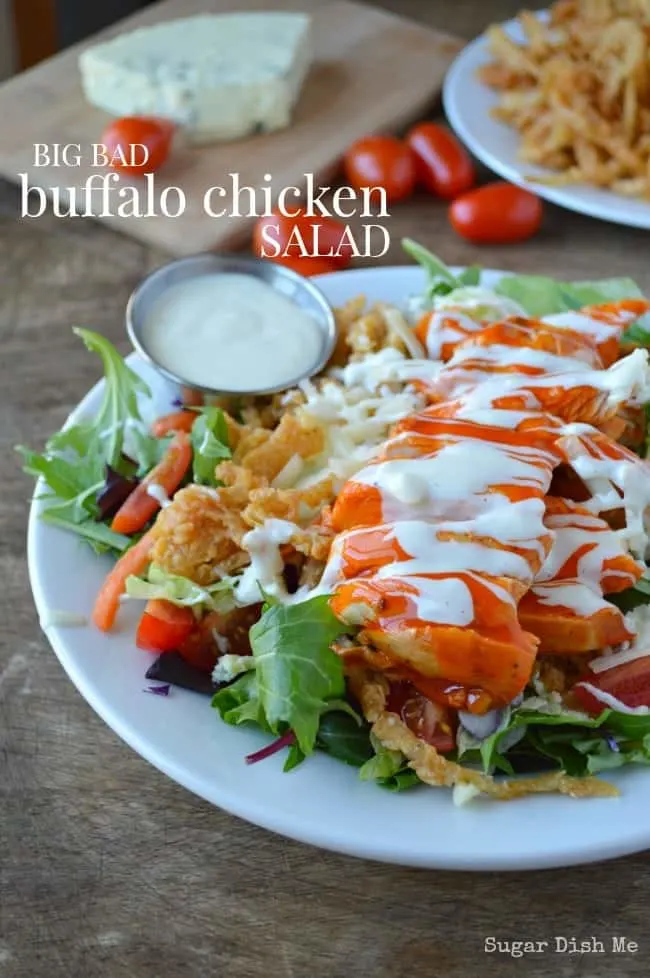 I had this Big Bad Buffalo Chicken Salad for dinner again last night. It's my weakness. I am pretty much in love with it.
Also I need Christmas food to just STOP for a few days before we have a little get-together here over the weekend. I can't look at another cookie until then. Brownies are out, too. I've vowed to buffalo everything for 3 days.
The obsession started, once again, with the lack of decent places to eat over here. I'm sure some of you think I am being bratty or exaggerating, but to give you an idea of what we are dealing with, we tried a new Mexican place a couple of weeks ago and couldn't stomach the chips and salsa, let alone the food we ordered. They served us something I thought was queso dip but turned out to be spoiled mayonnaise with specks of color (ranch seasoning?!!!) and I DIDN'T EVEN DRINK MY MARGARITA!!!! It was all sour mix. It's bad when I can't even eat cheese or drink a margarita at a Mexican restaurant you guys.
So anyways, we determined awhile back that Zaxby's seems to be on the safe list. And at least I can order a salad (zalad. whatever.)
EXCEPT.
Whenever I order a buffalo chicken salad with grilled chicken instead of fried, which is every. single. time., I am met with a blank stare by whoever is manning the cash register.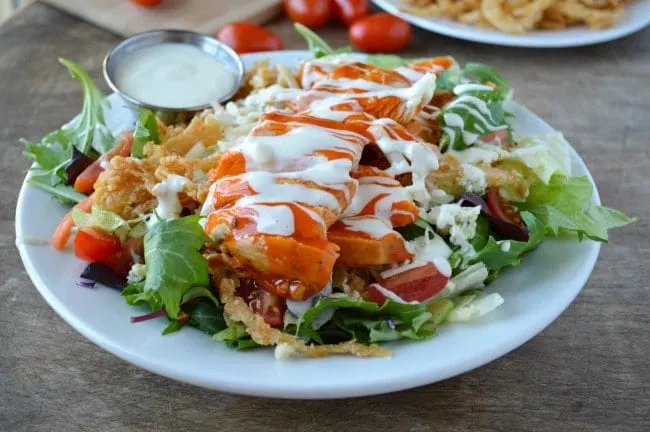 Sometimes they have to call a supervisor which is like the restaurant equivalent of getting the little light flipped on you in line at the grocery store. You know what I'm talking about. When all the people behind you let out that collective sigh like as if you just whipped out 1768655 coupons.
And then sometimes they have to tell the kitchen through the window since grilled chicken is unheard of in a chicken joint. I'm sure that conversation goes something like, "Yeah. This Basic over here wants grilled chicken on that salad."
I'm good with the Basic status though, so my only option here was to just say ef it, and do it myself.
My salad's better anyway.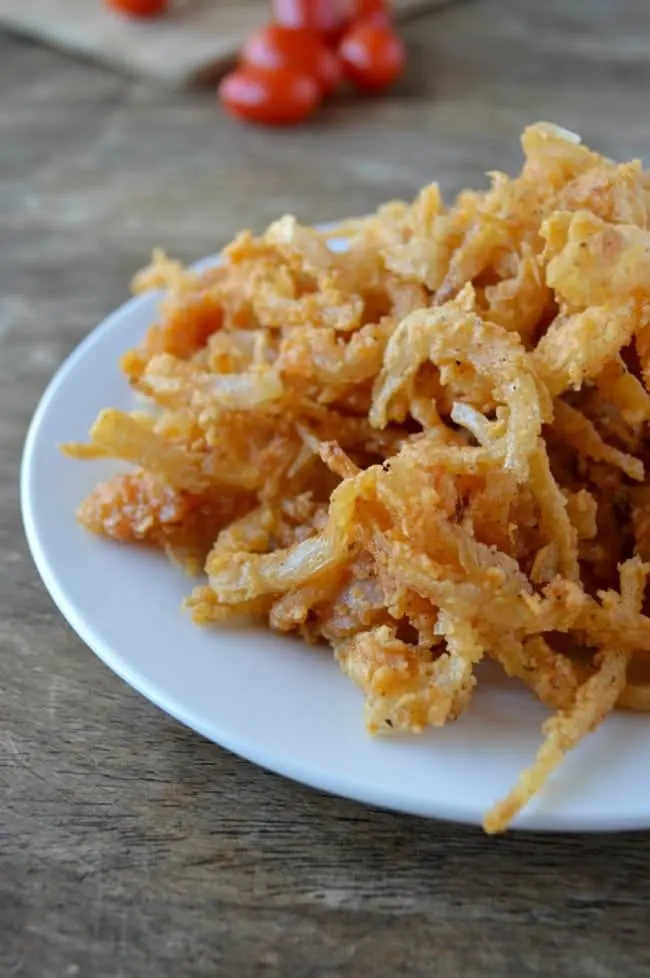 Because it has two crucial things: pan grilled chicken and homemade onion tangles.
I first made these onion tangles for my Paunch Burger recipe. Piled high on a burger they are so ooooooooooooooooooooo oooo amazing. Sprinkled all over my salad with all their crunchy perfection they are even better.
Pan grilled chicken is not technically grilled chicken. But if you go to a diner and order grilled chicken this is normally what you get. I did not feel like standing on the back deck in the cold to light the grill. But you are welcome to if you are really hung up on the technicality.
I used almost a whole 12 ounce bottle of buffalo wing sauce with this recipe because I marinated the chicken in it AND then drizzled it over the top. It is so spicy good, you guys. I mean like I'd have it again today good.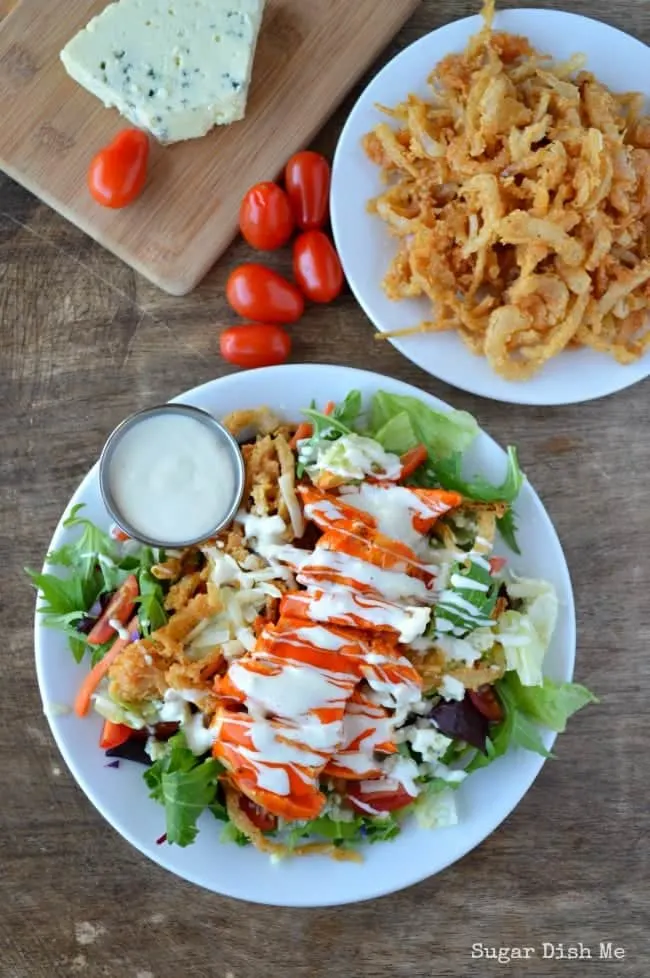 Get on the salad bus with me.
Big Bad Buffalo Chicken Salad
Ingredients
For the Chicken:
1 pound very thinly sliced boneless skinless chicken breast
12 ounces buffalo wing sauce
2 teaspoons oil
For the Onion Tangles:
1 small Vidalia onion, halved and thinly sliced
1½ cups buttermilk
1 cup all purpose flour
1 teaspoon paprika
½ teaspoon black pepper
oil for frying
salt to taste
For the Salad:
8 - 10 cups mixed greens
1 cup iceberg salad mix (with shredded carrots and radicchio)
1 cup grape tomatoes, quartered
4 ounces crumbly blue cheese
4 ounces shredded sharp cheddar
creamy blue cheese or ranch dressing
Instructions
Place the uncooked chicken breast in about 5 or 6 ounces of the wing sauce, cover, and refrigerate for about 30 minutes.
Then soak the sliced onions in the buttermilk. Whisk together the flour, paprika, and black pepper and pour it into a shallow dish. Set aside.
While everything marinates go ahead and assemble the salads. I like to build each salad in the individual plates, so divide the lettuce, tomatoes, and cheeses between 4 plates for serving.
To make the Onion Tangles, heat the cooking oil over medium high heat (I use a small saucepan and fill it halfway up with Canola oil). Dredge the onions a few at a time through the flour mixture and then toss them in the hot oil. I make these in several small batches - they will only take a minute to cook. Set them on a paper towel to drain. Sprinkle salt on the cooked fried onions.
To make the chicken, heat the 2 teaspoons of oil in a large skillet over medium high heat, swirling around the pan to coat. Take the chicken out of the marinade and discard the marinade. Add the chicken to the hot pan. Let it cook for about 4 minutes on the first side and then for about 3 minutes on the other. Check to make sure it's done all the way through.
Let the chicken rest for a minute before slicing. You can also toss the cooked chicken in the wing sauce. (optional)
Scatter the onion tangles over each salad. Place one sliced chicken breast on top of each. Drizzle with more buffalo wing sauce and ranch or blue cheese.