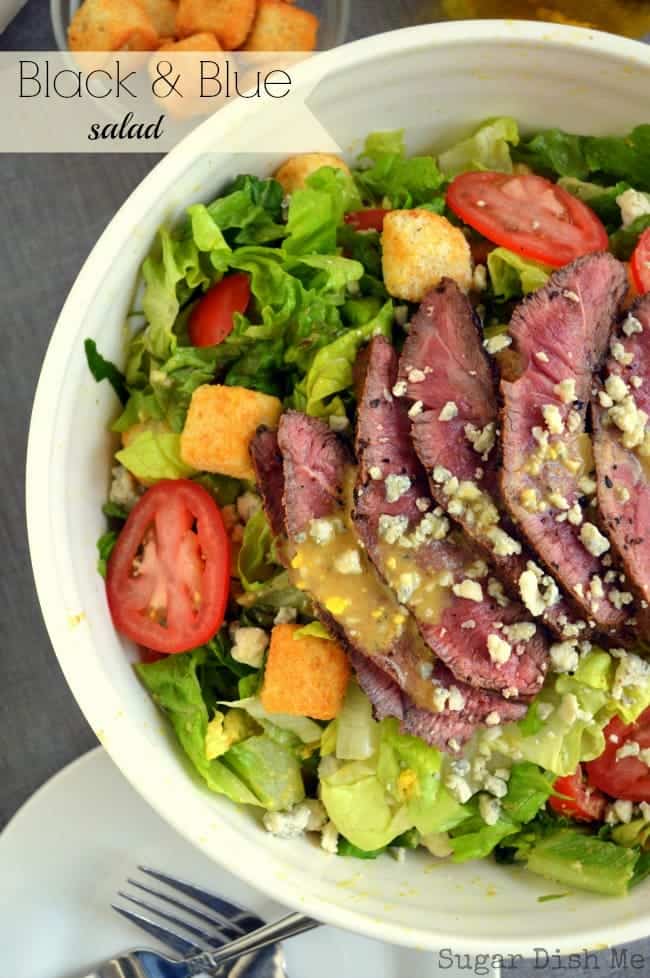 I think I am doing this all backwards.
It is freezing cold, half the country is covered in snow and ice, you probably want soup, and I am giving you salad.
The heart just wants what it wants, you know? Plus, eating salad you can pretend you are in California, land of eternal sunshine and summer and fresh fruit.
Truth be told though, I am that annoying person that gets reeeeeeeally excited when they call for snow. I think I have rubbed off on my children because they get a little nuts about it, all stalking The Weather Channel.com and reporting every 5 minutes on cloud conditions and radar. Chad also gets really excited but that's not my fault. He just came that way.
So this morning I made the terrible, horrible, no-good, very bad mistake of running out of dish soap 6 hours before the sky was predicted to fall. I managed to get in and out of the little dollar store without running into hoards of people, and got back home to the safety of my kitchen and sweats unscathed.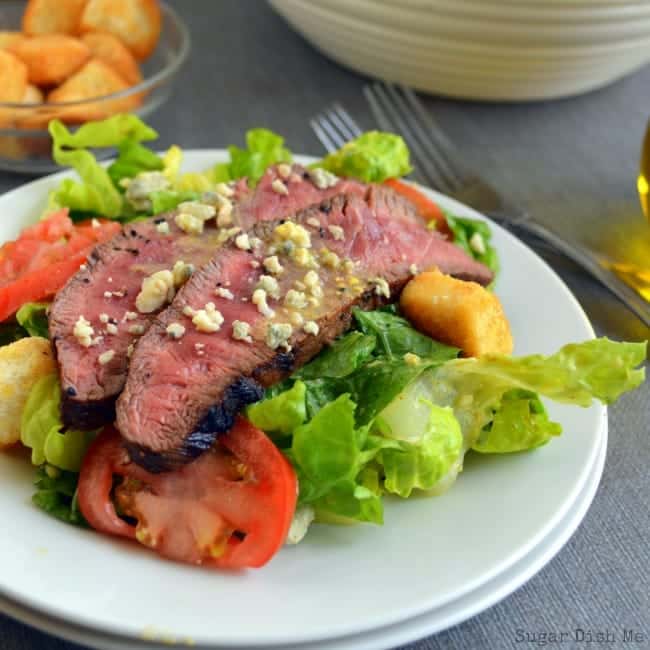 Chad sent me approximately 14 weather updates from work and I managed to get a few things done, but then the phone rang. It was the school's auto-dialer telling me that they were setting all the children free 2 hours early, even though precipitation had yet to fall. The South in Winter = State of Panic.
I started pulling things out of the fridge to feed my soon-to-arrive hungry monsters and start dinner, threw the beginnings of sauce on the stove and then realized … dun DUN DUNNNNNN … I had no more cans of tomatoes.
I had to go back to the store.
It was a total madhouse. There were actually 3 police cars in front of the grocery store when I got there — crowd control? Who knows.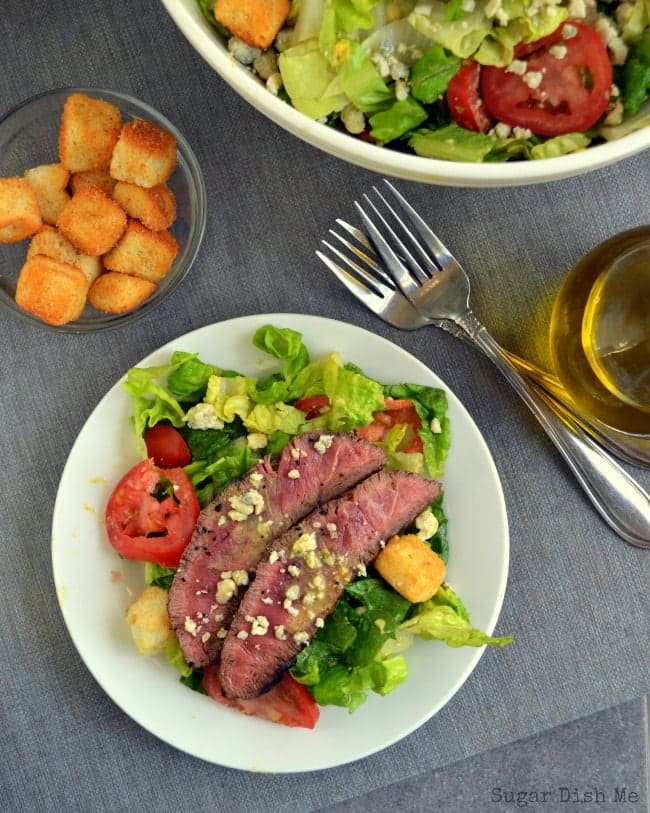 The flurries were falling when I scurried back out to the car, and I got stuck behind some dude in a Buick trying to drive -15 mph while staring in wonderment at the powdery white flakes falling in his line of site. I promise it will look prettier from your front porch, guy. Please move.
Soooooo I got home with my tomatoes, made a big pot of chili and some marinara sauce for good measure. We got enough snow to dust the grass and freeze the road. School is cancelled. And yes, I am offering you salad.
With steak.
But bear with me! Because this salad, all tossed in homemade Caesar dressing and topped with blackened pan seared flank steak, blue cheese crumbles, bacon, and croutons still counts as comfort food in my book. ESPECIALLY if you serve it with that Classic Crusty Herbed Dinner Loaf I made you the other day. The crunch of the romaine, the spice of the seasoning, the tang of the vinegar in the dressing – there is so much flavor and texture going on here, PLUS it's really simple. Yessssssss.

Black and Blue Salad
Crisp romaine lettuce tossed in homemade Caesar dressing topped with blackened pan-seared flank steak, crumbly blue cheese, bacon, croutons, and tomatoes. Tons of flavor in a super simple meal.
Ingredients
For the Steak:
12 - 16 ounces flank steak
1 teaspoon paprika
1 teaspoon coarse ground black pepper
½ teaspoon kosher salt
½ teaspoon oregano
½ teaspoon onion powder
½ teaspoon garlic powder
½ teaspoon dried thyme
¼ teaspoon cayenne pepper ** you can also use store-bought blackened seasoning in place of all these herbs and spices **
1 tablespoon olive oil
For the Dressing:
1 hard boiled egg
2 tablespoons red wine vinegar
2 tablespoons fresh lemon juice (about 1 large lemon, juiced)
4 cloves of garlic, very finely minced
1 tablespoon spicy mustard
½ teaspoon Worcestershire sauce
½ teaspoon black pepper
salt to taste
⅓ cup extra virgin olive oil
For the Salad:
2 Romaine hearts, chopped into bite size pieces and thoroughly washed
2 Roma tomatoes, sliced
3 slices bacon, cooked, drained, and crumbled
1-2 ounces crumbles blue cheese
1 cup croutons
Instructions
Take the flank steak from the fridge and let it rest, covered, at room temperature while you mix up the spices. If you need to cook the egg for the dressing put that on the stove now (see note).
Mix the paprika, black pepper, kosher salt, oregano, onion powder, thyme, and cayenne pepper in a small bowl and then rub all over both sides of the steak. Heat the oil in a large skillet. You want the skillet HOT.
Add the steak to the hot skillet and sear for 1 to 1½ minutes on each side. Flip it back to the first side, reduce the heat a little (to about medium/medium high) and cook for 4-5 minutes on each side (this will give you medium rare, DEPENDING on the thickness of your steak. If you want to test the doneness of your steak without a thermometer check THIS ARTICLE by Elise at Simply Recipes.
While the steak cooks, make your dressing. Smash just the yolk of the hard boiled egg in a liquid measuring cup. Add the vinegar, lemon juice, garlic, mustard, Worcestershire sauce, black pepper, and salt. Stir well. Vigorously whisk in the olive oil.
Toss the dressing with the lettuce.
Let the steak rest for about 5 minutes before slicing.
Top the dressed lettuce with the tomatoes, bacon crumbles, croutons, and sliced steak.
Notes
I always get my hard boiled eggs to turn out by placing an egg in a small saucepan and covering it with cool water. Bring it to a boil. Let it boil for 9 minutes. Take the pan from the stove, place it in the sink (still in the boiling water) and turn on the faucet, running cold water into the pan for about a minute. Peel the egg under the running water.