Blackberry Skillet Cake is an easy, old fashioned buttermilk cake recipe studded with fresh blackberries. Such a perfect summer dessert!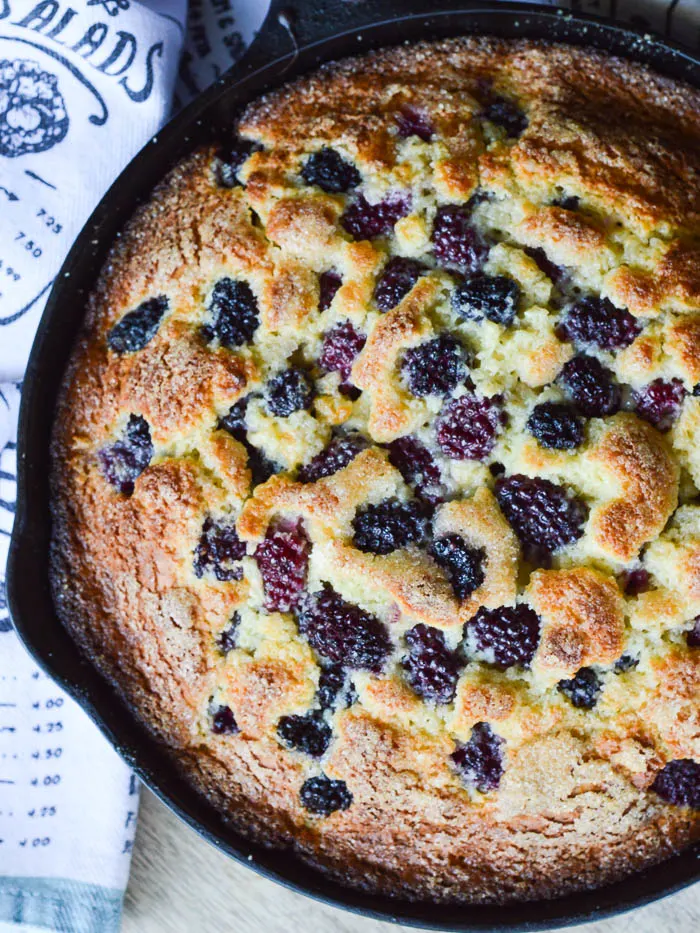 This is an EASY recipe. Like the easiest of easy. And yet, it's still super delicious, just slightly sweet, and the natural fruit really gets to shine, so really it's my favorite sort of thing to make.
It's also a very forgiving recipe, and here's how I know:
The last time I made it, I forgot to mix the melted butter in with the wet ingredients, and realized it right before I was putting the cake into the oven.
So I did what any person not wanting to throw away a pan full of ingredients does: I poured the butter over the top and crossed my fingers.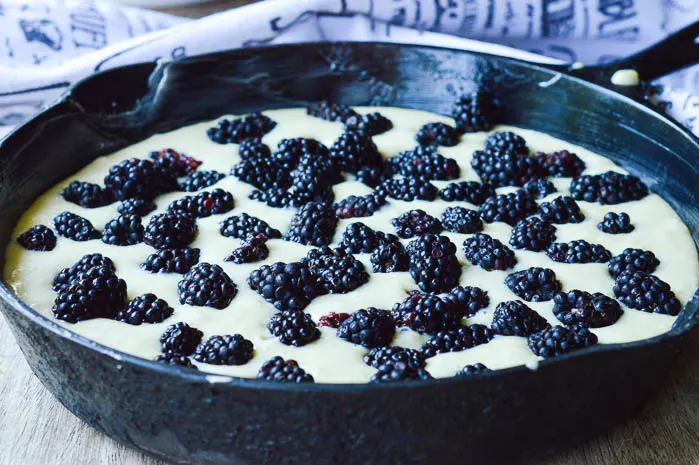 And you know what? It turned out perfectly.
These are the merits of a classic, old fashioned recipe.
Can I Make a Cake in a Cast Iron Skillet?
You might not be surprised to learn this, but cast iron pans are great for cooking AND baking. You can even use them to bake a box cake mix without any special concessions.
I made this cake SPECIFICALLY to be made in an 11 inch cast iron skillet, and since 12-inch cast iron skillets are a little more common, I wanted to give you a few good options.
Ecolution Farmhouse Pre-Seasoned 11-inch Fry Pan – This is a great low-cost option if you need to add this cookware staple but don't wanna get too spendy.
Lodge Enameled Cast Iron Skillet, 11-inch in Red or Blue – A good mid-range price point from a brand I love. Caveat: it's enameled cast iron and I have a Lodge Enameled Cast Iron Dutch Oven, and the enamel has not held up that well. It has some pitting. It's still REALLY pretty and I use it often, but I might go with a more high-end option when I replace it.
Staub 11- inch Cast IronTraditional Skillet in Cherry – My favorite option but also at the top of the price range. Staub makes stellar cookware and if you want something that looks great and will also last you a lifetime of cakes and bacon frying and whatever else you throw at it, this is it.
If your only option is a 12-inch skillet it WILL work. you just won't have as much rise on your cake.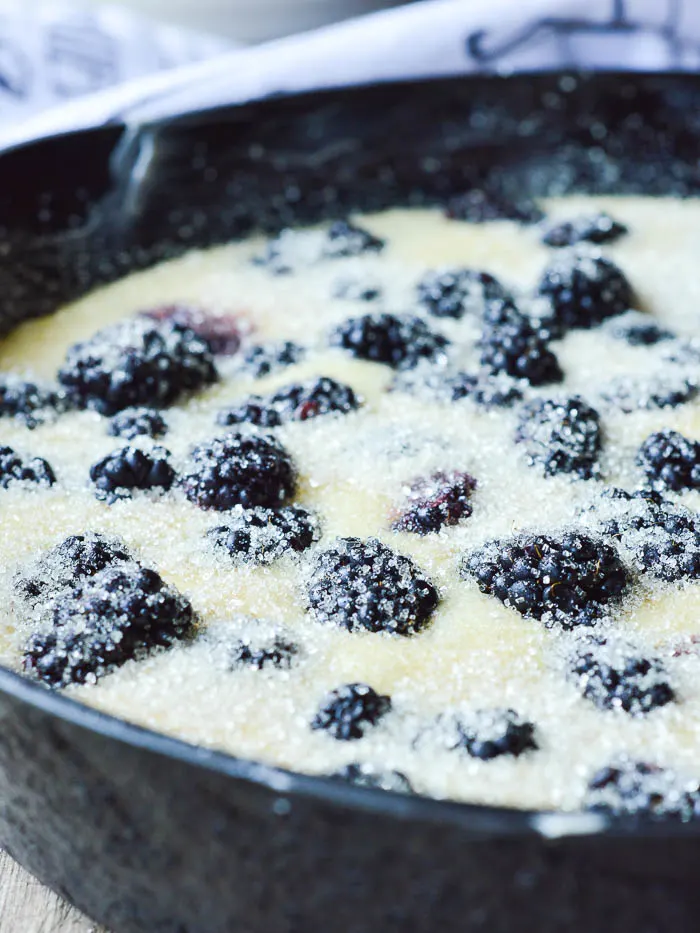 How to Make Buttermilk Cake
First! You need some cake basics.
flour
baking powder
sugar
salt
eggs
buttermilk
butter
vanilla
BLACKBERRIES
turbinado sugar to top – more on that in a sec
Do I have to use buttermilk?
Sooooooo this IS a buttermilk cake and I should probs say yes. But actually you have some solid options, especially if you are like me and running to the grocery store for the ONE thing you don't have sounds like torture. In truth, lots of my recipes are borne out of straight laziness.
It makes me resourceful.
Anyway, if you don't have buttermilk you have two solid options.
The first – add a tablespoon of white vinegar to a liquid measuring cup and then add enough milk to equal 1 cup. Let it stand for 10 minutes and then stir. TADAAAAAAA – buttermilk.
The second – BUTTERMILK POWDER! This is a really great option if you don't use much dairy but like things like buttermilk pancakes or buttermilk cake. I'm partial to , but there are lots of options and you should be able to find it pretty easily in your baking aisle.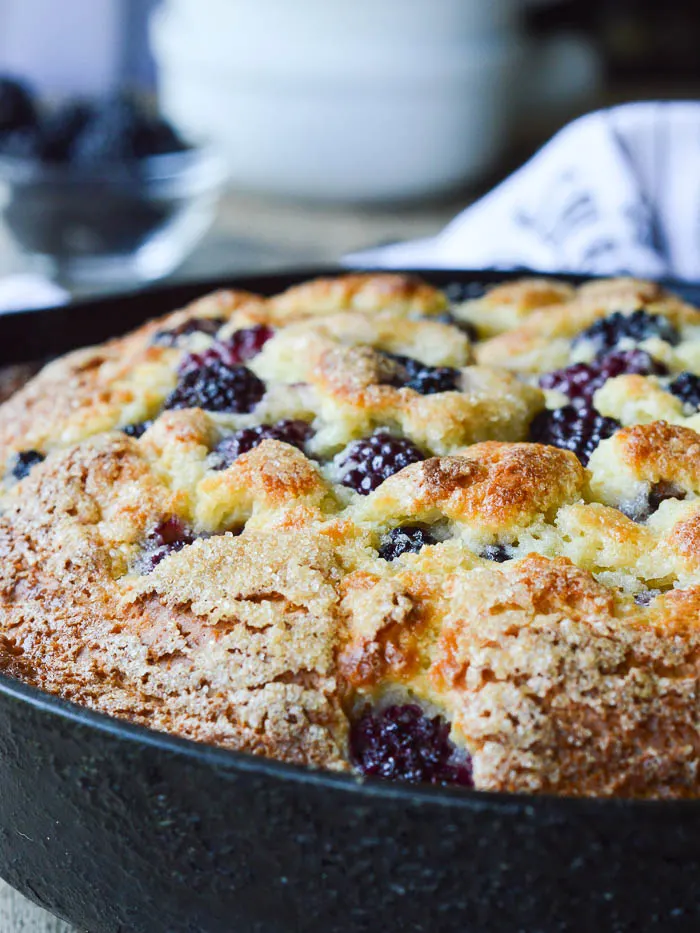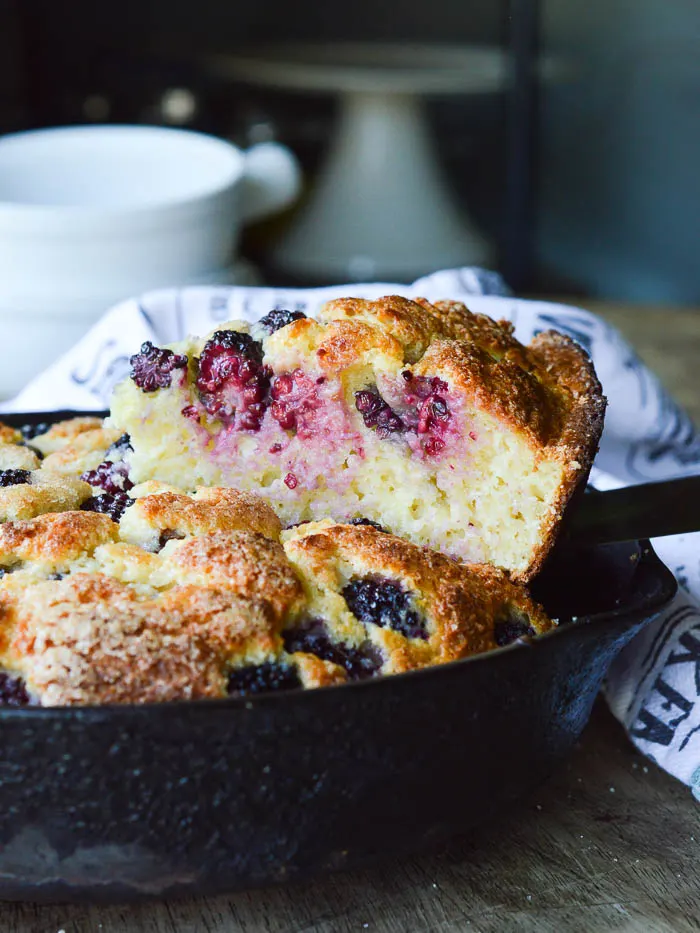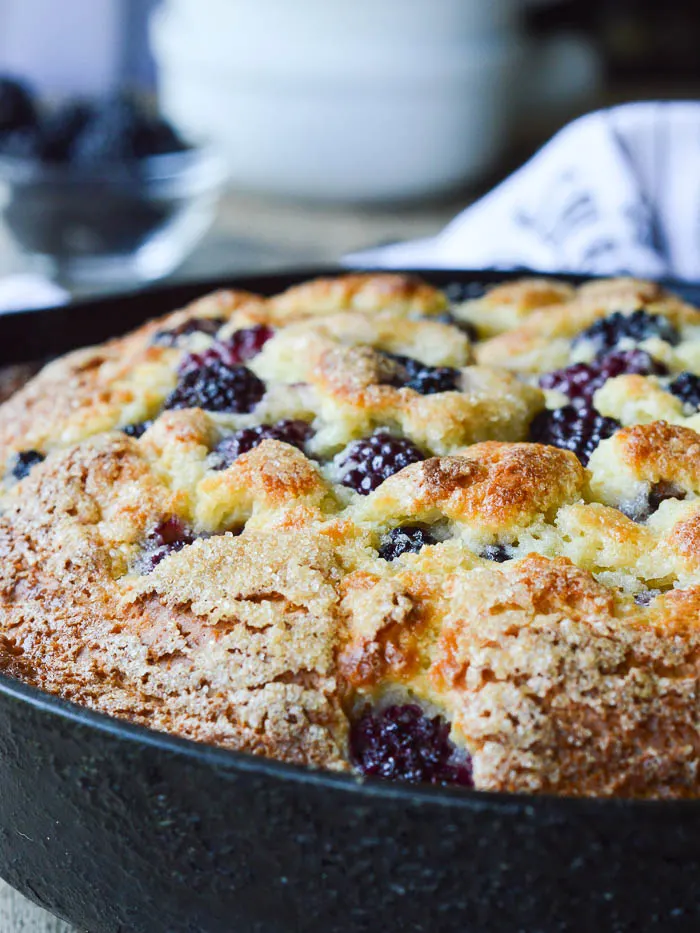 Yield:

12 slices
Blackberry Skillet Cake
Blackberry Skillet Cake is an old fashioned buttermilk cake recipe studded with fresh blackberries. Easy to make and so good with a scoop of vanilla ice cream.
Ingredients
2 1/2 cups all purpose flour
1 tablespoon baking powder
1/2 cup granulated sugar
1/2 teaspoon salt
2 large eggs
1 1/2 cups buttermilk
1/4 cup unsalted butter, melted and cooled just a little
1 teaspoon vanilla
2 cups fresh blackberries
3 tablespoons turbinado sugar for sprinkling on top
Instructions
Preheat the over to 400°F. Generously butter an 11 inch cast iron skillet.
In a large mixing bowl whisk together the flour, baking powder, salt, and sugar.
In a medium bowl whisk together the buttermilk, eggs, and butter. Then stir in the vanilla.
Dump the buttermilk mixture into the flour mixture and stir until it is just smooth and combined.
Spread the batter evenly in the prepared skillet. Evenly sprinkle the blackberries over the top. Sprinkle the turbinado sugar over the entire top of the cake.
Bake for 20-25 minutes, or until a toothpick inserted into the middle comes out clean. If you are worried that the cake is looking a little dark around the edges you can tent foil over the top for the last 5-6 minutes of baking.
Serve warm or at room temperature with fresh whipped cream or vanilla ice cream.
Recommended Products
As an Amazon Associate and member of other affiliate programs, I earn from qualifying purchases.
Nutrition Information:
Yield:
12
Serving Size:
1
Amount Per Serving:
Calories:

210
Total Fat:

5g
Saturated Fat:

3g
Trans Fat:

0g
Unsaturated Fat:

2g
Cholesterol:

42mg
Sodium:

282mg
Carbohydrates:

36g
Fiber:

2g
Sugar:

14g
Protein:

5g
I am a self-proclaimed fireworks junkie.
Growing up, every year for the 4th, we would spread blankets in the shady grass of a little park tucked into the corner of uptown Charlotte, North Carolina, and wait for the action to happen. Usually we'd swing by Kentucky Fried Chicken for a meal to tote with us. Sometimes my mom would make sandwiches. Always the recipe for the afternoon and evening was the same:
You have to arrive at the park hours before the show to find parking and just the right spot to spread out. The shady blanketed place where mom and dad sat was home base. We were free to run through the grass, make friends with neighboring children, feed the geese, do cartwheels, and take a zillion trips over the bridge to peer into the pond below. Reporting back to home base meant a drink, a snack, stretching across one of my grandma's old quilts, and watching the clouds roll overhead. If you situated yourself just right mom would play with your hair. Asking my dad the time every fifteen minutes was a necessity because between 9:30 and 10 pm the 5 minute warning shot went off and then the fireworks would commence.
We loved the deafening boom that echoed off the buildings. The loud crackles that lit up the air and made us smile and laugh involuntarily. We'd try to pick our favorite displays of color, each one outdone by the one that followed. We'd sit together, faces tilted toward the sky, and watch in awe. Notes of the national anthem would float by, broadcast from a car stereo manned by one of our for-the-night neighbors sharing in the experience. The "grand finale" was a spectacular display of lights, colors, and sounds, all blending together, that seemed to go on and on and on forever until your senses could barely stand it.
When it finally stopped and the sky went dark, there was always a pause. A silence so big and full of awe it was almost audible. Then the night would erupt with cheers and clapping and whoops and hollers as the entire city reveled in the celebration. You could hear crowds cheering from parking lots, stadiums, and rooftop decks for blocks upon blocks, the joy spreading from one picnic blanket to the next.
Then we'd snatch our belongings and race to the car so my dad could try to "beat the traffic".
I would use every color in my crayon box to recreate the fireworks on construction paper for days.
This tradition peresevered for years and years for our family and many others. I adore the 4th. As we've all grown older our Independence Day traditions have moved zip codes and morphed a bit, but we still celebrate and share each other's company as much as distance and schedules will allow.