Mixed greens, warm herb potatoes, peppered bacon. a perfect egg — Breakfast Salad is a totally filling and healthy meal any time of the day, but it makes an especially happy breakfast. Topped with a maple dijon vinaigrette you will totally love.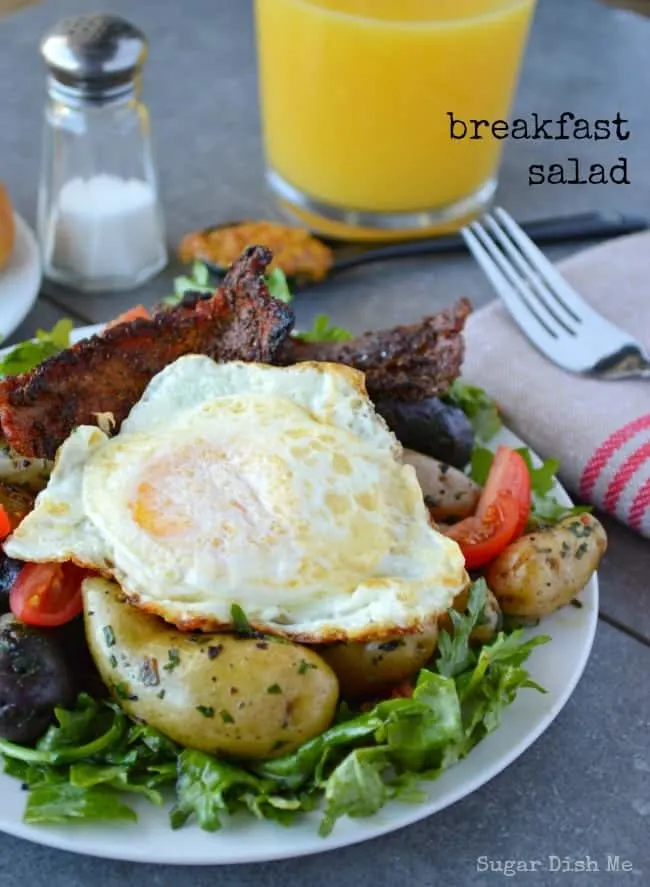 I've been having a really good time these last few months turning regular food into breakfast food. If you've missed my breakfast love affair please see Exhibit A: Breakfast Tacos and Exhibit B: Breakfast Burgers .
We are moving on to Exhibit C: the Breakfast Salad.
I am also very partial to cake for breakfast but we will talk about that another day.
The first time I ever had a breakfast salad I was with my sisters at this happy kinda hippie little cafe in the mountains. Salad in the morning was mind-blowing for me, and I'm not sure why it never occurred to me before, but I am usually waaaaay behind on everything trendy, and so whatever. Here we are.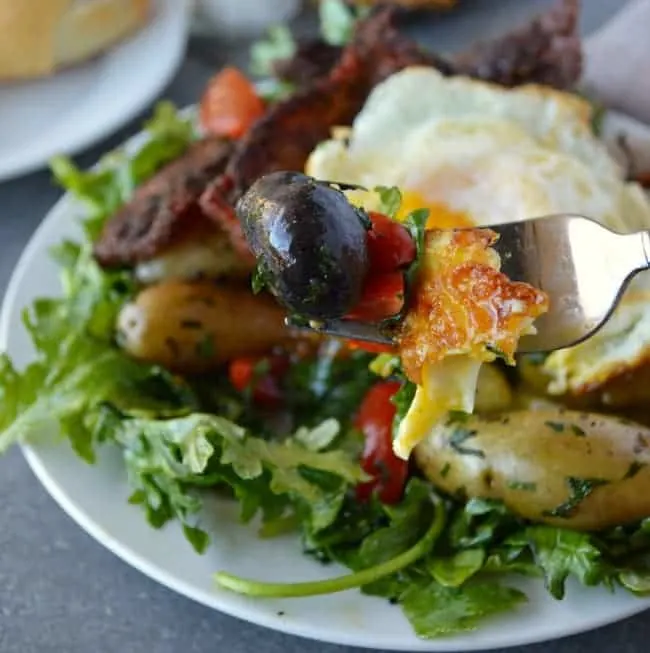 I started with a big 'ol bed of greens. Then I topped them with warm herbed potatoes. Do you remember that recipe? It's a keeper. And the fresh herbs on warm potatoes really work with breakfast.
I used a fingerling potato variety for this salad because they are fast to cook, tender, and so darn cute. The rainbow potatoes add tons of color.
There's peppered bacon because duhhh. Bacon improves all the meals.
I made myself a perfect over medium egg to go on top. You can do your egg thing any way you'd like, but over medium is my absolute favorite.
The best part of the whole thing here though, was the Maple Dijon Vinaigrette. It's sweet and perfectly complements the spice of the peppered bacon.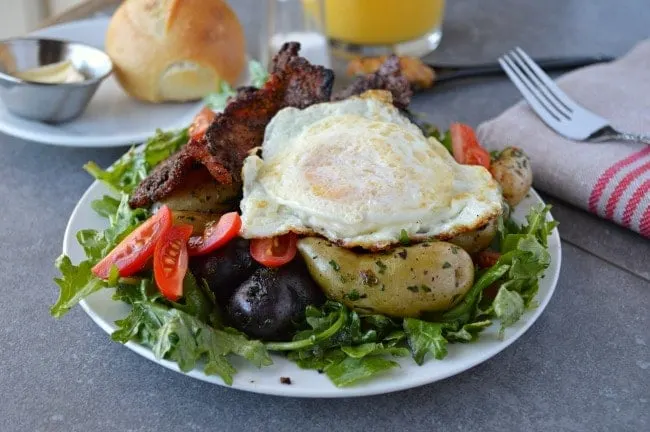 This is such a happy, wholesome way to get the day started. It would make a terrific brunch, and I am heavily advocating these Spring Onion Scones with Bacon Butter to go on the side.