This might just be the best Barbecue Grilled Chicken Sandwich I've ever had! Thin chicken cutlets are soaked in a quick brine, and then grilled. Brushed with barbecue sauce, topped with sauteed mushrooms, BACON, and melted cheese, these sandwiches motivate me to get outside and grill all year round.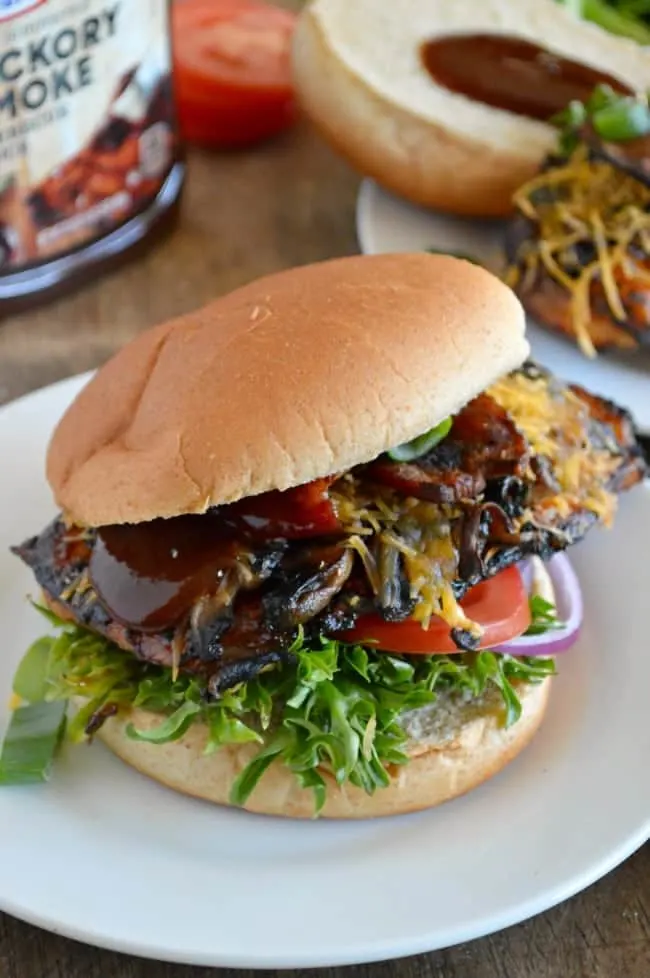 This is the grilled chicken sandwich that I want to be a part of my life every season forever and always. It's like a soul sandwich. I swear.
We are fortunate to live in North Carolina which has a pretty forgiving climate most of the year. Except August.
August is the worst.
But anyway, we get lots of sunshine and reasonable temperatures for outdoor cooking, even in the dead of winter. My mission with this particular recipe though, was to put something together that was awe-inspiring enough to make all the everyone want to go outside to cook, even when it's fah-reezing.
I gave it an unassuming name: Barbecue Grilled Chicken Sandwich. I really wanted to call it like 'Bomb Diggity Barbecue Chicken Sandwich' or 'Barbecue Chicken Sandwich Topped with All of My Favorite Things', but I thought you might make fun of me and not take my sandwich seriously.
Which would be a travesty because then you would never make it and see for yourself.
There are several things happening here to elevate this sandwich from boring grilled chicken status, the first being a veeeery thin chicken cutlet that I soaked in a really quick brine in a method I borrowed from Serious Eats. The thin chicken cooks really fast on the grill (to get you in out of the cold), but the brine keeps it juicy like a good chicken breast should be.
The second thing is the grilled bacon. Say What?!
YesIgrilledbacon.
It was a first for me, and honestly? I have no idea why I never grilled bacon before. Bonus: my cast iron grill grates were extra happy to be seasoned with bacon grease.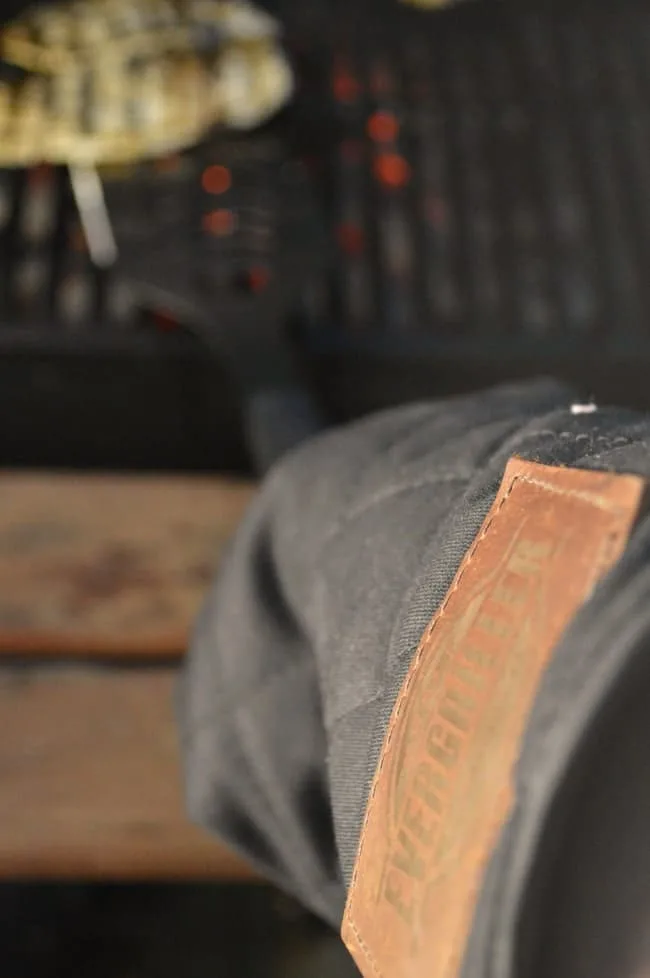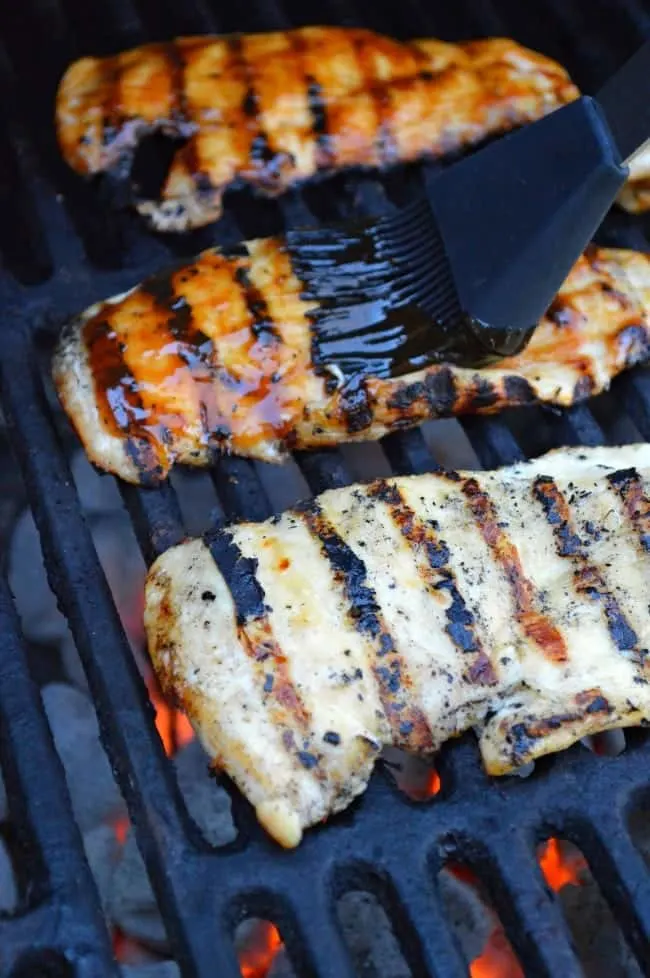 Moving right along in the list of delicious chicken sandwich building things, we have Kraft Barbecue Sauce. It's gotten a bit of a makeover with a newly revamped line of sauces that feature high-quality ingredients like tomatoes, sweet molasses, cider vinegar and cane sugar (instead of high fructose corn syrup!). My chicken got saucy with all that flavor. I used the slow-simmered Hickory Smoke Barbecue Sauce with this recipe and it was the perfect choice.
You might notice I have this very professional grill chef thing on my hand while grilling. It is both one of my misguided fashion choices AND the Evergriller Grill 'N' Flip Mitt, made for people that like to cook in the cold. They also say it's flame retardant, which could come in handy while roasting marshmallows over the fire pit. If you would like to wrap your arm in a warm, fire-resistant, cooking oven mitt blanket with me, you can enter HERE.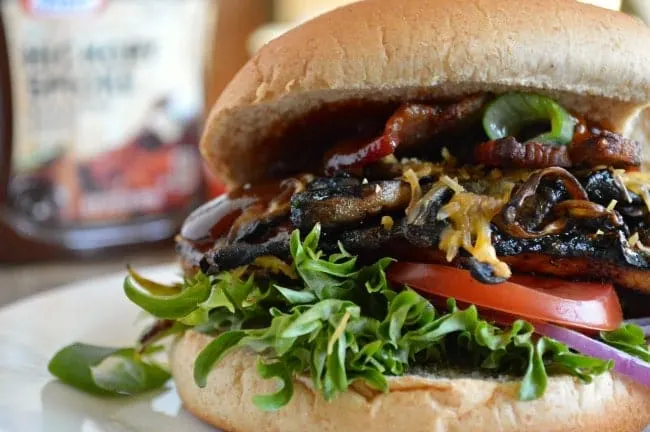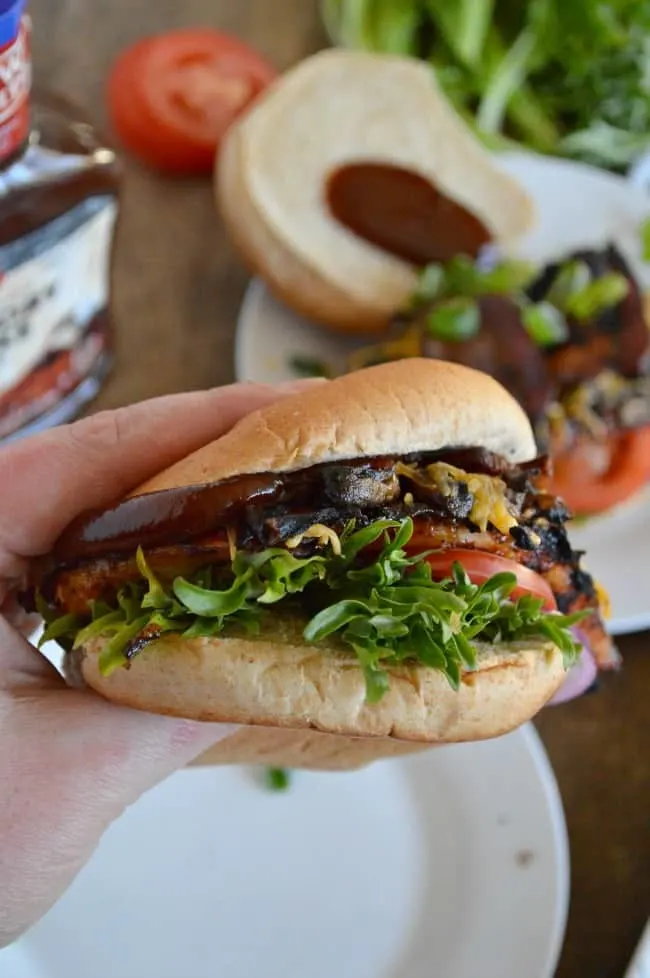 If you would like to check out more recipes using Kraft's New Recipe Barbecue Sauces, you can find them HERE — there are some good ones, you guys! Totally worth checking out.
And you should definitely print the recipe below and make it ASAP.
Barbecue Grilled Chicken Sandwich
Tender juicy chicken breast soaked in a quick brine and then grilled. Nestled on a whole wheat bun and topped with bacon, mushrooms, cheese, and Kraft Barbecue Sauce, this Barbecue Grilled Chicken Sandwich will get you outside to cook all year long!
Ingredients
For the Chicken:
4 (3-4 ounces each) thin chicken cutlets
1 quart of cold water
2 tablespoons + 2 teaspoons kosher salt
2 tablespoons granulated sugar
salt and pepper to taste
½ cup Kraft Barbecue Sauce
For the Sandwiches:
4 slices thick cut bacon, cut in half
1 teaspoon oil
8 ounces sliced mushrooms
tiny pinch of salt
½ cup low fat shredded cheddar cheese
4 whole wheat burger buns
lettuce, tomato, and red onion plus more Kraft Barbecue Sauce to garnish
Instructions
In a large bowl stir together the cold water, kosher salt, and granulated sugar. Add the chicken breast, cover, and refrigerate for 30 mins.
While the chicken is soaking in the brine, you can heat your grill and prep your other ingredients.
When you are ready to cook, remove the chicken and pat it dry with paper towels. Discard the brine. Sprinkle the chicken breast with the salt and pepper.
You will be cooking the chicken over direct heat; it's totally quick. So when you head outside you will PUT THE BACON ON THE GRILL FIRST. The bacon will need to be positioned between the hot and cold sides of the grill (lay it directly on the grates so that it hovers only halfway over the coals or your gas heat source).
After you have all the bacon pieces situated, place the chicken on the grill directly over the heat. It will only need to cook for about 3-4 minutes per side. Be sure to check for doneness; the internal temperature should read 165°F. Flip the bacon when it starts to shrink up.
While the chicken is still on the grill brush both sides with the barbecue sauce. Remove it to a plate and let it rest. When the bacon is crispy on both sides add it to the plate with the chicken.
You can cook the mushrooms two ways -- if you have a burner on the grill cook them outside! If not just cook them stovetop by heating the 1 teaspoon of oil in a small sauce pan. Add the sliced mushrooms and a pinch of salt. Cook over medium high heat for 3 or 4 minutes.
To assemble the sandwiches, add lettuce, tomato, and onion to each whole wheat bun. Top with a piece of the Barbecue Grilled Chicken, then the mushrooms, and then the shredded cheese. Add two of the half slices of cooked bacon and a little more Kraft Barbecue Sauce
Enjoy!
Is grilling your thing? You should also try…