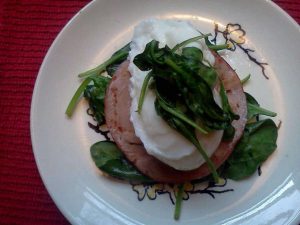 In a house full of men (two in training, one full-grown) you stack blocks. And laundry. There are stacks of dinner dishes, car magazines, and XBox games. I find stacks of school papers to be signed, work uniforms, and UNO cards. Sunday mornings usually produce a gigantic stack of pancakes.
You will not find stacks of cookies (mostly because they are inhaled as soon as I make them… and that's IF they get past being cookie dough without being eaten). Or tidy stacks of towels in my boys' bathroom (I will never understand how two boys can go through so many towels and NEVER REMEMBER TO HANG THEM UP! Sorry… I digress).
But sometimes, when I'm feeling sort of like making things a little bit pretty, I like to stack up food on the plate. I'm not talking about giant piles of mashed potatoes or a Dagwood-style cheeseburger (although I would be quite alright with a STACK of brownies on any given day). I'm talking about gourmet restaurant stacking. The kind of stacking that inspires you to wear a dress to dinner and pay too much for your entree. This sort of stack makes plain old ingredients seem really really special.
My small and filling breakfast stack is healthy and colorful and goes great with coffee. I think I could eat this little stack of happy at any hour of the day. It looks sort of elegant, but it's really just a fistful of spinach, a poached egg, and a slice of Canadian bacon. And when you stack it all together and slice the egg with your fork, the spinach gets sort of yolk-ey and the Canadian bacon loans a bit of salt… It makes me forget about the stacks of legos in the living room floor for a minute. Mmmmm.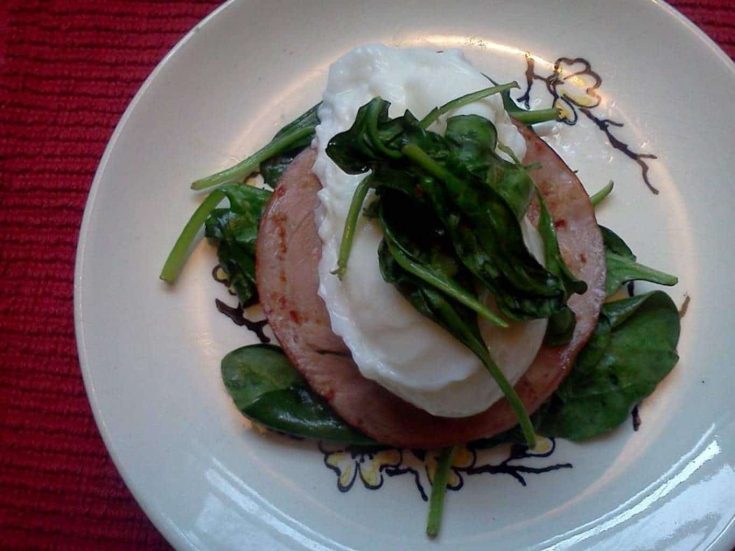 Yield:

1
Healthy Breakfast Stack
Sauteed spinach, Canadian bacon, and a poached egg are stacked to make a yummy low-carb healthy breakfast.
Ingredients
1 egg
1 slice of Canadian bacon
about 1 1/2 cups fresh spinach
Instructions
In a small skillet sprayed lightly with non-stick cooking spray, and over medium high heat, saute the spinach and brown the Canadian bacon on both sides (I just put the spinach and the Canadian bacon in the pan at the same time and stir them around with a spatula).
Boil a small pan of water. When it is at a rolling boil, drop in an egg and reduce the heat a little bit. I like my egg medium, which takes about 4 minutes to cook.
Remove the egg with a slotted spoon when it's done and then start to stack.
First spinach, then Canadian bacon, then egg. A little more spinach on top and you are ready.
Recommended Products
As an Amazon Associate and member of other affiliate programs, I earn from qualifying purchases.
Nutrition Information:
Yield:
1
Serving Size:
1
Amount Per Serving:
Calories:

102
Total Fat:

5g
Saturated Fat:

2g
Trans Fat:

0g
Unsaturated Fat:

3g
Cholesterol:

195mg
Sodium:

244mg
Carbohydrates:

2g
Fiber:

1g
Sugar:

1g
Protein:

11g