Citrus Cake starts with a box cake mix. It's the best way to use up citrus fruit that might have gone past its prime. Tangerines, lemons, grapefruit, Meyer lemons … all are welcome in this easy citrus cake recipe with cream cheese icing.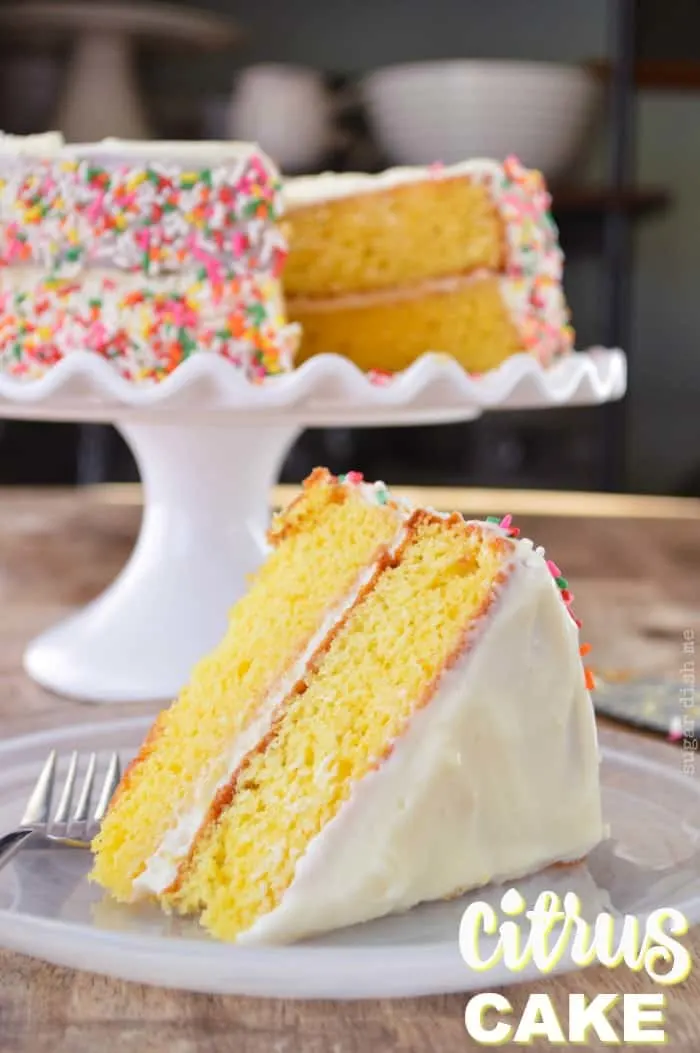 Major Update January 2018: This is one of the very first posts I published. It dates ALLLLL the way back to January 2012, when this blog was just a few months old and I had literally NO CLUE what I was doing. I'm not sure this post even had photos originally. So today I decided to follow this recipe and remake this cake.
I remade this Citrus Cake because I had a pile of tangerines that were past their prime. I remade this Citrus Cake to see if I knew what in the fresh hell I was doing 6 years ago [turns out I kinda did].
I remade it to prove that you can turn out awesome recipes in the janky kitchen of a single-wide trailer (where I originally developed this recipe) and they still work well in the much nicer kitchen of the home you worked your tail off for years later. I remade it to give you some photos so that you will also be inspired to make Citrus Cake.
Do it.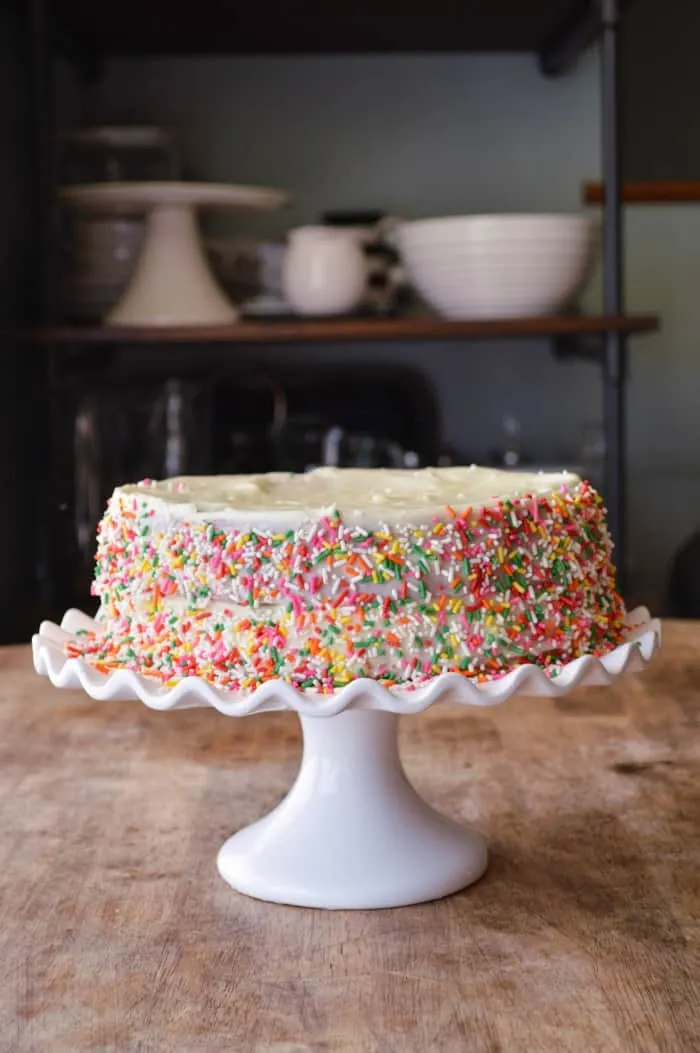 [original text follows]
I don't think I've ever met a fruit I didn't like. Some of my favorite memories are of me, my mom, and my sisters standing over the kitchen sink armed with forks, attacking a red juicy summer watermelon. Or a colander full of fresh blueberries. As a kid I was strictly an apple, banana, grape girl. I never tired of the green granny smith, so crisp and sour and sweet, tucked into my lunch all the way through school (thanks, Mom!). I always loved coming home and reaching into the fridge for a handful of grapes. Evan seems to have inherited this trait… no grapes are safe in this house once he gets off the school bus.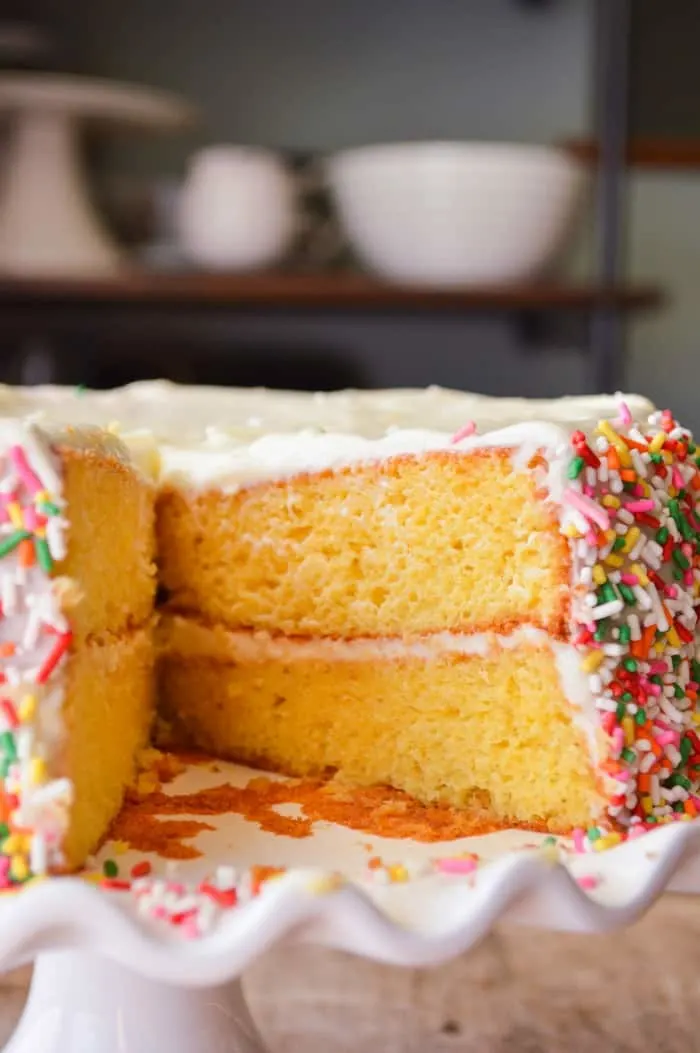 Citrus fruit is something I look forward to every winter season, but for some reason the best oranges, tangerines, and clementines (I could devour my weight in clementines) are found on my mom's kitchen counter. She has a knack for picking THE BEST fruit. You want sweet strawberries in January? Or a perfect pineapple in February? My mom has them.
And this year I should have let my mom pick out the tangerines, because every single one I've brought home has been a great big disappointment. I hate to throw food away. I use every scrap of leftover everything up because I don't like to waste food. Wasting good fruit is a crime worth severe punishment! But I could not bring myself to peel one more seedy, unsweet, let-down of a tangerine.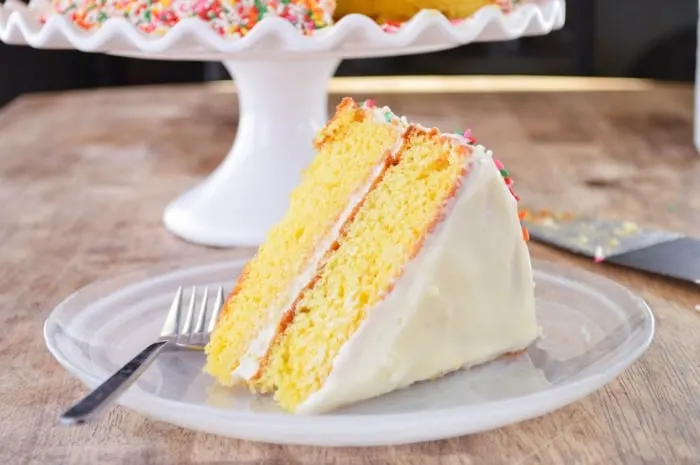 I tried unsuccessfully to send the tangerines to work with Chad. After I found a pile of uneaten citrus in the cupholder and threw him a questioning glance he said (with those eyes that are like 'are you pissed? don't be pissed'), "Will you please not send anymore tangerines? They're just not good."
Dang.
So the pile of tangerines sat in a pretty bowl on the kitchen table. They sat and sat and sat. I thought about tossing them. I couldn't do it.
Then it came to me. Tangerine cake.
So I smashed the unworthy fruit and made it fancy.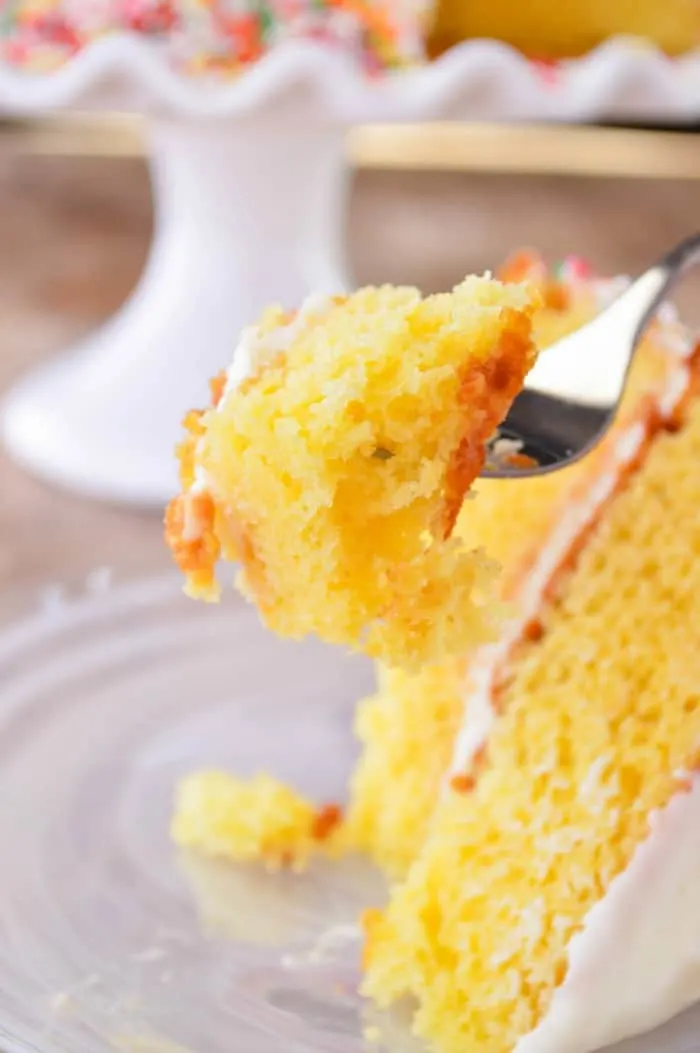 Okay so here are some TIPS and TRICKS that I decided to pass along after my 2018 remake of Citrus Cake:
fresh squeezed juice works best but you can use store bought OJ
orange extract in place of lemon extract is awesome
zest the tangerines/oranges/lemons/grapefruits BEFORE you juice them! That way you have the zest for the frosting
vanilla pudding is just as good as lemon pudding
you can frost this like a naked cake, leaving the sides bare and skip the sprinkles
the 4 eggs make this cake puff up when it bakes and then it sinks back down as it cools
Meyer lemons would be awesome here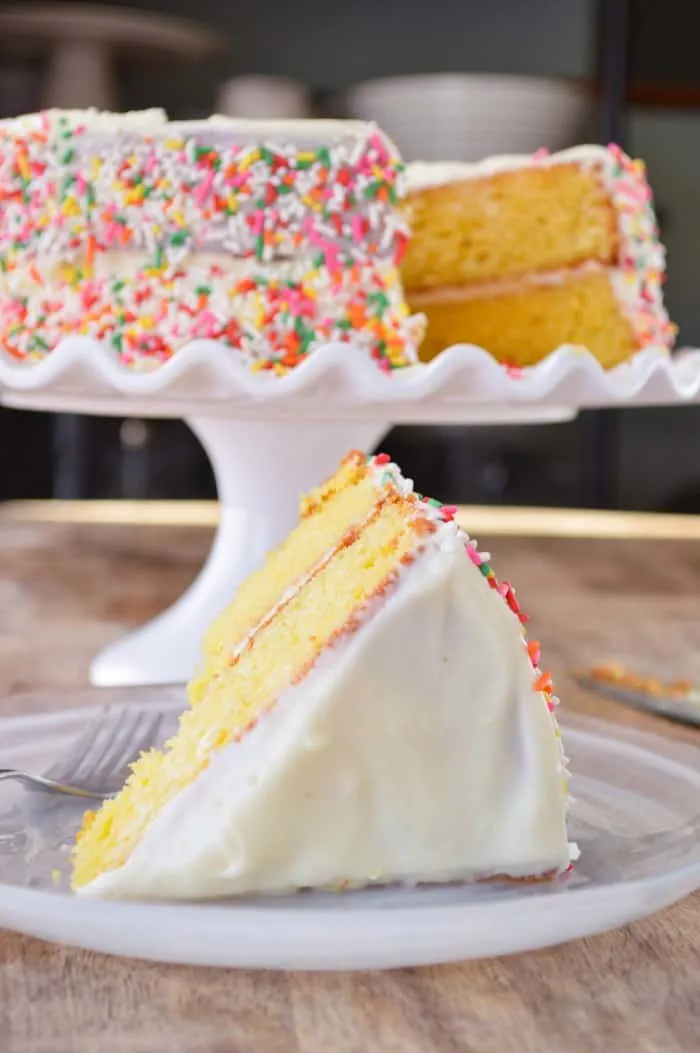 And let this be a warning to all fruit that decides to not live up to my standards: if you do not taste good, you WILL become dessert.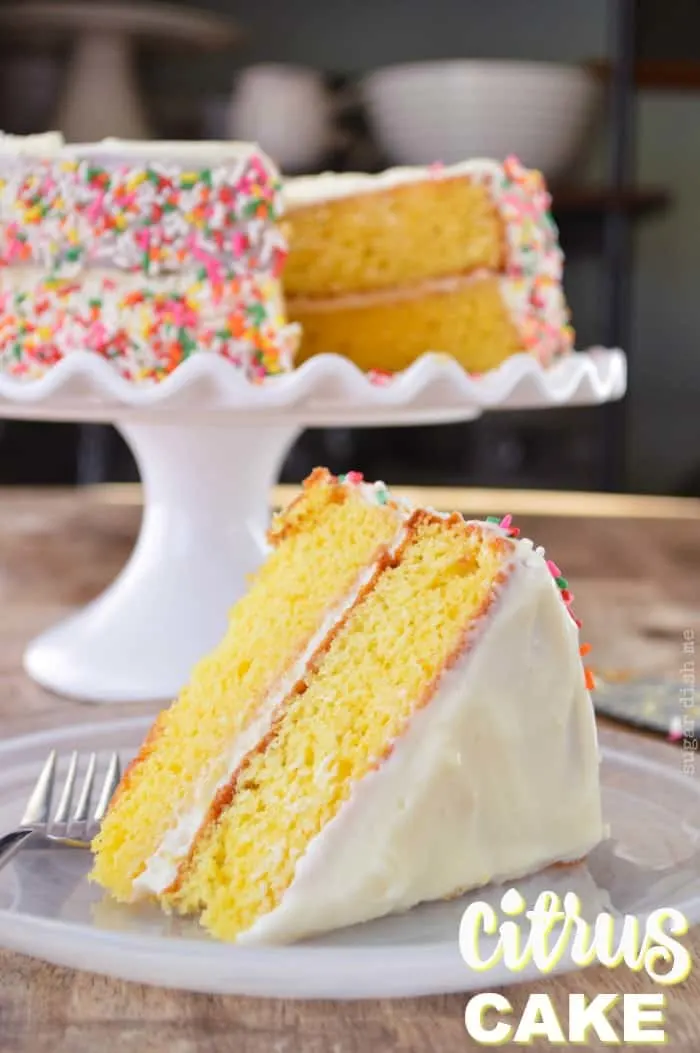 Yield:

1 double layer cake
Citrus Cake
This easy Citrus Cake recipe starts with a box cake mix and is one of my favorite ways to use up citrus fruit that's passed its prime.
Ingredients
1 box of yellow cake mix
1 package of instant lemon pudding
3/4 cup citrus juice ( orange, tangerine, grapefruit, lemon)
1/2 cup vegetable oil
4 eggs
1 teaspoon lemon extract
For the Frosting
8 ounces cream cheese, softened
3 tablespoons butter, softened
1 teaspoon orange zest
2 tablespoons orange juice
2 cups confectioner's sugar, sifted
Sprinkles to garnish
Instructions
Preheat the oven to 350° F and butter two 9" round cake pans.
In a large bowl mix together the yellow cake mix, lemon pudding, juice, vegetable oil, lemon extract, and eggs. Beat until smooth.
Distribute evenly between the prepared cake pans and then bake for 35-40 minutes. The top of the cake will look a little dark. Don't worry. Bake until a toothpick inserted into the center comes out clean.
Let the cakes cool completely.
To make the frosting, beat together the cream cheese and butter until smooth. Then add the orange zest and orange juice. Gradually add in the sifted confectioner's sugar and continue beating until your frosting is creamy and has no lumps.
Frost the top of each layer, stack, and then use the remaining frosting to lightly frost the sides. Cover the sides with sprinkles.
Recommended Products
As an Amazon Associate and member of other affiliate programs, I earn from qualifying purchases.
Nutrition Information:
Yield:
16
Serving Size:
1
Amount Per Serving:
Calories:

384
Total Fat:

17g
Saturated Fat:

6g
Trans Fat:

0g
Unsaturated Fat:

10g
Cholesterol:

71mg
Sodium:

423mg
Carbohydrates:

53g
Fiber:

1g
Sugar:

32g
Protein:

5g
Are you into all things citrus? You should also try…