I'm taking a quick break from all the sweet happiness I've been blasting your email boxes with to share one of my other great true food loves: BUFFALO everything. Buffalo Croutons.
And you know, when sorting through my archives for other buffalo recipes, there aren't that many! Which is weird because if it has buffalo sauce I am there. With blue cheese? Even better.
But don't worry all you blue cheese haters (I know it's a love it or hate it kinda deal) — there isn't any blue cheese in this recipe. Just bread. And buffalo sauce. And some herbaliciousness.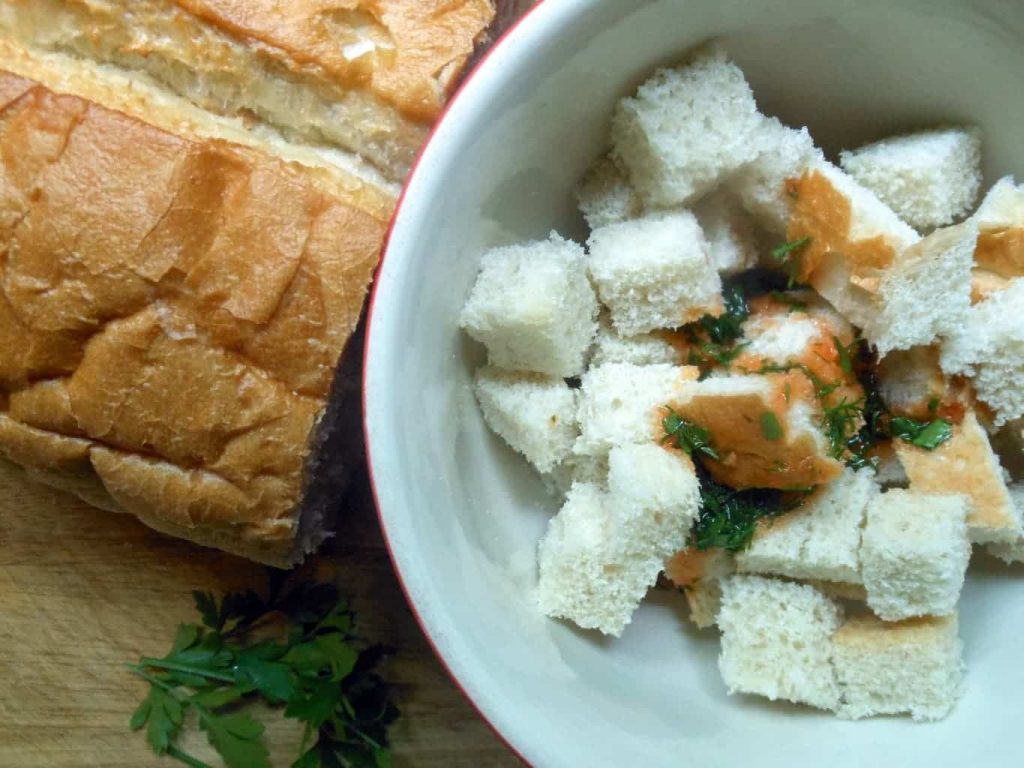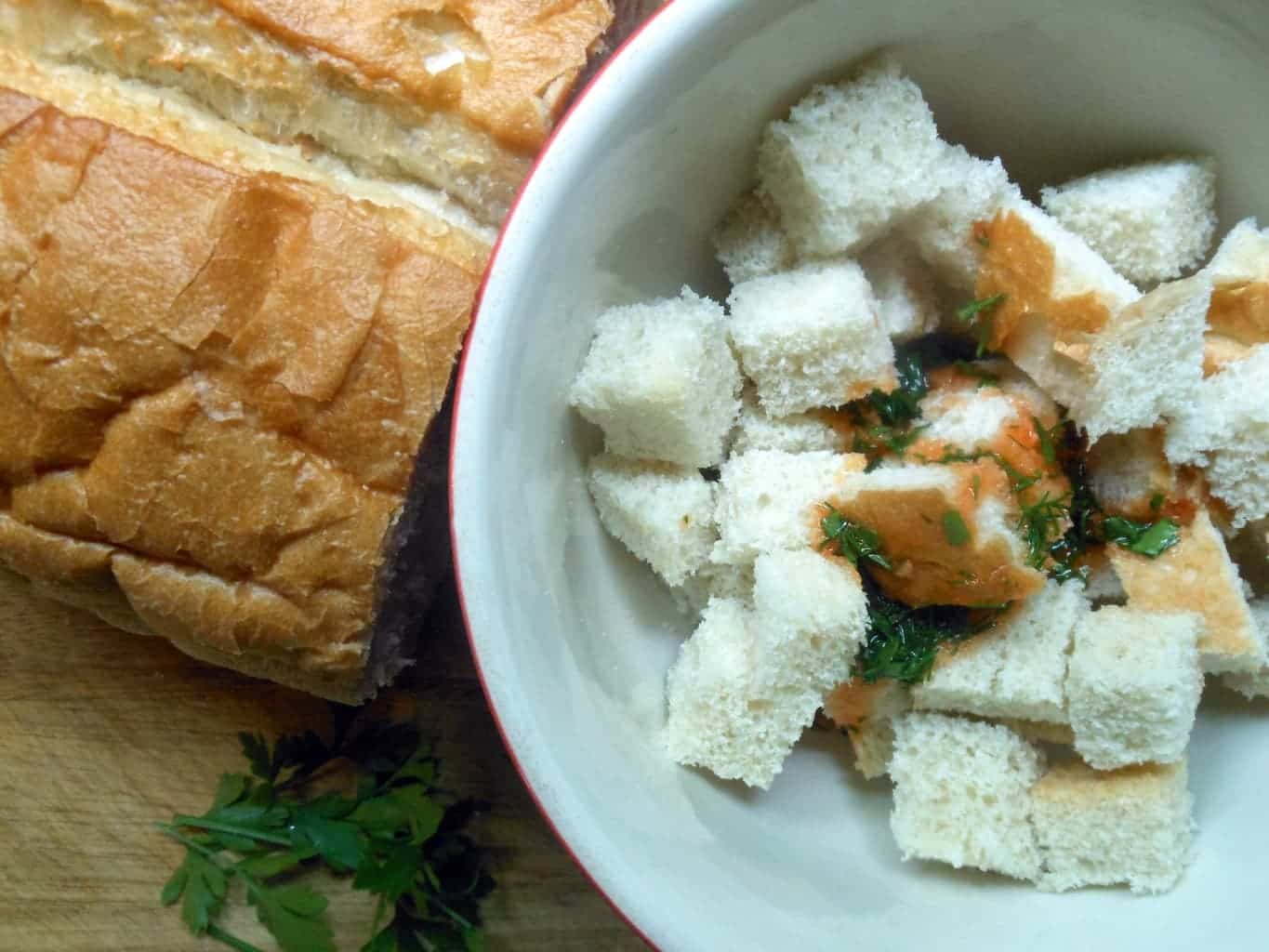 Does anyone else religiously shop the discount stuff at the bakery and deli? I find THE BEST discount bread on those carts they shove in the corner with all the yellow stickers on it. I made these BLT Sliders with Cucumber Dill Sandwich Spread a few weeks ago and I got more compliments on the honey wheat loaves than the actual BLT's. Thank you Wal-Mart reject bread. You are delicious and I love you.
Anyway, the moral of the discount bread story is that it is PERFECT for croutons. I routinely snag these $1 sourdough loaves and make croutons, but any thick, crusty, day-old bread would be great. Whole wheat or oatmeal bread would work wonderfully as well.
I love love love a good buffalo chicken salad, but I don't always have chicken hanging around (because I live in a house full of boy and they eat all the food). So these croutons let me have the buffalo flavor without the chicken. It's better than just dumping Frank's Red Hot on lettuce. You get a big load of vegetables, that satisfying crispy crunch from the toasty croutons, AND all that hot buffalo flavor.
And on mine: amazing crumbly blue cheese.

Buffalo Croutons
Ingredients
2½ cups thick sourdough bread cubes
1-3 tablespoons buffalo sauce- Frank's Red Hot is a winner over here! (more or less to add heat; see note)
1 tablespoon olive oil
1 teaspoon chopped fresh dill
1 teaspoon chopped fresh parsley
¼ teaspoon kosher salt
⅛ teaspoon cayenne pepper
Instructions
Pre-heat the oven to 350. You can line a baking sheet with parchment or foil, but it's not essential. Just makes clean up easier.
In a medium bowl combine 1 tablespoon of the buffalo sauce, the olive oil, fresh dill, parsley, kosher salt, and cayenne pepper. Whisk to combine.
Add the bread cubes and toss to coat.
Spread them in an even single layer on the baking sheet and bake for 8-10 minutes, stirring around on the baking sheet halfway through.
When the croutons are done they will be golden and toasty.
Let them cool slightly before serving.
They will keep for a week sealed tightly in a ziploc bag or other air-tight container.
Notes
Add the hot sauce according to your heat preference, but start with just one tablespoon. Add more, a tablespoon at a time, tossing the bread cubes in between, up to 3 tablespoons. Careful not to let the bread get too soggy-- you'll have to bake it a bit longer if it gets too moist.
So quick and easy! Buffalo your croutons.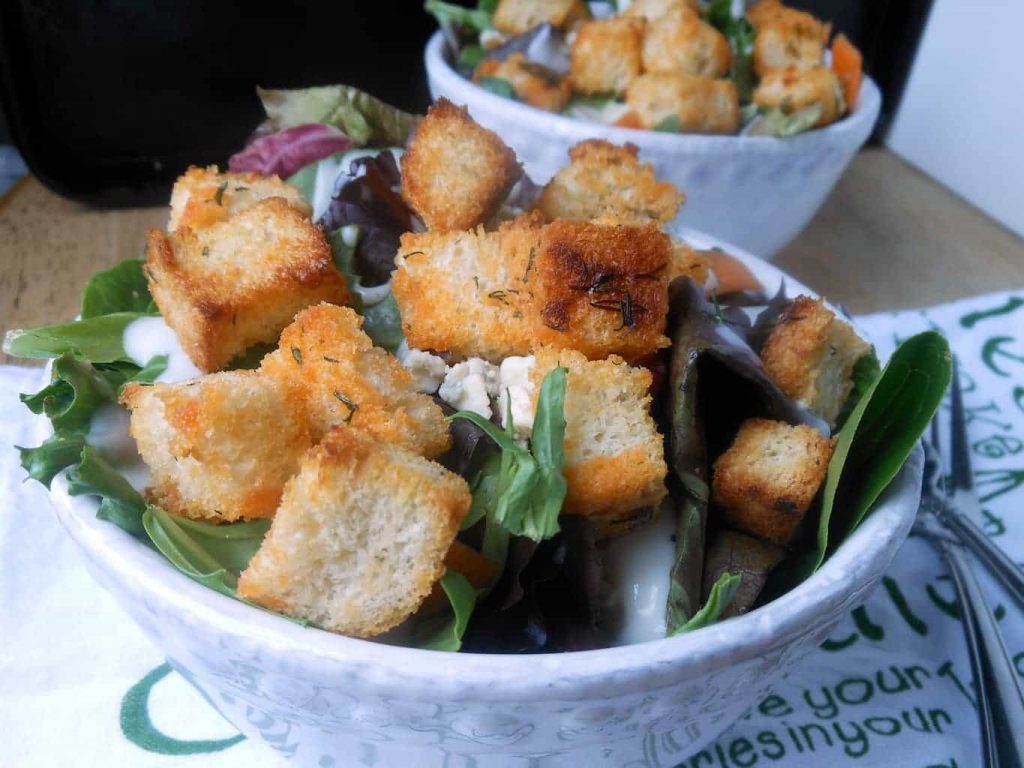 You Might Also Like…