I know that I tell you that every dessert I make is my new favorite but really…
These Chocolate Chip Cookie Dough Cupcakes might just be it for life.
I mean it.
I made these cupcakes for Andrew's birthday. They went to our giant family birthday party blowout over the weekend.
There were none left.
But that's okay because I have the recipe, which means I can make more. AND lick the beaters.
In our family, birthdays are mostly all the same: You get to have whatever you want to eat for dinner (which is a big deal when 12-15 people have to acquiesce to your wishes). You get to pick your cake flavor (or tell me some things you like & I'll figure it out). My kids usually like to try to stump me on this. One year Andrew asked me for a Titanic cake. I worked it out. Evan once asked me to build a cake mountain and make grass and trees and drive cars through it. He doesn't understand that this is not Cake Boss and I'm way more concerned with eating the cake than building things with it. Everyone has their talents and building with cake is NOT mine.
I can make it taste good though.
Other birthday traditions include birthday math (which is basically just recycling the same candles for the last 10 years so we have to come up with crazy number combos to equal the right age; for example a regular candle + the number 3 candle = 13!), singing really REALLY REALLY loudly, re-using the same birthday gift bags over and over and over (Because those things can get expensive! Plus let's save the earth.), and making the birthday girl or boy pose awkwardly with all their gifts.
I love birthdays. And birthday cupcakes.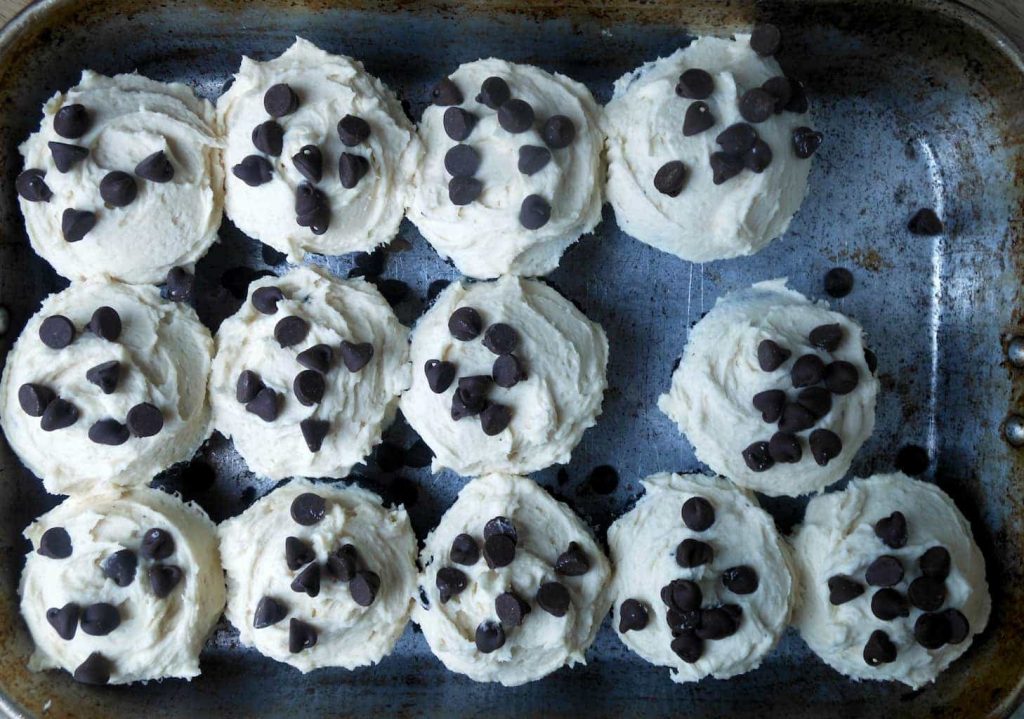 These are rich dark chocolate cupcakes- as sticky and moist as you'd ever want a chocolate cake to be. The center is scooped out and in it's place is no-bake chocolate chip cookie dough. They are topped with a brown sugar buttercream that needs to find its way into my life again VERY SOON. I mean, all buttercream frosting is delicious, but BROWN SUGAR buttercream? When I got it just right I was floored. The frosting is topped with more chocolate chips… because in my humble opinion, you can never have enough of those.
Let's make cupcakes! I have a zillion cupcake ideas… what's your favorite?
Chocolate Chip Cookie Dough Cupcakes
Ingredients
Dark Chocolate Cupcakes:
2 cups granulated sugar
1¾ cups all purpose flour
1 cup unsweetened dutch process cocoa
1½ teaspoons baking powder
1½ teaspoons baking soda
1 teaspoon salt
2 eggs
1 cup milk
½ cup vegetable oil
2 teaspoons vanilla
¾ cup boiling water
Cookie Dough Filling:
¼ cup unsalted butter
½ cup light brown sugar, packed
½ teaspoon vanilla
pinch of salt
1 cup all purpose flour
2-3 tablespoons milk
¼ cup semi-sweet chocolate chips
Brown Sugar Buttercream:
1 cup unsalted butter, softened
½ cup light brown sugar, packed
½ teaspoon vanilla
½ teaspoon salt
3½ cups powdered sugar, sifted
3 tablespoons heavy cream or milk
Instructions
Pre-heat the oven to 350. Line a standard sized muffin tin with paper liners.
In a large bowl whisk together the dry cupcake ingredients: sugar, flour, cocoa, baking powder, baking soda, and salt.
Add the eggs, milk, vegetable oil, and vanilla and beat on medium for about 2 minutes.
Set the mixer aside and slowly pour and stir in the boiling water until it's completely combined and smooth.
Fill the prepared muffin tin cups to about ¾ full (I use a ¼ cup dry measuring cup to dip the batter) and bake for about 22 minutes.
A pick inserted into the center will come out clean. Let the cupcakes cool completely.
Using a small paring knife cut little circles about the size of a quarter out of the top of each cupcake.
In a small saucepan, melt the !/4 cup butter. Whisk in the ½ cup brown sugar. Bring it just to a low boil so the sugar dissolves and remove it from the heat. Scrape the mixture into a large bowl and let it cool a little.
When the mixture has cooled to the touch, add the vanilla and salt. Mix.
Using an electric mixer, add the flour ½ cup at a time. Then add the milk a tablespoon at a time until you've reached the desired consistency (thick like cookie dough!). Stir in the chocolate chips.
Refrigerate the cookie dough for about 10 minutes, just so you can roll it into cookie dough balls.
Pinch out enough dough to make about 1" balls, roll them, and then drop them into each cut-out cupcake.
To make the frosting, beat together the butter and brown sugar until fluffy. Add the vanilla and salt. Sift in the powdered sugar a cup at a time, beating in between each addition. Add the heavy cream a tablespoon at a time until you've reached your desired consistency. Add more powdered sugar to thicken if necessary.
Frost the cupcakes and top with more chocolate chips.
The cake recipe is just slightly adapted from
Hershey's Perfectly Chocolate Chocolate Cake
. Because those Hershey's people know their chocolate.
The cookie dough filling is from Carrie at Bakeaholic Mama. She used the same egg-less cookie dough for her Chocolate Cookie Dough Macarons; they are so gorgeous and I want to eat them ALL. She is also responsible for things like Sriracha Crab Rangoon Dip— I mean… I just don't think a dip like that even needs an adjective. Except maybe, "face-plant".
You Might Also Like…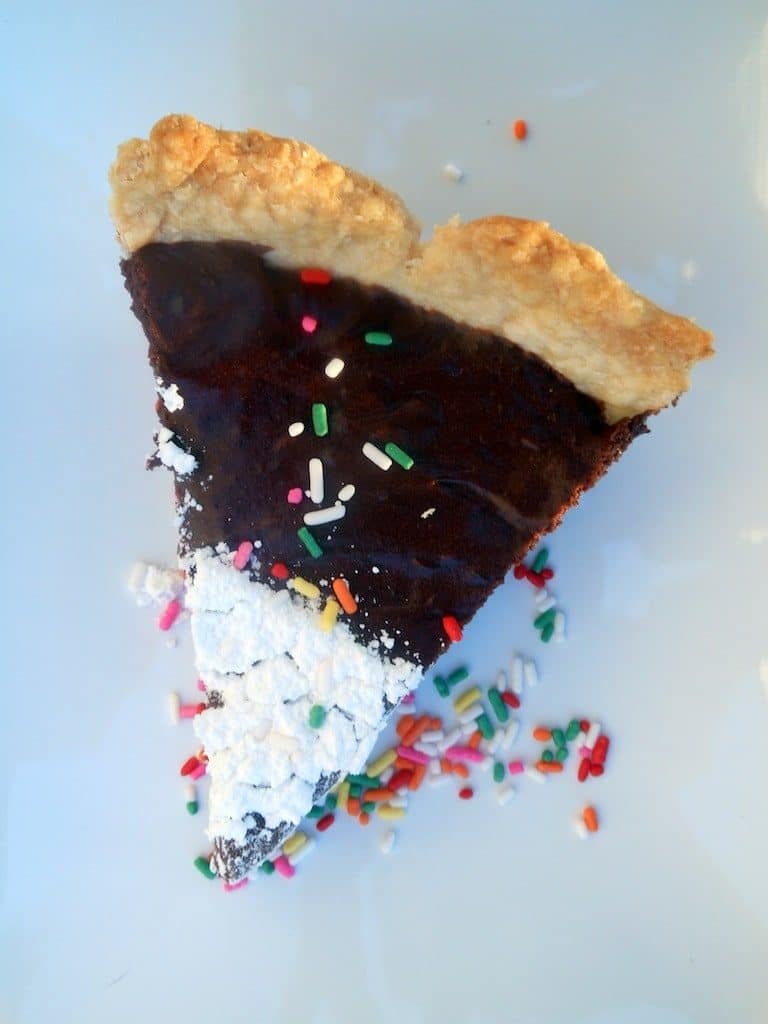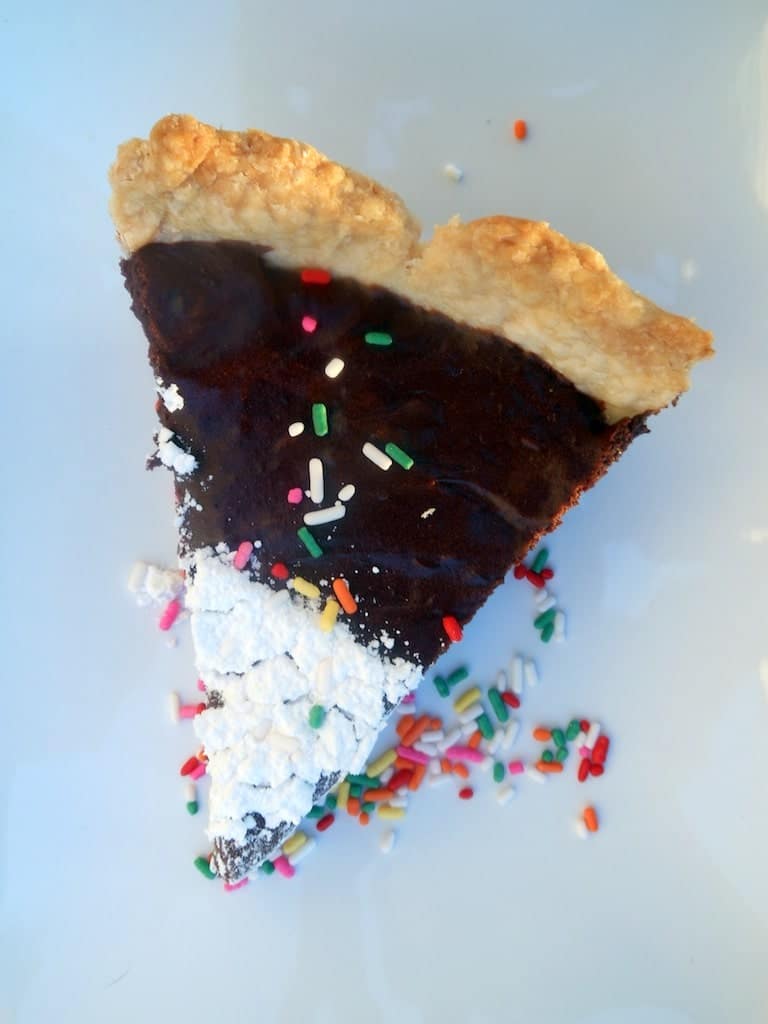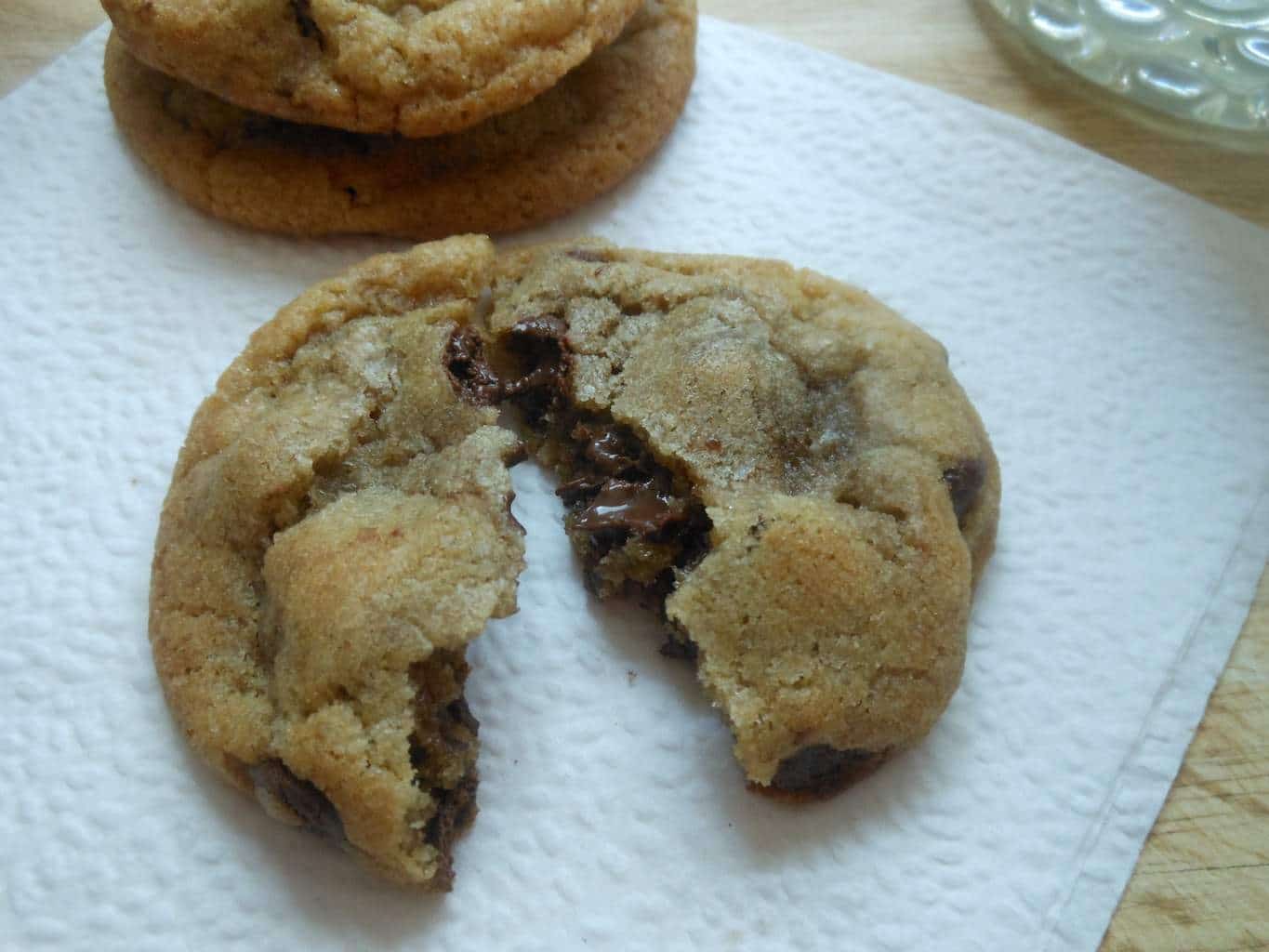 Best Big Fat Chewy Chocolate Chip Cookies