It is acceptable to suggest roasting a chicken just a few days before so many of you are gearing up to roast a turkey.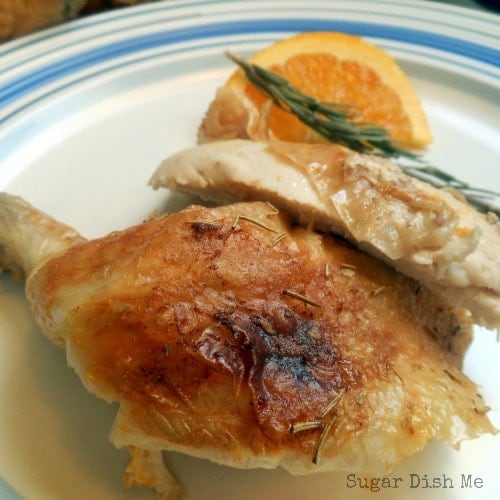 It is.
Roasting a chicken is like good turkey practice. Also a whole chicken is nowhere near as terrifying as a whole turkey. Annnnnd if you braved the grocery store this weekend and are anything like me, then you are just about ready to throw in the towel and eat ramen noodles for Thanksgiving, so there's no need to worry about turkey in a few days anyway.
I don't know WHAT was going on this morning (okay, I do – it's the weekend before a holiday, but really it was crayzay), but in terms of being thankful for things, I'm super thankful that I made it out of the grocery store alive. Notevenkidding.
I always grocery shop on Sunday mornings. We live in the south and are, therefore, supposed to be the only heathens that are not in church And usually we are. Chad and I have this masterful grocery routine that includes a list, a cup of Starbucks the size of my head, and power shopping. We even have the loading/unloading/cash register thing down to a science.
But this morning my routine was soooooo busted. There were 94,268 people at Starbucks. And then, upon arriving at the grocery store, I was assaulted by all of the rudest people on the planet gathered in one place preparing to give thanks by ignoring all sense of personal space and common decency. It was bananas you guys.
The first place I headed was the aisle full of baking goodies -usually my happy place – and I was waiting to have my turn at the chocolate chip shelves. There was the cutest old couple perusing already so I waited patiently not wanting to crowd them or rush them. But as soon as they started to mosey elsewhere, all of these people, these grocery store zombies that sole my Sunday morning, just jumped right in front of me. I think I politely waited 8.23 minutes before I snatched a bag of chocolate chunks and totally blew a gasket.
I had a moment where I seriously considered marching out of the store empty-handed and trying all this again another day, perhaps at say… 5 a.m.? But we all know it's only gonna get crazier going forward.
The rest of our shopping trip consisted of me zig-zagging all over the place and Chad trying desperately to follow me with the shopping cart while avoiding all of the obstacles in his his way. We narrowly missed crashing into a little boy running full speed ahead with nothing resembling parental supervision, an island display of Stove-Top stuffing, and a tower of canned green beans.
Also I think I caught a cold from one of the grocery store zombies. I never get sick! Like EVER. Once every 3 years maybe. So I really just want a book, a huge mug of green tea, and a blanket. But I roasted this chicken anyway, if that's any indication of how easy this recipe is.

Butter Roasted Chicken with Orange and Rosemary
Ingredients
1 small whole chicken (I like them at about 4 pounds)
3-4 tablespoons unsalted butter, softened
1 orange – you'll need the zest (about a tablespoon, not packed down), and the orange cut into quarters
1 tablespoon fresh rosemary OR 1½ teaspoons dried
1 teaspoon kosher salt
coarse ground black pepper to taste
Instructions
Pre-heat the oven to 375. Make sure to remove any little pouches of weirdness that may be lurking inside the bird. Pat it dry with paper towels as well as you can. Trim the tips off the wings. Work your fingers under the skin of the bird, lifting it away from the meat as much as you can being careful not to tear the skin if you can help it.
Work the orange zest into the butter until it's evenly combined and then massage the butter into the chicken, under the skin.
Once you've rubbed/stuffed all the orange butter into the breasts, legs, thighs, etc, you'll have orange butter all over your hands. Rub the outside of the skin on all sides.
Drop the quartered orange inside the chicken.
Situate the chicken in a roasting pan. I like to do mine breast side down (for me it keeps the white meat moister). Sprinkle half of the rosemary INSIDE the cavity with the orange slices and the rest across the top. Sprinkle the top with the kosher salt & coarse ground black pepper.
Roast the chicken for about 20 minutes per pound and then add another 20 minutes onto that to account for the 375 oven temp.
Let it rest for a few minutes before carving.
(inspired by
THIS
recipe at Daily Dose of Fresh)