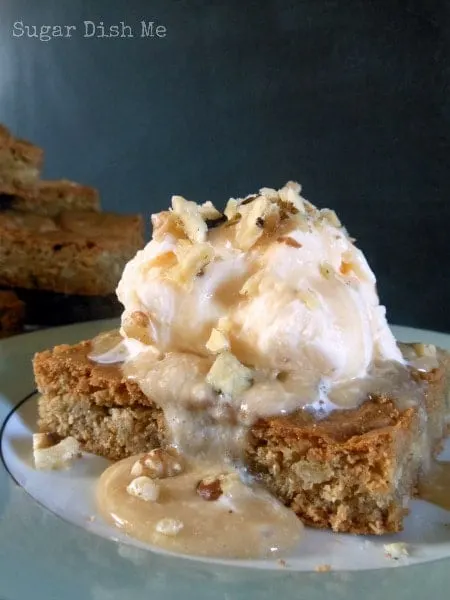 We can add Applebee's to the list of restaurants in which I paid my service industry dues. I worked in the kitchen, I waited tables, I poured a lot of draft beer into tall frosty glasses. I can give you some serious inside information on this nationwide chain restaurant. In case you care, they make their pico fresh daily. Guacamole, too. None of that bizarro strangeness that comes pre-made in a plastic sealed envelope with ingredients like monosodiglutacide. No. Also!! They steam and mash all their own potatoes and cut the veggie mix up everyday. Fresh ingredients are sort of rare in the corporate restaurant world where the goal is a uniform product across the board.
Mostly, corporate restaurants ship trucks full of frozen food and dried goods to each location. Much of it is pre-portioned, pre-packaged, and pre-cooked.
Desserts are no exception to this rule. In fact, desserts are kind of as a rule frozen, shipped, and thawed on site. Which makes them good, but not great when, in my opinion, dessert should be OUTSTANDING.
I will happily box up 3/4 of my food so I can order dessert and coffee.
So I made these maple walnut blondies. They are so … I mean there are really just no words.
Freaking delicious.
In other news, I still feel like ick. I took Nyquil and am extremely sensitive to medication, therefore, I'm calling myself un-responsible for the rest of the content in this post.
It's almost Thanksgiving everybody!!!! I'm super excited. I have unwittingly added the freshly baked version of this popular Applebee's dessert to our Thursday menu just because it's nice to have something different. Maple Walnut Blondies.
You're gonna thank me for this.
Dessert, ready to serve in about 45 minutes. OR you can make these ahead of time, wrap them individually, and then freeze. They can be thawed in the microwave or just left out at room temperature until they've un-frozen.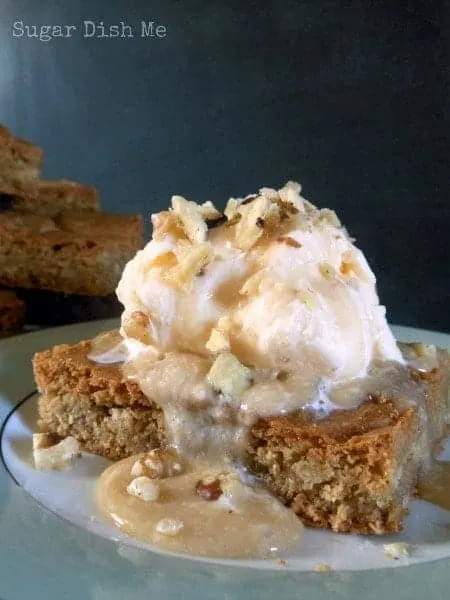 Yield:

12-15
Maple Walnut Blondies
Chewy, buttery Maple Walnut Blondies are topped with a warm maple sauce, more chopped walnuts, and vanilla ice cream! This copycat Applebee's blondie recipe is an oldie but a goodie. If you have 90's dessert nostalgia this recipe is IT.
Ingredients
2 cups all-purpose flour, sifted
1 teaspoon baking powder
1/4 teaspoon baking soda
1/4 teaspoon salt
11 tablespoons butter
2 cups light brown sugar
2 eggs, lightly beaten
2 teaspoons vanilla
1 cup chopped walnuts, plus more to garnish
vanilla ice cream for serving
1/2 cup maple syrup
1/4 cup butter
1/2 cup light brown sugar
8 ounces cream cheese, softened and cut into cubes
Instructions
Pre-heat the oven to 350. Butter a 9 X 13 baking sheet, line with parchment paper, and then butter the parchment paper (this makes it easy to lift the baked & cooled blondies out of the pan).
In a large bowl whisk together the flour, baking powder, baking soda and salt.
In a large saucepan, melt the butter over medium to medium low heat. Stir the brown sugar into the melted butter. Add the eggs and vanilla, stirring well.
Gradually stir in the flour mixture. Then add the walnuts.
Spread the blondie batter in the prepared pan and bake for 20-25 minutes.
While the blondies are baking heat the maple syrup in a small saucepan. Stir in the butter until it's melted and combined with the syrup.
Whisk in the sugar and bring it to a low, slow boil.
Add the soft, cubed cream cheese a little at a time, whisking in between each addition. Continue cooking and whisking until all of the cream cheese is added and the sauce is smooth. Remove from the heat.
When the blondies have cooled, lift them from the pan and cut into squares. Top each square with a heaping scoop of vanilla ice cream and then pour the maple sauce over the top (reheat the sauce if necessary). Sprinkle with the chopped walnuts and serve immediately.
Nutrition Information:
Yield:
15
Serving Size:
1
Amount Per Serving:
Calories:

441
Total Fat:

24g
Saturated Fat:

12g
Trans Fat:

0g
Unsaturated Fat:

10g
Cholesterol:

74mg
Sodium:

254mg
Carbohydrates:

54g
Fiber:

1g
Sugar:

39g
Protein:

5g