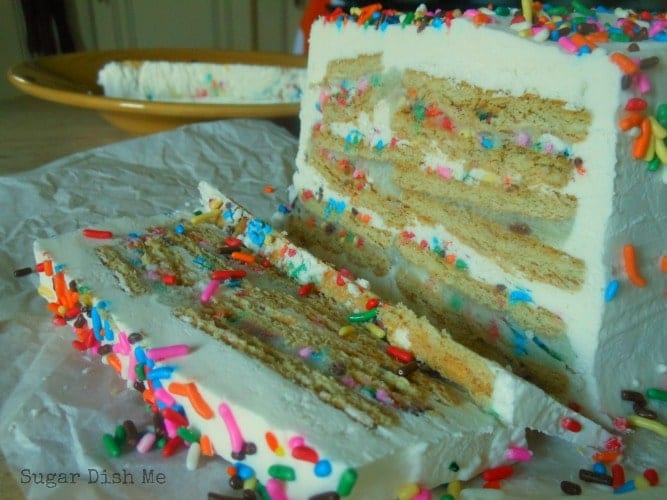 Sooooo… this cake feels like an end of summer party.
I think it's because of the sprinkles. And the freezing.
I actually made it way way way back in August for my brother-in-law's birthday. My family is slightly obsessed with funfetti.
I was going to save this post for the weekend. Because this weekend we are aiming for a day filled with rollercoasters, parking lot peanut butter & jelly sandwiches, and $9 frozen lemonade. THAT feels like a reason to share this cake party more than any plain old Thursday I can think of (except Thanksgiving… which might be the best Thursday ever).
Today was supposed to be all about basil walnut pesto. But I was going through things today, making some changes on my page (P.S. you can follow on Instagram and Pinterest now… I managed to get the buttons to the right over there to work! I am admittedly the last blogger on earth to figure out how to make all that happen, and when I finally did it was because Chad knew which buttons to push. Techno-loser alert.) and I noticed that this past month, really this past week has been overrun by basil. It's because I have too much! The basil is out of control!! But my basil is not your problem.
My executive decision was to share NOT more basil, but an obscene amount of sprinkles.
This week has been reeeeeeeeally long. Did it feel like it went on forever for you? Despite the amazing weather we've been having, I mean crazy gorgeous let's-have-a-picnic-all-day-everyday weather, this week feels like it's been one great big forever task. It was all full of trips to tax offices and lines at the DMV. This week was busy lunchtime errands, mailing packages at the post office, and annoying phone calls (though I may have made those calls from the sunshiney front porch with my feet up on the rail). All of this felt like more reasons for sprinkles to me.
All these sprinkles that are all over everything are part of something called an icebox cake. You know about those, right? Layers of pudding and graham crackers and sweet whippy cream are stacked together and frozen. The pudding softens the graham crackers and they take on a cakey kind of persona. It's freezer science. I should mention that "icebox" is a totally retro romantic way to refer to your refrigerator.
Let's make this a trend.
The last icebox cake I made was chocolate, reminiscent of a chocolate eclair.
It was suuuper fancy and fantastic. I'll share that with you one day.
But on this day, as I gear up for a weekend full of extreme amusement and maybe even another demolition derby, it is definitely all about the sprinkles. And pudding made out of cake batter.
Friday's mission: put sprinkles on something.
Because there are no holidays on the horizon. Because this week went on for an eternity. Because even if you don't feel like cooking pudding from scratch or making a Funfetti Icebox Cake, you deserve some kind of cake party. A colorful one at that.

Cake Batter Pudding
Serves:
2 (8½ X 4½)icebox cakes
Ingredients
⅓ cup cornstarch
¼ cup granulated sugar
¼ cup box yellow cake mix
a pinch of salt
3 cups cold WHOLE milk
1 tablespoon vanilla
Instructions
Make a large-ish double boiler. I used two medium-sized saucepans, the bottom pan filled ¼ of the way up with water. Bring the water to a rolling simmer.
In the top pan or heat-safe bowl whisk together the cornstarch, sugar, cake mix, salt, and milk. Mix until it's combined and place it over the simmering water.
Cook for 30-35 minutes until the pudding is thickened, stirring occasionally. Check to make sure your water doesn't simmer away.
When the pudding is ready it will coat the back of a spoon and drizzle ribbons (thanks for the tip, Jessica!). Let the pudding cool completely.
Refrigerate until you're ready to use. **You can make this stuff ahead of time**
Notes
**Note: I made this with 2% milk and the pudding layers in the finished icebox cake were too "freezy". I wanted an ice-creamy texture and what I got was ice, which was kind of disappointing because this pudding straight out of the fridge was AWESOME. I wanted the frozen pudding to be needed a creamier, so I called for whole milk here. That is my preference for texture. BUT! The original recipe actually called for vanilla almond milk, so go with whatever strikes your pudding fancy. Just thought you should know.**
Funfetti Icebox Cake
Layers of graham crackers, whipped cream, cake batter pudding, and SPRINKLES! are wrapped and frozen and then sliced like the most fun no-bake cake you have ever made! PLEASE NOTE that this recipe requires 4-6 hours of freezing to set up, plus a couple more after frosting. I find it best to assemble it the night before (only about 10 minutes of work)
Ingredients
1 quart heavy cream, cold!
½ cup powdered sugar
1 teaspoon vanilla ** let's pretend you don't feel like making whipped cream from scratch... use Cool Whip in place of the heavy cream, powdered sugar, and vanilla listed here**
1 (14 ounce) box of graham crackers (I bought 2 boxes "just in case"; I needed a few extra grahams because I actually had enough pudding & whipped cream to make Two loaf-pan cakes)
¾ cup sprinkles!!!!!
1 recipe cake batter pudding (above) OR 1 batch of prepared instant vanilla pudding (saves time! still awesome!)
Instructions
Line a loaf pan with plastic wrap running in both directions and up over the sides. This will help you get your finished frozen cake on outta there.
Make whipped cream. Pour the heavy cream in a large bowl an beat on low using whisk attachments until stiff peaks form. Be patient.
Add in the powdered sugar and vanilla, beating until they are just combined. Remove 1½ cups of the whipped cream and put it in a smaller bowl. This will be for "frosting" your finished cake. Refrigerate both bowls until you're ready to use them.
Using the large bowl of whipped cream, "frost" the bottom and sides of the prepared loaf pan. This layer should be about ½ an inch thick. Place graham crackers across the bottom of the pan; I had good luck breaking the grahams at the "seams" to fit.
Spread more whipped cream over the graham crackers. Cover with sprinkles.
Then another layer of graham crackers. Then a layer of cake batter pudding.
Keep layering all the way up to the top of the pan, making sure to spread and push the pudding and whipped cream down the open sides. End at the top with a layer of whipped cream. Pull the plastic wrap that's hanging over the sides loosely across the top of the cake and freeze for 4-6 hours, or overnight.
Two hours before serving turn the cake out of the pan and onto a serving platter.
Using the small bowl of whipped cream you set aside, "frost" the top and sides of the cake so you have a pretty finished product. COVER IT with sprinkles. Freeze for at least two hours, slice, and serve.
Original recipes for
Cake Batter Pudding and Funfetti Icebox Cake
are by Jessica at
How Sweet It Is
. Hers is probably still my favorite food blog in all the world over. She shares my deep affection for sprinkles and does more creative things with buffalo and bacon than I could ever come up with. Insane photos. Delicious food. Check it out. I'm serious.