A delicious homemade caramel corn snack with pretzels! Caramel Popcorn Pretzel Snack is similar to Cracker Jacks, but with a homemade caramel sauce that makes everything it touches taste infinitely better.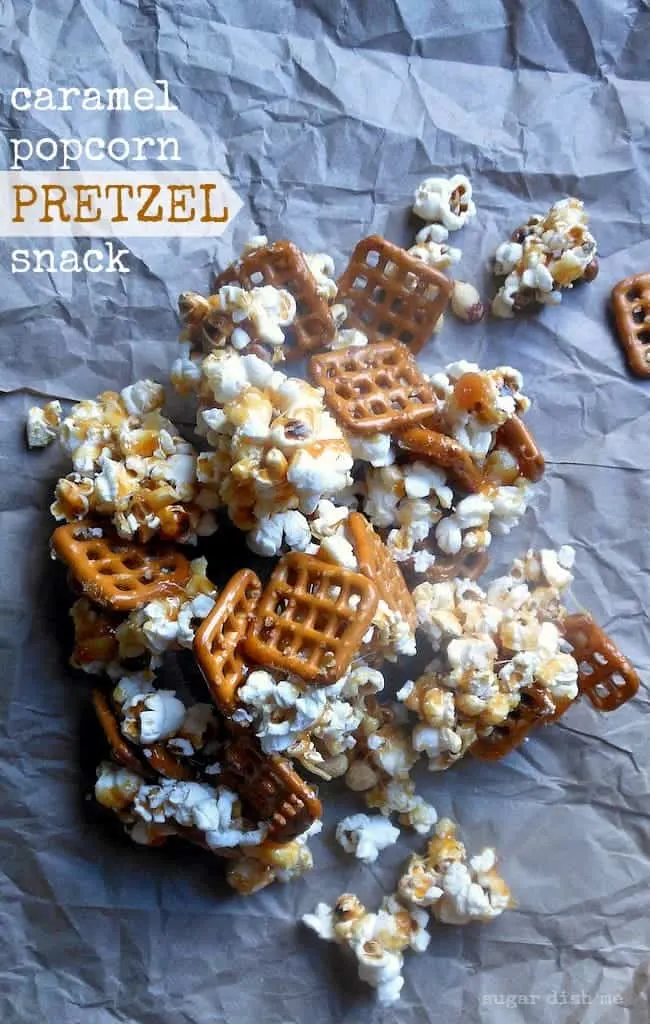 The other day I found these really adorable popcorn bowls at World Market and the proceeded to plan my Friday evening around buying/using them. I came up with a really fun popcorn recipe!!!! Movie night in full effect.
This recipe is pretty much like homemade Cracker Jacks with pretzels added with a treat factor of X 1000. You could maybe even sneak a treat in the bottom of the bowl.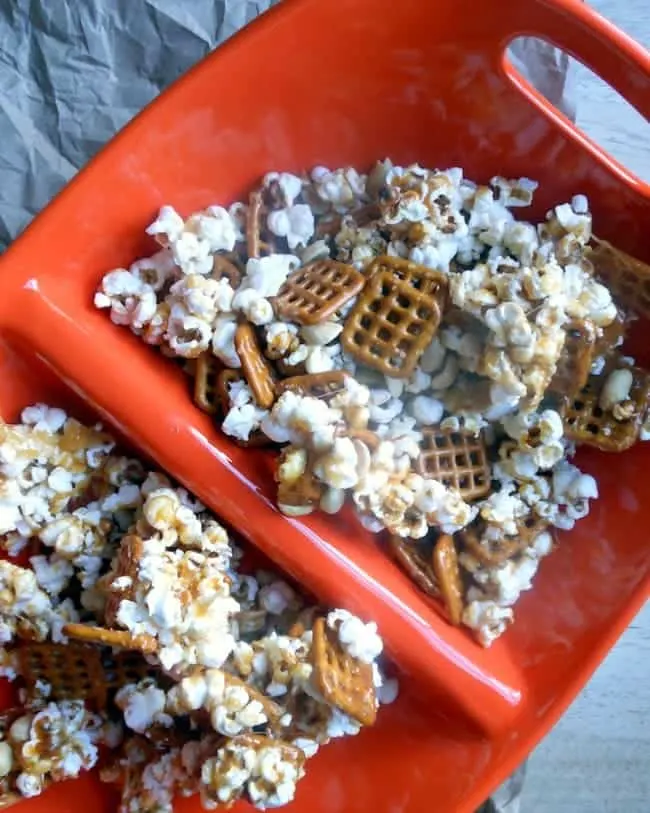 Since I figured out the caramel science, it is entirely possible that I will continue to bombard you with caramel recipes. Unapologetically.
This would make a great lunchbox or after school treat. It would be great to take to the drive-in!!! It would be a welcome addition to any sleepover or couch surfing movie marathon. And it comes together in a super cinch.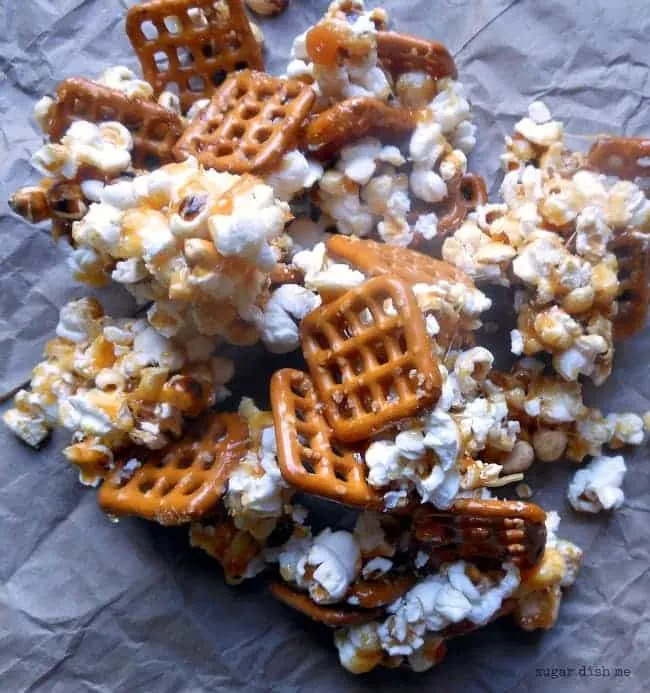 Mmmmmm! Caramel and popcorn and pretzels and peanuts!
I don't think I need to add more words to that. Just make it happen!!

Caramel Popcorn Pretzel Snack
A yummy homemade caramel corn snack! Sort of like cracker jacks with pretzels X 1000.
Ingredients
6 cups plain popcorn ( a bag of microwave is fine but I don't have a microwave!) See Note
3 cups pretzels-- knots or snaps work great
¾ cup unsalted peanuts (I used dry roasted)
1 teaspoon salt (sea or kosher!!)
¼ cup water
½ cup sugar
1 tablespoon heavy cream
½ teaspoon vanilla
Instructions
Place the popcorn in a large bowl and pick through to remove any unpopped kernels (they will stick to the caramel and the hard pieces are not good for your teeth!).
Add the pretzels and peanuts.
Scatter the salt over everything.
Heat the water in a small saucepan. Dump the ½ cup sugar right in the center. Cover and bring the mixture to a boil (it only takes a minute or less). Remove the lid, stir (if the sugar is not completely incorporated into the water at this point) and continue cooking until the liquid is a pretty caramel-amber color.
Place the pan in the sink and add the heavy cream. It will bubble. Stir until it's smooth. Add the vanilla. Stir.
Pour the caramel over the popcorn, pretzels, and nuts. Stir to incorporate and coat.
Let it cool and then break the bigger chunks apart. Eat! Enjoy!!!
Store in an airtight container.
Notes
I pop my own popcorn stovetop. The perfect amount for this recipe is to place 2 teaspoons oil in the bottom of a 2 quart saucepan, heat the oil (covered) with ONE popcorn kernel until it pops. Then scatter popcorn kernals across the bottom of the pan to mostly cover it in a single layer. Shake the pan over the heat until the pops have slowed to about 3 seconds apart. It should be mostly full. Remove from the heat and empty into a large bowl to continue with the recipe.
If you love this recipe, you will definitely love it's dolled up counterpart, the Salty Sweet Snack Mix with Chocolate. Holy Moly!