I keep talking about the boys heading back to school and having a quiet house for a few hours a day to get things done, but there are still 3 girls here with me daily that require looking after.
I think I have managed to acquire the 3 most special needs rescue pets ever and there is never a dull moment.
Lucy does this lip-curl/growl thing in her sleep – like she is doing it right now as she couch surfs next to me – and I think in her dreams she must be a major badass and not just a dopey little snuggle puppy that sleeps all day. She is also smarter than she puts on because she is super lazy when the boys aren't here and really doesn't ask very much of me. But when they ARE here she suddenly needs to be walked like every 30 minutes and she gives me these pleading eyes until I tell one of them to take her down the road for a walk.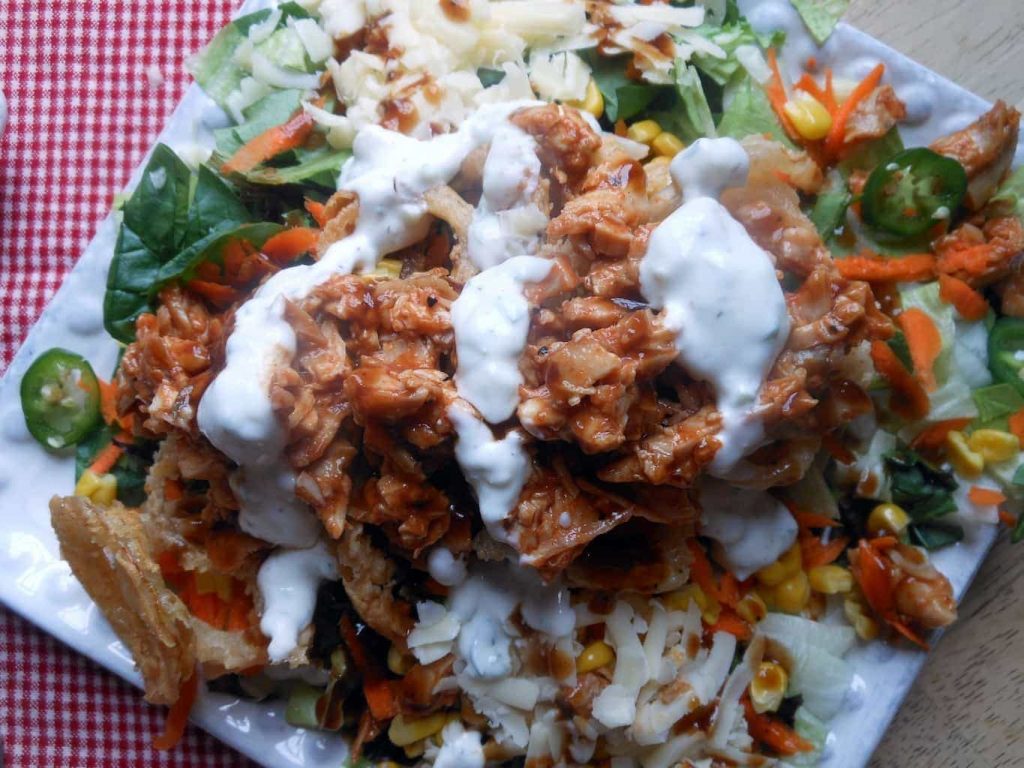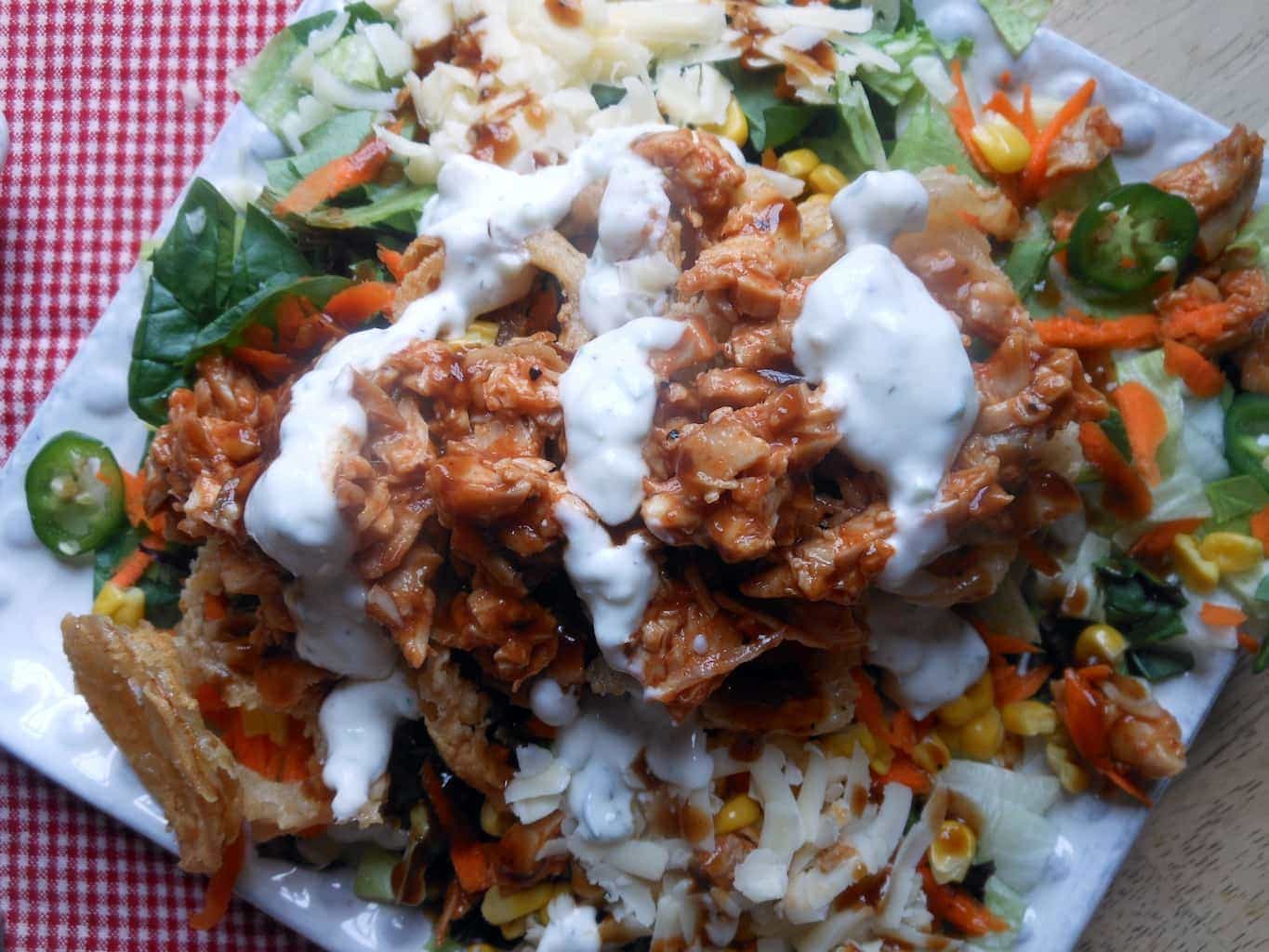 MY thinking is that if you take her for a good walk a couple times a day then she won't bother me every 15 minutes to wander around outside and smell the roses (or eat my parsley). THE BOYS thinking is to hurry up and get it done and get back to whatever they are doing (read: video games). I asked Andrew to take Lucy down the road the other day and he did… but he returned in about 2.5 minutes. It's about 1 1/2 miles from our house to the end of the road and back. So when I mentioned that to Andrew upon his return he told me that he had broken the on-foot land speed record. He gave me that crooked dimpley grin and told me that he is faster than a cheetah.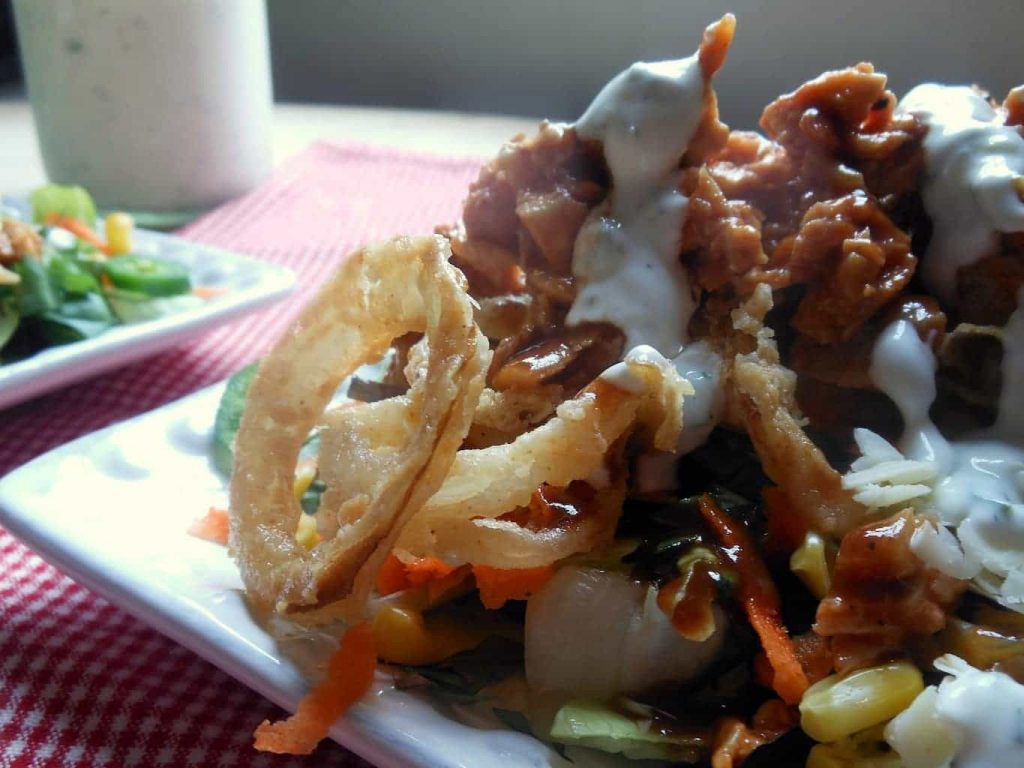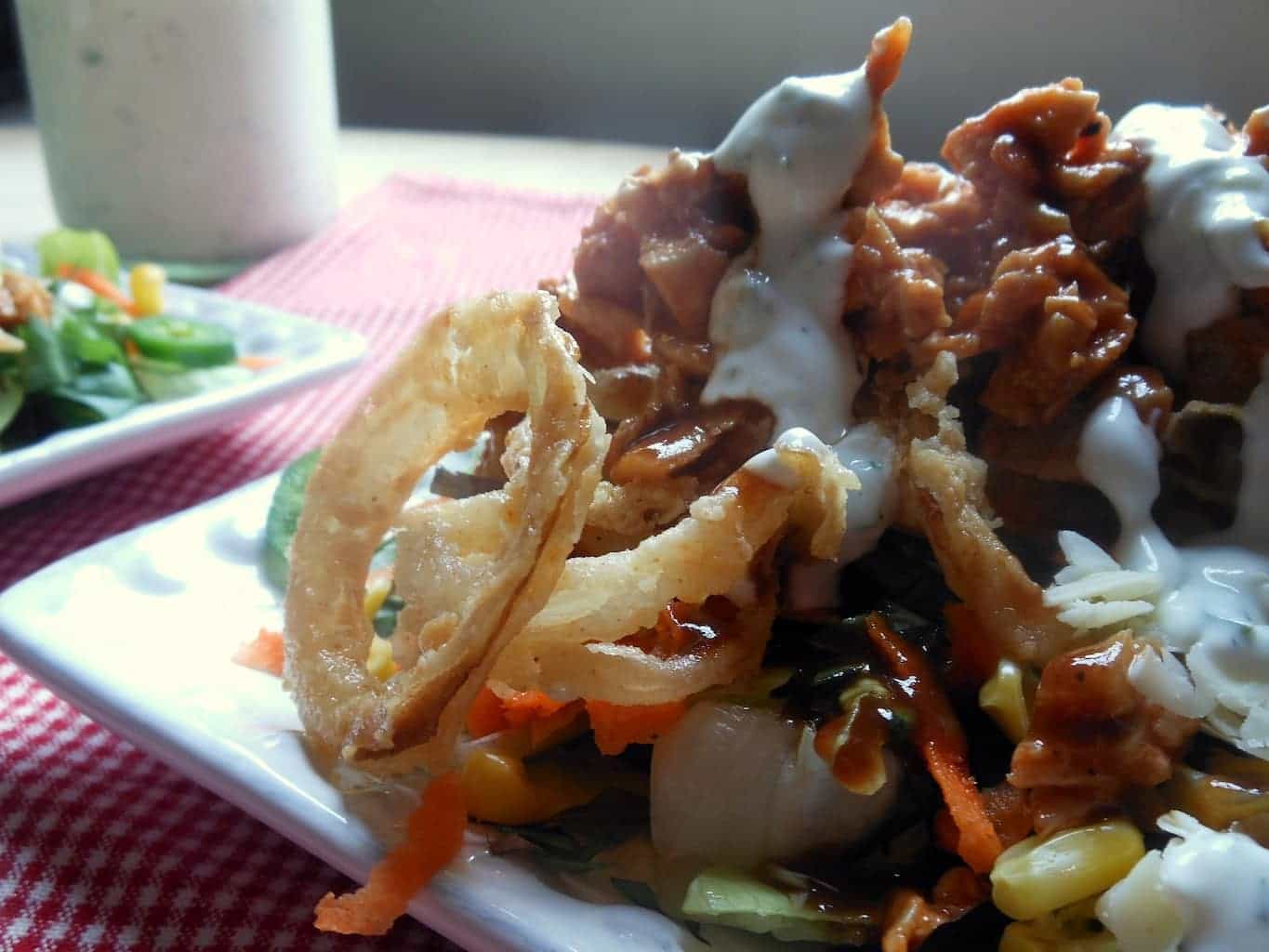 I have raised a professional smart ass you guys.
I guess I had that one coming.
Like I said: Never a dull moment.
Know what else isn't dull? THIS SALAD!!!! Chopped greens, cucumbers, tomatoes, corn, carrots, cheese, and BBQ chicken with a mess of crispy onion tangles and ranch dressing. This is like colorful happiness on a plate.

Chopped BBQ Chicken Salad
Fresh summer greens, veggies, and sharp cheddar cheese, topped with crispy onion tangles, chopped BBQ chicken, and ranch dressing.
Ingredients
1 medium onion, peeled and sliced into VERY thin rings
1½ cups buttermilk
3 cups cooked chopped chicken (a leftover rotisserie or roaster works great; grilled chicken is also delicious)
⅓ cup BBQ sauce (plus a tad more for serving)
12-16 ounces of lettuce and greens
Tomatoes, carrots, cucumbers, corn, and whatever other salad toppings you love, about 1 cup of each
1 cup shredded cheddar cheese (pictured: Cabot Sharp White Cheddar)
sliced jalapeno peppers (optional)
buttermilk ranch dressing
For the Onion Tangles:
(onions + buttermilk listed above)
oil for frying
1 cup flour
1 teaspoon paprika
½ teaspoon garlic powder
½ teaspoon salt
Instructions
Place the onion slices in a medium bowl and pour the buttermilk over them. Set aside to soak while you prepare the other things.
Toss the chicken with the BBQ sauce (Tip: I always use leftover chicken for this salad so I lay the chicken pieces on the cutting board, pour the BBQ sauce over the top, and then chop it all together using my knife). Set aside.
Chop all your vegetables. Lettuce & greens should be in about 1 - 1½ " pieces. Dice your tomatoes and cucumbers. Shred your carrots and cheese. If you are using frozen corn, rinse it in a colander to thaw it.
Go ahead and build your salads by piling the greens, chopped vegetables, and cheese on each plate (or in a large dish if you are doing family-style).
Heat about 1½ cups vegetable oil in a 2 quart saucepan. When a drop of water crackles in the oil it's ready.
While the oil heats, combine the flour, paprika, garlic powder, and salt and spread it out on a plate. Taking several strands of onion rings at a time, dredge them in the flour mixture to coat and then drop them in the hot oil. I do them in several batches, lifting each batch of crispy onion tangles from the hot oil with a fork and placing them on paper towels to drain. Each batch will cook for 1-2 minutes. (SEE NOTE)
Place the drained onion tangles on top of each salad. Top with the chicken. Drizzle each salad with the ranch dressing and just a tad more BBQ sauce for serving.
Notes
Don't look for a really deep golden color in the onion tangles if you are using clean oil. I save my fryer oil and reuse it as many times as I can. Clean oil will not produce that same deep golden hue that re-used oil does, but they will still have the same crispy texture and great taste.
I used an adapted version of
Joy the Baker's Ranch Dressing
for my salad. I highly recommend it (and everything she makes). The homemade stuff makes a WORLD of difference. If you don't have all the spices on hand to make from-scratch ranch dressing, buy a packet of seasoning & follow the directions on the back. The taste difference between that and the bottle stuff is amazing.