Caramelized Onion Grilled Cheese it the perfect comfort food for dreary days! Buttery toasted bread piled high with shredded sharp cheddar and sweet caramelized onions; it will be your new fave!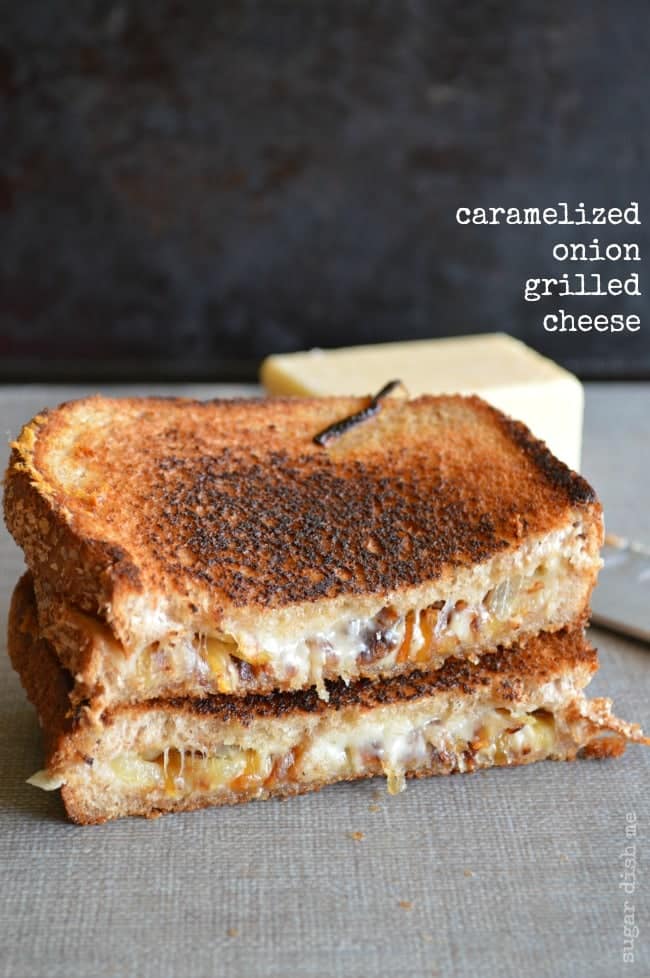 Today was a grilled cheese kinda day.
I saw the weather maps this morning. You guys know what I'm talkin' about.
This day was polka dot galoshes (whyyyy is that word so fun?) and a heavy pink hooded coat. It was a flooded front yard and muddy back steps. Today meant convincing Lucy that yes, it is wet and cold, and yes, we do still have to go out here, only to have her hustle back inside and try to sad-puppy-eye me into wet doggie sofa snuggles.
Sorry, sweet girl. There's not enough Febreze in the world for that.
This extra rainy dreary day was full of piping hot coffee, longing for the work to get done in time for me to couch surf with a book (not a chance), re-heated soup and a completely inconvenient interlude from my dryer that decided to quit.
Rude.
In other words, this day was basically MADE for grilled cheese.
And onions. Sweet sweet caramelly onions. There is no such thing as too many caramelized onions.
There IS such a thing as too many broken appliances, though. We are down a microwave, which is actually fine by me because we didn't use ours much and it was like 174 in microwave years. That thing belonged to my sister and then my brother and then me and then my brother again, and then my sister again and then me. It might have visited my other sister in college. I can't be sure. The point is, that microwave was tired and needed a permanent break.
The dryer, on the other hand, was supposed to last until we move out of this place. It's quitting about 6 months too early. I think that's a breach of contract or something.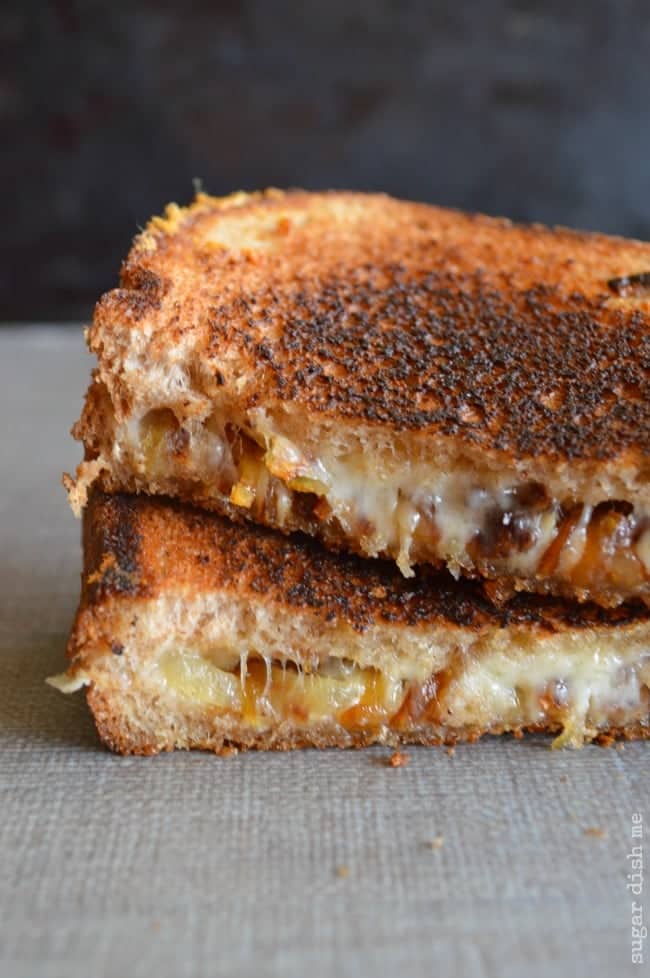 Logistical question: What do you do with a washer full of sheets that need to be dried when your dryer is broken and it's pouring rain?
Answer: You hang sheets from every available surface so it looks like one gigantic tent fort inside your house.
Also, you make more grilled cheese.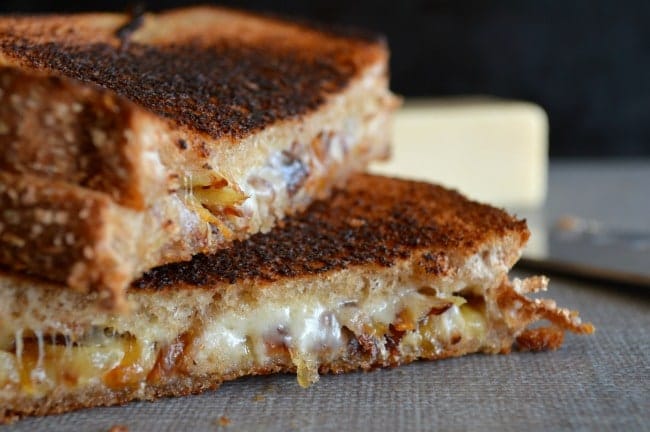 Recommended to serve with Caramelized Onion Grilled Cheese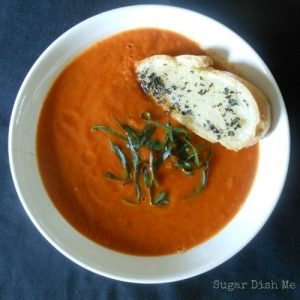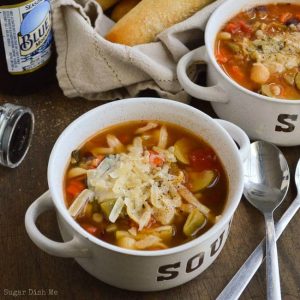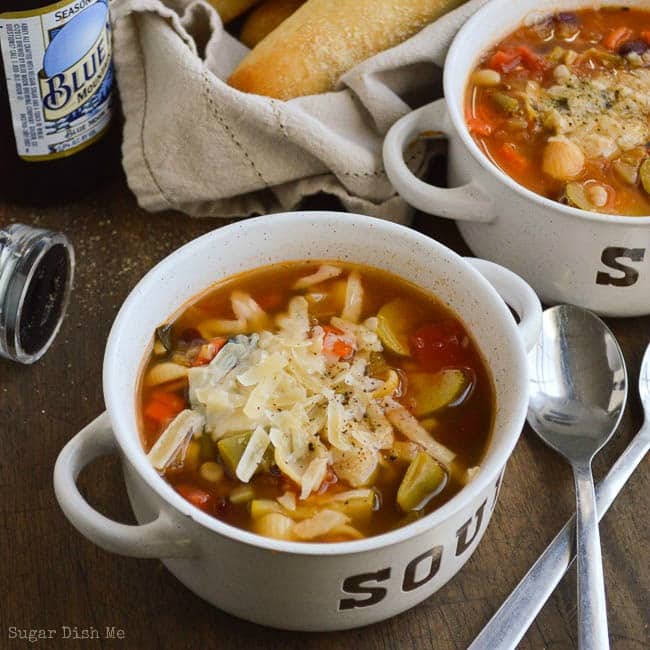 Soup, of course! Roasted Tomato Basil Soup is my very favorite homemade tomato soup recipe. If you are partial to buying a LOT of summer tomatoes, you will definitely want to check out that recipe.
Easy Minestrone Soup is made in the slow cooker! Super simple, loaded with veggies, and will arm you right up.
Yield:

4
Caramelized Onion Grilled Cheese
Caramelized Onion Grilled Cheese is loaded with sweet caramelized onions and sharp cheddar cheese. A great way to jazz up a grilled cheese sandwich.
Ingredients
1 tablespoon olive oil
1 1/2 tablespoons butter (plus more to grease the pan when grilling the bread)
1 large onion, halved and thinly sliced
1/4 teaspoon kosher salt
8 slices thick whole wheat bread
8 ounces shredded sharp white cheddar (I used Cabot!)
Instructions
Heat the olive oil and butter in a small skillet over medium heat. Add the onions and sprinkle them with the salt. Cook, stirring occasionally, until the onions are soft, translucent, and the color of caramel, about 20 minutes. remove the onions from the heat and set aside.
Butter a large skillet or griddle. Lay 4 slices of bread down in the butter. Top each bread slice with a handful of cheese. Divide the onions evenly between the 4 sandwiches on the griddle.
Cook over medium to medium high heat for a minute until the cheese starts to melt.
Lay more cheese over the onions on each of the sandwiches. Top with another slice of bread.
Carefully flip the sandwiches and cook on the second side until the cheese is melted and the bread is toasty and grilled.
Recommended Products
As an Amazon Associate and member of other affiliate programs, I earn from qualifying purchases.
Nutrition Information:
Yield:
4
Serving Size:
1
Amount Per Serving:
Calories:

472
Total Fat:

29g
Saturated Fat:

14g
Trans Fat:

1g
Unsaturated Fat:

12g
Cholesterol:

68mg
Sodium:

829mg
Carbohydrates:

32g
Fiber:

4g
Sugar:

5g
Protein:

21g