Today felt like fall.
It was the very first morning that I could feel that teensy bit of crispness in the morning air. The sky was insanely, deeply, perfectly blue. And there was not a cloud in it. Still warm enough outside to wear a tank top and my old faithful Rainbow flip flops, but cool enough to wear my trusty worn blue jeans without sweat behind my knees. The humidity seems to have washed away with yesterday's rain showers. The stifling, suffocating, muggy Carolina summer heat seems to have retreated, if only for a day or two.
This morning was super perfect. The little boys had a sleepover at Grammy's which means that Chad and I had a day filled with sleeping later than usual, lazing around the kitchen table with extra mugs of coffee and a few good reads, a last minute decision to head out for a late breakfast, and then, taking that first step out the back door and realizing that this is the first day it smelled like fall. We took the rail buggy on a little morning adventure and I swear to you that the few fallen leaves scattering the two-lane winding road were actually SWIRLING behind us as we drove.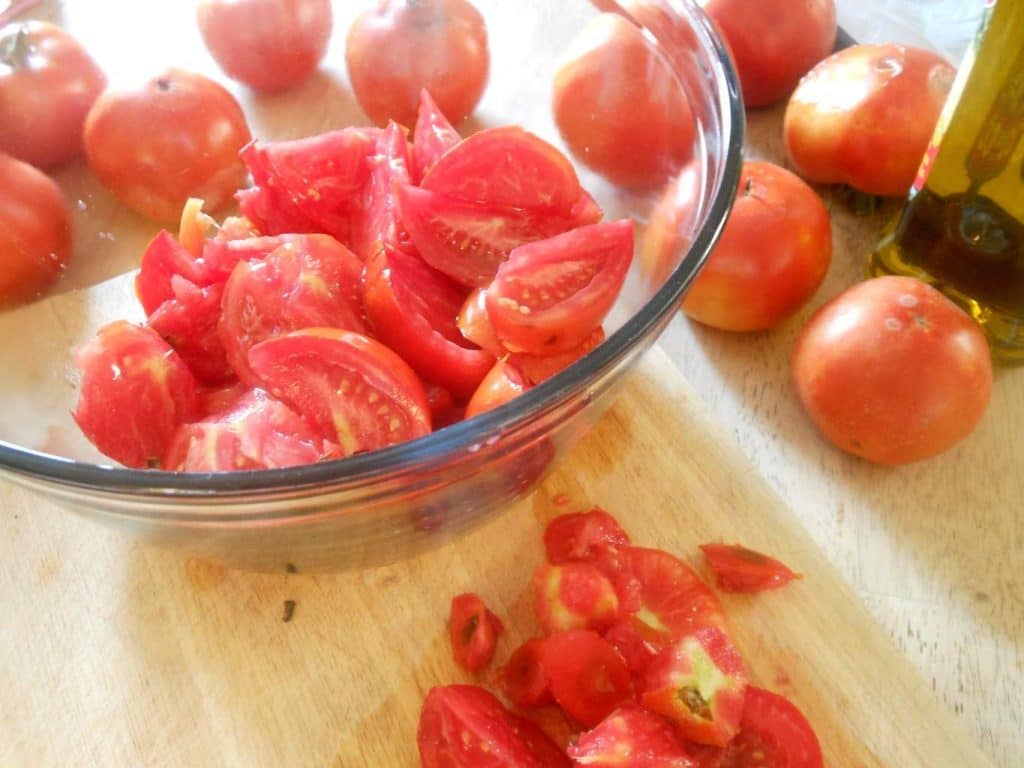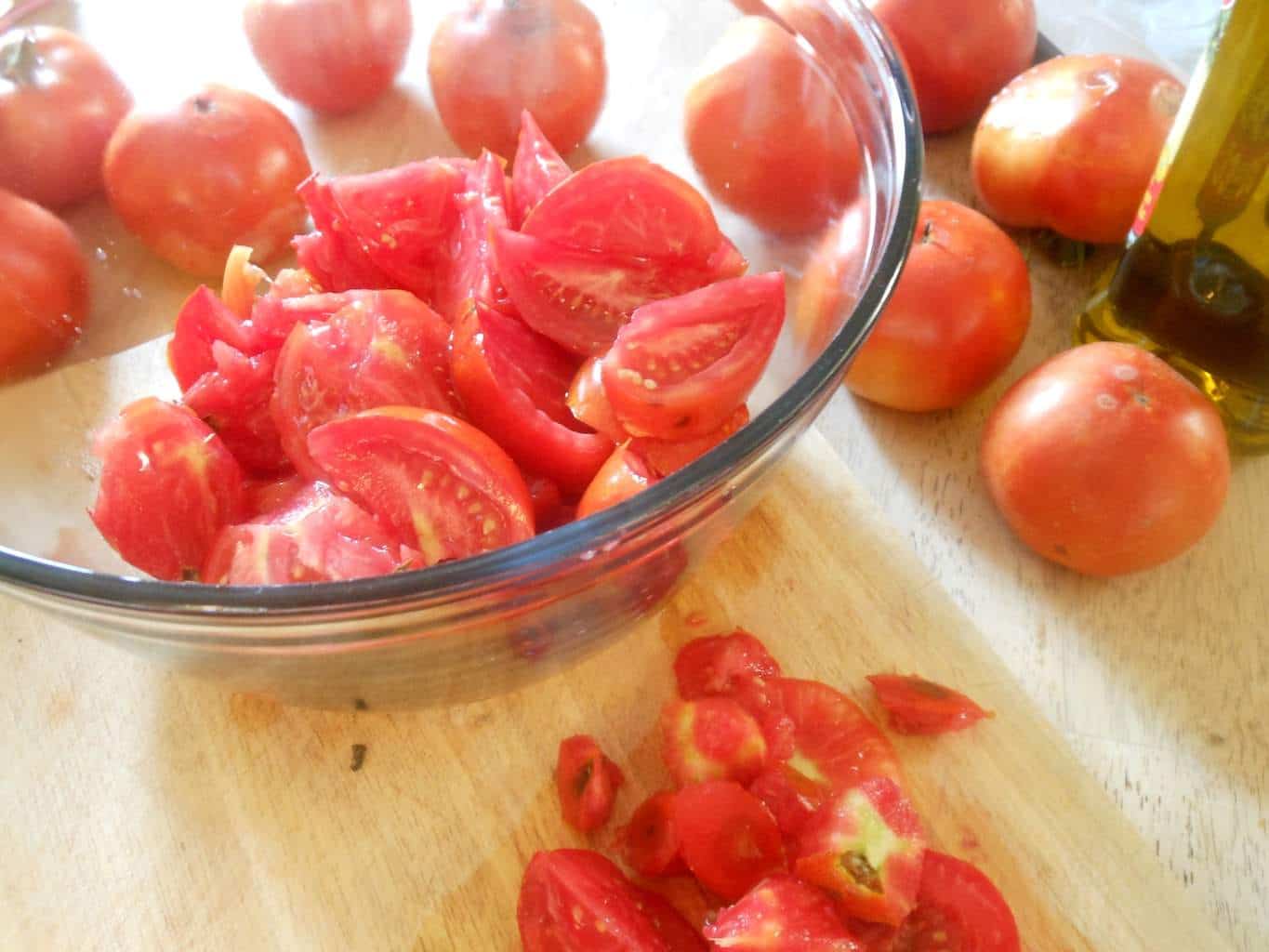 Breakfast brought us more coffee, crispy bacon that I didn't have to cook OR clean up, and word search placemats that sparked the fiercest competition.
I lost. But I'm pretty sure Chad was cheating so that means I win by default, right? Right.
So really, other than me losing, but really winning, but actually losing (sort of), this morning was completely perfect. It made me want to take everything summery from my garden and smash it up into something cozy and fall-ish. Which made this the most perfect day to tell you about Roasted Tomato Basil Soup.
You see all those tomatoes in that photo up there? And the basil that's gone completely and insanely out of control? We grew alla that.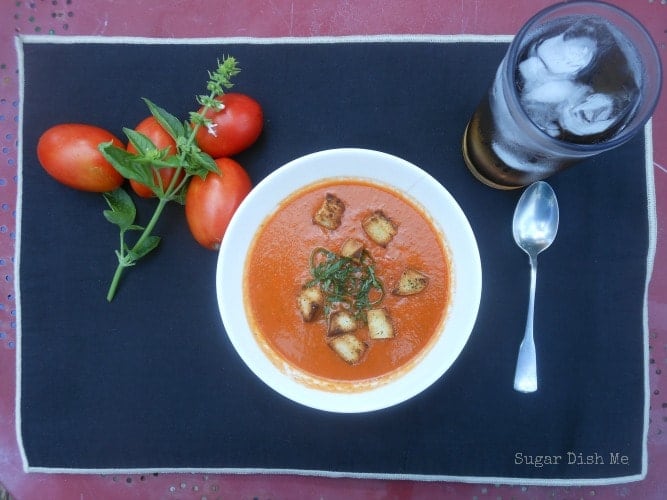 I've made lots of things with our garden tomatoes, but until this lovely batch of roasty tomato happiness, I hadn't made any soup. Why? Because no one else in this house will eat soup. Because they are all crazy.
I made this soup just for me. Which made it that much more satisfying. I ate it for lunch every day this week.
I ate this soup with homemade croutons. I ate it with extra chopped basil. I ate it with toasty slices of baguette. I had more soup with cheese and then another bowl with a grilled cheese. I had the last bowl with a big green salad on the side. I didn't share. It was awesome.
Make this soup. It's summery and satisfying with a hint of fall harvest season to come. Get ready for lots of perfect mornings.

Roasted Tomato Basil Soup
Ingredients
-about 2½ pounds of roma tomatoes, quartered (any meaty, roast-worthy garden tomato would do)
-2 tablespoons olive oil
-kosher salt to taste
2 tablespoons olive oil
1 medium onion, diced
4 cloves of garlic, finely chopped
¼ teaspoon crushed red pepper flakes
1 cup freshly chopped basil
1 (15 ounce) can diced tomatoes
4 cups broth (vegetable is best; chicken broth will work)
the tomatoes you roasted
salt & pepper to taste
Instructions
Pre-heat the oven to 400. Line a rimmed baking sheet or 9 X 13 pan with foil. Spread the quartered tomatoes across the foil in a single layer, drizzle with the olive oil, and toss them around a bit to coat. Spread them back out evenly in the pan and sprinkle with the kosher salt.
Roast the tomatoes in the oven for about 45 minutes. Remove the pan from the oven and set the tomatoes aside.
In a large stock pot heat the olive oil. Add the onion, and keeping the stove at about medium-high, cook them until they are tender (2-3 minutes should do).
Stir in the garlic and crushed red pepper flakes. Cook for about another minute or two.
Add the canned tomatoes, fresh basil, and broth. Stir in the roasted tomatoes.
Bring the soup to a low boil and then reduce the heat to medium low and continue cooking for about 30 minutes, stirring occasionally.
Pour the cooked soup into a blender or use an immersion (stick) blender to pulse the soup to your desired consistency.
Garnish with more fresh basil, cheesy croutons, a crusty loaf of bread, or a sprinkle of shredded cheese.
Notes
Go easy on the salt in the first step (roasting the tomatoes). You can add more salt to the finished soup if you need to.
(based on
THIS
recipe from Two Peas and Their Pod)