Oh cake.
These last two weeks have basically been one great big cake binge. Not such a bad thing. I really like cake. Not as much as I like say, cookies, but you have to admit that cake is pretty doggone great.
I'm not particular about my cake either except that is has to has to has to be almost stick-to-your-fingers moist. Chocolate cake and white cake and omg funfetti cake and CARROT CAKE are all basically equals in my book (well… carrot cake might have a slight advantage; I flipping looooove carrot cake). I like to smoosh the cake crumbs with the back of my fork making sure to pick up every itsy bitsy bit. Because I need that, right? Huh.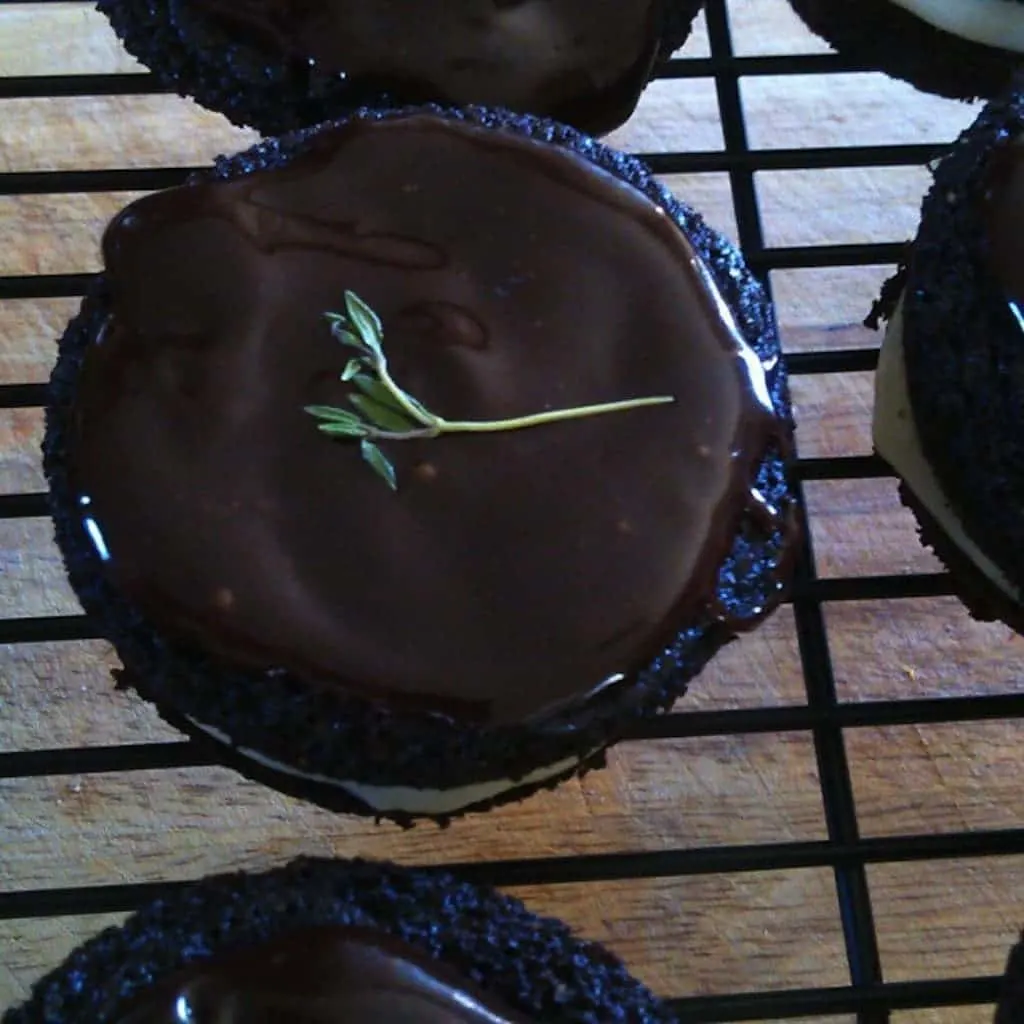 I mentioned these particularly tasty little cakes on Monday and I have to say that I was surprised at how much I really really loved them.
Because there is black pepper in the cake.
And WAIT!!! Before you get all freaked out about pepper in the cake (because I'll admit I almost did), just hear me out.
This recipe was an attempt at copycatting the Chocolate Spliff Cake at Nine Mile in Asheville, NC. My sister grabbed a bite there, had it, and was all a rave. We tend to mostly like all the same things plus it was meant to be her birthday cake, so she sold me on the idea. I looked up the reviews and couldn't find a single one that was bad which surprised me because this cake has one more weird thing (don't get mad at me, okay? Just roll with it) —
I was sooooo skeptical about lemon and chocolate being friends in my cake. Also wondered about the black pepper taking up residence in cake batter. Annnd let's not forget the thyme. But they all work together to make something complex and interesting and rich but still light and sweet.
It was a dessert I wanted to take my time with (unlike the birthday cake with cotton candy frosting which pretty much just got INHALED). I savored every single bite.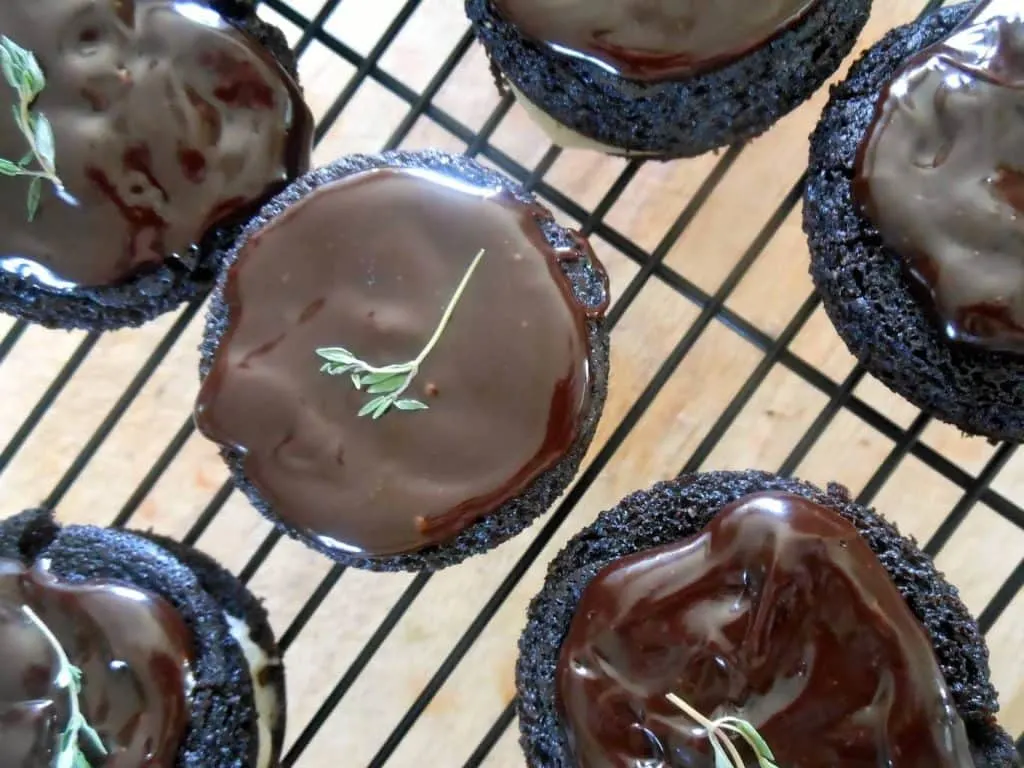 If you're not feeling up to the lemon thyme pastry cream challenge (it's actually very simple to make but it does require lots of stirring like risotto) or if you just think I'm crayzee for pairing lemon and chocolate (I promise I am definitely not that creative and would never have thunk that one up all by myself), then do me one little favor:
Make this Chocolate Cake. Forreal.
(my kids even liked it.)

Chocolate Spice Cakes
Ingredients
1 cup fat free buttermilk
¾ cup granulated sugar
¾ cup canola oil
1½ teaspoons vanilla
1 cup all purpose flour
⅓ cup dark unsweetened cocoa powder
¾ teaspoons baking soda
½ teaspoon baking powder
¼ teaspoon salt
2 teaspoons black pepper
Instructions
Pre-heat the oven to 350. Line a standard muffin tin with paper liners OR butter a 9 X 13 baking dish.
In a large bowl, Whisk together the buttermilk, sugar, oil, and vanilla.
Sift in the flour, cocoa powder, baking soda, baking powder, and salt.
Mix well.
Stir in the black pepper.
Divide the batter between the 12 prepared muffin cups OR scrape it all into the buttered 9 X 13 pan. Be sure to scrape down the sides of the bowl and gently stir the batter while dividing it so that the pepper is distributed evenly.
Bake the cupcakes for 12-14 minutes, turning the pan halfway through baking, or until a pick inserted into the center comes out clean. If you made the 9 X 13 cake, bake for 10 minutes, turn the pan, and then bake for 10 more minutes. Check with a toothpick inserted into the center.
Cool the cakes completely.
See notes for frosting, serving, and assembly.
Notes
To assemble these with the lemon thyme pastry cream, unwrap each cooled cake and slice them in half, horizontally. Spoon a bit of the cooled pastry cream onto the bottom half and top with the top half of each cupcake. The cakes pictured here are topped with a traditional chocolate ganache (semi-sweet chocolate chips & heavy cream) and a sprig of thyme. These cakes would be excellent with ganache only. Or a basic buttercream frosting. Martha Stewart has a recipe for a black pepper buttercream that would work well, too. Be creative!! And eat more cake.
I adapted the chocolate cake recipe just slightly from THIS recipe at The New Vegan Table. You might have guessed that her recipe is vegan and while mine is also sans the eggs, it does include fat free buttermilk. Hers includes a recipe for Basil Mousse though– definitely worth a look.
If you are feeling adventurous, the lemon thyme pastry cream recipe can be found HERE. You'll need the first 10 ingredients (nothing crazy- just lemons and milk and flour etc) and will follow steps 1-8.
Happy Birthday Littlest Sister!! Hugs. ~H