Carpool Cookies are thick, hearty chocolate chip pecan cookies with oats and sweetened coconut. They are the perfect snack for riding in the car!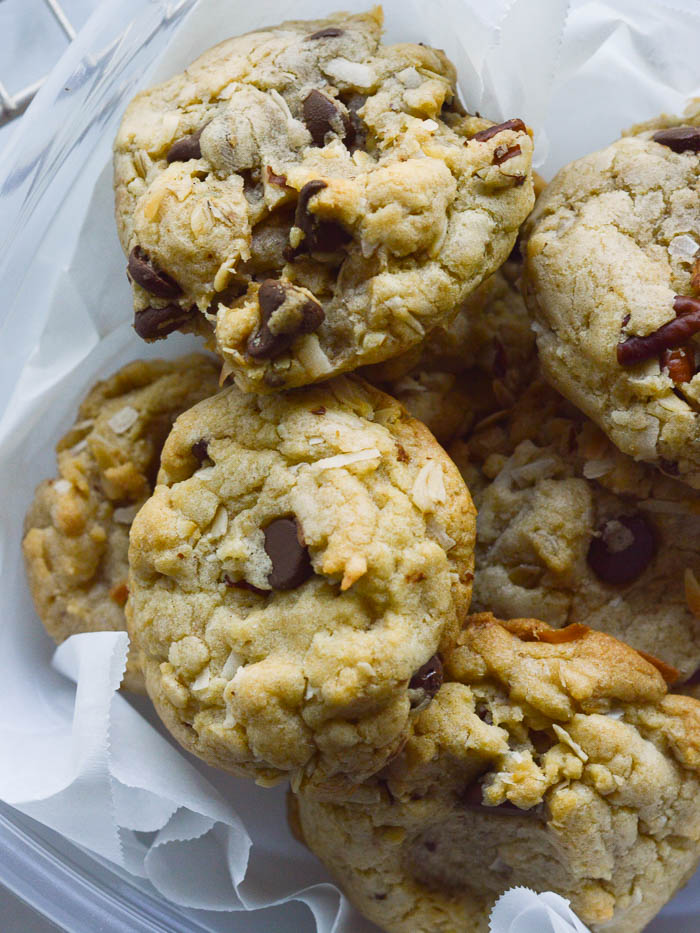 I definitely wrote this original post after a fit of carpool road rage back when my youngest kid was still in the second grade. Carpool lines are the bane of my existence, if we are keeping it really real, and 80% of people don't act right, as evidenced by this post on ways to know if you don't belong in the drop off line even needing to exist. (it is funny though – def read it)
My youngest kid now drives himself to school, so my carpool days are over (thank gawd), but for all of you adults that are forced to be in your cars in the proximity of other adults every day of the week, and because drinking and driving is 100% not allowed, I made you some really amazing cookies to help you through these trying times.
Big, thick Chocolate Chip Pecan Cookies, studded with oats and shredded coconut.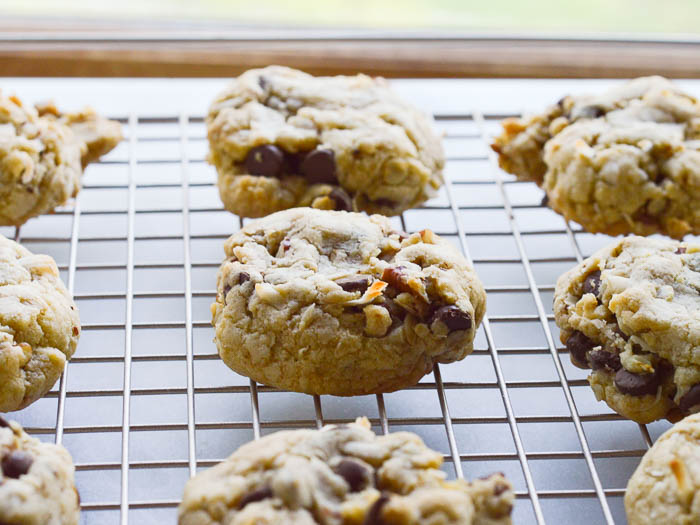 The Story
Skip it if you are not interested; I won't be offended. This story is definitely just me screaming into the internet void about U-Haul trucks.
I drive my kid to school in the morning; we are only about 8 minutes from our local elementary school, and as we wind through the back roads of our very pretty little rural community, for those few minutes we have a peaceful little bit of time together. I always travel with a nice hot cup of coffee, listen to the radio, and enjoy the scenery.
Sometimes Evan reads. Sometimes he talks my head off. There is never much in the way of traffic, so we just enjoy each other's company. I enjoy my coffee.
The momentary serenity goes straight out the damn window as we near the school, though. The flow of cars on the road thickens. Suddenly, no one knows that the lever to the left of the steering wheel is a TURNING SIGNAL and it does something amazing. It signals that you are turning. Novel. I know.
When we close in on the entrance to the parking lot, cars are coming from both directions and it is a battle to not only get into the parking lot, but to be in the right hand lane. If you find yourself in the left hand lane, you will not make it home until sometime tomorrow.
My other half would call my driving aggressive, but really I just know how to get where I am going. So I look ahead at the line of cars waiting to turn right into the parking lot and prepare to make my move. But the cars don't seem to be moving.
I know you are really steeped in suspense now. This carpool story is riveting (sorry; it's really not).
How we ended up needing cookies
Anyone that knows me at all knows that I have what is basically the opposite of patience. I should probably meditate or something. Instead though, I am just internally screaming "What is the problem???? Why are we all just sitting here????" Excessive punctuation indicates that I am annoyed.
THE ANSWER: Someone left a U-haul truck parked not only in the driveway to the school, but in the highly coveted right hand lane!!!
I don't know what sort of terrible human does something so rude at the busiest time of the morning, but I will never share my cookies with them. Like ever.
Then my kid chimes in with, "Why do people drive stupid big work trucks and moving vans to school? Why can't they just drive a regular car?"
I eventually managed to scoot my little car into the parking lot and just as I was FINALLY completing drop off, the principal went running towards the offending U-haul truck, walkie talkie in hand. I am going to say that a walkie talkie is no matched for a parked truck with no driver, but at this point at least it is no longer my problem.
I made it out, but not before I cut off some unsuspecting woman in a Honda (sorry). And so I realized that I should never ever enter a carpool line unprepared. This is why we have cookies.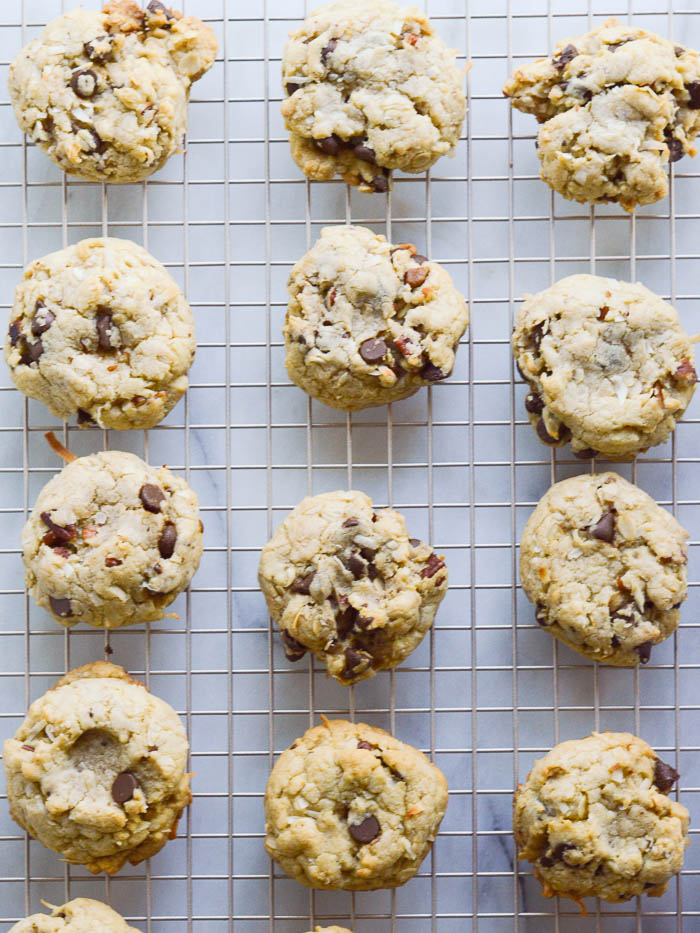 Ingredients for Carpool Cookies
These cookies are super basic. You need a few pantry staples, obviously, but you can get super creative with what's actually in the cookies. For the cookie base you need:
flour
baking SODA
salt
oats (old fashioned or quick oats – either are fine!)
brown sugar
butter
vanilla
1 egg + 1 egg yolk
You will need a total of 2 cups of whatever goodies you wanna throw in, and don't be scared to get creative.
I personally recommend:
1 cup semi-sweet chocolate chips
1/2 cup chopped pecans
1/2 cup shredded sweetened coconut
Other ideas include:
M&M's
raisins
dried fruits
assorted nuts
pretzel pieces
store bought trail mix
potato chip pieces (Ruffles or thick Cape Cod style chips work best)
Remember the goal here is to survive whatever carpool might throw at you.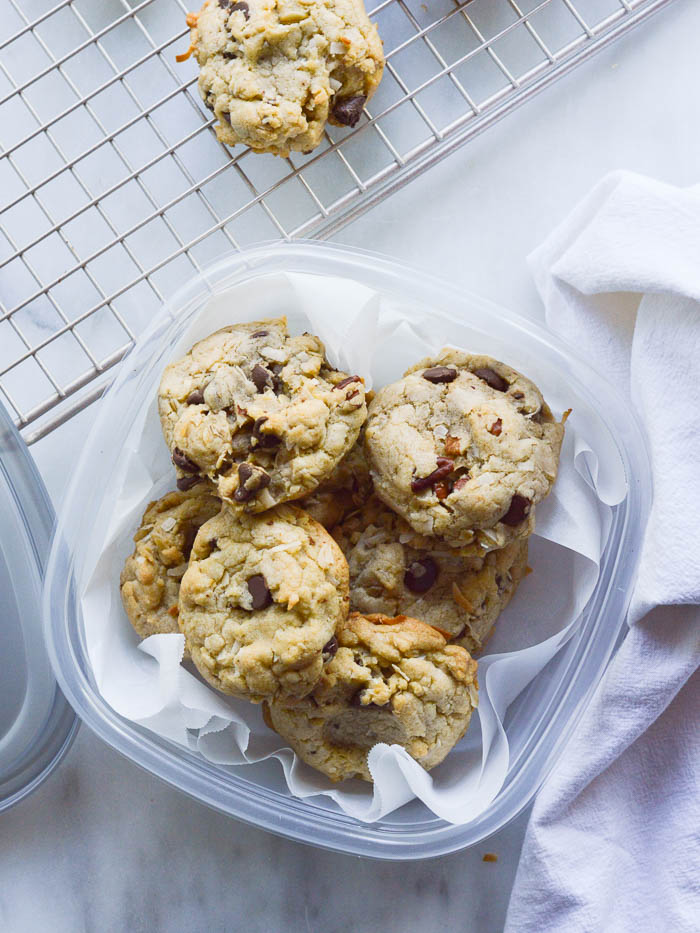 Tips for The Best Chocolate Chip Pecan Cookies
It's important to know that this dough is a little … different. It's made with melted butter and so it seems almost like it doesn't want to bind all the way together. Don't worry, though. That's a little bit the secret.
Carpool Cookies are thick and they hold their shape when they bake; they don't spread out like a lot of cookies with a brown sugar base. So be sure you make the cookies the size and shape that you want 'em (I like to use this cookie scoop for perfect portioning), and you can flatten out the tops just a bit because they do puff a little when baking.
Lining the baking sheet with parchment paper is really helpful, both for easy clean up AND because it keeps the bottoms of the cookies from getting too dark if you have a dark baking sheet.
If you make bigger cookies you can bake them as long as 15 minutes; the texture should not be dry, though – just thick and a little chewy on the inside, and loaded with good stuff.
If you are a lover of chewy cookies with chocolate, I HIGHLY recommend The Best Big Fat Chewy Chocolate Chip Cookies.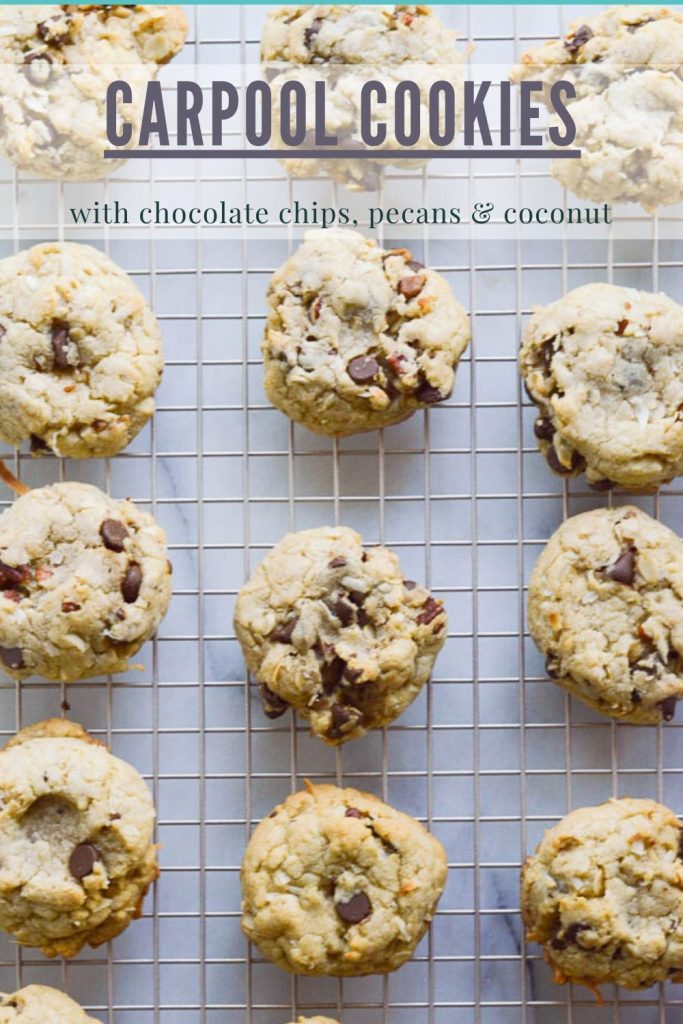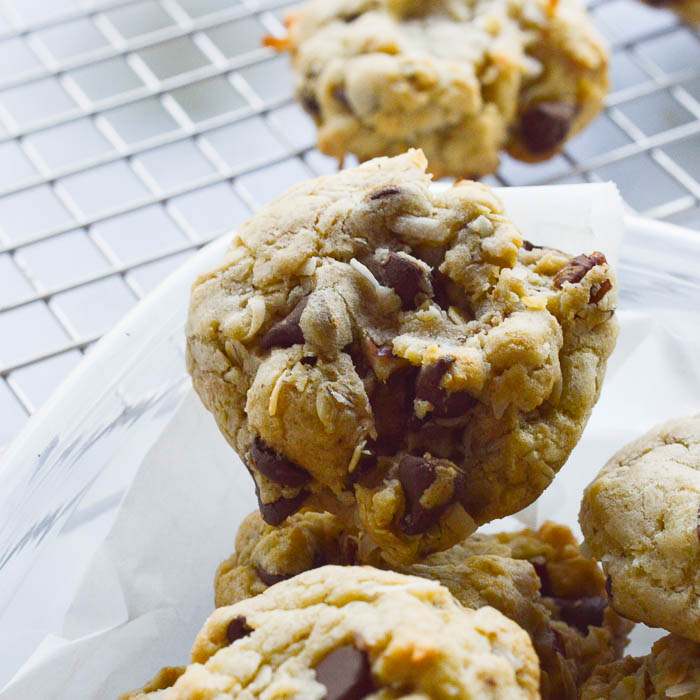 Yield:

36
Carpool Cookies
Carpool Cookies are thick and hearty, and are SUPER versatile. You can load them up with 2 cups of your favorite goodies and take them with you wherever you go!
Ingredients
2 cups all purpose flour
1/2 teaspoon baking soda
1 teaspoon salt
1/4 cup oats
1 cup packed brown sugar
3/4 cup melted butter
1 tablespoon vanilla
1 egg plus 1 egg yolk
2 cups assorted nuts, chocolate, dried fruit or candies
Instructions
Preheat the oven to 325 and line a baking sheet with parchment paper (you can also lightly grease the cookie sheet).
In a medium bowl, combine flour, baking soda, salt, and oats.
In a large bowl beat together the melted butter, sugar and vanilla. Mix in the egg and egg yolk.
Gradually add in the flour mixture and mix until just combined.
Then add in the chocolate, fruit candies and nuts of your choice.
Drop by heaping tablespoons full onto the prepared baking sheets and flatten just a little. These cookies mostly keep their shape when baking but they will puff up a little. Bake for about 13 minutes. The edges will be light brown.
Cool on baking sheets for a few minutes before transferring to wire racks to cool completely.
Recommended Products
As an Amazon Associate and member of other affiliate programs, I earn from qualifying purchases.
Nutrition Information:
Yield:
36
Serving Size:
1
Amount Per Serving:
Calories:

132
Total Fat:

7g
Saturated Fat:

4g
Trans Fat:

0g
Unsaturated Fat:

2g
Cholesterol:

20mg
Sodium:

112mg
Carbohydrates:

17g
Fiber:

1g
Sugar:

10g
Protein:

1g