The Best Big Fat Chewy Chocolate Chip Cookies! If you are craving chocolate chip cookies with the perfect crackled top, soft insides, and loads of chocolate chips, this recipe is IT!!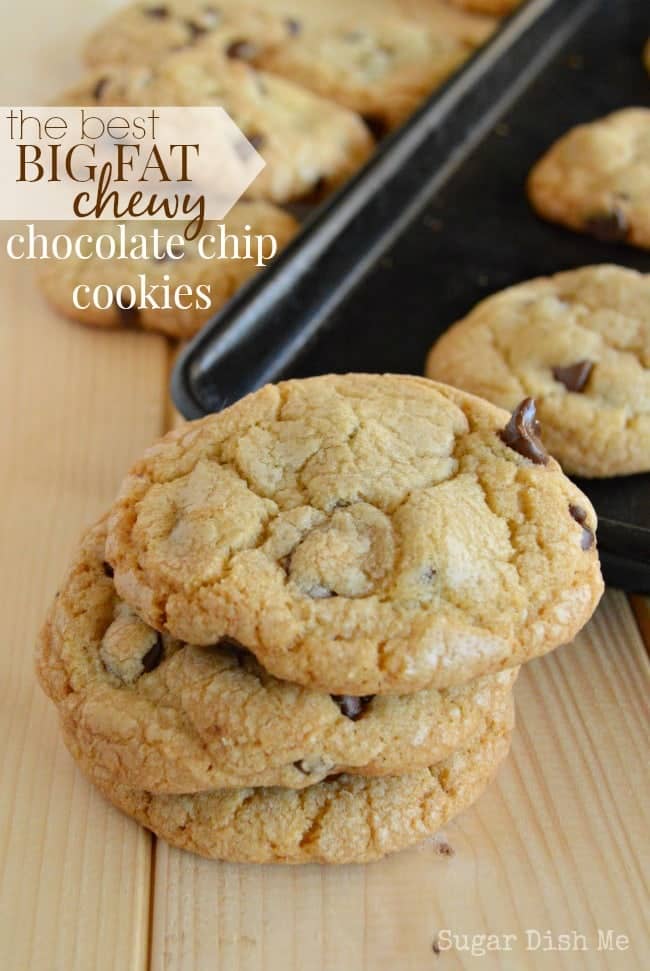 Do you want to eat one of these cookies?
I do.
IN FACT, I would eat this entire plate full of cookies right now if three cookie monsters who will remain nameless (ahem… you know who you are.) hadn't beat me to it. They even demolished my secret ziploc freezer bag stash that was cleverly stuffed behind two loaves of bread and a roll of parchment paper. Apparrently I'm just going to have to be a bit more clever. Game on.
These were first day of school/after school snack cookies. For some reason, school turns the cookie monsters into the hungriest small people to ever roam the earth. They come through the door like ravenous little dinosaurs and if there isn't a snack waiting they will rummage through the cabinets and devour all the cereal, raisins, and pretzels. Then they move on to the fridge and start putting dents in all the apples, yogurt, and cheese.
I draw the line at the cheese. Don't even think about it.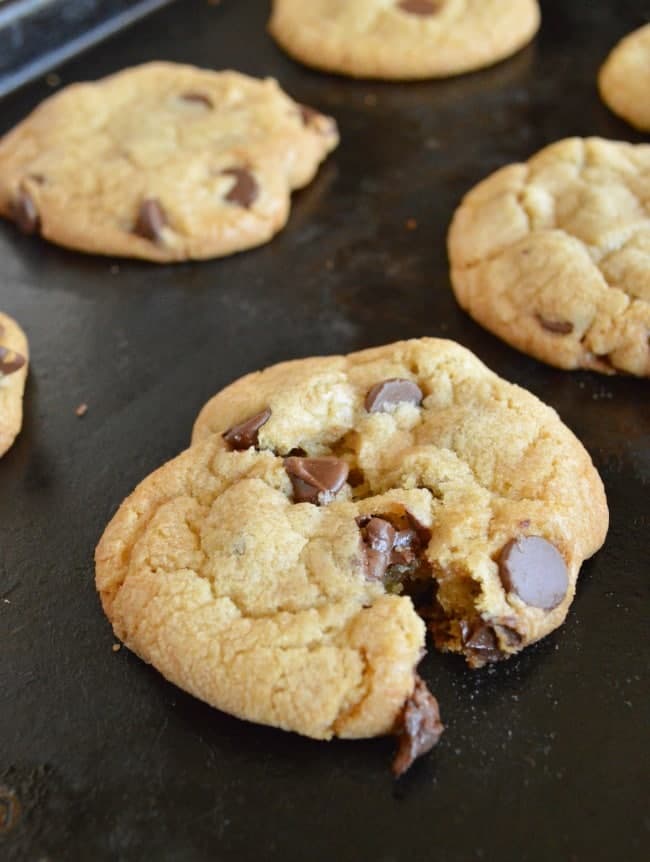 My executive decision was to start this school year off right. Tee-totally prepared with a platter full of these big fat chewy chocolate chip cookies, and more for lunches later this week. And some more for Mommy's secret chocolate chip cookie stash because sometimes she needs a little pick-me-up and almonds just don't cut it (Dear Food Editors at All Women's Magazines: please stop pretending like almonds and kale are going to satisfy all of our needs. Have you ever even had a cookie?!).
The little boys were thrilled to pieces with their chocolate chip cookies. And I didn't even mind when they each traipsed past the plate six more times to "discreetly" snatch extra cookies while we sorted through giant stacks of school papers to be signed and they cranked out spelling homework. I wear the Irresistable Cookie-Maker Badge with pride. I gave the go-ahead after dinner when the plate of cookies started calling to them, because sometimes food talks to me, too.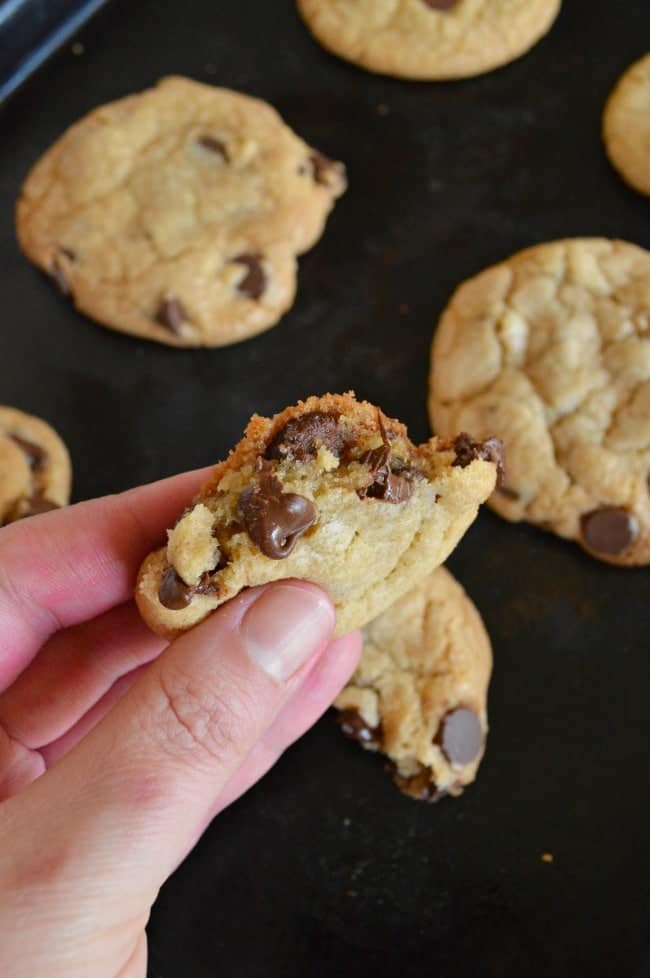 (Oh! I should probably tell you that my hands are not weirdly pink. I mean they ARE, but it was temporary. I photographed these cookies just after making these Kahlua Chocolate Truffles and I was stained pink from sprinkles)
This batch of cookies DID survive Monday night. I managed to pack them away in little boy lunches and wrap a few for Chad to take to work. I had one before lunch.
Maybe it was two.
And after that … it's a mystery (albeit not a very difficult one).
I suppose I should blame the author of this recipe for my cookies' disappearing act. They were titled "The Best Big Fat Chewy Chocolate Chip Cookies". And indeed, they are.
Still, though… someone around here owes me a cookie. Or 12.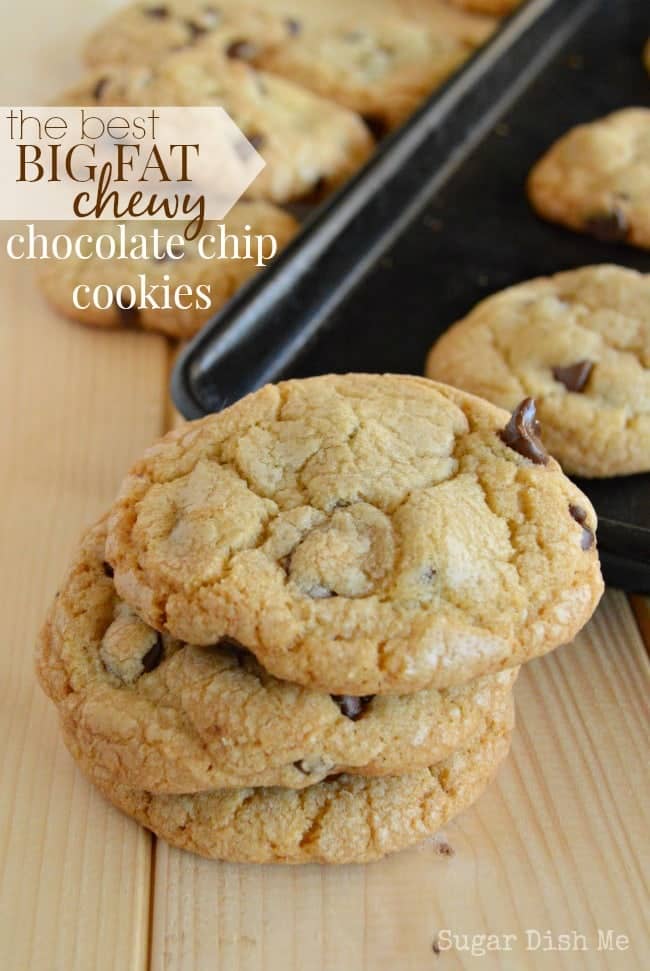 Yield:

24
The Best Big Fat Chewy Chocolate Chip Cookies
Ingredients
2 cups all purpose flour
1/2 teaspoon baking soda
1/2 teaspoon salt
3/4 cup unsalted butter, melted
1 cup packed light brown sugar
1/2 cup white sugar
1 tablespoon vanilla
1 egg, plus 1 yolk
2 cups semi-sweet chocolate chips
Instructions
Pre-heat the oven to 325. Line a baking sheet with parchment paper.
In a medium bowl, whisk together the flour, baking soda, and salt.
In a large bowl whisk together the melted butter and sugars until combined. Mix in the vanilla, egg and extra yolk. Stir in the flour mixture until just combined. Then stir in the chocolate chips.
Drop by the heaping tablespoonful onto the prepared cookie sheet.
Bake for 8-10 minutes, or until the edges are a pretty golden toasty brown.
Cool the cookies for a few minutes on the cookie sheet before transferring to a wire rack to cool completely.
Recommended Products
As an Amazon Associate and member of other affiliate programs, I earn from qualifying purchases.
Nutrition Information:
Yield:
24
Serving Size:
1
Amount Per Serving:
Calories:

210
Total Fat:

11g
Saturated Fat:

6g
Trans Fat:

0g
Unsaturated Fat:

4g
Cholesterol:

31mg
Sodium:

78mg
Carbohydrates:

29g
Fiber:

1g
Sugar:

20g
Protein:

2g
This recipe is from Cook's Illustrated circa about 1996 although I originally found it on allrecipes.com
ALSO!!! If chocolate chip cookies are your thing, you should also try this Chewy Salted Chocolate Chip Cookie recipe