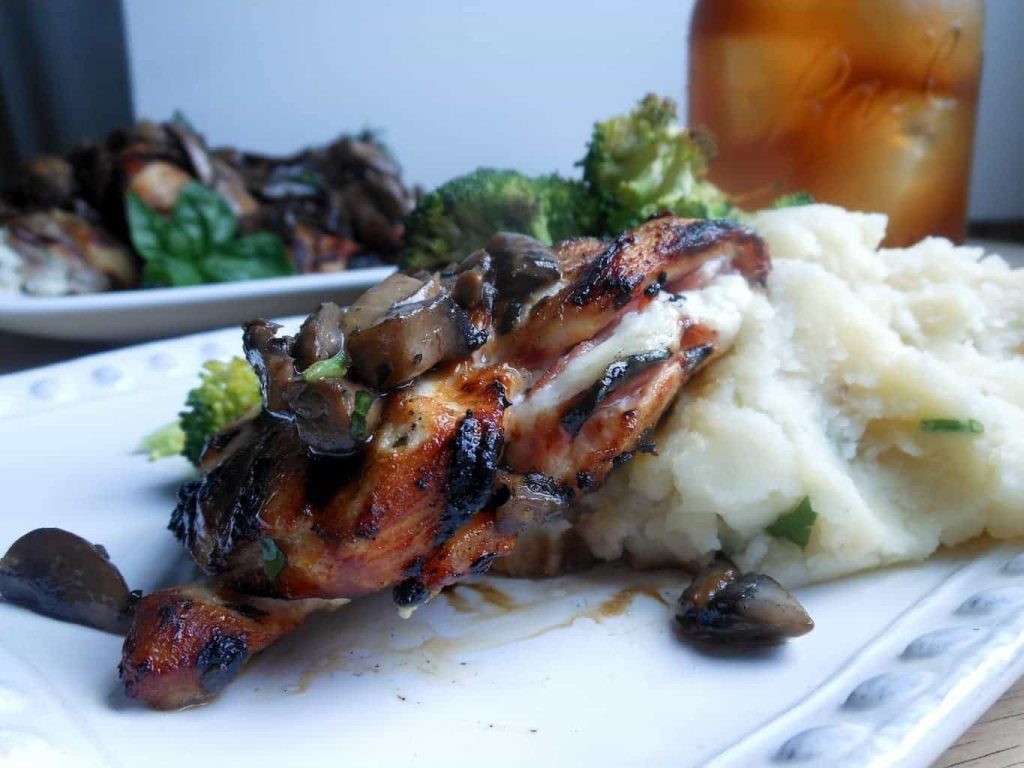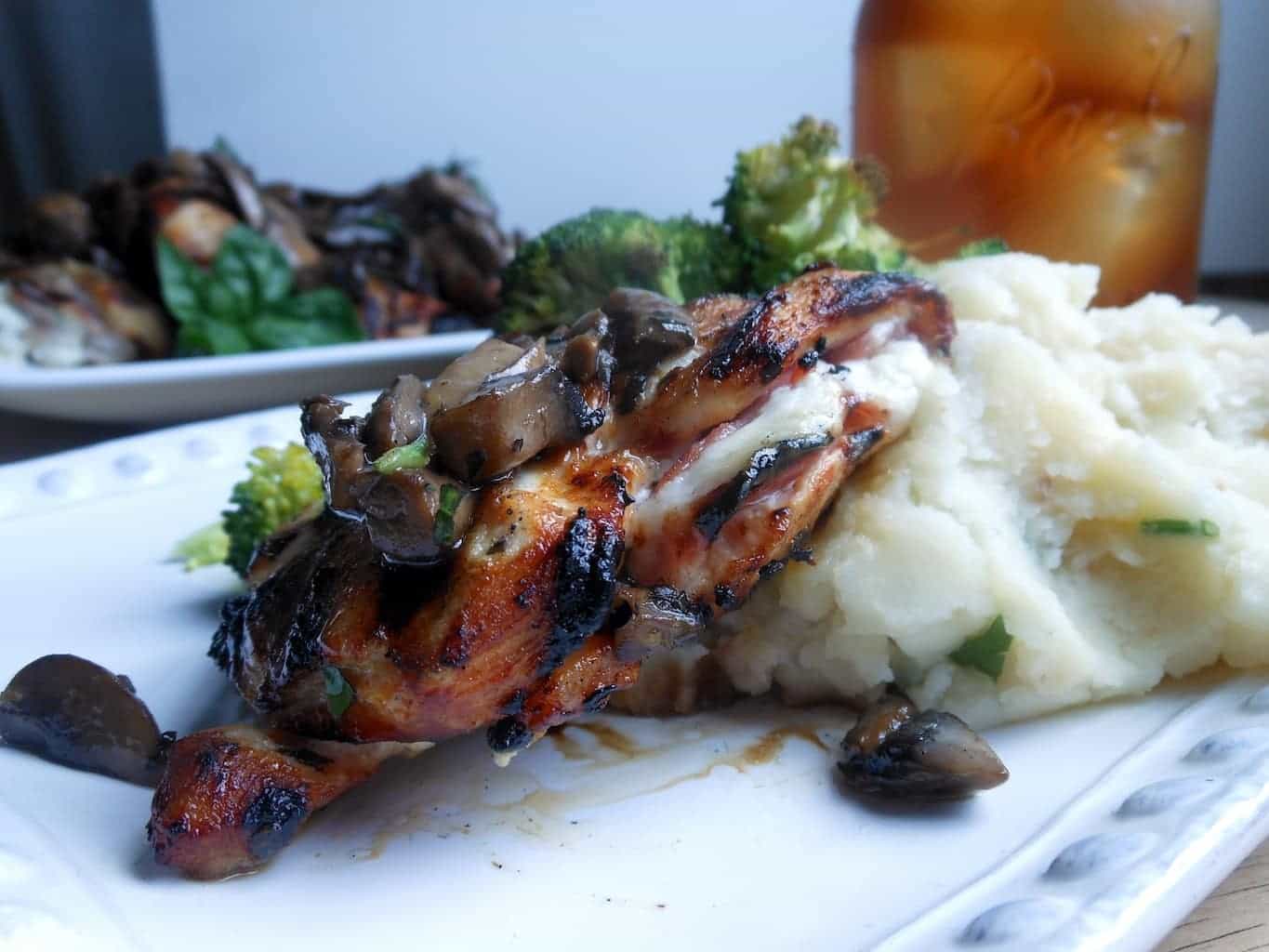 Blam-O!!! Birthday food.
For those of you that are not familiar with Carrabba's Pollo Rosa Maria, it is a marinated chicken breast pounded thin and stuffed with prosciutto and Fontina cheese. Then it's covered in sauteed mushrooms and a rich lemon basil butter sauce. It. Is. Heaven.
So for my birthday I simplified some of the ingredients and made it at home. Carrabba's is fired.
Some of you might know this but most of you probably do not: I used to work for Carrabba's. I used to work for many a restaurant, actually. I spent the biggest chunk of my working adult life in restaurants doing everything from dishes to serving, managing to line cook. I've done corporate. I've done catering. I've done freelance. The restaurant resume goes on and on. It is HARD work.
And corporate restaurants can be some of the trickiest establishments to navigate. They have rules for ehhhvureeething.
When Andrew was little the first Carrabba's location opened up in the city where we lived, and I put in my application and got on staff right away. The original precipice for the restaurant was FRESH fast casual Italian dining. The kitchen staff at my location showed up at 7 in the morning to chop herbs and make sauce. We didn't even open the doors until 4. Everything smelled amazing. All the time. Like it never quit.
And don't even get me started on that bread.
Having worked for corporate places in the past, the fresh food and attention to detail was a nice change of pace– you would not believe the amount of prepared foods that get microwaved and then you pay top dollar for them in many popular establishments.
Anyway– restaurant perks = half-price food. And Pollo Rosa Maria was easily my favorite menu item.
Last year Chad and I were given a gift certificate so we decided to hit up Carrabba's (we don't live close to ANYTHING so dining out is always an adventure and a drive). I ordered Pollo Rosa Maria. I was SO disappointed.
The portion sizes have been cut in half. I am not exaggerating. It really doesn't seem like it's been that long since I worked there but dang— do i sound like a grown-up-about-to-be-33-year-old if I tell you how much time flies? Or how much 10 years can ruin an awesome restaurant concept? My herbs were not fresh. My butter sauce was oily. I did not have leftovers for 3 days. And my now reduced size portion was still like $17. Fail.
But I solved the problem.
I can make it at home.
Still one of my favorite dishes ever ever ever. I serve it with garlic mashed potatoes and fresh steamed broccoli. It's also amazing with a small side of pasta and plenty of fresh Parmesan cheese. And you can feed a family of 4 for WAY less than $17. Simple, fast, cheap. It really doesn't get any better than this.

Carrabba's Copycat Pollo Rosa Maria
Marinated chicken breast stuffed with prosciutto and Fontina cheese (or thinly sliced ham and goat cheese), grilled, and then covered in sauteed mushrooms with a lemon basil butter sauce
Ingredients
For the Marinade:
1 large lemon, zested and then juiced (about 2 tablespoons fresh lemon juice-- set the zest aside)
2 tablespoons olive oil
1½ tablespoons chopped fresh basil
1 teaspoon kosher salt
For the Chicken:
1½ pounds boneless skinless chicken breast, thinly sliced or pounded to ½" thick (usually about 4-6 pieces)
4-6 slices of very thinly sliced deli ham (or prosciutto-- see note)
4-6 ounces goat cheese
For the Mushrooms with Lemon Basil Butter Sauce:
8 ounces sliced mushrooms
the lemon zest (reserved from the juiced lemon)
4 tablespoons unsalted butter
1½ tablespoons chopped fresh basil
1 teaspoon kosher salt
Instructions
Combine all of the marinade ingredients (lemon juice, olive oil, fresh basil, and kosher salt) in a large bowl. Add the chicken pieces, cover and turn to immerse them in the marinade completely, cover, and refrigerate for 30 minutes.
Assemble the chicken by laying a slice of ham on each piece of marinated chicken. Top the ham with about 1 ounce of cheese and then fold the chicken over sandwiching the ham and cheese inside.
Heat the grill to about 400-450 (hot is good so you don't have to worry about the chicken sticking).
Place the mushrooms, lemon zest, butter, basil, and salt in a saucepan on the stove (or a grill burner if you have it!). Cook over medium heat. The butter will melt and the flavors will blend. Stir the mushrooms and butter sauce occasionally.
Grill the chicken-- 3-5 minutes on each side should be sufficient if your meat is thin enough. Always make sure the internal temperature for chicken is 160-165 degrees. 15 minutes on the grill should be plenty.
Top the chicken with the mushrooms and lemon basil butter sauce. Garnish with more chopped basil. Serve immediately.
Notes
Carrabba's dish includes prosciutto and Fontina cheese. Prosciutto is not easy to find where I live and Fontina can be expensive! In this recipe I opted to swap these ingredients out for thinly sliced lean deli ham and goat cheese. Authentic? Maybe not. But delicious and cost-effective? Completely. Feel free to experiment according to your taste preferences.
This meal is totally on the list of my favorite things.
More of My Favorites…
Hot Mess Black Eyed Pea Burgers