Tacos.
I have a deep affection for all of the Mexican food. Enchiladas, taquitos, burritos, quesadillas, anything boasting queso fresco— I love it all.
Also margaritas. Let's not forget the margaritas. On the rocks. With salt. Thanks.
But tacos definitely, definitely, DEFINITELY top that list.
Tacos are awesome because they are so completely versatile. You can put anything in them! My boys are partial to the ground beef + cheese + lettuce variety. And actually– I am, too. Sometimes.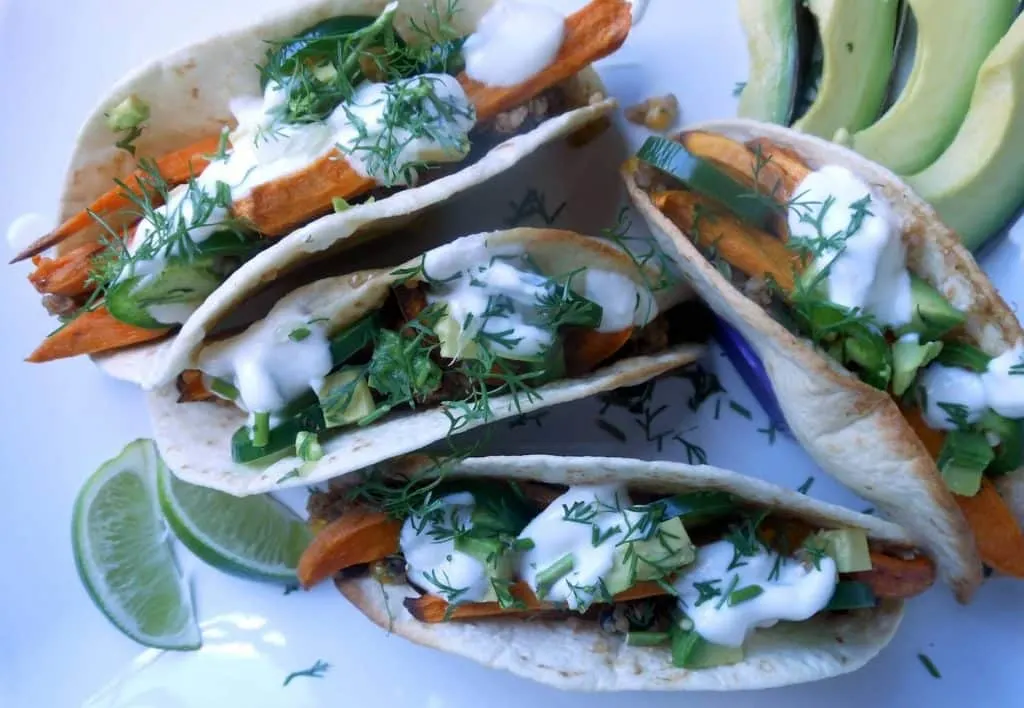 I'm actually pretty fickle about ground beef. (I really only like to buy it from a local vendor at the farmer's market. For reasons why look HERE)
So I put all kinds of other things in the tacos. And since this week is all about things I love, these tacos got dressed up with sweet potatoes. Oh I love sweet potatoes.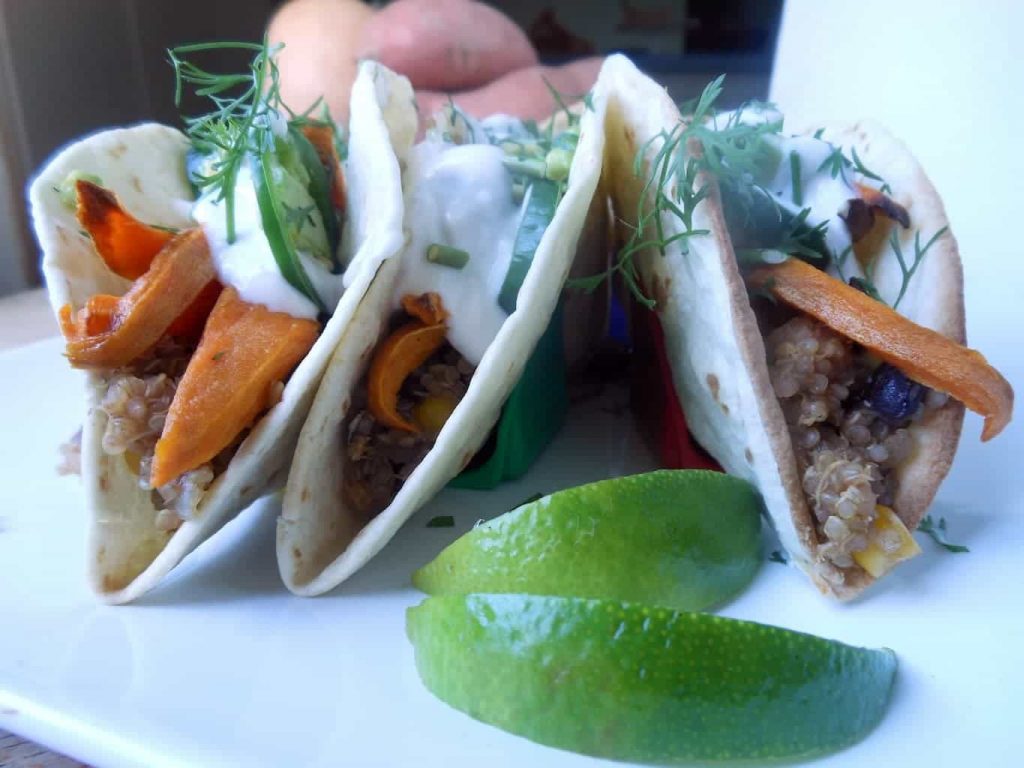 These tacos are smoky, spicy and sweet. The quinoa makes them protein-rich and super filling. It also holds a ton of flavor in the seasoning.
About a month ago I was gifted the most amazing jug of natural maple syrup, tapped by the father of a friend. I knew I needed to find a few recipes that would make it shine and this maple cream sauce is IT. The sweet balances the spice and the Greek yogurt really lends a creamy coolness to that crunch of jalapeno heat.
This recipe is so simple– it comes together really quickly and I was completely in love with the results.
Smoky Sweet Potato Tacos with Maple Cream. Do this!!
Also– if this recipe seems weird for you, please please please just trust. It is delicious. I promise I wouldn't steer you wrong!

Smoky Sweet Potato Tacos with Maple Cream
Roasted sweet potatoes tossed with smoky paprika and stuffed into baked flour tortillas with seasoned quinoa, black beans, corn, onions, and jalapenos. Then they are topped with a sweet maple cream sauce and sliced avocado-- a little spicy, a little sweet. All delicious
Ingredients
For the Sweet Potatoes:
2 medium - large sweet potatoes, peeled and sliced
1-2 tablespoons olive oil
1 teaspoon kosher salt
1 teaspoon paprika (smoked paprika if you can find it!)
For the Quinoa:
2 teaspoons olive oil
1 medium onion, chopped (about 1 cup)
1 cup water
½ cup dry quinoa
1 can black beans, drained and rinsed (about 2 cups cooked)
½ cup frozen corn
1 teaspoon chili powder
½ teaspoon paprika (smoked!)
½ teaspoon cumin
½ teaspoon garlic powder
2 sprigs chopped fresh oregano (or ½ teaspoon dried)
salt to taste
⅓ cup broth (vegetable or chicken)
For the Maple Cream
⅓ cup Greek yogurt
1 tablespoon maple syrup
Tacos
8 flour tortillas
sliced jalapenos
diced avocado
fresh cilantro
Instructions
Pre-heat the oven to 375. Line a baking sheet with parchment paper (you CAN lay the sweet potato pieces directly on the baking sheet, but the parchment paper helps them to crisp more without getting too dark).
Toss the sliced sweet potatoes with the 2 tablespoons olive oil and lay them in a single layer on the prepared baking sheet. Sprinkle them with the kosher salt and paprika and bake for about 25 minutes, turning them over with a spatula halfway through.
While the potatoes roast, heat the 2 teaspoons olive oil in a medium saucepan. Add the onions and cook them for about 2 minutes, until they begin to soften. Pour in the water and bring it to a boil.
Add the quinoa to the boiling water, cover, reduce the heat, and cook until most of the liquid is absorbed.Stir in the black beans, corn, chili powder, paprika, cumin, garlic powder, oregano, salt (optional) and broth. Re-cover and cook until all the liquid is absorbed.
Mix together the Greek yogurt and maple syrup.
Assemble the tacos. Stuff each with the quinoa blend, sweet potatoes, jalapenos, and avocado. Top with the maple cream and sprinkle with fresh chopped cilantro
Notes
1- A squeeze of lime before you eat these is awesome. 2- For my flour tortillas I very lightly brush each side with oil and then drape them over the rungs in the oven until they begin to toast while the sweet potatoes cook. This step is optional, but gives them a little extra crunch. YUM!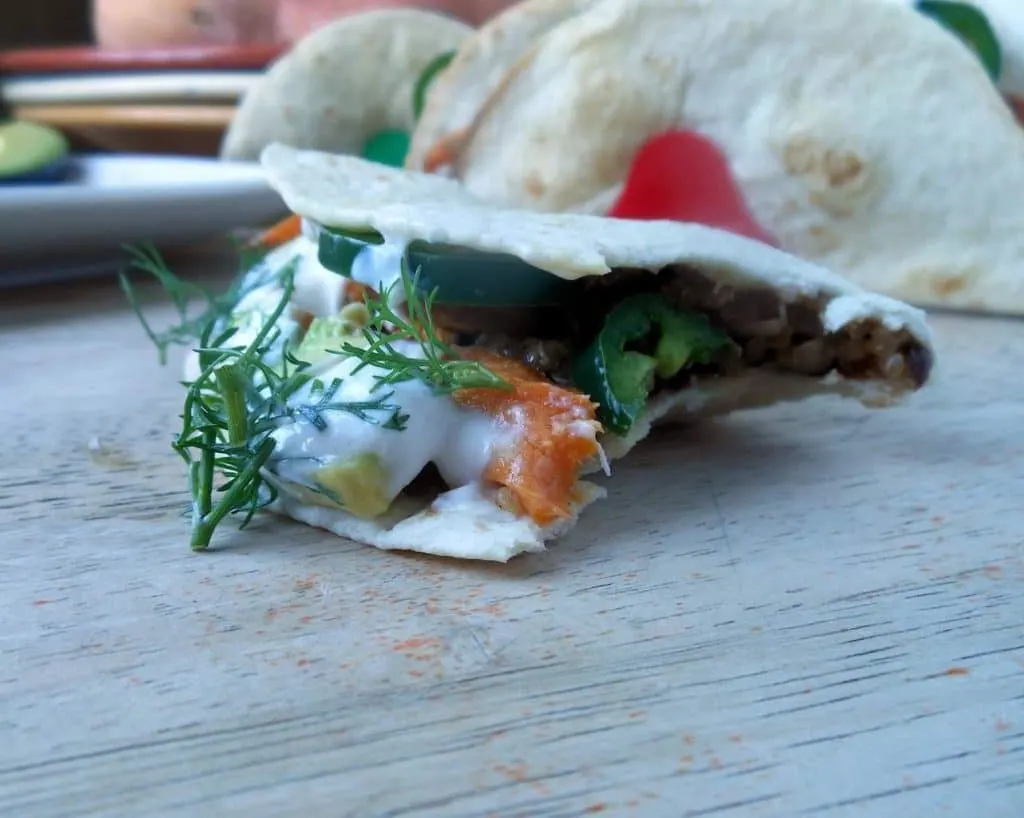 More Food I Love…
Tequila Lime Cheesecake with Strawberry Margarita Topping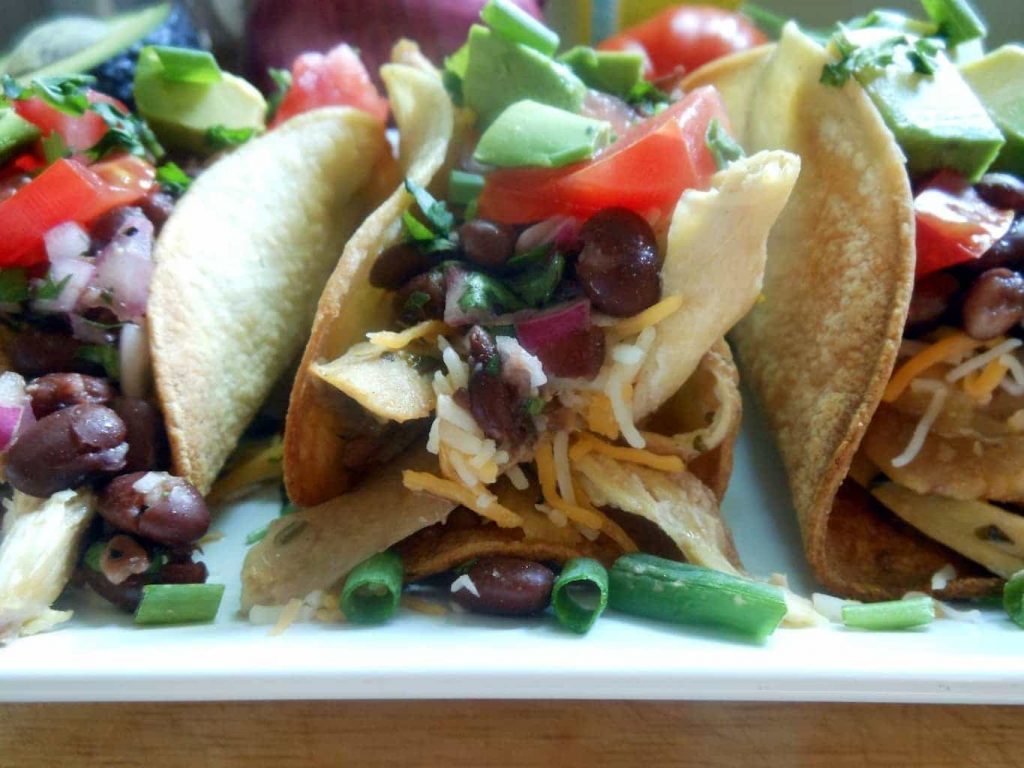 Roasted Cilantro Chicken Tacos with Black Bean Salad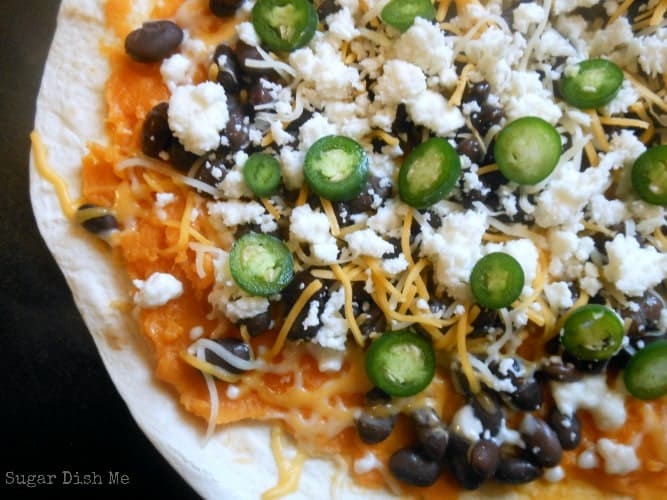 Sweet Potato Black Bean Quesadillas