Southwestern Chicken Salad is loaded up with all your favorite Tex-Mex goodness! It's easy to make, totally nutritious, and extremely tasty.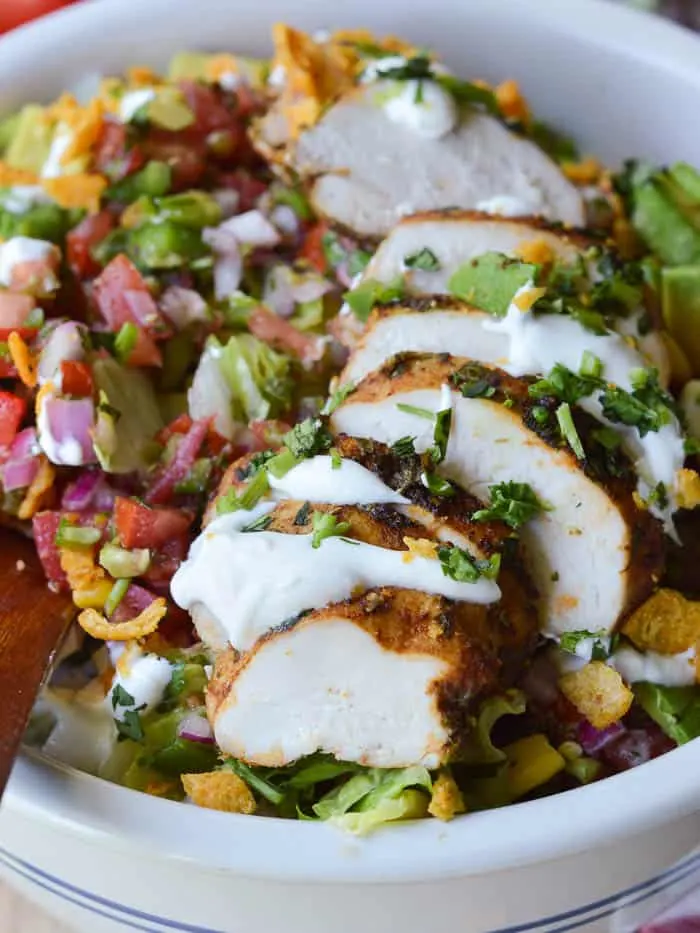 I have been lost in the land of technology garbledy gook since Sunday and really all I have to show for it is some freaking delicious food that I worked on while I had 875675 chat windows full of tech support open.
But.
You are here for the food so I guess that's a good thing, yeah?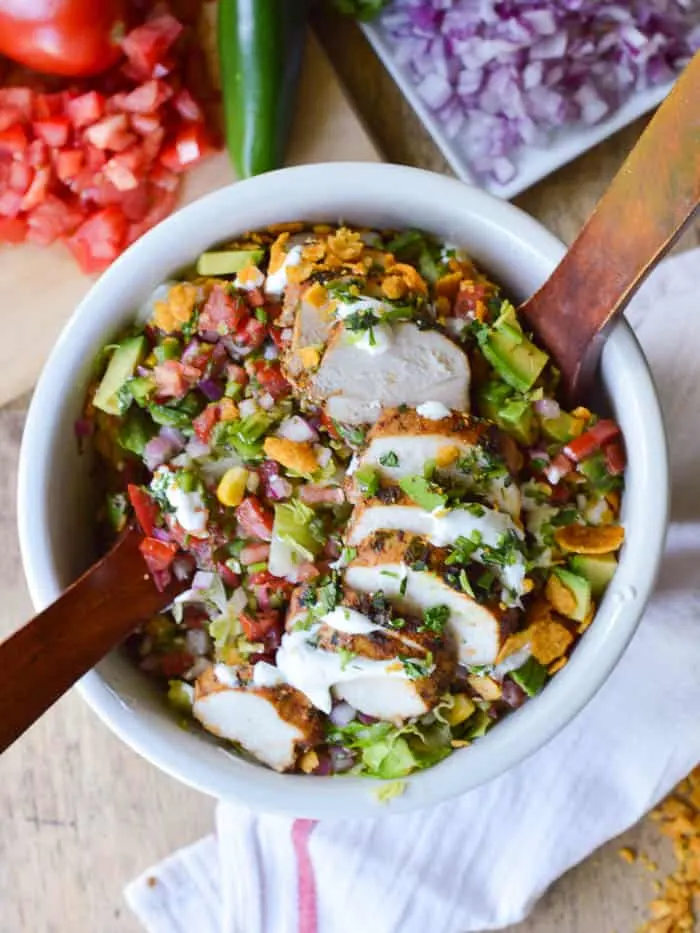 Is it just me or is having to ask for help with unfamiliar technology like the most stressful thing ever? I try to warn them going in with my standard disclaimer: "Hello, my name is Heather and I have no idea what you are talking about, but I can follow directions." About 3 out of every 5 get it and provide me with instructions suitable for a 5-year-old. But there are always TWO.
Two out of five tech support people that say things like, "You'll need to extract the DNS from the WHM and then add it to the base of the sum of the cPanel with your FTP login credentials while tap dancing and balancing your laptop on your head." And then they get all eye-rolley when you don't understand.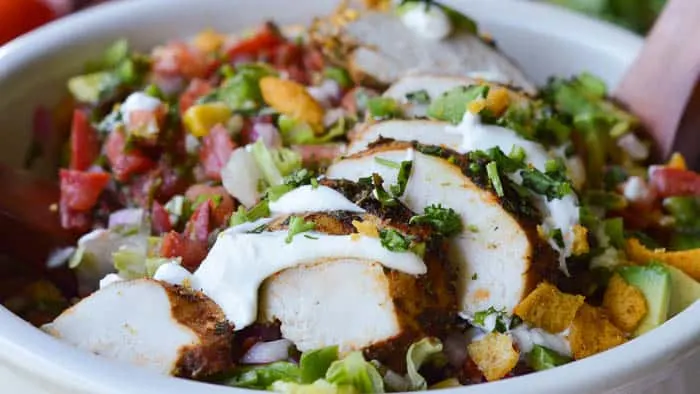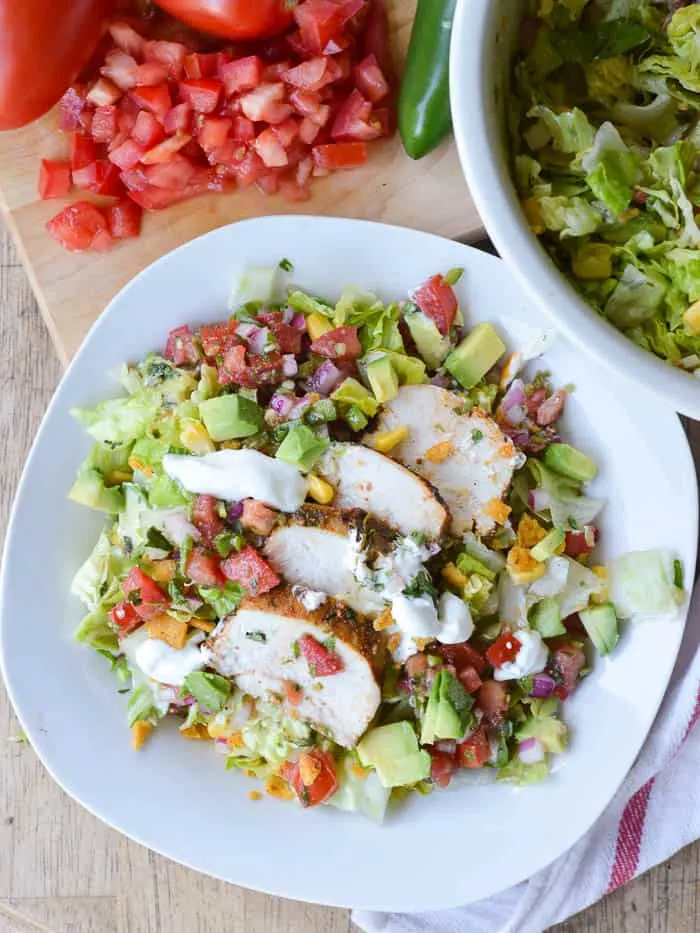 More recipes with Fresh Pico d Gallo!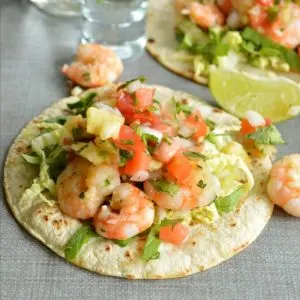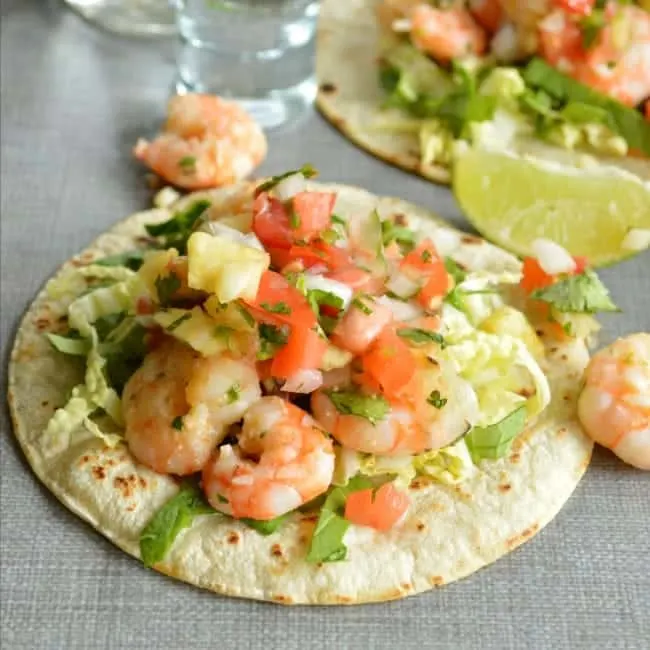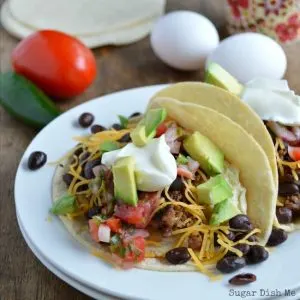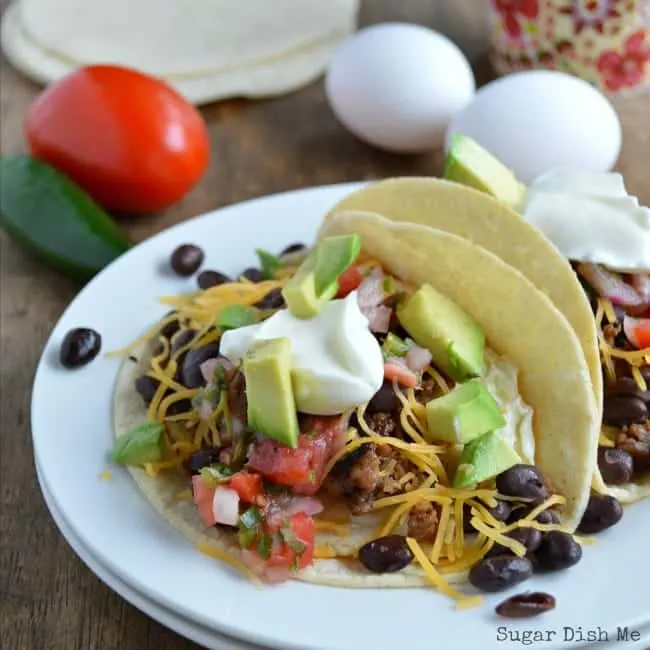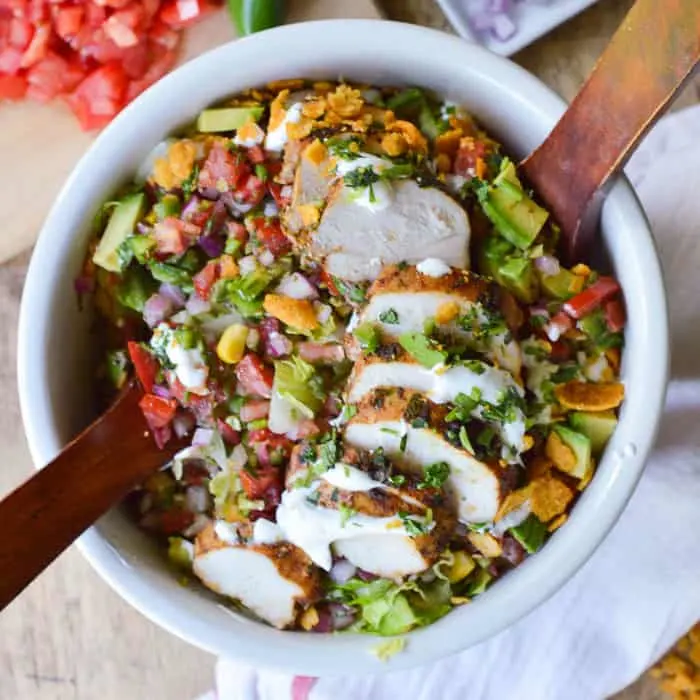 Yield:

6-8
Southwestern Chicken Salad
Southwestern Chicken salad is finely chopped, loaded with flavor, and totally delicious! Topped with sliced cilantro-marinated chicken, fresh pico de gallo, cheese, and crushed corn chips for some crunch. You'lll love it.
Ingredients
For the Pico de Gallo:
6 Roma tomatoes, diced
1/2 cup red onion, finely diced
3 cloves garlic
2 jalapeno peppers, finely chopped
1/2 cup chopped cilantro
2 1/2 tablespoons red wine vinegar
1 1/2 tablespoons olive oil
1/2 teaspoon salt
1/2 teaspoon black pepper
1/4 teaspoon onion powder
1/4 teaspoon garlic powder
For the Salads:
6 ounces sliced cold cilantro chicken
1 head of romaine lettuce, chopped
3 ounces icedberg lettuce, chopped
1 can black beans, drained and rinsed
1 avocado, diced
1/2 cup shredded Mexican cheese blend
2 tablespoons sour cream
1 tablespoon water
1 cup chili cheese Fritos, crushed
1 tablespoon chopped cilantro to garnish
Instructions
Toss all the pico ingredients together and set it in the fridge until you need it.
To assemble the salads fill each bowl with a generous helping of lettuce, then pico de gallo and beans. Add corn and then chicken. Sprinkle with the shredded cheese.
Whisk together the sour cream and water to give you a saucy consistency. You can add more water or more sour cream to reach your desired consistency. Drizzle the sour cream over the top of the salad and sprinkle with the Fritos and cilantro.