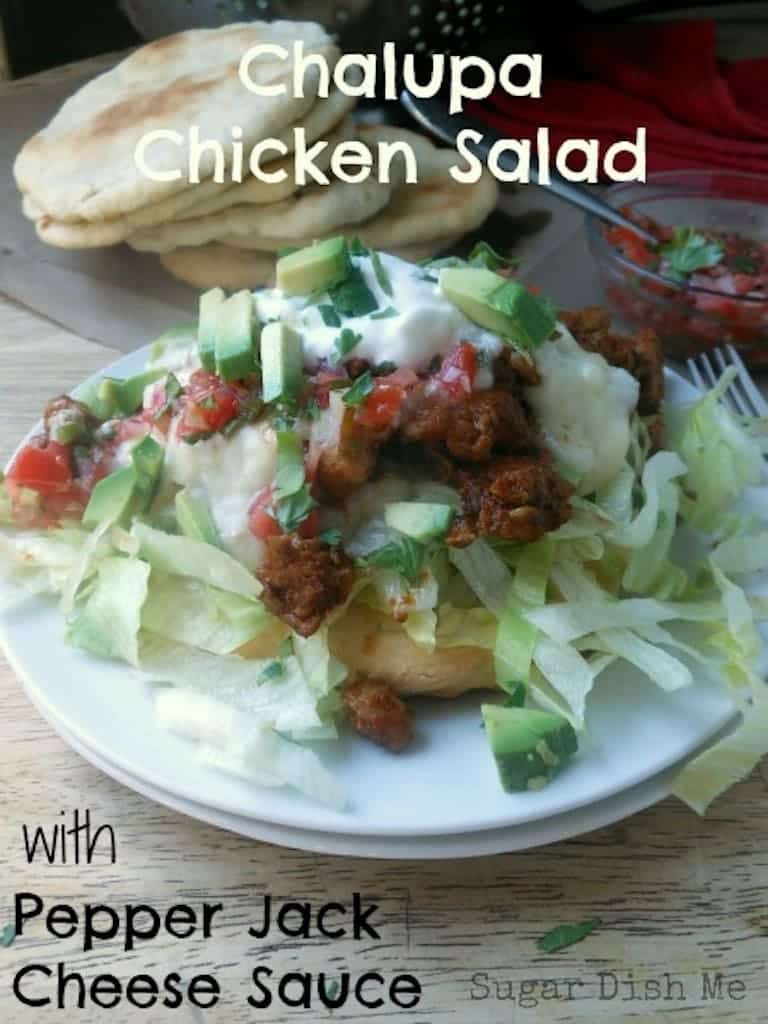 Oh my gosh I feel like it's been a bajillion years since I talked to you!!! But really it's only been since Friday. Unless you get the weekly newsletter and then  actually it was just yesterday. But who's counting?
I missed you!
I have been lost in the land of technology garbledy gook since Sunday and really all I have to show for it is some freaking delicious food that I worked on while I had 875675 chat windows full of tech support open.
But.
You are here for the food so I guess that's a good thing, yeah?
Is it just me or is having to ask for help with unfamiliar technology like the most stressful thing ever? I try to warn them going in with my standard disclaimer: "Hello, my name is Heather and I have no idea what you are talking about, but I can follow directions." About 3 out of every 5 get it and provide me with instructions suitable for a 5-year-old. But there are always TWO.
Two out of five tech support people that say things like, "You'll need to extract the DNS from the WHM and then add it to the base of the sum of the cPanel with your FTP login credentials while tap dancing and balancing your laptop on your head." And then they get all eye-rolley when you don't understand.
In case you were wondering I totally know when someone is rolling their eyes at me from behind a computer screen. Science.
So while I juggled a week full of head-exploding communication, I made this salad and squeezed a lime in the beer and just tried to roll with it.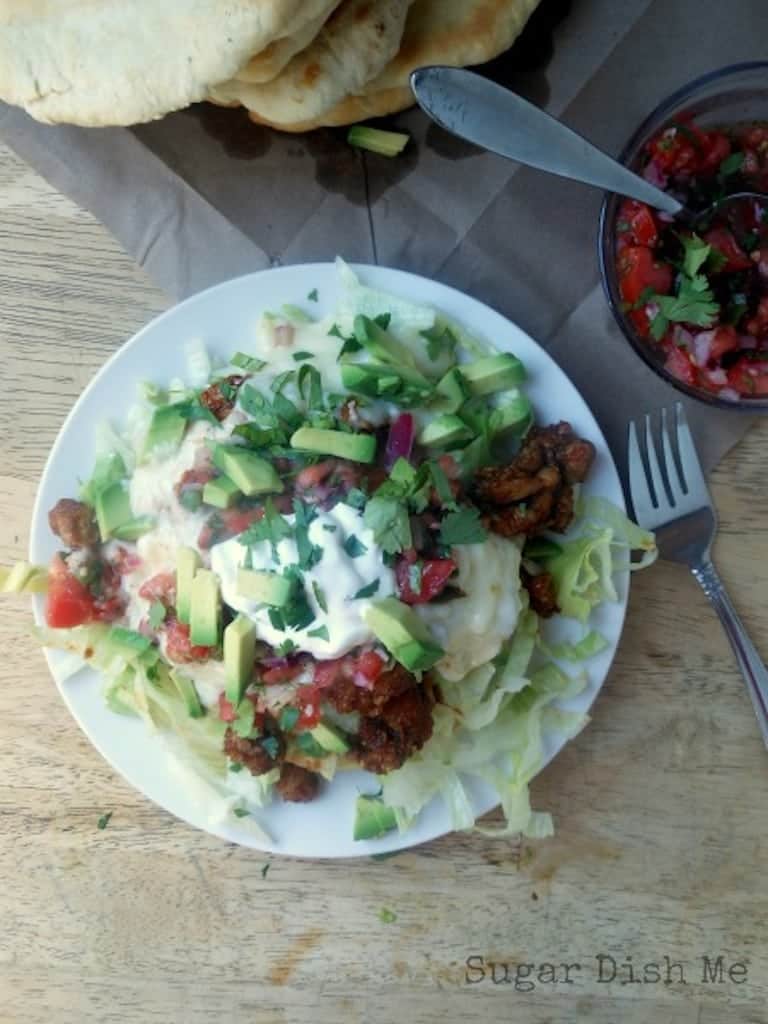 This salad.
Chad told me that if I made this salad every day he would eat it happily.
I worked on the puffy soft chalupa shell for a whole day. I tried it fried. I tried it seared in a hot pan like flatbread. I tried it in the oven with a cast iron skillet. I tried it on a baking sheet. I pretty much had a giant stack of delicious bready shell and I daydreamed about throwing it at my computer like a frisbee. Frying the dough will give you results most like the chalupas you get at good 'ol Taco Bell. But. Not only would you have to fry them up one by one and serve them right away, but also they soaked up A LOT of oil and that basically grossed me out even though the taste was good.
My favorite way by far was baked in the cast iron skillet. The shells were still toasty and they puffed up nicely and the taste was still delicious. The very best part about baking these though is that they were really good fresh from the oven and later on after they had cooled. From the oven I got crunch. After they were cool they were soft like a puffy tortilla.
I topped the shells with a huge pile of lettuce, taco-seasoned chicken, a pepper jack cheese sauce that is INSANE, fresh pico, avocado, cilantro, and a little sour cream.
Do it.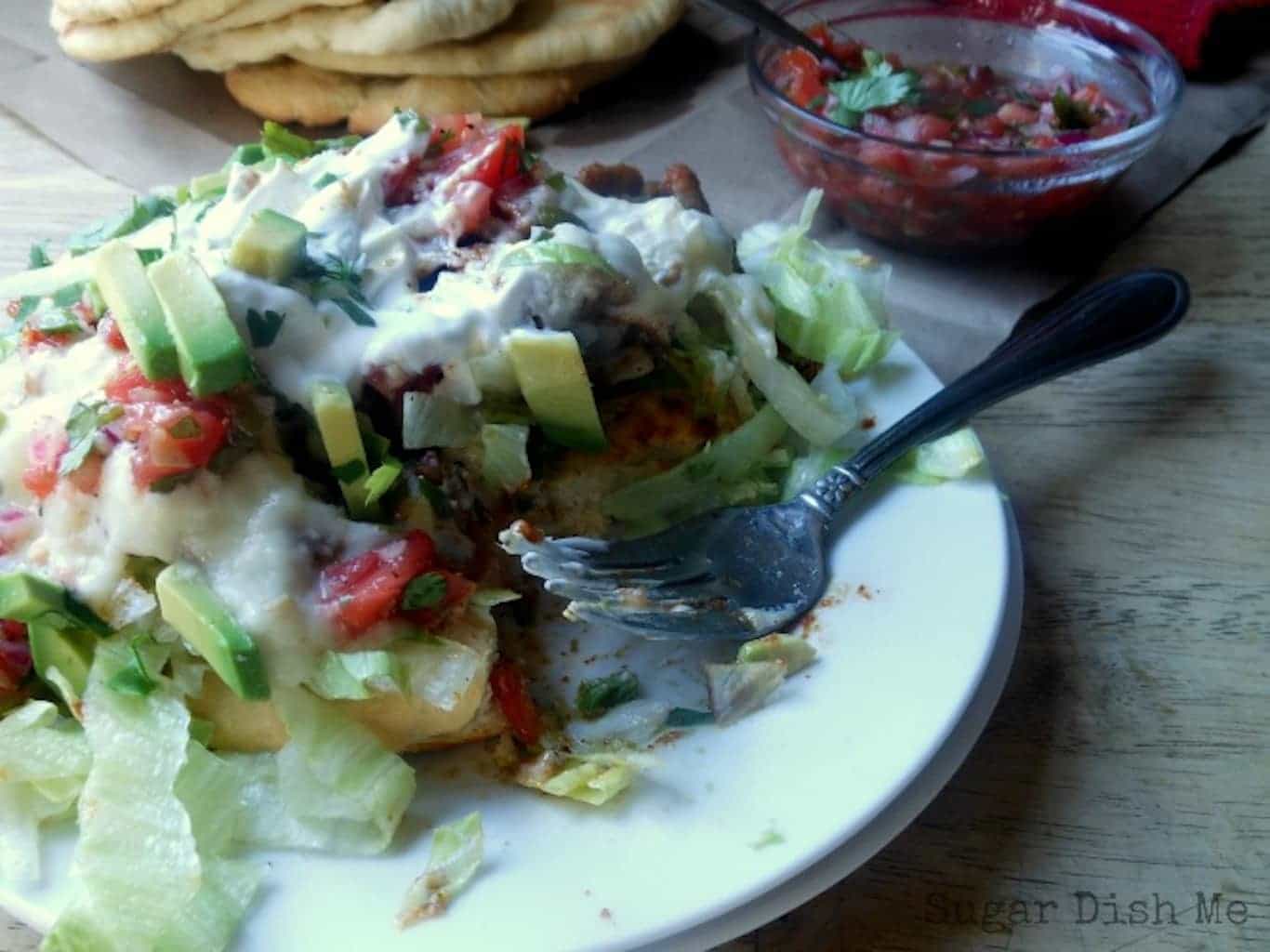 Chalupa Chicken salad with Pepper Jack Cheese Sauce
Toasty chalupa shells toped with a huge pile of crisp lettuce, taco-seasoned chicken, pepper jack cheese sauce, fresh pico, avocado, and sour cream. The ingredient list looks a little long because all salad components here were made from scratch but there are shortcuts listed in the notes!
Ingredients
For the Chalupa Shells:
2½ cups all purpose flour
1 tablespoon baking powder
1 teaspoon salt
1 tablespoon shortening
1 scant cup cold milk
For the Chicken:
1½ pounds boneless skinless chicken breast, cut into bite size pieces
1 package of your favorite taco seasoning (I make my own!) and water according to package instructions
For the Pico de Gallo:
6 Roma tomatoes, diced
½ cup red onion, finely diced
3 cloves garlic
2 jalapeno peppers, finely chopped
½ cup chopped cilantro
2½ tablespoons red wine vinegar
1½ tablespoons olive oil
½ teaspoon salt
½ teaspoon black pepper
¼ teaspoon onion powder
¼ teaspoon garlic powder
For the Pepper Jack Cheese Sauce:
1 tablespoon butter
2 teaspoons cornstarch
⅓ cup cold milk
1 cup shredded pepper jack cheese
For the Salads:
1 head of lettuce (your choice!), chopped
diced avocado
sour cream
cilantro
Instructions
To make the chalupa shells, place a cast iron skillet preheat the oven to 425. Whisk together the flour, baking soda, and salt. Cut the shortening in with a fork and then work it in with your fingers to form coarse crumbs. Pour in the milk a little at a time until the dough comes together (too wet and it can be tricky to work with). Dust a workspace and your hands with flour. Form a log with the dough and then cut into 8 equal pieces. Roll each piece into a ball and flatten into a circle about 5" across. Place the dough in the hot skillet and bake for about 7 minutes (I made 2-3 at a time). Turn, bake for 2-3 more minutes, and set aside to cool.
Heat the oil in a large skillet, add the chicken and then cook according to your seasoning packet instructions.
Toss all the pico ingredients together and set it in the fridge until you need it.
To make the cheese sauce, melt the butter in a small saucepan. Whisk together the cornstarch and cold milk in a measuring cup, pour it into the melted butter, and bring it just to a simmer. Stir in the cheese until the sauce is smooth. Add a tad more milk or more cheese if necessary to reach your desired consistency (you want it to pour).
To assemble the salads place a chalupa shell on a place. Cover with a generous helping of lettuce, then chicken. Pour the cheese sauce over the chicken. add the pico, avocado, sour cream, and cilantro.
Notes
If you are short on time the Chalupa shells can be bought at the store (but they are folded so you'll need to break them in half and lay them flat for the salad. Homemade pico de gallo comes together very quickly but if you want to skip that step store-bought salsa would work!
The shells and pico could also be made ahead of time. Both will keep for 1-2 days (keep the pico refrigerated).