A cool and creamy cheesecake-like filling covered in a cherry berry topping! Cherry Berry Cream Cheese Pie is cool and creamy, tart and sweet – and is easy to make! The polenta crust really sets it apart.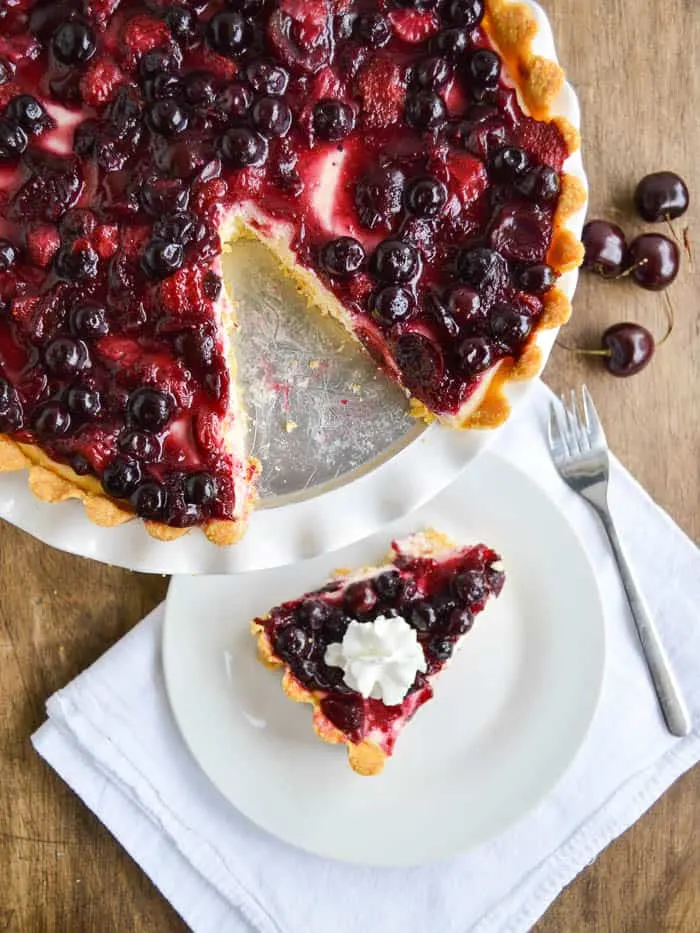 I wanna start by telling you just how much I love the crust on this tart/pie/cheesecake/whatever we are calling it today. It's made from polenta which you probably usually have served up all creamy with a side of short ribs (typically my fave way to enjoy it).
I put together a whole collection of ideas on What the Heck To Do with Polenta, but for now let's focus on Cherry Berry Cream Cheese Pie.
What's Polenta?
If you aren't familiar with polenta, it's basically just fancy talk for cornmeal. You can usually find it in the aisle with all the gluten-free grains; my store has a whole end cap display for Bob's Red Mill, which is the dry polenta I usually keep on hand. Polenta is decidedly un-fancy. I love to have it in the cabinet for those nights that I am throwing dinner together and need a starch but am really just over pasta or quinoa or rice. You can cook it up with a little milk, butter, and cheese, and you are pretty much good to go.
Today though, we are using it for pie crust.
Awhile back I got this book to review, and there was a tomato tart with polenta crust recipe that reeeeally caught my eye. I got to thinking about how much I love the cornmeal in the crust of this rustic blueberry tart, and then I bought like 8 pounds of cherries because they were on mega-sale, and then I had to figure out what to do with them. From there I was off to the races.
What if I don't have / can't find / am not interested in polenta?
It's fine.
Y'all know my recipes are un-fussy and the last thing I want to do is send you on a wild goose chase for ingredients that you may never use again. If you do not have cornmeal on hand, you can totally use a traditional tart crust. I recommend the crust in this Strawberry Lemon Tart.
Shortbread would be cool too, I think. This Lemon Berry Mascarpone Tart has a great shortbread crust.
But I would really really extra recommend the polenta crust. It's crisp and a little bit earthy, and just slightly sweet. The combination of textures is awesome.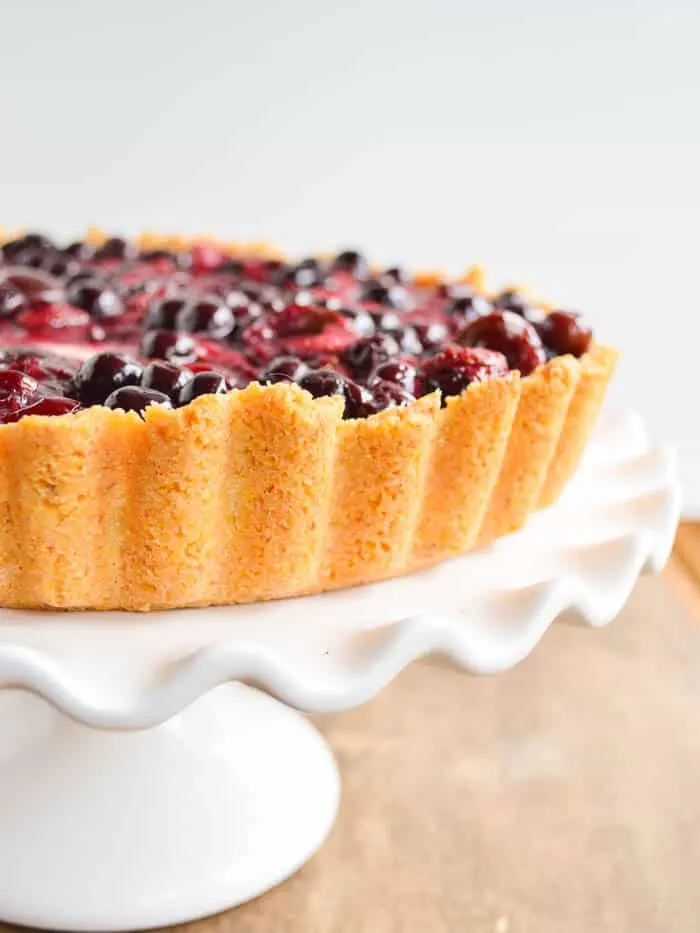 There is something totally and completely perfect about the tartness of fresh cherries and the creamy subtle sweetness of cream cheese. So. Good.
And! I just learned last night that today is National Cheesecake Day. So I accidentally celebrated at the right time. I dunno about you, but in my world I like everyday to be National Cheesecake Day. Who makes this stuff up anyway? Are there Hallmark cards for made up food holidays?
If we commit to celebrating made up food holidays can we skip over things like August?
I kind of don't love August.
It's too hot. And humid. And all of the uncomfortable weather things.
I would like to move straight on to Halloween, please.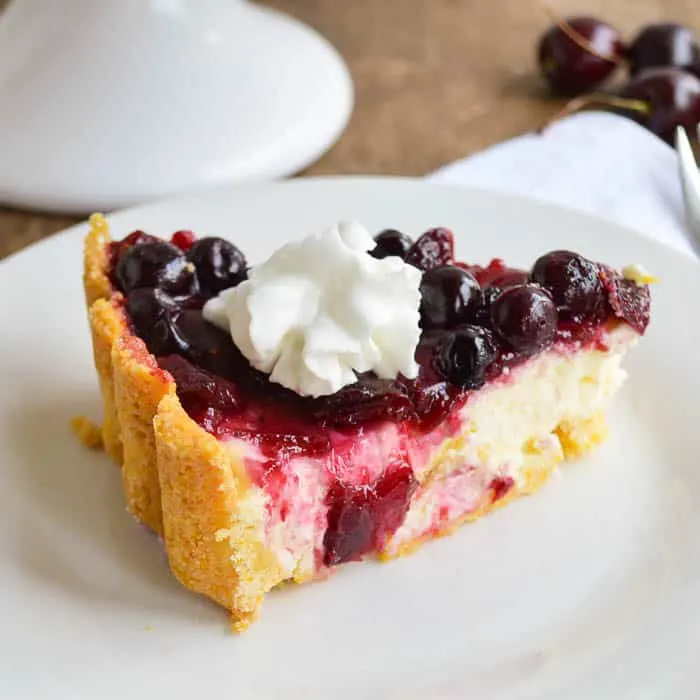 Let's make this pie and celebrate made up things and no-August-yet together, okay?
Okay.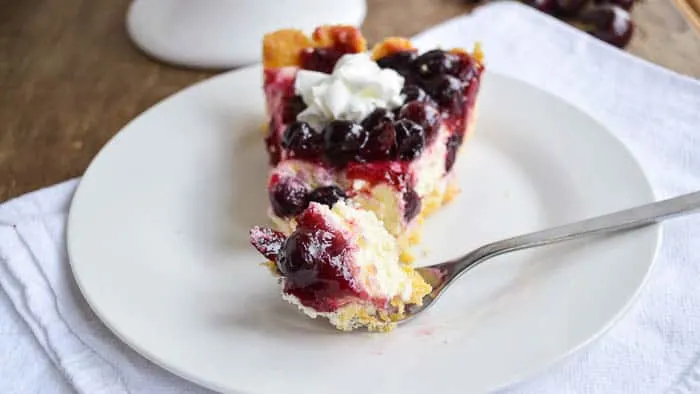 Other creative cheesecake-based recipes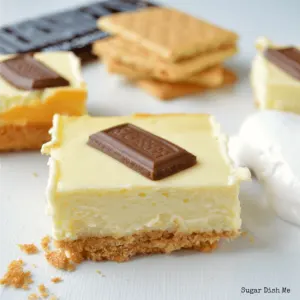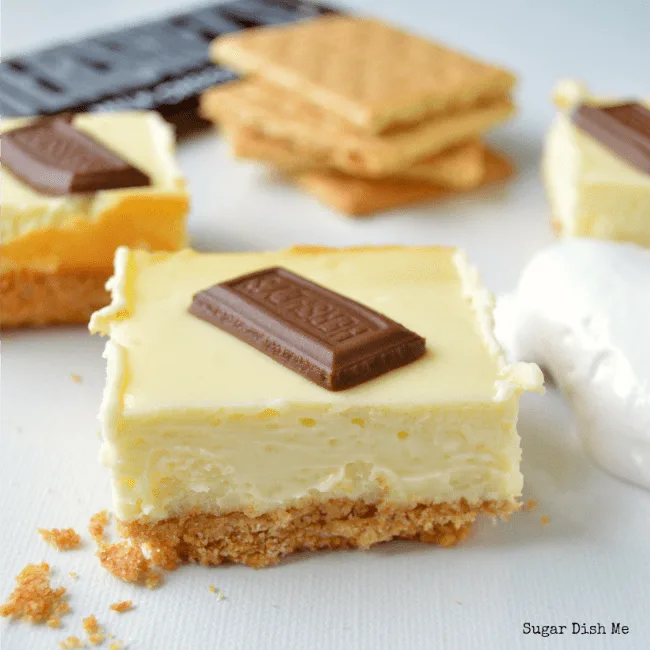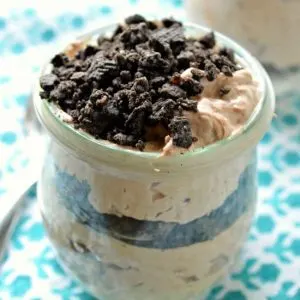 S'mores Cheesecake Bars have a graham cracker crust and marshmallow fluff in the filling!
No Bake Nutella Oreo Cheesecake Parfaits require just 4 ingredients! Looking to pack up desserts for a picnic? These are perfect.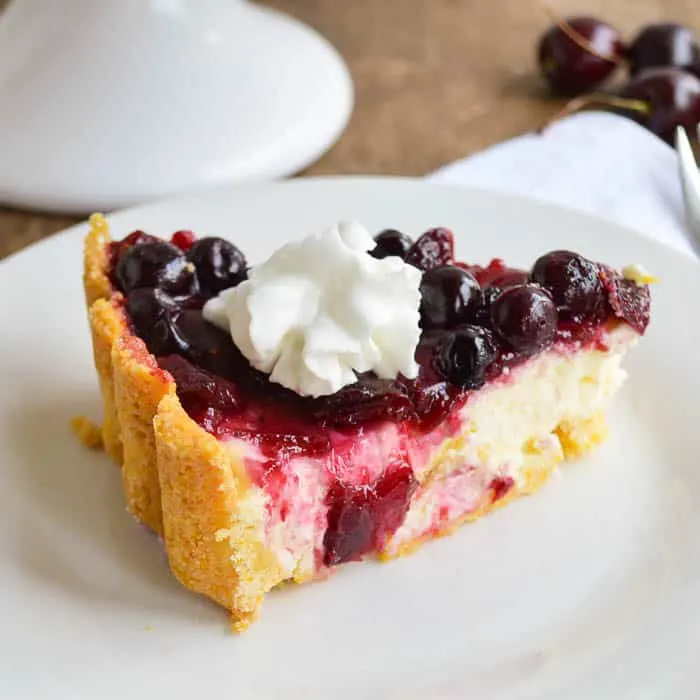 Yield:

12
Cherry Berry Cream Cheese Pie
Total Time:
3 hours
10 minutes
This Cherry Berry Cream Cheese Pie bakes up so simply! A cornmeal crust topped with a creamy and slightly sweet cream cheese filling, and tart, fresh cherries and berries! Prep time includes the time it will take you to prepare the cherries and berries (pitting, washing, hulling). Make sure you allow yourself time to chill the pie after baking before you are ready to serve!
Ingredients
For the Crust:
1/2 cup all purpose flour
1 cup instant polenta or cornmeal
2 tablespoons granulated sugar
1/3 cup cold butter
1/3 cup cold water (as needed)
For the Cream Cheese Filling:
2 (8 ounce) bricks of cream cheese, softened
1/2 cup granulated sugar
2 eggs
1 teaspoon vanilla
For the Cherry Berry Topping:
1 cup fresh cherries, pitted and halved
1/2 cup fresh blueberries
1/2 cup fresh strawberries, hulled and coarsely chopped
1/2 cup water
1 tablespoon fresh lemon juice
1/2 tablespoon cornstarch
Instructions
Preheat the oven to 350°F.
Combine the flour, cornmeal, and sugar. Cut in the cold butter using a box grater or pastry cutter until coarse crumbles form. Add the water just a little at a time until the dough comes together. You don't want to to be too wet or it will be hard to work with.
Press the dough into a loose-bottomed tart tin (the bottom of the tin just sits inside the fluted rim). Top the dough with parchment paper or foil and cover with pie weights or dry beans. Bake for 15 minutes.
Remove the pie weights or beans and bake the crust for another 5 minutes. It should be crisp.
To make the Cream Cheese Filling, beat the cream cheese and sugar together until fluffy. Add the eggs one at a time, mixing well after each addition. Mix in the vanilla and pour the filling over the crust.
Bake at 350°F for 15 minutes. Reduce the oven temperature to 275°F and bake for another 15 minutes. Turn the oven off and open the door to let the pie slowly come to room temperature. While the pie is cooling, make the topping.
To make the Cherry Berry Topping, add the cherries, blueberries, and strawberries to a medium saucepan. In a liquid measuring cup whisk together the water, lemon juice, and cornstarch. Pour the liquid over the berries and bring to a simmer. Reduce the heat a little and let everything cook, stirring occasionally, until the berry topping has thickened. It'll take 2-4 minutes.
Top the baked cream cheese pie with the cherries and berries. Spread it evenly. Chill for at least 2 hours before serving
Notes
You will need pie weights or dry beans to bake your pie crust.
Recommended Products
As an Amazon Associate and member of other affiliate programs, I earn from qualifying purchases.
Nutrition Information:
Yield:
12
Serving Size:
1
Amount Per Serving:
Calories:

194
Total Fat:

8g
Saturated Fat:

5g
Trans Fat:

0g
Unsaturated Fat:

3g
Cholesterol:

49mg
Sodium:

126mg
Carbohydrates:

28g
Fiber:

2g
Sugar:

13g
Protein:

3g