A cool and creamy cheesecake-like filling covered in a cherry berry topping! Cherry Berry Cream Cheese Pie is cool and creamy, tart and sweet – and is easy to make! The polenta crust really sets it apart.
Remember when I told you I was on a cheesecake baking binge? Well now maybe you understand a little bit. Because this isn't technically cheesecake, but… it's a baked cream cheese pie topped with cherries and berries, so it's basically the same thing.  Maybe it wasn't so much a cheesecake binge as it was a CREAM CHEESE binge. Plus cherries. There are more recipes with those two coming. Just you wait.
But for now it's Cherry Berry Cream Cheese Pie.
There is something totally and completely perfect about the tartness of fresh cherries and the creamy subtle sweetness of cream cheese. So. Good.
I also bought like 8 pounds of cherries because they were on mega-sale and then I had to figure out what to do with them.
And! I just learned last night that today is National Cheesecake Day. So I accidentally celebrated at the right time. I dunno about you, but in my world I like everyday to be National Cheesecake Day. Who makes this stuff up anyway? Are there Hallmark cards for made up food holidays?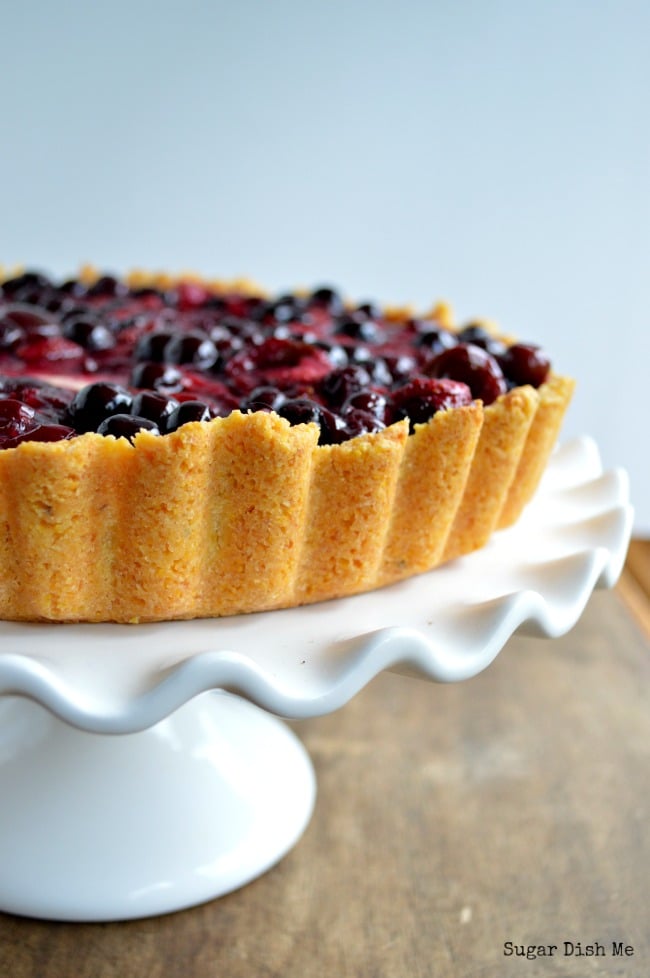 If we commit to celebrating made up food holidays can we skip over things like August?
I kind of don't love August.
It's too hot. And humid. And all of the uncomfortable weather things.
I would like to move straight on to Halloween, please.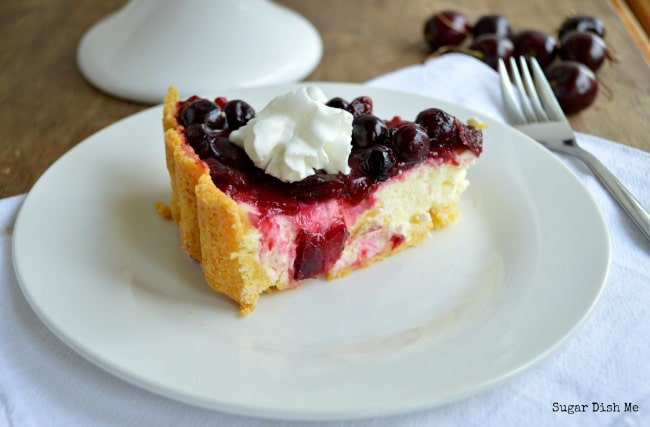 Anyway. Back to pie.
Have you noticed the crust? I love this crust like crazy. I made it with polenta! That's fancy talk for cornmeal.
Awhile back I got this book to review and there was a tomato tart with polenta crust recipe that reeeeally caught my eye. I got to thinking about how much I love the cornmeal in the crust of this rustic blueberry tart, and then I ended up with all those cherries. What happened is this Cherry Berry Cream Cheese Pie. Like, whoa.
If you do not have cornmeal on hand, you can totally use a traditional tart crust. Shortbread would be cool too, I think. But I would really really extra recommend the polenta crust. It's crisp and a little bit earthy, and just slightly sweet. The combination of textures is awesome.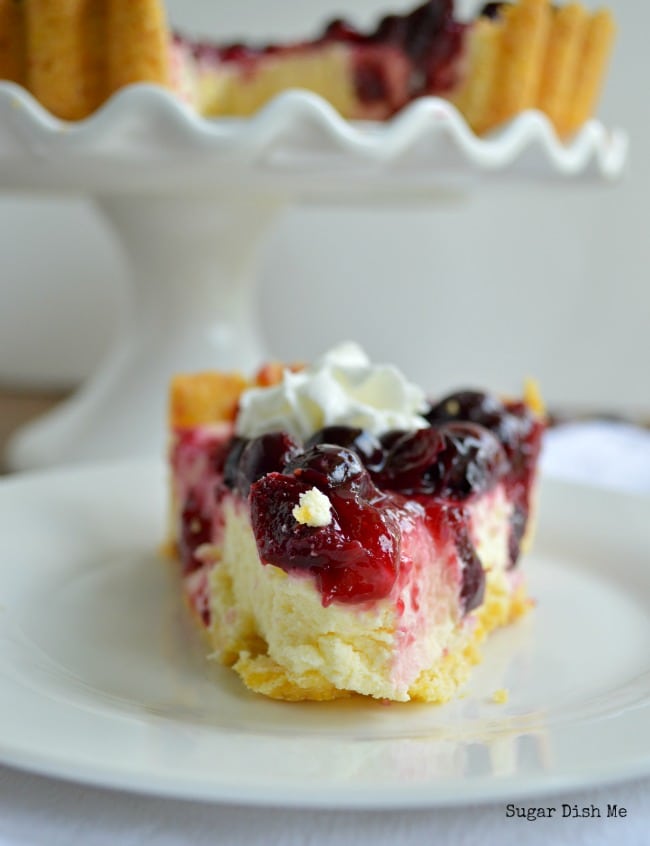 Let's make this pie and celebrate made up things and no-August-yet together, okay?
Okay.
Cherry Berry Cream Cheese Pie
This Cherry Berry Cream Cheese Pie bakes up so simply! A cornmeal crust topped with a creamy and slightly sweet cream cheese filling, and tart, fresh cherries and berries! Prep time includes the time it will take you to prepare the cherries and berries (pitting, washing, hulling). Make sure you allow yourself time to chill the pie after baking before you are ready to serve!
Ingredients
For the Crust:
½ cup all purpose flour
1 cup instant polenta or cornmeal
2 tablespoons granulated sugar
⅓ cup cold butter
⅓ cup cold water (as needed)
For the Cream Cheese Filling:
2 (8 ounce) bricks of cream cheese, softened
½ cup granulated sugar
2 eggs
1 teaspoon vanilla
For the Cherry Berry Topping:
1 cup fresh cherries, pitted and halved
½ cup fresh blueberries
½ cup fresh strawberries, hulled and coarsely chopped
½ cup water
1 tablespoon fresh lemon juice
½ tablespoon cornstarch
Instructions
Preheat the oven to 350°F.
Combine the flour, cornmeal, and sugar. Cut in the cold butter using a box grater or pastry cutter until coarse crumbles form. Add the water just a little at a time until the dough comes together. You don't want to to be too wet or it will be hard to work with.
Press the dough into a loose-bottomed tart tin (the bottom of the tin just sits inside the fluted rim). Top the dough with parchment paper or foil and cover with pie weights or dry beans. Bake for 15 minutes.
Remove the pie weights or beans and bake the crust for another 5 minutes. It should be crisp.
To make the Cream Cheese Filling, beat the cream cheese and sugar together until fluffy. Add the eggs one at a time, mixing well after each addition. Mix in the vanilla and pour the filling over the crust.
Bake at 350°F for 15 minutes. Reduce the oven temperature to 275°F and bake for another 15 minutes. Turn the oven off and open the door to let the pie slowly come to room temperature. While the pie is cooling, make the topping.
To make the Cherry Berry Topping, add the cherries, blueberries, and strawberries to a medium saucepan. In a liquid measuring cup whisk together the water, lemon juice, and cornstarch. Pour the liquid over the berries and bring to a simmer. Reduce the heat a little and let everything cook, stirring occasionally, until the berry topping has thickened. It'll take 2-4 minutes.
Top the baked cream cheese pie with the cherries and berries. Spread it evenly. Chill for at least 2 hours before serving.
Notes
You will need pie weights or dry beans to bake your pie crust.