A simple no-bake dessert made with just 4 ingredients! Nutella Oreo Cheesecake Parfaits come together in just 10 minutes for an easy tasty treat.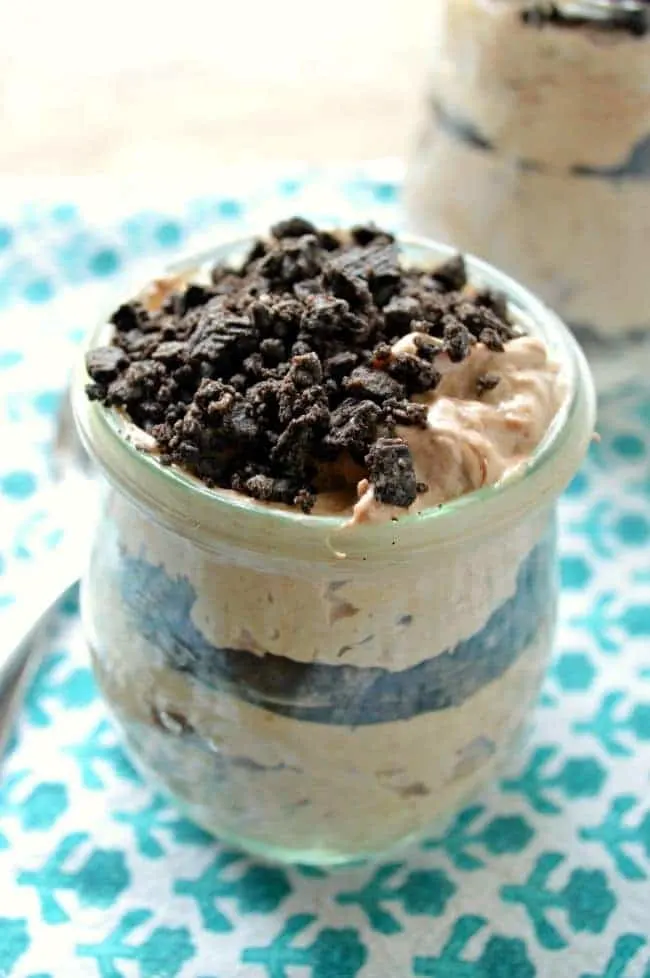 This recipe is originally from 2013 but the post and photos have been updated. Some of my favorite recipes are those oldie goodies and I just had to re-share!
Time for dessert!!!
You CANNOT go wrong with a ten-minute, four-ingredient, no-bake treat.
It has been 1 bajillion degrees here for weeks and I can't even deal with the weather. CAN'T DEAL. We are hiding indoors with the shades drawn all day because even checking the mail makes me feel like I'm melting.
I *think* we should reconsider installing a pool.
Anyway. I'd like to say that heading out of doors in the evening is something that happens, but then you are at risk of being carried off by mosquitoes. The freaking mosquitoes!!! Does anyone know what happens when you spray for mosquitoes? Does it hurt the birds? What about the butterflies?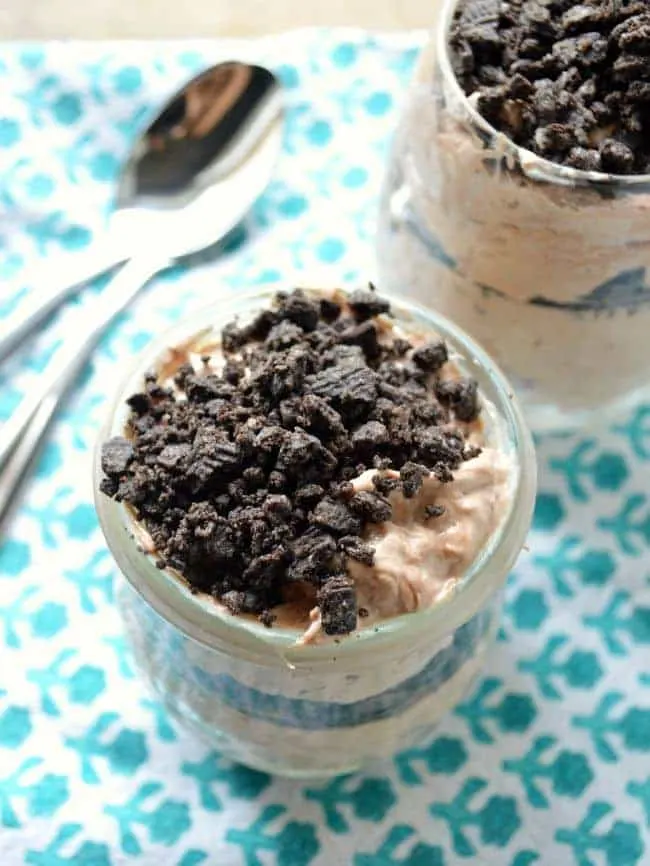 I'm pretty hippie dippy about that kind of thing. I make all the boys in the house do the catch and release thing when I find a spider, and last month when the exterminators came to do their quarterly little spray thing I made them avoid an entire outside area by the garage because there are praying mantis' in my garden.
But it would be pretty fab if I could walk out onto the deck without worrying about West Nile.
So these are no-bake, cold, Nutella-filled, delicious. They also come together in like 5 minutes. You COULD technically eat them right away but I prefer to refrigerate them for a couple of hours before digging in. They also freeze well. Put the lid on tight, throw them in the cooler, and take them to the pool! Pass them out at a baseball game!! Have a picnic! Put them on the table at your next cookout.
You could also technically pour that mousse filling into a pie crust and then freeze to slice.
Nutella Oreo Cheesecake Parfaits are pretty easy to lighten up if that's a thing you're interested in. You can use 1/3 fat cream cheese and lite whipped topping. Also! Oreo Thins. They worked well here and you can eat more of them for the same amount of calories.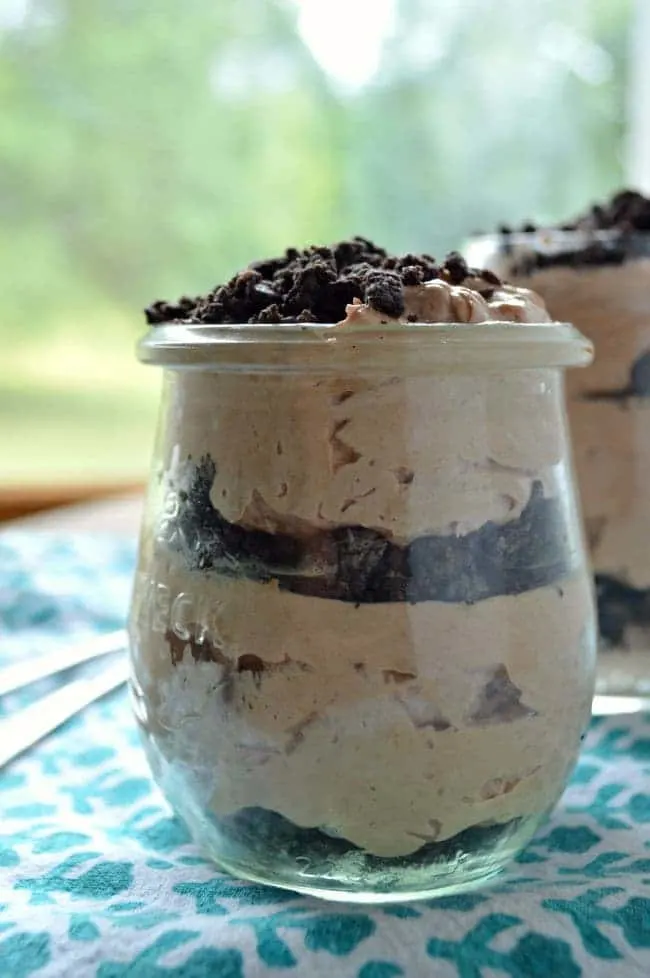 Yield:

6
Nutella Oreo Cheesecake Parfaits
Nutella, cream cheese, and Cool Whip are blended to make a creamy delicious mousse that is layered with crushed Oreo cookies. So simple! These Nutella Oreo Cheesecake Parfaits are perfect for cookouts, BBQ's and picnics.
Ingredients
20 Oreo (chocolate sandwich) cookies
1/2 cup Nutella
1 (8 ounce) package of cream cheese (I used 1/3 fat), softened
1 (8 ounce) container of Cool Whip (whipped topping), thawed
6 pint jars
extra cookies to garnish
Instructions
Step 1

Grind the cookies in a food processor until fine crumbs have formed.

Step 2

In a large bowl beat the Nutella and cream cheese until it's blended and fluffy.

Step 3

Fold in the Cool Whip so the mixture stays light and airy. I mixed mine on low.

Step 4

Spoon the cookie crumbs into the bottom of each jar. Add the Nutella mousse mixture over the crumbs.

Step 5

Tap the jars on the counter to let the mousse settle so it will make pretty layers.

Step 6

Add another couple of spoonfuls of cookies and then more mousse.

Step 7

Tap the jars on the counter again, garnish with a few sprinkles of the cookie crumbs.

Step 8

Refrigerate until you are ready to serve (I like mine to chill for a couple of hours)
Notes
Leave the cookie garnish off the top, screw the jar lid on tight, and these would be PERFECT for a picnic! Toss them in the cooler to take to the pool or a ball game.
Recommended Products
As an Amazon Associate and member of other affiliate programs, I earn from qualifying purchases.
Nutrition Information:
Yield:
6
Serving Size:
1
Amount Per Serving:
Calories:

383
Total Fat:

21g
Saturated Fat:

12g
Trans Fat:

0g
Unsaturated Fat:

3g
Cholesterol:

14mg
Sodium:

234mg
Carbohydrates:

47g
Fiber:

2g
Sugar:

30g
Protein:

4g
If you want dessert without baking you might also like these…