Someone needs to get these cookies out of my face.
Seriously.
They are like chewy little gingery orange bites of addictive… I mean they basically taste just. like. Christmas.
I love them. And I can't seem to keep myself away from the cookies.
I don't feel much like eating here lately. Just snacking. And typically my snacking would include healthy things like apples or carrots or almonds or pretzels. But not when there's a plate of soft ginger cookies lingering on my table. That is like tempting fate.
So I did what any responsible mommy does when faced with a cookie challenge: I pawned these cookies off on Chad and the kids. I'd like to say I was glad to see them go, temptation-wise and all… but I wasn't.
I actually contemplated making them again. That's a bad idea, right?
Anyway… this week has been strange. I've been totally consumed with cleaning up and cleaning out… call it Christmas nesting or something. Trying to make room for all the stuff I know is gonna have to have a home in the next week or two (P.S. if anyone has a clever way to store Hot Wheels car tracks puh-leez let me know because ohmygosh I hate them but if I accidentally on purpose misplace them Evan will KNOW), and get rid of all the stuff my boys have outgrown/will never ever miss (unlike Hot Wheels tracks. Gah.). UPS is religiously leaving happy packages on my porch. Who knew that shopping in my pajamas on the sofa with coffee could be so much fun?
Evan wrote a letter to Santa Claus. He is very focused on either a bell from a reindeer or an elf hat. This is serious business.
Oh! And I've amassed a collection of Christmas cards in the mail this week. I love Christmas cards. It's so great to get something besides a bill in the mail. The weird part: one very beautiful Christmas card came from one of my dearest friends. Except there was nothing personal written anywhere on the card. Like the card I get from the dentist's office was more heartfelt and personal. Also my last name was wrong on the envelope. And the whole thing just felt kind of… well… un-Christmas-friend-ey.
But powdered sugar fixes most things, especially this close to Christmas. So I stored that super weird card away for later thoughts, perhaps involving spirits of some kind?, and made a sweet orange glaze frosting.
It is AWESOME. I think Santa would dig it.
These cookies kind of remind me of those little frosted ginger snaps you can buy, except exponentially more wonderful because they are a)soft, b)chewy, c)homemade, and d)I can pronounce all the ingredients. They would make really great gifts. In fact, if someone would make these and stack a few up in a cookie tin for me… I mean that would really make my day.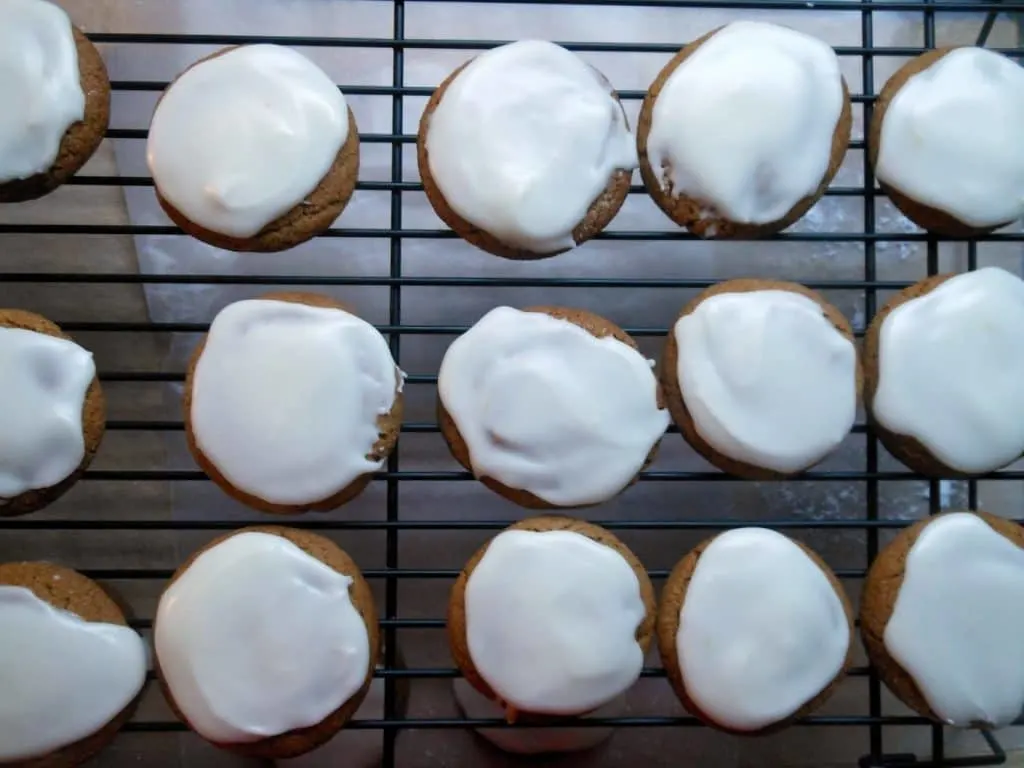 Like Christmas portion control.
Also cookies definitely say, "We're friends."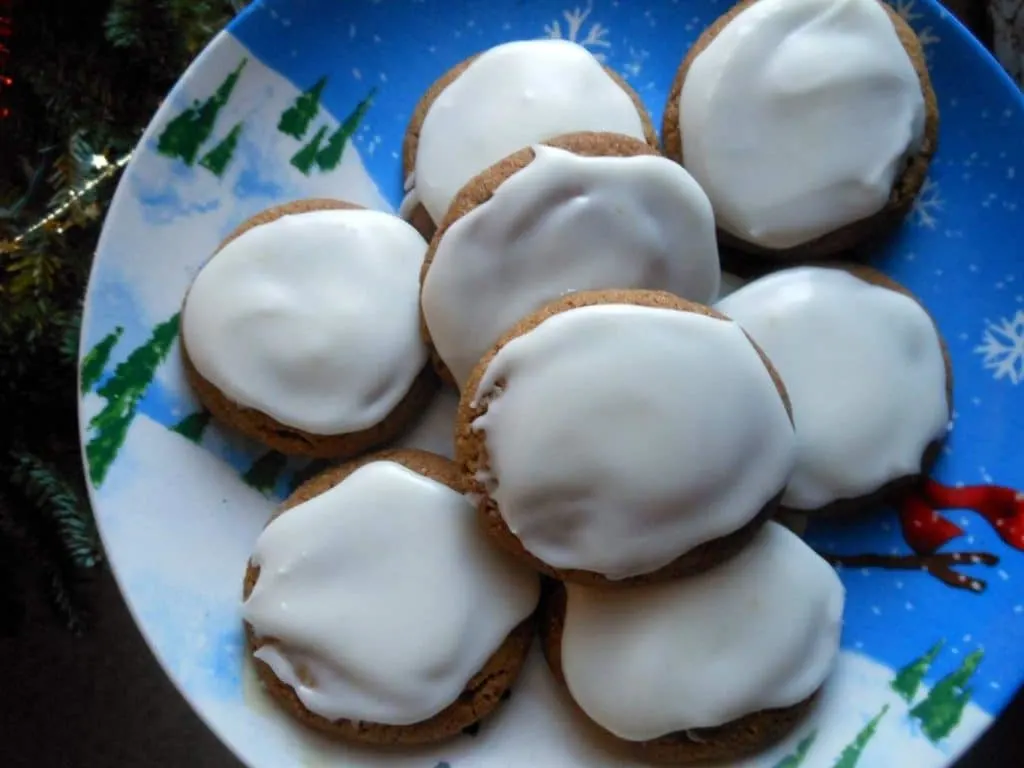 Chewy Ginger Cookies with Sweet Orange Glaze
Ingredients
2¼ cups all purpose flour
2 teaspoons ginger
1 teaspoon baking soda
¾ teaspoon cinnamon
½ teaspoon cloves
¼ teaspoon salt
¾ cup unsalted butter, softened
1 cup granulated sugar
1 egg
¼ cup molasses
¼ cup granulated sugar (for rolling the dough in before baking)
2¾ cups powdered sugar, sifted
½ cup fresh orange juice
1 teaspoon orange zest
Instructions
Pre-heat the oven to 350.
In a large bowl whisk together the flour, ginger, baking soda, cinnamon, cloves, and salt.
In another bowl beat the butter and granulated sugar until it's light and fluffy. Beat in the egg and then the molasses.
Gradually add the flour mixture about ⅓ at a time, mixing after each addition.
Scatter the remaining ¼ cup of granulated sugar onto a plate.
Roll the dough into 1½ inch balls and then roll each ball in the sugar on the plate. Space the cookies about 2 inches apart on ungreased cookie sheets.
Bake for 10-12 minutes. Let them cool slightly before removing from the cookie sheet.
While the cookies bake make the glaze. Sift the powdered sugar into a large bowl and whisk in ¼ cup of the orange juice until the icing has a smooth texture. Add more juice in 1 teaspoon at a time as needed to thin the frosting a bit (after you've frosted a few cookies the glaze will start to harden; I add a little juice, stir, and continue frosting as I go) as needed.
Stir the orange zest into the glaze.
You can frost these cookies as soon as you take them from the cookie sheet-- if fact it's easier that way!
Let the glaze set before stacking or your cookies won't be so pretty. Wax or parchment paper in between cookies helps.
(cookie recipe from THIS recipe at A Taste of Home… glaze recipe from my Christmas brain)
We are such good friends that I gave you a whole page full of cookies!! Better than a card, eh?