Chicken and Apple Cheddar Dumplings are so easy to make from scratch. If you have a little time you can create an amazing meal your family will rave over!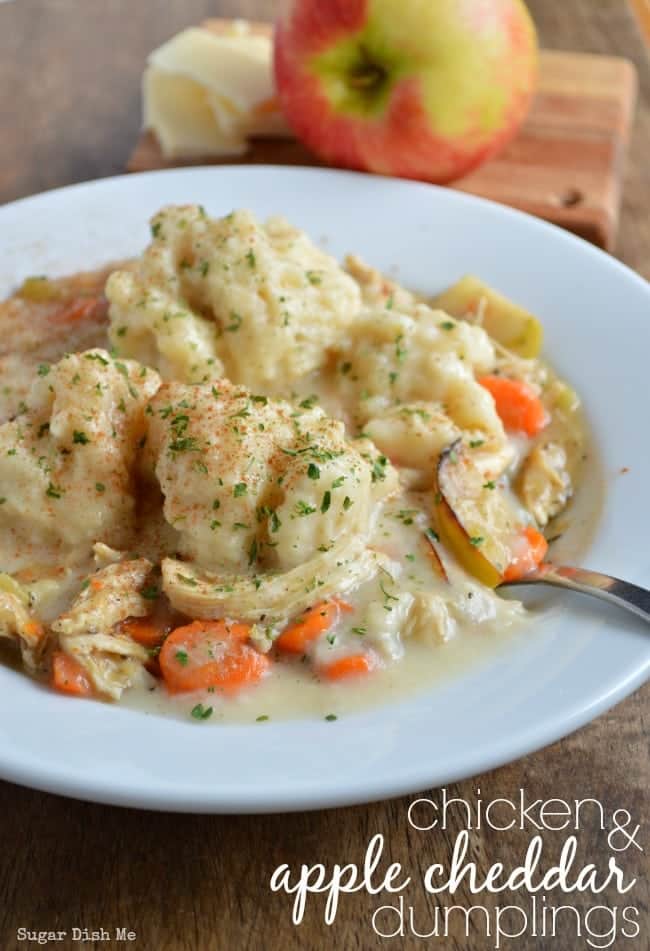 This meal reminds me of my little brother. In our family you get to pick your birthday meal — whatever you want! Sometimes it's pizza, sometimes it's mom's Beef Tips over Rice, but for my littlest brother as a kid he'd always ask for me to make him chicken and dumplings. Not the flat noodle kind of dumplings that Chad's grandma is definitely the kung fu master of (and I am scared to attempt), but the fluffy Bisquick kind of dumplings that are like drop biscuits.
I think I could live on dumplings. So I started playing around with the recipe I've been making for years – the one that evolved from the back of the baking mix box into something from-scratch and fool proof, and I wondered how I could doll it up for fall. The answer is A.P.P.L.E.S.
Duhhh. I have a slight obsession that you might have noticed by the sheer volume of apple recipes on this site. So then I thought what goes better with apples than sharp cheddar cheese (besides peanut butter or ice cream, I mean)?!!! So I put this terrifically awesome farmhouse cheddar into the dumplings, too. Jeeeeeeeeannnnyussssss. I also added apples to the stew with the mirepoix. Mirepoix is just fancy talk for onions, celery, and carrots.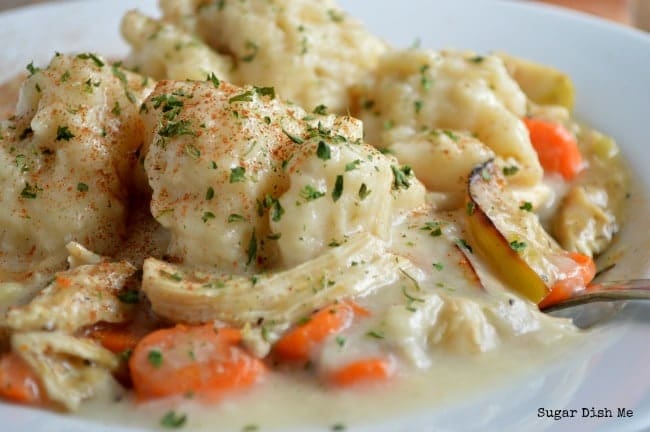 I'll warn you that this is no 30 minute meal. But that's okay, right? Because some meals totally warrant a little bit of extra love and attention.
This meal is completely COMPLETELY worth it.
So STEAMY …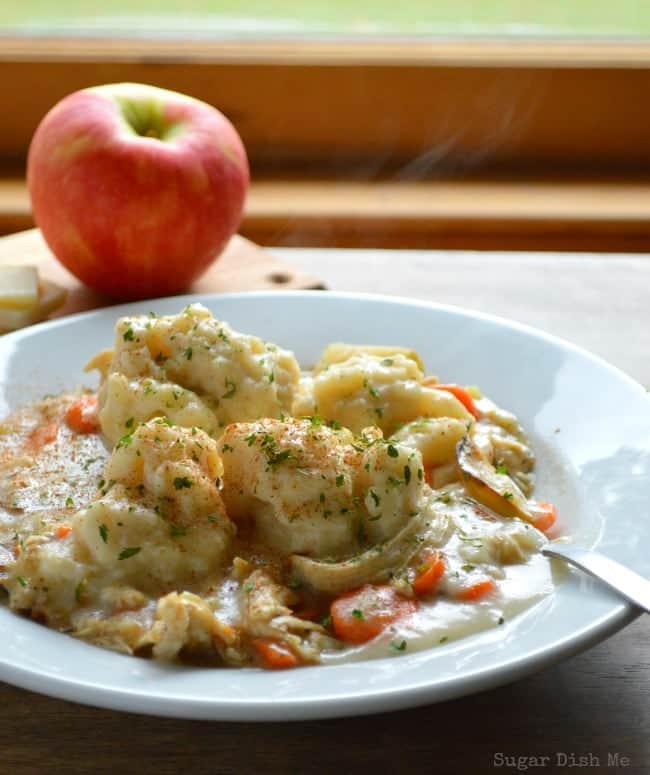 I love adding things to biscuits and scones, and dumplings are no different – the dough is basically like a biscuit you boil. So adding some shredded cheddar and apples totally works.
Have you ever made dumplings that are not fluffy but are like sticky thick glue? It's upsetting. And disappointing. And such a waste of a good chicken stew.
But these dumplings will not turn on you. They will not make you sad. And I'll tell you why:
BUTTER.
The butter and the baking powder really fluff things up like the best light and airy biscuits.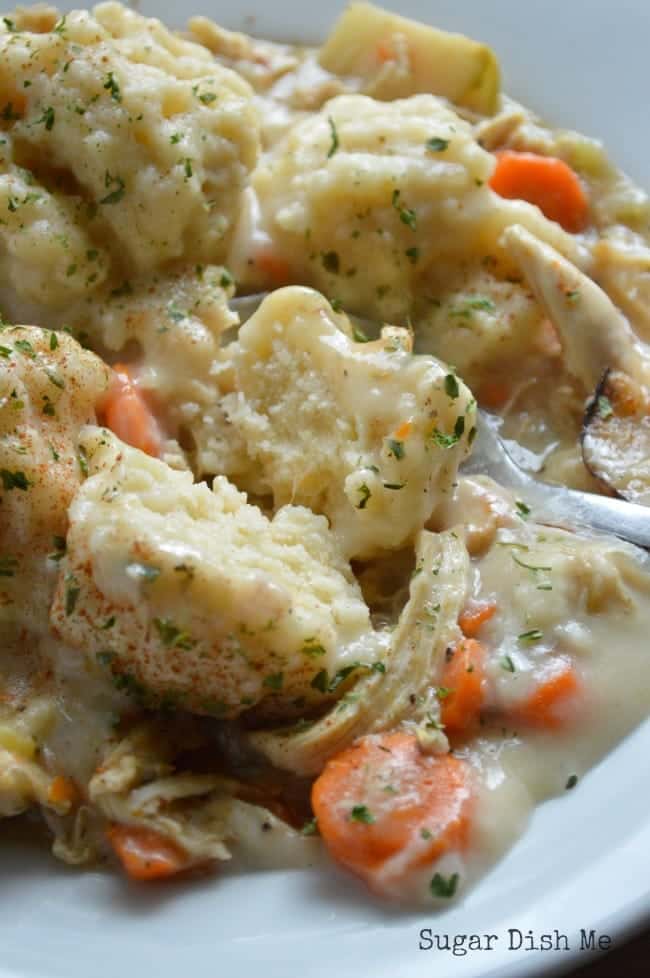 So obviously this is not health food. Chicken and Apple Cheddar Dumplings definitely qualify as stick-to-dem-ribs comfort food. No regrets. Just do it.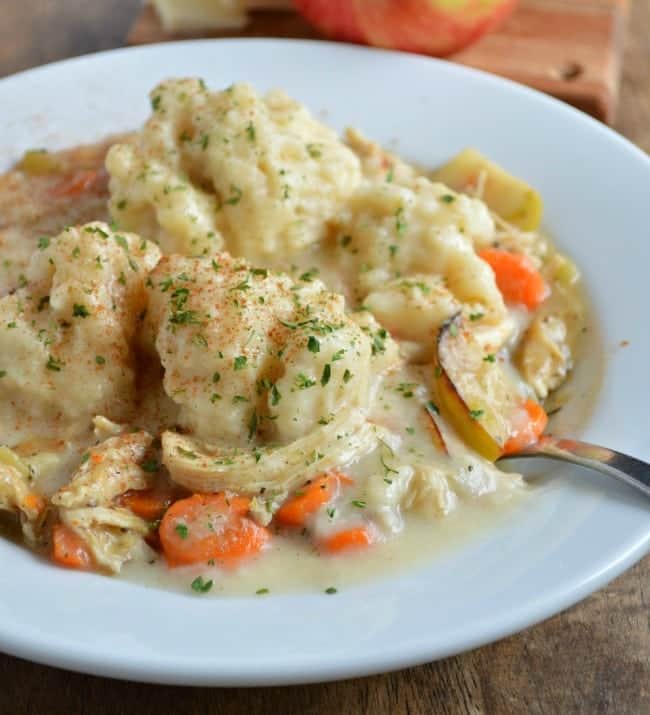 Yield:

6-8
Chicken and Apple Cheddar Dumplings
Total Time:
1 hour
20 minutes
Chicken and Apple Cheddar Dumplings start with creamy chicken stew topped off with the fluffiest dumplings stuffed with grated apples and sharp cheddar. A fall flavorful twist on a comfort food favorite! This recipe takes a little bit of time but is worth every minute!
Ingredients
2-3 bone-in, skin-on chicken breast halves
2 teaspoons salt + more to taste
1 teaspoon pepper + more to taste
1 tablespoon oil
1 cup celery, chopped
1 cup onion, chopped
1 1/2 cups carrots, sliced
1 cup crisp apples, chopped
2 teaspoons dried parsley
1/2 teaspoon dried thyme
1/2 cup all purpose flour
For the Dumplings:
2 cups all purpose flour
1 tablespoon baking powder
1/2 teaspoon baking soda
1/2 cup shredded sharp cheddar
1 apple, cored, peeled, and shredded
6 tablespoons melted butter
3/4 cup buttermilk (or regular milk works fine!)
dried (or chopped fresh!) )parsley to garnish
Instructions
In a large stock pot cover the chicken with water plus about 2 inches. Add the salt and pepper and bring it to a boil. Reduce the heat to a simmer and continue cooking for 15 - 20 minutes, skimming the foam from the top as necessary. Check that the internal temperature at the thickest part of the breast is 160°F (or that the juices run clear all the way to the bone). Remove the pan from the heat and remove the chicken from the pan with a slotted spoon, reserving the broth. Set the chicken aside to cool.
In another stock pot (I used a 4 qt.) heat the oil. Add the celery, onions, carrots, and apples. Cook for about 4 minutes over medium high heat. Add the parsley and thyme and cook for another minute.
Take the 1/2 cup flour and in a medium bowl whisk it together with 1 1/2 cups of the reserved broth, plus a little pinch of pepper. Slowly pour the liquid into the pot with the vegetables and stir. It will thicken over the heat as it cooks. Let it cook for a bout a minute before you add enough of the reserved broth to fill the pot a little over halfway.
Remove the skin from the chicken and pull the meat off the bone, shredding it with your fingers as you work. Toss the chicken into the pot and let everything simmer.
To make the dumplings, whisk together the flour, baking powder, and baking soda. Add in the cheddar and apples and combine everything until you have a coarse crumbly mixture. Pour in the melted butter and buttermilk and fold everything together with a rubber spatula until just combined.
Drop the dumpling batter into the simmering stew in large spoonfuls (I usually have 12 - 15 dumplings), reduce the heat to medium low, cover, and simmer for 12- 15 minutes. When the dumplings are done they will be fluffy and bready like a biscuit all the way through when you cut one in half.
Recommended Products
As an Amazon Associate and member of other affiliate programs, I earn from qualifying purchases.
Nutrition Information:
Yield:
8
Serving Size:
1
Amount Per Serving:
Calories:

535
Total Fat:

24g
Saturated Fat:

10g
Trans Fat:

1g
Unsaturated Fat:

11g
Cholesterol:

100mg
Sodium:

1119mg
Carbohydrates:

48g
Fiber:

4g
Sugar:

9g
Protein:

32g