Baked potatoes stuffed full of roasted broccoli and topped with a delicious lightened up cheese sauce. Lightened Up Cheesy Broccoli Potatoes are such a simple filling meal!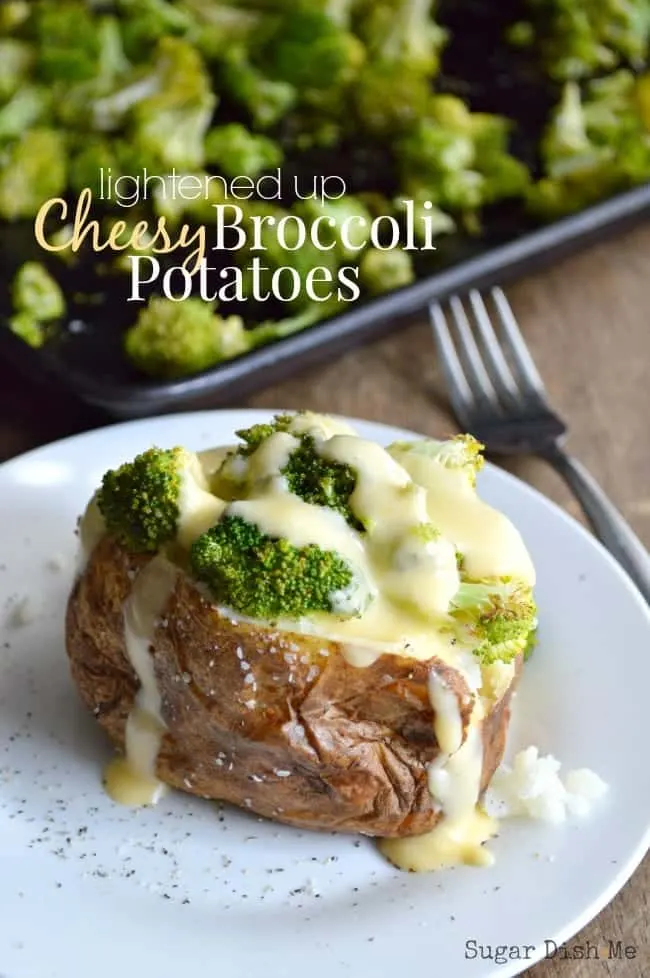 I am sooooooo excited about these potatoes, you guys.
I mean EXCITED.
I love a good baked potato, but really if you wanna know the truth I love CHEESE.
You're with me on that, right?
Usually though we have to go all easy on cheese because elastic pants are not cool.
But I found a work-around.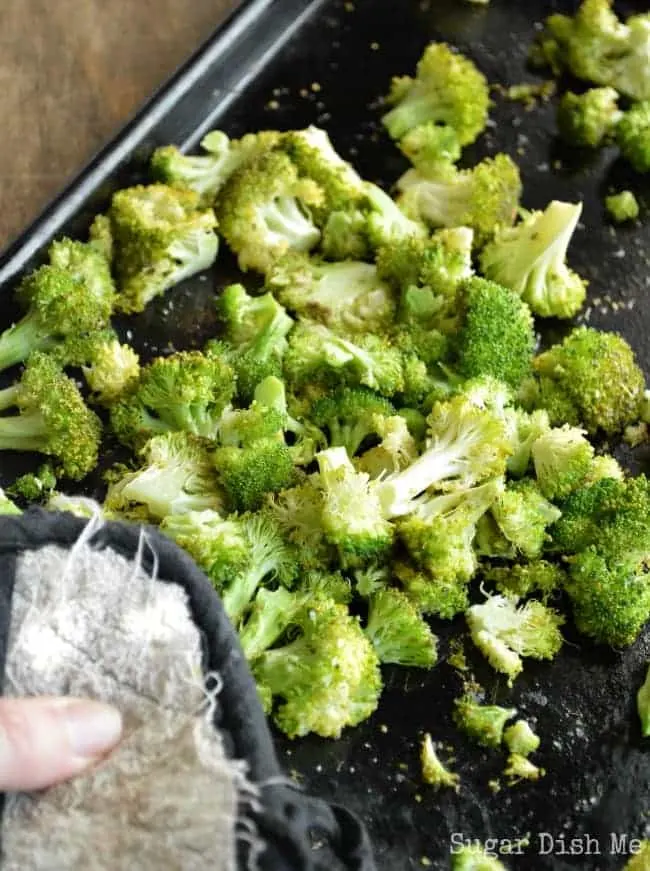 First things first: Broccoli.
Are you mad at me? Don't be mad. I love broccoli. I love it raw or stir fried or chopped into a salad or turned into slaw. It's the vegetable my mom served us most as kids, so I guess she likes broccoli, too.
Roasting vegetables is my most favorite way to cook them, while still keeping them crisp and full of color. It's like oven magic.
So I worked oven magic on the broccoli AND the potatoes. Rubbing the potatoes with olive oil and then sprinkling them with kosher salt gives them that crisp skin – you know the stuff that makes potato skins so delicious? Like that.
But the insides stay nice and fluffy.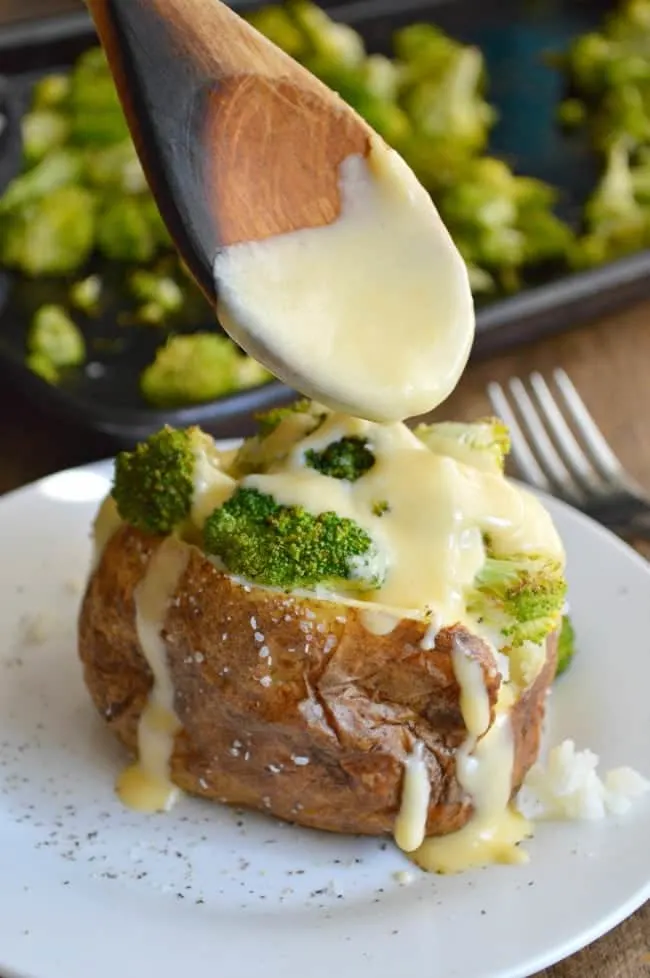 The hero here though — the stuff you are gonna flip over and then put on EVERYTHING is this cheese sauce. CHEESE SAUCE. I lightened it up and you seriously can't even tell the difference.
I use the same basic sauce for my Philly Steak and Grilled Cheese Sandwiches and my Lightened Up Loaded Cheese Fries, but I went the distance and lightened it up even more without sacrificing flavor or texture.
There are lots of low fat cheeses on the market, but you all know I am a Cabot cheerleader (full disclosure: they do send me product on a regular basis, but I have always bought their cheese anyway and it is consistently amazing). They have two varieties I use to make this sauce–50% less fat and 75% less fat. Sometimes light cheese doesn't melt, it glops. But not THIS cheese. Oh no. It melts all smooth and creamy and perfect.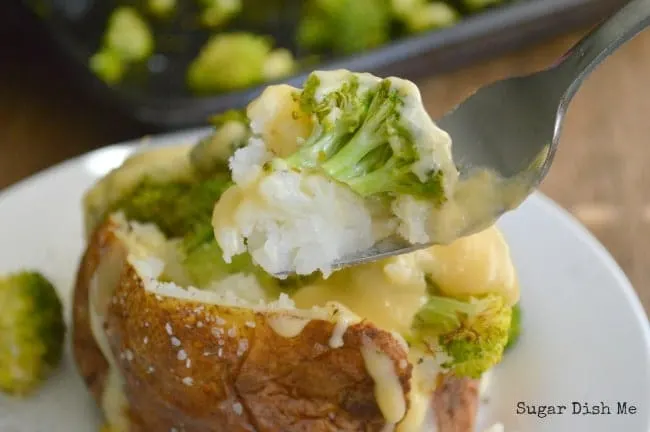 With a little low fat milk and a little olive oil, you get this sauce that pours and coats the veggies just perfectly.
You could also pour the sauce on pasta. Or chicken. Or dip your sandwiches in it.
Or get a spoon.
Lightened Up Cheesy Broccoli Potatoes
Perfect baked potatoes with a crisp skin and a fluffy inside, stuffed with roasted broccoli and a lightened up cheese sauce you'll want to put on everything!
Ingredients
4 medium Russet potatoes, scrubbed
2½ tablespoons olive oil, divided
1 tablespoon kosher salt
2 large heads of broccoli, stems trimmed off
½ cup cold 2% or skim milk
½ teaspoon cornstarch
1 cup reduced fat cheese (I used ½ cup Cabot Light Cheddar and ½ cup Cabot Extra Light Cheddar)
Instructions
Preheat the oven to 425° F. Rub each potato all over with 1 tablespoon of the olive oil and then pierce each potato several times with a fork. Over a plate (to catch the excess) sprinkle the potatoes with the kosher salt and then place the potatoes directly on the oven rack to bake for 45 - 50 minutes.
During the last 10- 15 mins of baking toss the broccoli florets with another 1 tablespoon of the olive oil. Scatter it evenly across a baking sheet and sprinkle with the leftover kosher salt (to taste). Place the broccoli in the oven and roast for about 10 minutes. The broccoli will be bright green and just a little bit crisp on the side touching the baking sheet.
While the broccoli and potatoes finish baking, place a medium saucepan on the stove. Stir together the milk and cornstarch and then bring it to a simmer (keep the heat medium to medium low). It will thicken. Stir in the remaining ½ tablespoon olive oil. Then stir in the cheese until the sauce it smooth.
To serve, split the potatoes and top each with the roasted broccoli and then spoon the cheese sauce over them.