A simple side dish made with grape tomatoes, fresh basil, asiago cheese, and toasted orzo. Easy Caprese Orzo is terrific, fast, and fresh anytime of year!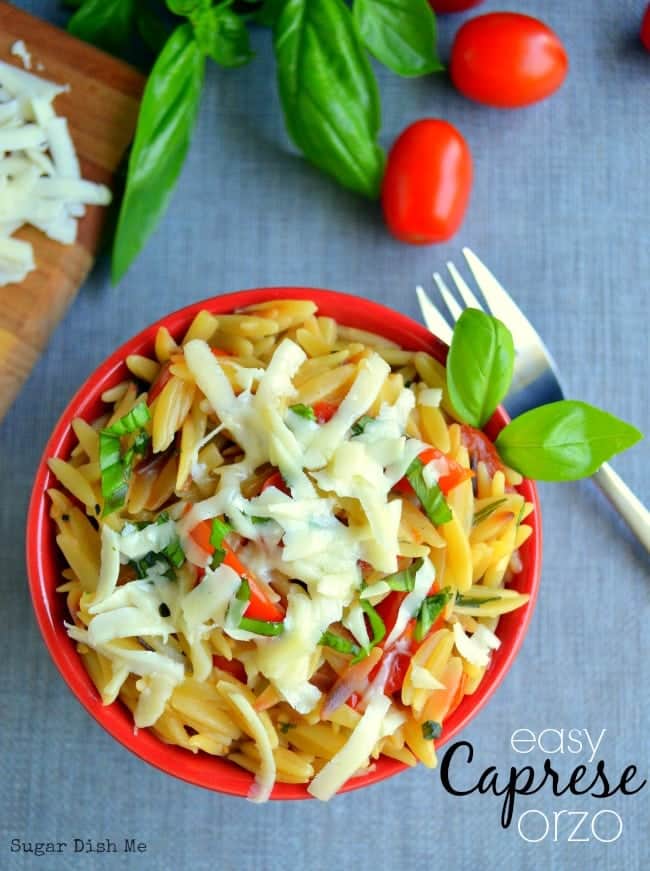 Are you screaming at me that this is a summer dish right now? Shhhhhhhhhhh. It's okay.
It is. I know it is.
But hear me out. Because this is really all Betty's fault.
See I did have this really beautiful potted herb garden. Sage, basil, oregano, thyme, chives — everything was flourishing on the front porch at our old house. At the new house we have a deck right off the kitchen. It's partially shaded by a big pecan tree and offered the perfect protected spot for all my pretty pots. Plus who doesn't want an herb garden right outside their kitchen?!
I'll tell you who.
Betty.
See, we have this humongo fenced yard which means my furry monsters can run around to their hearts content and then come inside to sleep under my desk and have a nap. In my next life I would like to return as a dog in this family.
But Betty was not satisfied with her freedom to run and play and chase birds and chew sticks. When I peeked out the back windows to see what the dogs were up to, I spied my fluffy little freckled white mop galloping around with a dirt ball in her mouth, happy as ever. I stepped onto the deck to see what in the world she'd found and walked straight into a crime scene.
Potting soil everywhere. Overturned ceramic pot. A few scattered leaves of basil. Herb garden murder.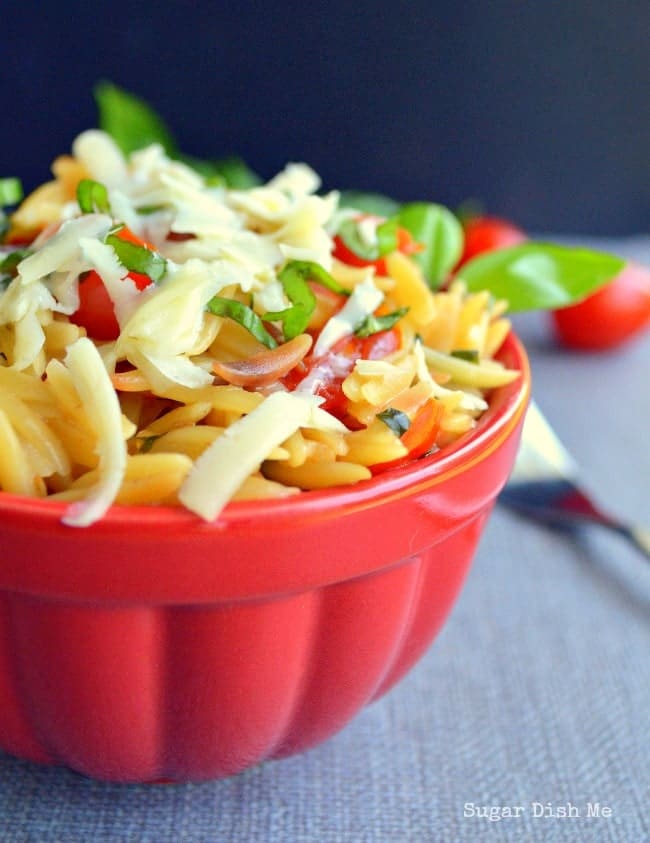 Fortunately, my local grocery store always has these little live herb plants in the produce section that are actually just as cheap as buying a bunch of herbs. And it's getting cold so I was gonna have to bring that herb garden in anyway. Problem solved! Fresh basil year round. My favorite summer flavors are forever at my fingertips. Because let's be real here: tomatoes, basil, and cheese taste good all the time.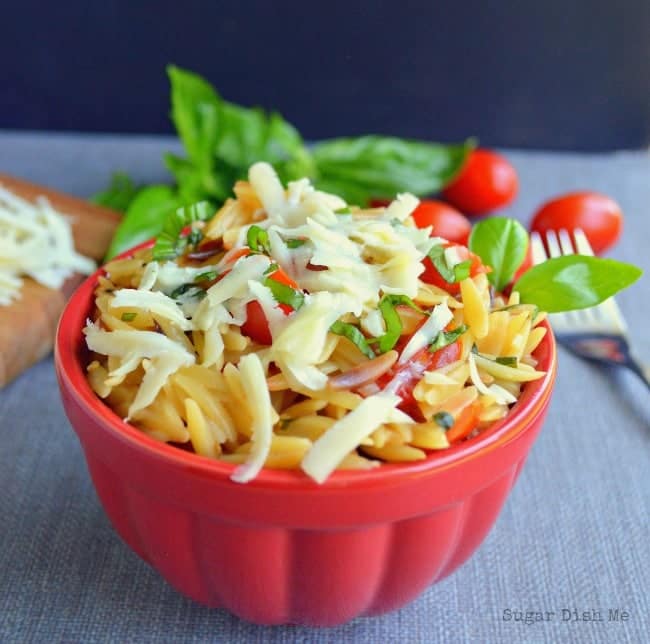 This recipe is super fun to make — it comes together kinda like risotto, except faster. Toasting orzo in a pan also reminds me of making Rice-a-Roni as a kid. Good times.
Oh! And before I forget — I do know that traditionally "caprese" means fresh whole milk mozzarella. Use that by all means if you are a stickler. Or cut the calories with part skim mozzarella. I used asiago cheese and the creamy sharpness made me happy. It's your call! We love all cheeses equally.
Easy Caprese Orzo
A simple side or light meal! This Easy Caprese Orzo serves up classic summer flavor all year long and is ready in less than 30 minutes!
Ingredients
1 tablespoon olive oil
2 cloves garlic, minced
½ teaspoon kosher salt
1 cup dry orzo
1½ cups broth (chicken or vegetable)
1 cup grape tomatoes, halved
water, as needed
½ cup shredded Asiago cheese (or mozzarella!!), plus more to garnish
¼ cup fresh basil, chopped, plus more to garnish
Instructions
Heat the olive oil in a large skillet. Add the garlic and salt and cook over medium high heat for only a minute until fragrant (don't let the garlic burn! Burned garlic tastes bitter). Then add ½ cup of the orzo. Stir it around to let it toast for a minute or two.
Add the remaining orzo and ½ cup of the broth. Stir everything around in the pan until the pasta absorbs the liquid. Toss in the tomatoes and the remaining 1 cup of broth. Stir occasionally until the pasta absorbs the liquid.
If the pasta is still undercooked, add water ½ cup at a time, stirring a little between each addition, until the liquid is absorbed and the pasta is a tender al dente.
Stir in the cheese and the basil and serve the orzo warm.
Top each serving with a little more cheese and basil.