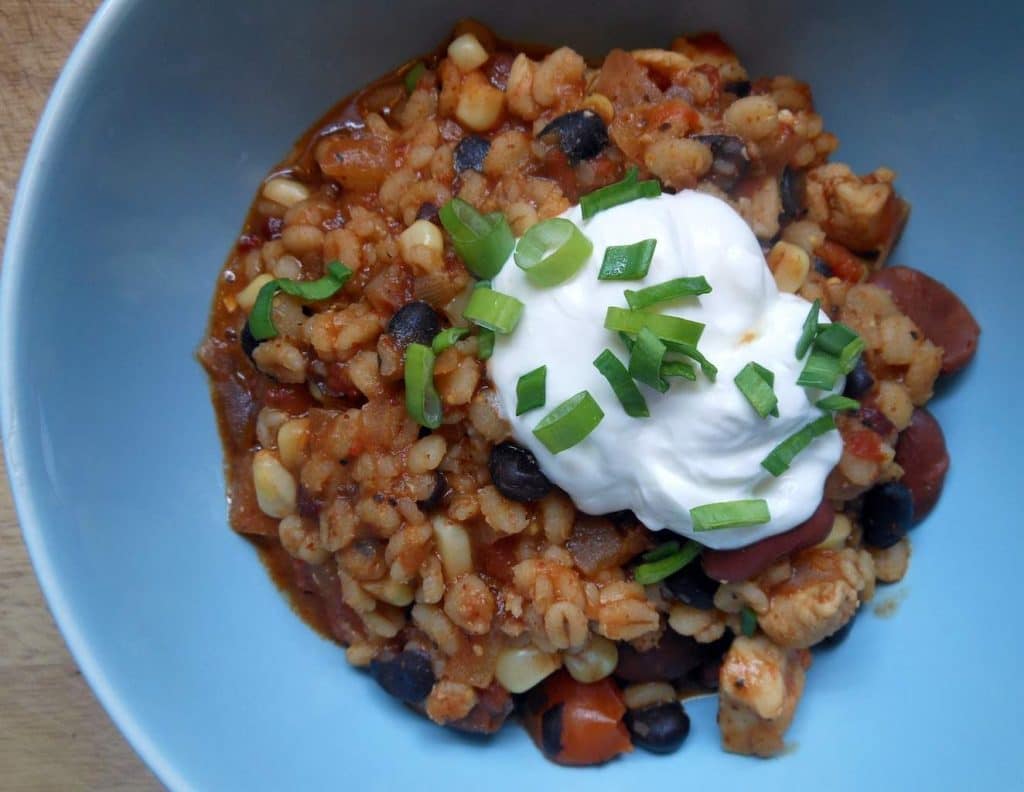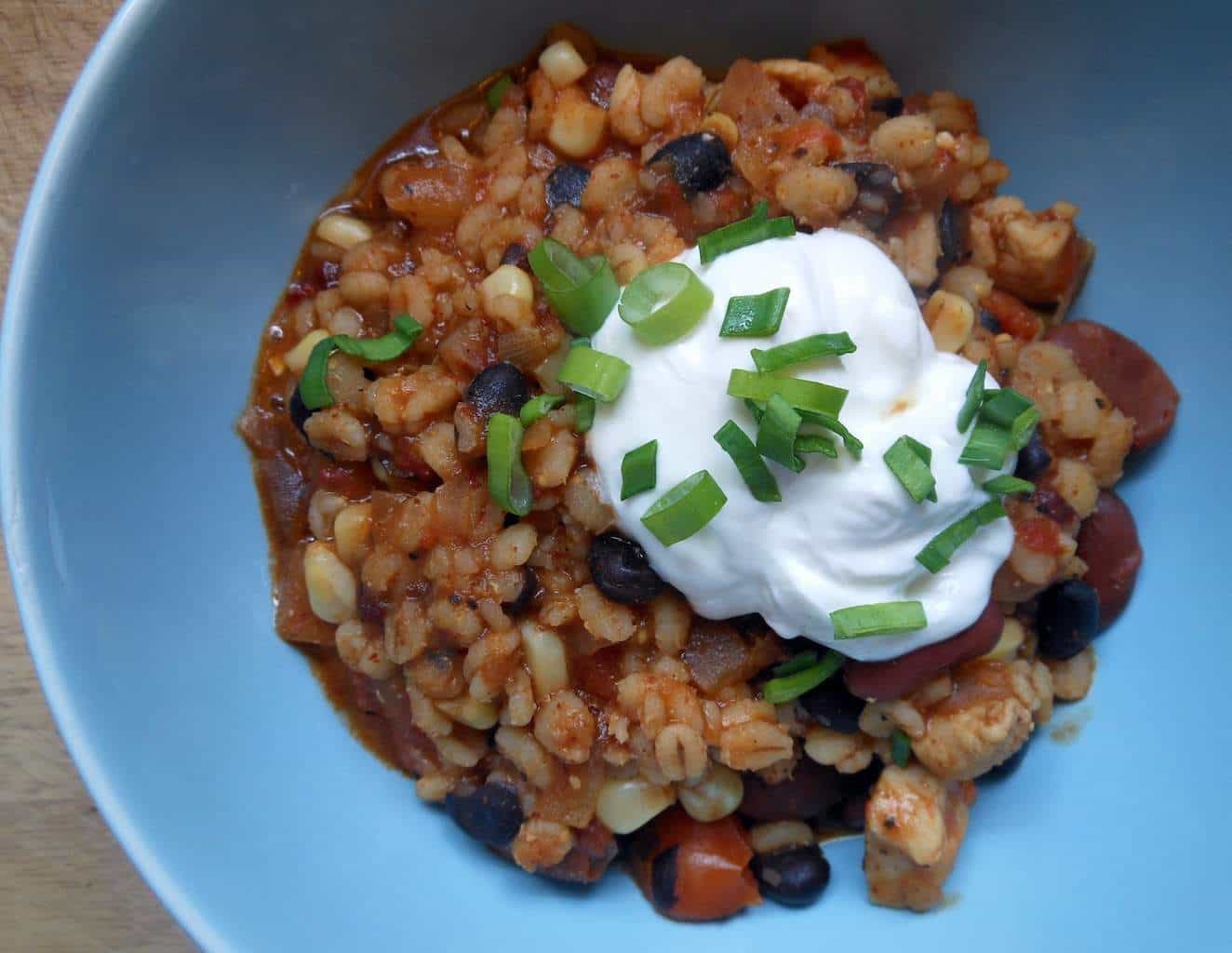 Heart healthy, warm & cozy, spicy, barley-filled chili.
My favorite chili recipe to date.
Not even kidding.
I don't have a lengthy dialogue for you right now because I'm feeling kinda crabby. My 12-year-old was gabbing away LOUDLY on the telephone to a girl all evening (yeah. it's a thing again. and I just don't even know what to think about that). Evan left a bowl of potato soup in the floor (WhYYYYYYYYYY do boys do weird things?) and Miss Lucy was more than happy to help him finish it off. She was pretty ecstatic really.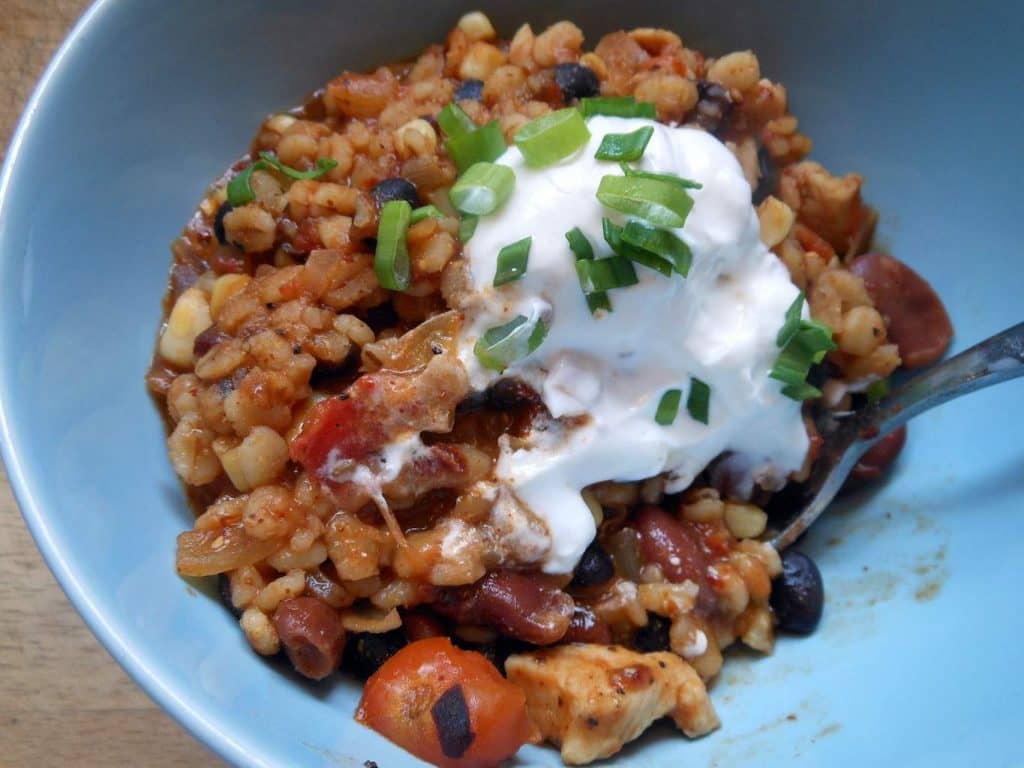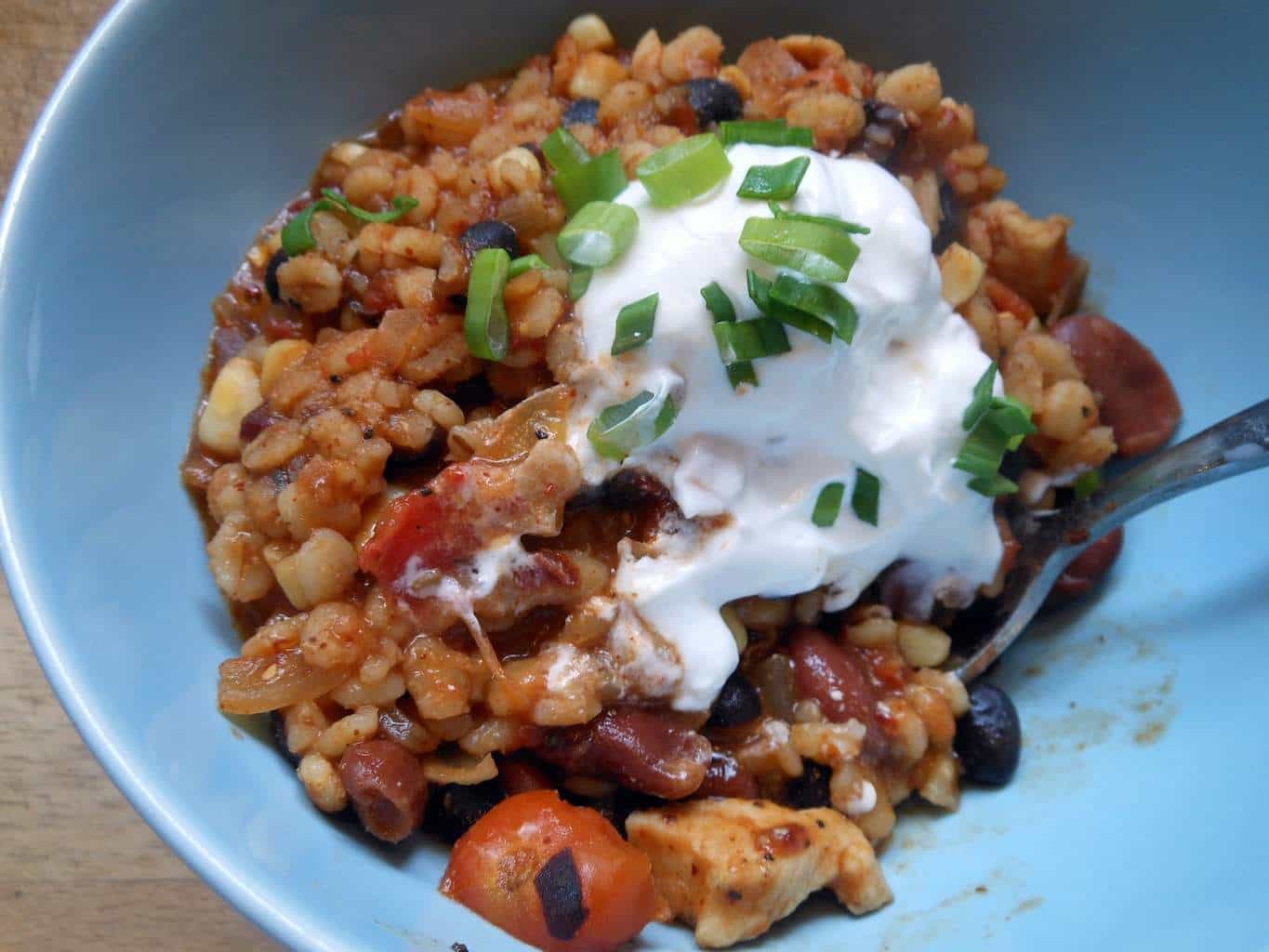 Then I Googled a YouTube tutorial because I got lost on some computer garbledy gook editing. The tutorial proved to be full of super useful information except the guy's voice made me wanna pull all my hair out. I really wish he'd found a pleasant-sounding person to narrate. Is that mean? Because I really almost couldn't make it through 9 minutes of his crackly, nasally, I-need-a-drink-of-water-dry-mouthed voice. That guy paired with Andrew's ongoing totally I-don't-even-know- what conversation with a girl basically meant that I've spent most of the evening wondering why on earth I don't have a bottle of wine stashed somewhere?
It's been one of those evenings.

So this chili. It's awesome. Make it. Goes well with wine.

Chicken & Barley Chili
Ingredients
1½ pounds boneless skinless chicken breast, cut into 1-inch cubes
2 tablespoons olive oil
1 large onion, diced
2 cups low sodium chicken broth
1 can diced tomatoes
2-3 tablespoons chipotle peppers in adobo sauce, very finely chopped
3 cups water
1 cup quick barley
1 tablespoon chili powder
1 teaspoon cumin
1 (15 ounce) can black beans, drained and rinsed
1 (15 ounce) can dark red kidney beans
1 cup frozen whole kernel corn
light sour cream & green onions to garnish
Instructions
In a large deep skillet heat the olive oil and brown the chicken. Remove the browned chicken and set aside.
Add the onions to the skillet with a little splash of chicken broth and cook until soft, 4 or 5 minutes.
Add the rest of the chicken broth, the diced tomatoes, the chipotle peppers, water, barley, chili powder & cumin.
Bring it to a boil, cover, reduce the heat and simmer for 15 minutes.
Add the black beans, kidney beans, and corn. Add the chicken back in. Re-cover and continue cooking for 15 more minutes. Add more water or broth if you want a thinner consistency.
Garnish with the sour cream and green onions and serve.
Adapted from
THIS
recipe at QuakerOats.com