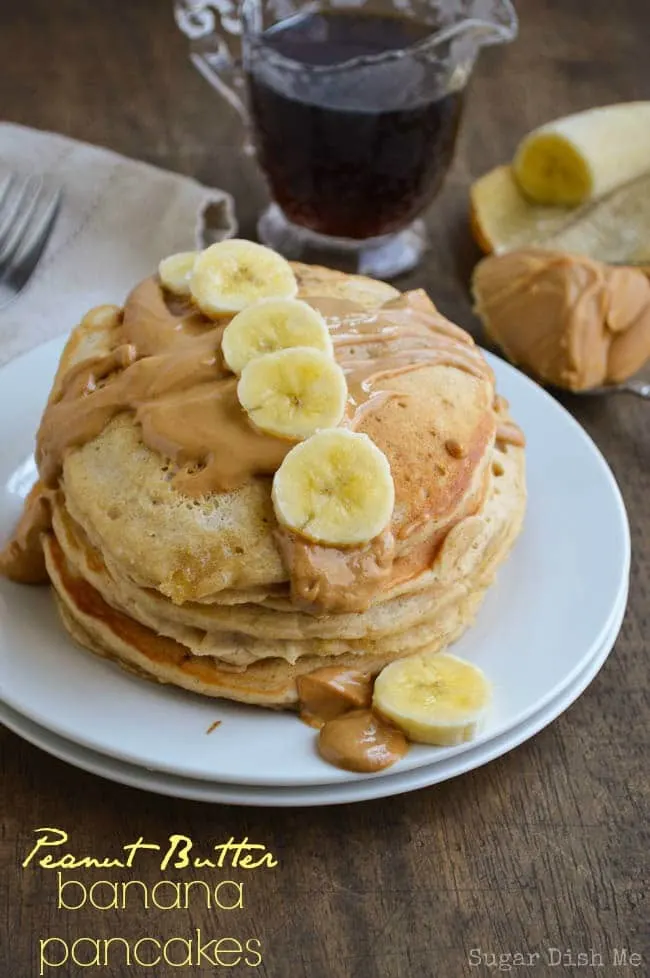 It's been awhile since I blasted you with breakfast. It's still my favorite. Nothing's changed so don't worry.
For a couple of months I felt like my recipes were about 85% breakfast between all the muffins, scones, and egg bakes. Deanna thought maybe I should open up a breakfast joint because I was talking about pancakes, bacon, and eggs like every. single. day.
And you know I'd consider it if it weren't for a few things like working weekends, people that think doubling the tax or leaving 10% is a good tip, and ummm… start up money. Fix all those things and you could count me in.
You should know going into this recipe that I absolutely CANNOT make banana pancakes without getting Jack Johnson stuck in my head. I've decided that's never a bad thing.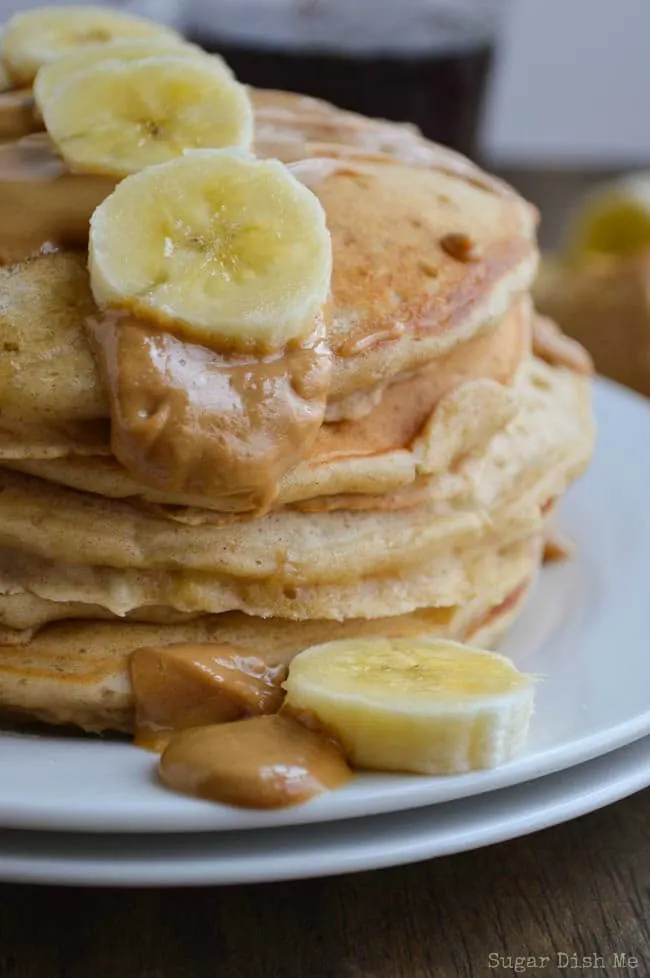 So much has happened in the last few days- I feel like I have a million billion things to catch you all up on. If you follow me on twitter, then you already know all about the puppy. If you don't then you might remember THIS POST from the first of the year detailing my disdain for my neighbors and all my stress and heartache over the cutest little puppy. Over the weekend the neighbors redeemed themselves an itty bitty bit though, because they made the MOST AWESOME decision to give the puppy to me!!!!
After the puppy spent two nights on my couch, stressed me to no end when I had to let her back out in the morning and she started to wander out towards the busy road, and I was contemplating a covert puppy relocation operation, I finally decided to go knock on the door and try to appeal to the neighbors sensibilities.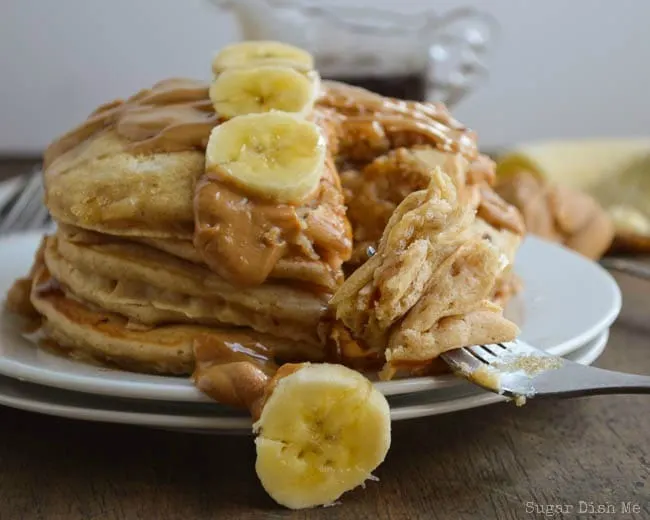 I just explained how much we adore the puppy and that I could tell she was kind of a handful. I told them that I work from home, have the time to spend with her, and just wanted them to know that if they'd taken on more responsibility than they could juggle with so many small children (I think they have 3, and none of them are in school), that we would be more than happy to take her off their hands. I told them if they wanted to think about it they could just let us know… AND THEY DID!!
Not 30 minutes later Neighbor showed up at the back door and told us we could have the sweet puppy.
Her name is Lucy. I love Lucy.
I love pancakes.
Norma Jean loves neither Lucy nor pancakes. But I think she'll be okay.

Peanut Butter Banana Whole Wheat Pancakes
Ingredients
¾ cup whole wheat flour
¾ cup all purpose flour
2 tablespoons brown sugar
1½ teaspoons baking powder
¼ teaspoon baking soda
½ teaspoon cinnamon
½ teaspoon kosher salt
1 egg
2 tablespoons peanut butter
1½ ripe medium sized bananas
1½ cups fat free buttermilk
additional peanut butter & bananas for garnish
maple syrup for serving
Instructions
In a large bowl whisk together the flour, brown sugar, baking powder, baking soda, cinnamon, and salt. Set aside.
In a smaller bowl lightly beat the egg, peanut butter and mashed bananas. Pour in the buttermilk and stir to combine.
Add the wet ingredients to the dry ingredients and then let them sit for 5-10 minutes while the leavening agents begin to work.
Heat a large skillet or pancake griddle over medium high heat. Lightly grease with butter or non-stick cooking spray.
Pour the pancake batter ¼ cup at a time onto the cook surface and let it cook until the top is bubbly. Flip the pancakes, let the second side cook for just a minute, and then remove from the heat.
If you want more peanut butter, spread the top of each pancake with about a teaspoon and then stack them up. Garnish each stack with more freshly sliced bananas and maple syrup.
Slightly modified from
my Gingerbread Pancake Recipe
Before I go, just a couple of things: #1- I sandwiched extra peanut butter in between the pancakes before I syruped them. YUM. #2- If you've not yet entered the Abe's Market Giveaway, DO IT!!! All you have to do is leave a comment on the post and check the little box on Rafflecopter. You can earn extra entries for following on Facebook, twitter, or subscribing by email. Forty bucks is up for grabs, so GO!