Soft sugar cookie bars loaded with rainbow sprinkles and topped with pretty buttercream frosting. Frosted Funfetti Sugar Cookie Bars are easy to make and perfect for sharing with friends!!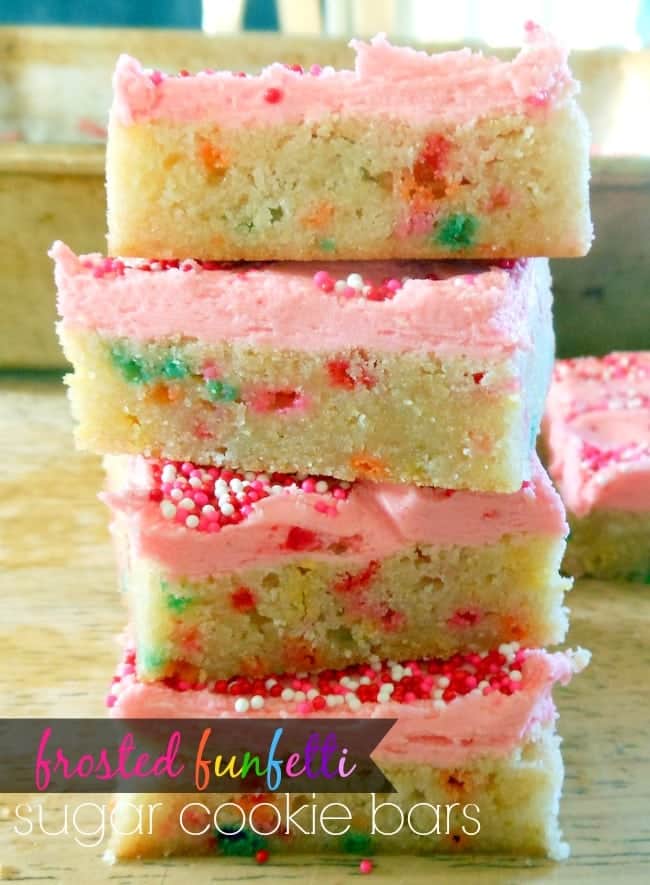 I wanna talk about friends.
GOOD friends. Best friends. Friends that you can call at 2:30 in the morning with your latest freak out. Friends that know all your inside jokes. Friends that you can converse with in a room full of other people, never ever saying a word. Friends you can share your kitchen with like an old familiar routine (and those aren't easy to come by!). Meridith's Christina,Monica's Rachel OR Monica's Phoebe OR Phoebe's Rachel, Annie's Lillian … you understand, right?
I was reading THIS article the other day and it really tugged at my heart strings because once upon a time I had a friend like the one she describes.
And we were ridiculous. Completely silly. And I felt certain that we'd be the best of best of friends until we were super old with walkers and enough hair dye to cover up the gray.
Things change, life happens, time passes on; she bought a far-away house and then I moved farther away. But we were still on the phone all the time, bouncing ideas off of each other, reciting mundane tasks and grocery lists.
I know when the problem started. And then it just… COMPOUNDED.
I think that a big part of being a good friend and having a good friend is keeping it real. I mean RILL.
If I'm about to make what you think is a big gigantic monumental mistake and your feelings are coming from a good place, then SAY SO!!! And if I eff it all up anyway then bring me wine and chocolate and gloat when you say, "I told you so." Because at least you told me and you're here to pick up the pieces. You know?
Sooooo… if you're my friend and you keep letting the same lame dude hurt you over and over and over again for like going on two years now and I say, "He's stupid," when you cry, and, "He doesn't deserve you," when your heart is broken (AND I'M RIGHT), then you should know it's because I love you to pieces. Not because I want you to hide it all away and quit calling.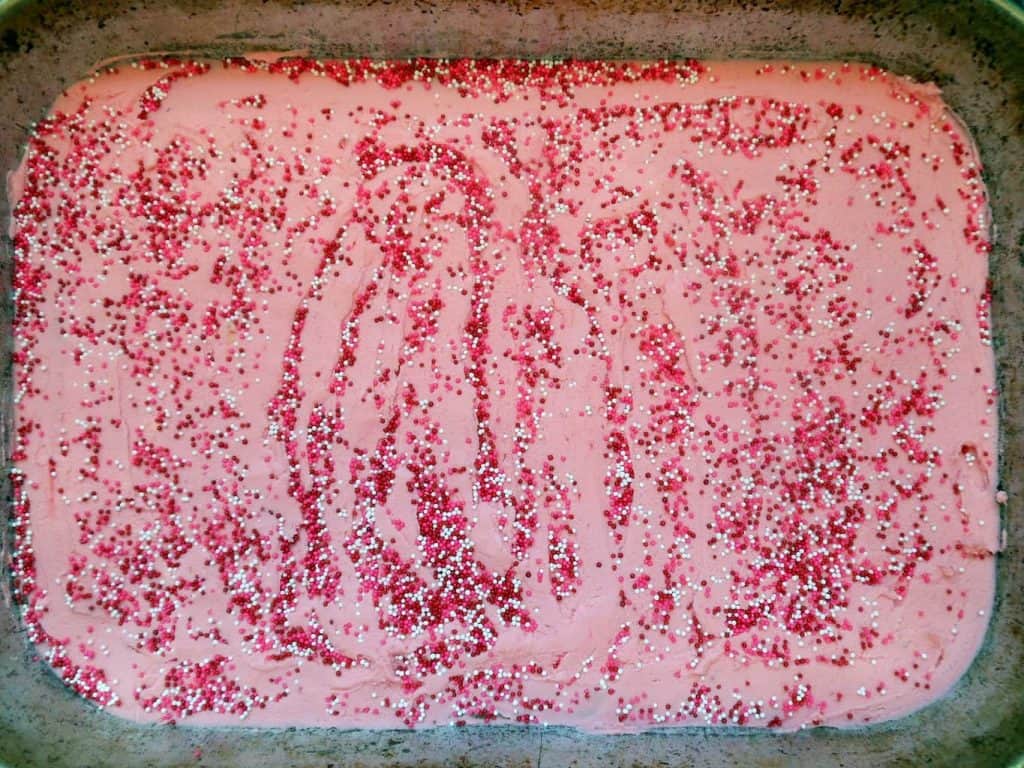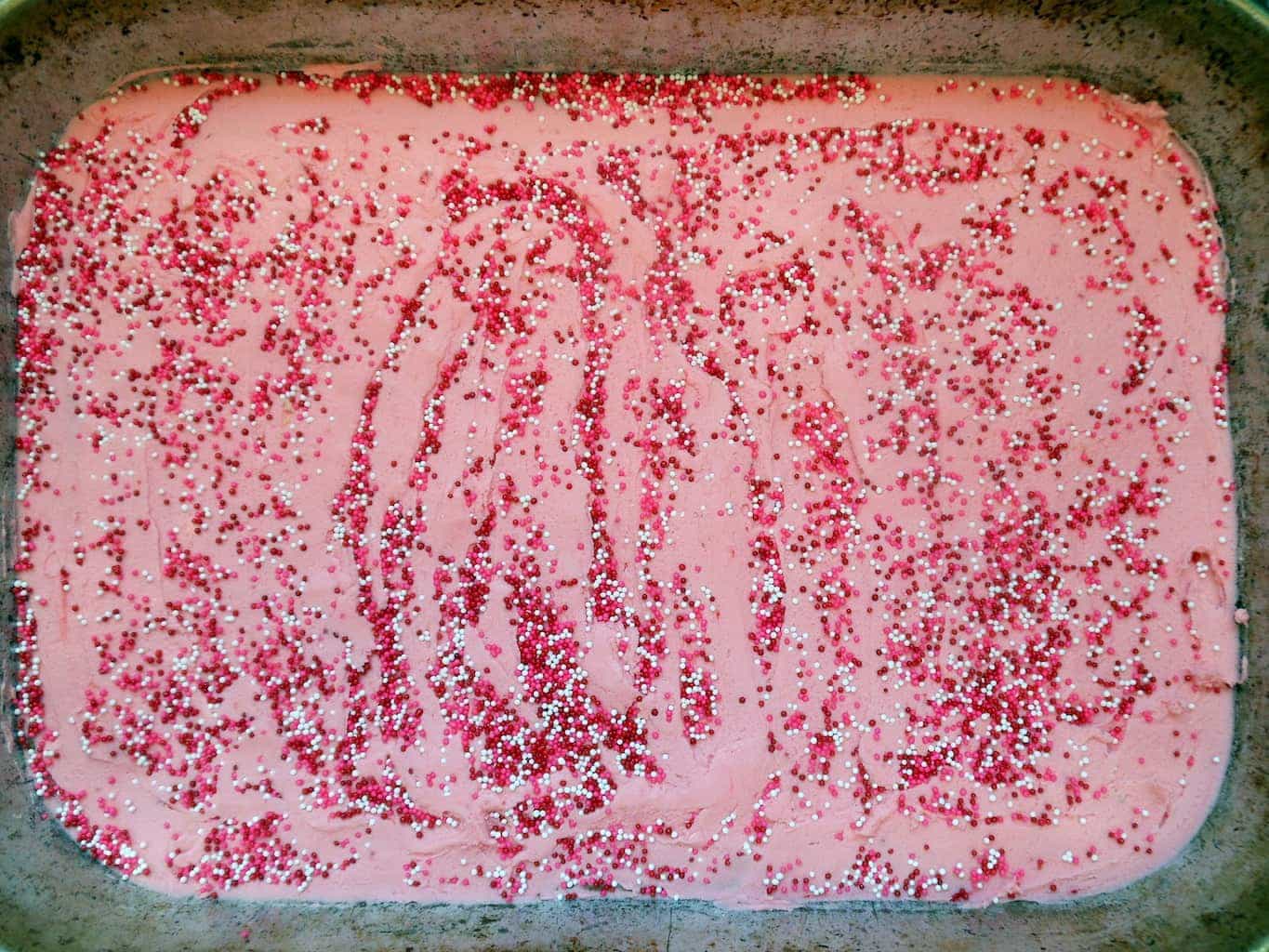 Just… hypothetically, you know?
Also- if I make career changes and try to pursue things that are important to me… if I decide to remember what it is to be creative and run with a rare opportunity, as my friend you are supposed to support me. You're supposed to tap into your social network and champion me!!! Because I'm your friend. Unless I totally suck at it. If I suck, see above.
And you know what? Friends that have only ever read my words, INVISIBLE INTERNET FRIENDS, who've never heard my voice or witnessed my mannerisms or been bribed with buttercream frosted cookies – they GET that. A best friend should get that, too.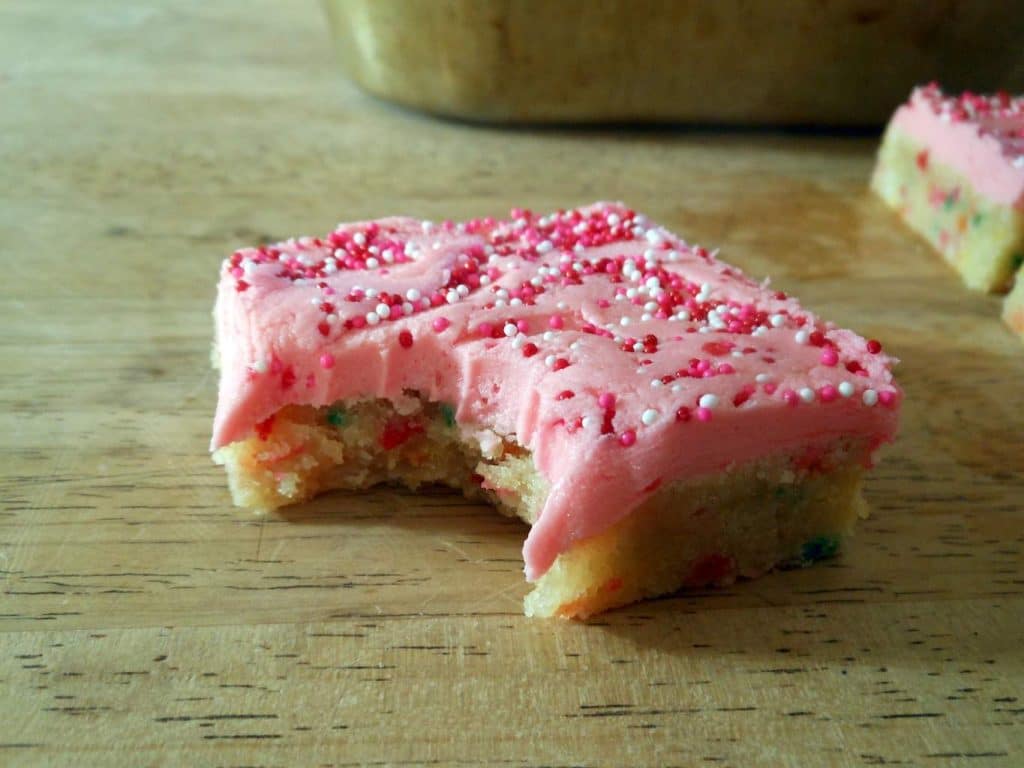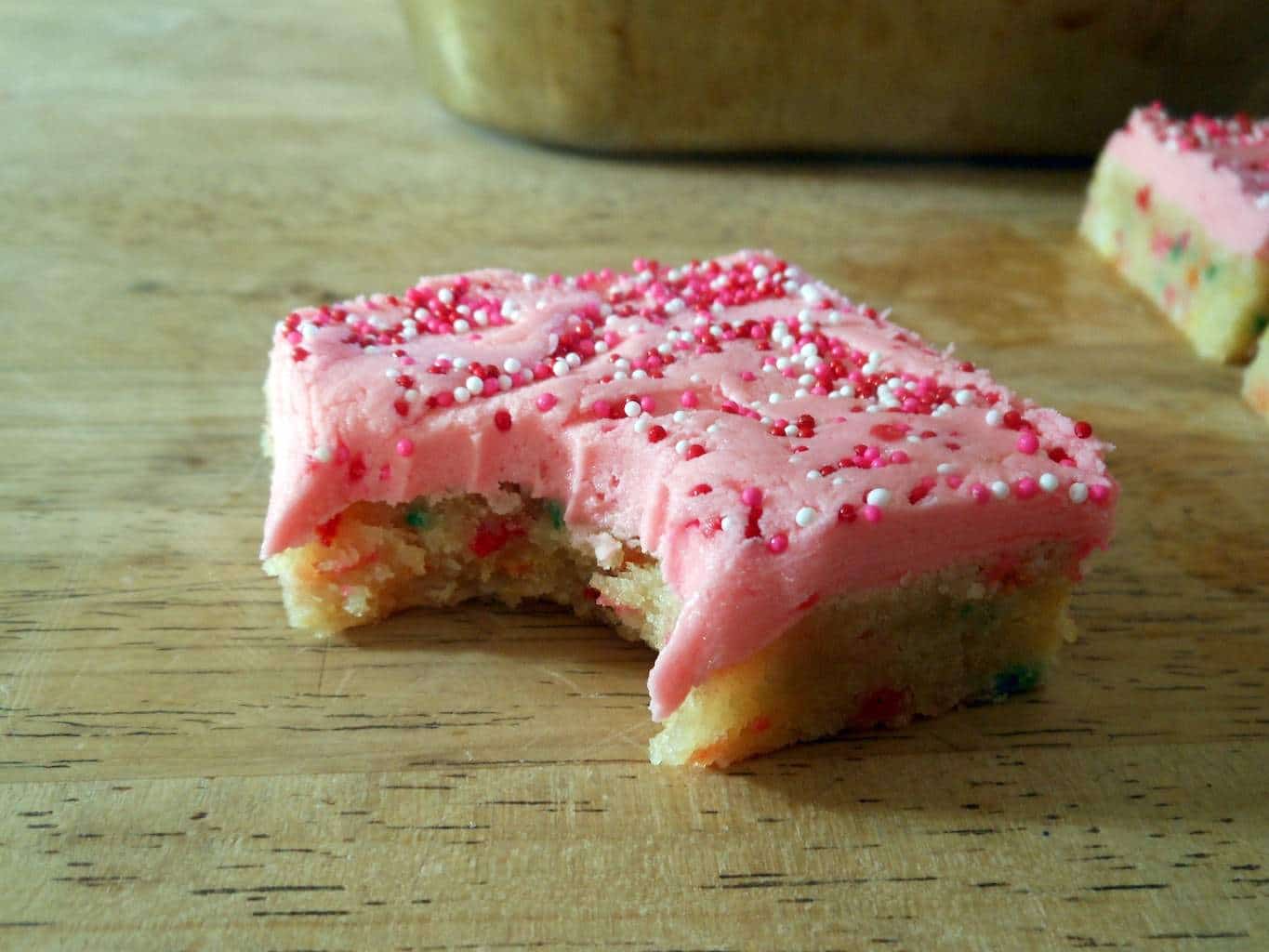 For all of you that show up here every day, or some days, or even just a few days out of the blue— I made these cookie bars for you. We might not be emergency contact friends, or too much wine with dinner friends, or let's take Thursday nights off of work for like 2 whole years so we never miss an episode of Friends friends (Johanna… I'm talking to you! #2002), but we ARE friends. And I dig you.

Frosted Funfetti Cookie Bars
Ingredients
Funfetti Cookie Bars:
2 cups all purpose flour
½ teaspoon baking powder
½ teaspoon salt
1 cup unsalted butter, softened
1 cup sugar
2 tablespoons brown sugar
1 egg
2 teaspoons vanilla
½ cup sprinkles
Buttercream Frosting:
food coloring if desired
more sprinkles for decorating
Instructions
Pre-heat the oven to 375.
In a medium bowl whisk together the flour, baking powder, and salt. Set aside.
In a large bowl, beat 1 cup of the butter, the granulated sugar, and the brown sugar until creamy and smooth.
Beat in the egg and vanilla.
Add the flour mixture and mix until combined completely.
Mix in the sprinkles.
Press the dough evenly into a 9 X 13 pan. Bake for 15-18 minutes or until the center is slightly firm and the edges are a little golden brown.
Let the pan of cookie cool completely.
While it cools, make the buttercream. Beat the ½ cup of butter with the powdered sugar. Add the 1 teaspoon of vanilla. Splash the milk in 1 tablespoon at a time to reach the desired consistency. Add the food coloring and beat the frosting until smooth.
Spread the frosting over the cooled cookie bars and then top with more sprinkles. You can very gently press the sprinkles into the buttercream so they'll set.
This recipe was COMPLETELY inspired by
THESE
Frosted Sugar Cookie Bars at The Baker Chick. I used
THIS
super crazy perfect sugar cookie recipe from Averie Cooks. Ladies- you are so cool.