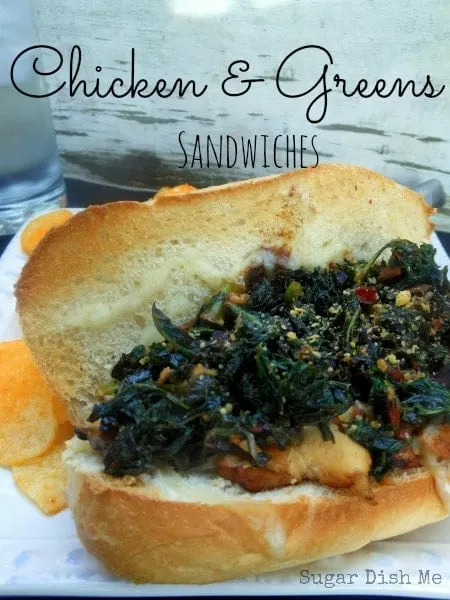 I feel like lots of times the story behind the food I share is the same: Once upon a time I worked in __________ restaurant and we served _________ dish and I loved it so much so I decided to try to make it at home and we all lived happily ever after.
The End.
This is like job history/restaurant menu Mad Libs.
But anyway.
The story is the same. I wish I were one of those people with family recipes passed down from my grandma's grandma and we had this whole genetic kitchen identity thing happening but… that's not my story. My grandma made only one thing that I ever remember : potato salad. And I mean it was goo-oooo-ood potato salad! But that's all she made. In my grandma's defense she had crazy rheumatoid arthritis and could barely use her hands, so instead of turning the keys in the ignition of her car she just jammed a screwdriver in there and cranked it on up.
Resourceful little lady.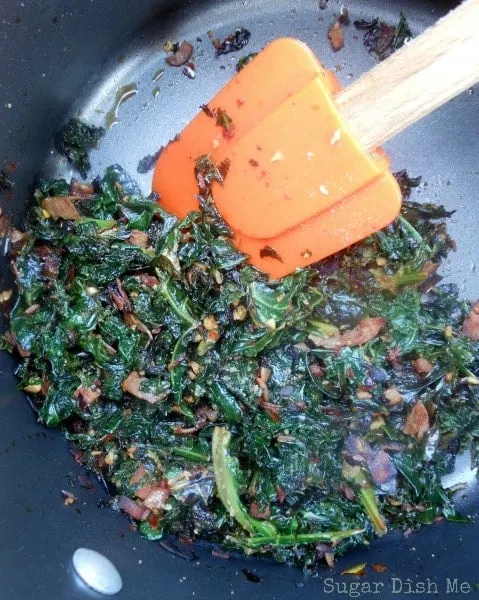 So maybe my grandma would have written down a bunch of awesome family recipes if she'd been able to write? I guess it doesn't really matter though because I learned something FAR more important than pie crust from Grandma: Make the best of it.
One day maybe I'll be the person that passes on the recipes to my kids and they flip through my notebooks and try to decipher what the word is between the greasy butter spots and specks of brownie batter on each page and then SURPRISE!!!! There is a payment confirmation number for the power bill scribbled dangerously close to the flour measurement and now you have no idea if it's 2 cups or 20334A561.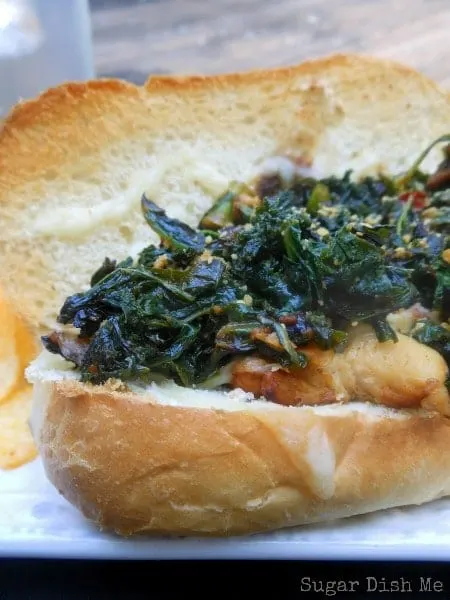 So let's be clear that this is not my grandma's recipe. It's not even authentic as far as Rome, NY greens go because they are definitely always escarole and this is kale. You can use escarole (not always available) but I've been able to find kale in every store ever which makes my life easy. I used to work in a place that served these sandwiches (there it is) and let me tell you that on a cold day with a hot bowl of minestrone soup it really doesn't get much better (unless there are meatball subs involved).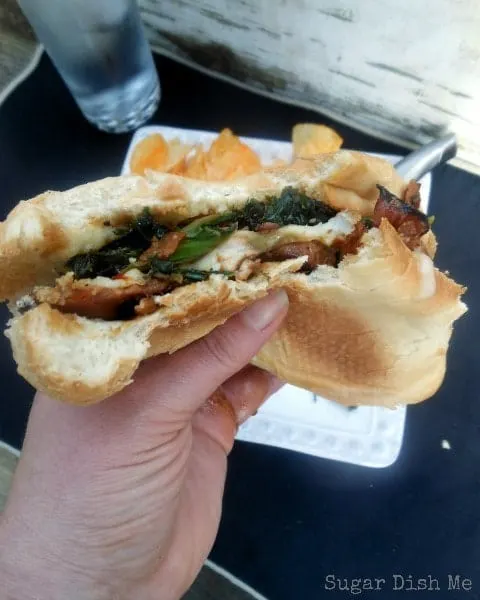 Chicken and Greens Sandwich
A play on a Rome, NY favorite -- sauteed greens cooked with garlic and crushed red pepper on top of sauteed chicken, melted cheese, and a toasty hoagie roll.
Ingredients
For the Greens:
2 ounces prosciutto or lean ham, cut into bits
3-4 large cloves of garlic, minced
¼ cup olive oil
½ pound kale, torn with stems removed (see note)
1 teaspoon crushed red pepper flakes
2 tablespoons low sodium chicken broth
¼ cup seasoned bread crumbs
Parmesan cheese to garnish
For the Sandwiches:
4 hoagie rolls
1 tablespoon olive oil
1 pound boneless skinless chicken, cut into 2" lengths
1 teaspoon oregano
½ teaspoon garlic powder
salt and pepper to taste
1 cup shredded cheese (I used a blend of mozzarella, provolone, and Parmesan -- you want sorta smoky and melty)
Instructions
Cook the prosciutto in a large pan or dutch oven.
Add the garlic and let it cook for just a minute until it's slightly golden and fragrant. Add the oil and let it heat.
Add the kale to the pot and stir to coat it with the oil. Let it cook down over medium high heat for about 12 minutes. When it has just wilted sprinkle it with the crushed red pepper flakes and chicken broth.
Once the greens are tender remove them from the heat and toss with the bread crumbs and cheese.
While the greens cook you can preheat the oven to 400 and place the hoagie rolls on a baking sheet.
Heat the 1 tablespoon of olive oil in a skillet. Add the chicken. Sprinkle it with the oregano, garlic powder, salt, and pepper. Cook until the chicken pieces are golden and cooked through -- about 7 minutes, depending on the size of your pieces.
Add ¼ of the chicken to each of the hoagie rolls. Cover with the cheese. Place the baking sheet in the oven and bake until the edges of the bread is toasty and the cheese is melted, about 4 minutes.
Top each sandwich with a helping of the greens and a little more Parmesan cheese. Serve hot.
Notes
#1- Rome greens are traditionally made with escarole. Sometimes I have a hard time finding escarole, but because kale is the new superfood you can basically find it everywhere. Which is why I used it here. You can certainly use escarole if you are looking for a more traditional dish.