Peppermint Fudge Cake is moist and dense and rich with pepperminty chocolate flavor. DEFINITELY one of my very favorite cake recipes.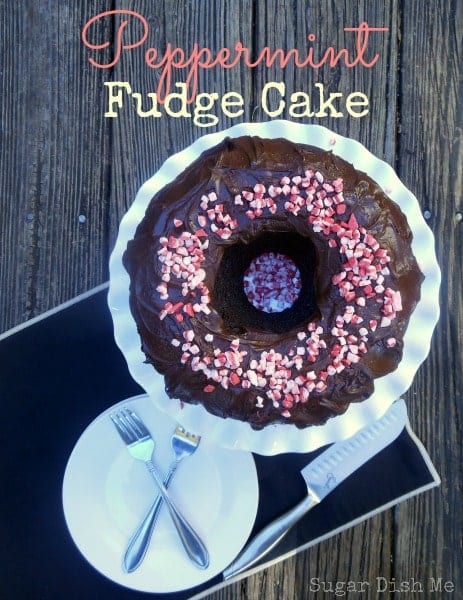 I am flat-out annoyingly excited about the holidays this year.
I am usually begging the retailers to stop shoving things in my face before it's time but this year is different. I went to buy bowls at Big Lots (if you are not in-the-know Big Lots is the land of all the best decorations for all the holidays ever) and got lost looking at Christmas wreaths and cute little snowmen that live in the front yard.
Don't hate me just yet — I am fully embracing the pretty fall leaves and still have a jack-o-lantern on my steps (who, I might mention, is looking a little worse-for-the-wear and we will probably have a pumpkin patch under our porch next year) — but I'm kind of excited about what's to come.
Or maybe I'm just excited about shopping.
Another thing to be excited about: CAKE. This Peppermint Fudge Cake, to be exact.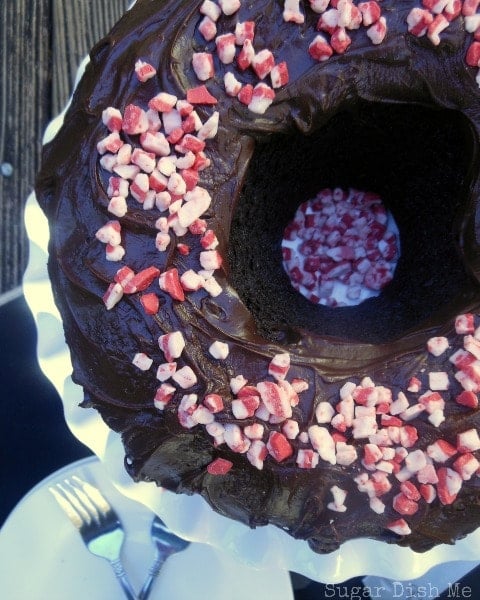 To prove that I am not totally out of line with my forward holiday thinking, some local businesses in my area are putting together a cool little event here tomorrow promoting some early gift-shopping and good deals. My contribution? This cake.
Peppermint and chocolate always feel cold-weather-appropriate to me so I thought a rich sticky peppermint-scented fudgey cake was perfect. It's covered in a thick ganache frosting made with the same Coffee-mate Peppermint Mocha Creamer that I used in the cake and then topped with crushed red and white peppermint baking bits for a little color and some extra mint. Then I added the creamer to my normally black coffee. Score.
To say this was a popular treat would be to put it mildly because it pretty much got inhaled – by my boys, by my Chad, by his family at a get-together, by my Chad again. My only regret is that I didn't hide any cake behind the frozen peas (cake hoarding).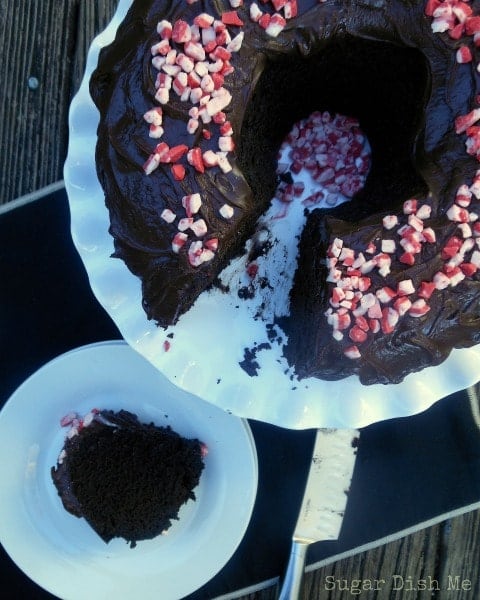 A quick note: These flavors are only available through December so grab them while you can! I know there is a Dark Chocolate Fudge Creamer out there as well as Eggnogg Latte (I use the Eggnogg Latte in place of milk in muffin recipes. Out*of*this*World).

Peppermint Fudge Cake
Rich and moist dark chocolate bundt cake topped with a peppermint fudge ganache and crushed peppermint baking pieces.
Ingredients
For the Cake:
2 cups all purpose flour
1¼ cups granulated sugar
¾ cup dutch process dark unsweetened cocoa powder
2 teaspoons baking powder
1½ teaspoons baking soda
1 teaspoon salt
2 eggs
1 cup Coffee-mate Peppermint Mocha liquid coffee creamer
½ cup vegetable oil
1 cup hot water
For the Peppermint Fudge Ganache:
3 tablespoons Coffee-mate Peppermint Mocha liquid coffee creamer
1 cup dark chocolate chips
For the Topping:
½ cup red and white peppermint baking chips
Instructions
Preheat the oven to 350 and butter a 10-inch bundt cake
In a large bowl whisk together the flour, sugar, cocoa, baking powder, baking soda, and salt.
Make a small well in the center of the dry mixture and add the eggs, Coffee-mate creamer, and oil.
Mix until combined.
Gradually add the water stirring until incorporated, about 2 minutes.
Pour the batter into the prepared pan and bake for about 40 minutes or until a pic inserted into the center comes out clean.
Let the cake cool in the pan for at least 10 minutes before inverting onto a plate or cake stand to cool completely.
When the cake is cooled make the peppermint fudge ganache. Heat the cream in a small saucepan. Remove it from the heat and add the chocolate. Stir until smooth and then spread it across the top of the cake, using a spoon to guide it over the sides.
Top with the peppermint baking pieces.
Notes
Adapted from Coffee-mate's Easy Chocolate Fudge Bundt Cake
Chocolate and Peppermint for the win! Here are a few more…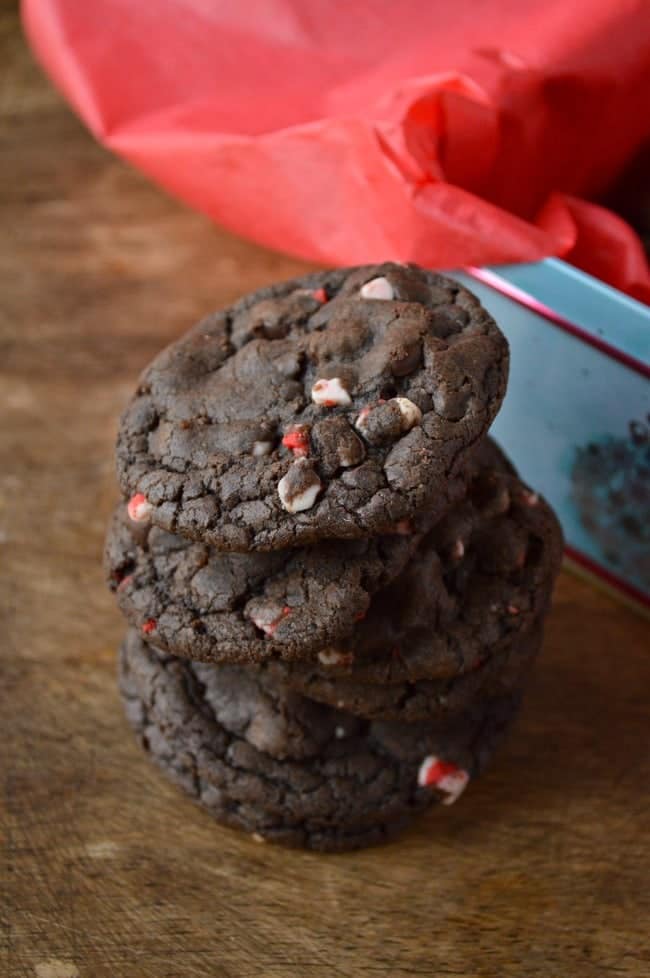 Peppermint Hot Chocolate Brownie Cookies